About This Vehicle
Mileage: 1000
Engine:  400 ci V8
Body Style: C-cab
Transmission: Auto
Exterior Color: Blue
Interior Color: Black
VIN:  1S9ST181152514025
Price:      SOLD
ABSOLUTELY AWESOME

,1923 C-CAB HOT ROD REPLICA, 

ONE OF A KIND

,

HIGH END BUILD

…

450HP, GROUND POUNDING

, FLAME THROWING MACHINE…TURN KEY READY TO

SHOW

AND

GO

!!!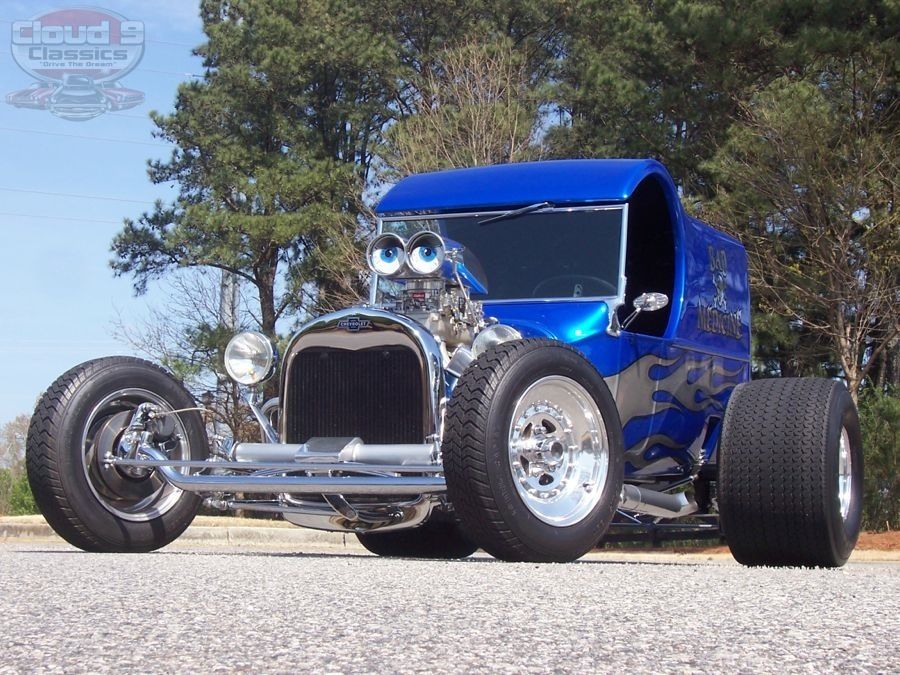 LOOKING TO ADD SOMETHING UNIQUE TO YOUR COLLECTION?
DO YOU WANT A HOT ROD THAT NOT ONLY STANDS OUT ON THE ROAD AND AT THE SHOWS, BUT WAS PROFESSIONALLY BUILT AND CAN TRULY BE DRIVEN AND ENJOYED?
DO YOU LOVE CHROME??
WOULD YOU HAVE FUN SHOOTING FLAMES FROM YOUR EXHAUST AT THE SHOWS EVERY NOW AND THEN?
IF YOU ANSWERED YES TO ANY OR ALL OF THESE QUESTIONS THEN MAKE SOME ROOM IN THE GARAGE….
YOUR HOT ROD AWAITS YOU!!
Every now and then a unique opportunity presents itself to buy something you weren't really searching for but is just too cool to pass up.  This 1923 C-Cab Replica is that kind of vehicle and we recently acquired it from an awesome guy and avid car collector who we have had the pleasure of purchasing quite a few high end classics from.  He did not do the build on this one but had purchased it over the winter from a friend of his in California who did the build.  This was a not an amateur build!!! This is a high quality, professionally built Hot Rod that was built to be driven and enjoyed and not just be a piece of eye candy.  The builder was moving on to his next project and sold it to the gentleman in South Carolina who we purchased it from.  He had his fun with it for a few short months but as he always does found another cool car to play with. 
This Hot Rod is titled as a 2007 SPCN C-cab model and we have the original certificate of origin from Spirit Industries with the
Vin#.  
When this Hot rod rolled out of the enclosed transporter to our facility it immediately exceeded our expectations and drew a crowd of workers from surrounding business who not only saw it but heard it as it thundered out of the enclosed trailer.  Affectionately named "Bad Medicine" this Hot Rod may be just what the doctor ordered for the next lucky owner….Maybe you???
The body  of this C-cab is a very high quality fiberglass from an extremely reputable Hot Rod Company, Spirit Industries. I have seen quite a few fiberglass bodies Hot Rods and many fall short when it comes down to detail, strength and finish quality.  This is not one of those…very impressed!  The builder in California had the body prepped extremely well and had an absolutely jaw dropping paint job laid down. The primary color is from House of Kolors called Tru Blue and the flames are done in House of Kolors Platinum Pearl.  Finished with 7 coats of clear, this Hot Rod glistens and the body is nice and smooth.  The Rear storage hatch has an awesome air brushed skull graphic buried in the clear coat. The " BAD MEDICINE" side graphics are professionally made decals that could easily be removed. This Hot Rod would be a great promo vehicle for any business and you could easily add your logo if desired. The body is truly near flawless! The only tiny flaws I noticed were some extremely tiny cracks at the corners of the rear hatch area and a minor chip that was touched up there.  Inside the door there is one small spot where the door has rubbed the paint slightly. Otherwise this Hot Rod looks brand new and is a definite show stopper, show winner!! Here is a walk around photo tour of the body:
 The interior of this Hot Rod is finished off exactly as you would hope….clean, neat, functional and  simplistic! I will mention that this is not a Big Boy toy…I am 6 ft tall and am very comfortable driving it but anyone over 6 ft 2″ might want to think twice or call me to discuss.  Entry through the passenger side door and settle in to the very comfortable SCS Suspension bench seat in a nice black fabric that will not boil in the summer heat.  IDidit Stainless tilt steering column holds the VDO Tach. Dash is neatly laid out with TPI Tech gauges provide all your vital info.  Headlight switch and ignition  neatly mounted under the drivers side of the dash.  B&M shifter with the Skull shift knob and toggle switch for the electric fans. Safely under the dash is the switch for the Flame Throwers. An iPod/MP3 stereo unit is mounted under the seat with a cradle attached to the shifter. 4 Speakers mounted above the back of the seat provide your tunes. Rear hatch is great for storage and would also be a great place to put promo materials if you are promoting a business with this Hot Rod at shows and events. The only thing I would add would be supports to hold the hatch open.  Fuel tank filler located inside of hatch. Interior looks basically brand new and is show ready. Have a look:
The power plant of this C-cab is a ground pounding, professionally built  GM Small block 400 Cubic Inch V8, bored .60 over and estimated to be putting out 450 Horsepower. Quality components include Keith Black Pistons, Roller rockers, a great "lopey" high duration cam and solid motor mounts. Needless to say this baby shakes the ground it runs on. Sitting on top of this motor is a sweet Edelbrock Tunnel Ram Intake with a pair of Edelbrock 500cfm carbs that are dialed in perfectly.  A Turbo 350 Automatic Transmission was built to handle the power and shifts great. Power is transferred to the built 10 bolt Chevy rear with 3:73 gears for a great launch as well as good cruising at highway speeds. Steering is easy and true and GM front disc brake set up stops this baby easily. Other goodies include pertronix electronic ignition, 4 row radiator with electric fans keeping it running cool, and much more. Everywhere you look you will be blinded by chrome…just about everything is chromed out and ready for the shows as you will see in the pics. The block itself and the oil pan have been air brushed to match the theme of this Hot Rod…great attention to detail.  I have driven this Hot Rod and it offers not only neck snapping power for stop light to stop light fun but is surprisingly easy to drive and cruises at 65mph quite effortlessly.  Great rubber up front and in back providing a solid footprint. Wheelie bars in back just in case you jump on it a little too heavy although I think they are more for show. 
This Hot Rod is also equipped with Flame Throwers that would shoot flames 5-6 feet in the air.  I will try to do a video to show this one night this week if the weather cooperates. 
 I have included a video below so you can hear this baby start up and running!
WOULD YOU LIKE TO HEAR THIS HOT ROD FIRE UP AND RUNNING??
HERE IS A SHORT VIDEO (CLICK THE ARROW TO START):
Hopefully you can see that this C-Cab Hot Rod is the real deal, not some amateur build.  I am confident that the next owner is going to be extremely pleased by the quality not to mention the priceless fun factor this Custom will provide. This Hot Rod is titled as a 2007 SPCN C-cab model and we have the original certificate of origin from Spirit Industries with the Vin#.