About This Vehicle
Mileage: 35
Engine: 8 cyl
Body Style: Truck
Transmission: Auto
Exterior Color: Red
Interior Color: Gray
VIN:AA2708642
Price: SOLD
RED HOT

1930 FORD MODEL A HOT ROD PICK UP….HIGH QUALITY, RECENT BUILD…READY TO

SHOW AND GO

!!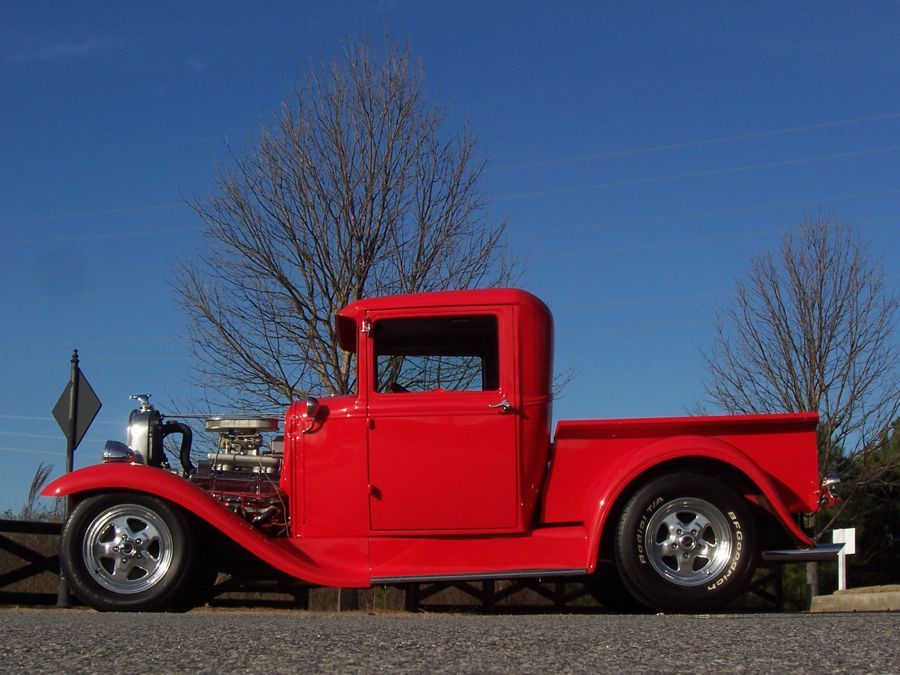 BEAUTIFUL STEEL BODY, PROFESSIONALLY BUILT HOT ROD!!
We acquired this sweet little 1930 Model A Pick Up from a great car guy in South Carolina who received it in a trade he did on a Plymouth GTX project car he had. The guy he got it from had just completed the restoration and build of this awesome Hot Rod. It had been in his family since new and when his father passed away he inherited it and decided to turn it in to the Hot Rod you see here.  When it was completed he realized it would not be something he would drive very much and was looking for a muscle car project. Rest assured, this truck was built to be driven and enjoyed and drives great!  I acquired this truck with 2 other great classics from the owner in SC. All of his vehicles were very high quality and this was no exception. Although we did not get a complete detail of all the build info, I will do my best to provide enough pictures and an honest description to help you decide if this Hot Rod belongs in your collection. There is also a video of the truck running that you have to watch as this truck sounds as good as it looks! Sit back, relax and enjoy! There are quite a few large pics which may take a few minutes to load but I think you will find they are worth the wait. 
The body on this Model A Pick up is Red Hot and in amazing condition. It is an all steel, original body with fiberglass front and rear fenders. Fit and finish is excellent and doors open and shut very nicely. Front windshield  flips open for some great air flow when needed. Beautiful front grill with bug screen and great radiator cap ornament.  The paint was done professionally and is very high quality and the body is near flawless.  You may find a rock chip somewhere so I will not say it is flawless but it is pretty darn close. This truck is without a doubt ready to show and will win its share of trophies if that is what you enjoy. This truck barely has any miles on it since it was built so everything still looks practically brand new. The wood truck bed looks awesome and tailgate is functional. Have a look at the amazing condition and great Hot Rod stance in the pictures below:
Beautiful custom light gray interior is a great compliment to the red exterior. Custom door panels with the V8 logo embossed look awesome. Bench seat is very comfortable and finished very nicely with red piping to accent the exterior color. Beautiful mahogany tilt steering wheel with the V8 logo center adds a nice touch.  Simplistic dash with VDO gauges to give you all the vital readings you need as you cruise around town or to your local car shows. All of the gauges are working although the speedometer seems to read a bit fast.  Turn signal indicators built in to the dash as well.  Lokar Automatic shifter wrapped to match the interior.  Dark gray carpeting and mats. There is a wiper motor mounted but it is not wired and will need a wiper to be functional.  The headliner is finished nicely in a dark gray suede to finish the look.  Simply a gorgeous, showroom new, neatly done interior that is show ready. Have a look inside:
As beautiful as this Hot Rod is inside and out, there is no denying that every great build has to include a drive train to match. Well, how about a completely built, fresh 406 small block with a nice cam, breathing out a set of headers in to some great sounding Flow Masters and out the dual pipes. With under 50 miles on the odometer it is still just being broken in.  Weiand high rise intake with Holley 4 bbl feeds this machine and I would estimate it at 350 horsepower. More then enough power to plant you firmly back in your seat with a grin from ear to ear!!! Automatic transmission shifts smoothly and a Ford 9″ rear with adjustable coil over rear suspension puts the power to the ground.  This truck runs nice and cool thanks in part to the aluminum radiator and electric cooling fan. Front suspension is nice and tight and this truck handles the road beautifully. This truck has a great rake and stance thanks to the staggered sized Weld wheels wrapped in brand new rubber. Stopping is surprisingly easy with the Wilwood front disc brakes. I do have a engine compartment cover that will come with the car but it will need to be worked on to fit properly. It was never finished to fit the car so it is not installed and I do not have side panels for the engine compartment. Fuel tank has been moved to under the rear bed with a fuel cell. Custom flip open gas cap in the bed. The battery has also been mounted in the bed inside of the diamond plate tool chest and it is a brand new Optima battery.  This beast fires right up with the turn of the key and sounds absolutely menacing. There is also  a video below so you can hear it running.
OF COURSE THIS HOT ROD SOUNDS AS GOOD AS SHE LOOKS AND IS A BLAST TO DRIVE!
HERE IS A SHORT VIDEO SO YOU CAN HEAR THIS BABY RUNNING

:
(TURN UP YOUR VOLUME AND CLICK THE ARROW TO START)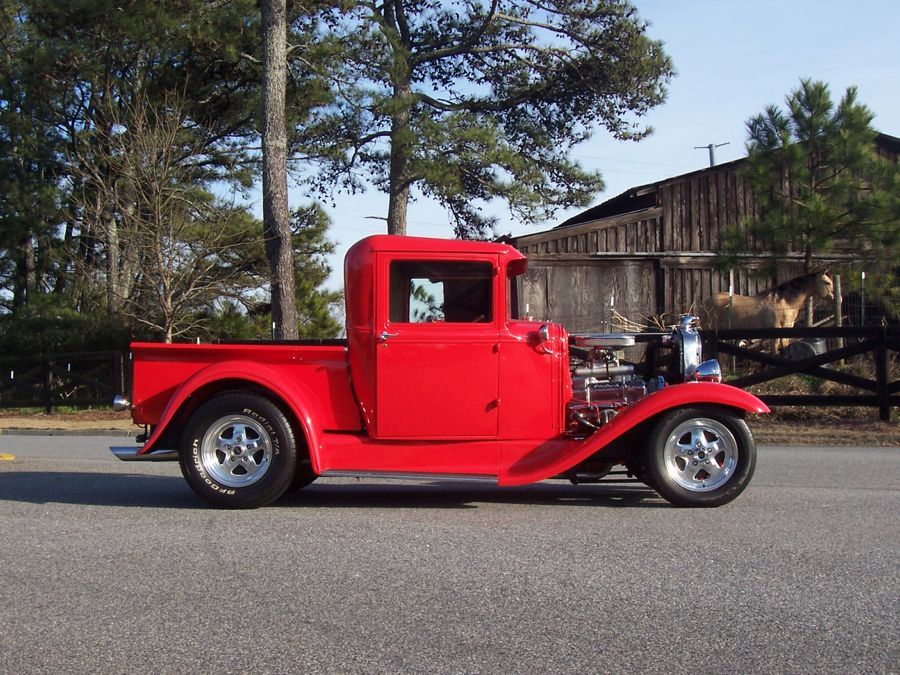 Hopefully you will agree that this Model A Pick Up is a sweet machine and is in absolutely beautiful condition. This is a Hot Rod you can drive and enjoy, take to the local shows and cruise-ins and know you also have a great investment that you could not build for what you can buy it for. I do have a title in hand for this sweet 1930 truck and the next owner is going to be absolutely thrilled!!! 
 If you have any questions feel free to call me at 

770-359-8400 

and I will do my best to answer them.  If you are a serious buyer lets talk on the phone and discuss it. I will be happy to negotiate a deal so we can get this beautiful car in to your garage as soon as possible.  In addition to being a licensed Classic Car Dealer I am also a Transport Broker and will be happy to assist the buyer with a great rate on Enclosed or Open Transport anywhere in the US at the buyers expense or to any port for overseas buyers.