About This Vehicle
Odometer: 800
Engine: STS Northstar V8
Body Style: Hot Rod
Transmission: Auto
Exterior Color: Lime
Interior Color: White
VIN: 18170059
Price: SOLD
ABSOLUTELY

STUNNING

, CUSTOM, ONE OF A KIND

1932 FORD VICKY

HOT ROD

…PROFESSIONALLY BUILT, PROVEN

SHOW

WINNER

WITH CADILLAC STS FUEL INJECTED V8 PLUS LOTS OF GOODIES…READY TO

SHOW

AND

GO

!!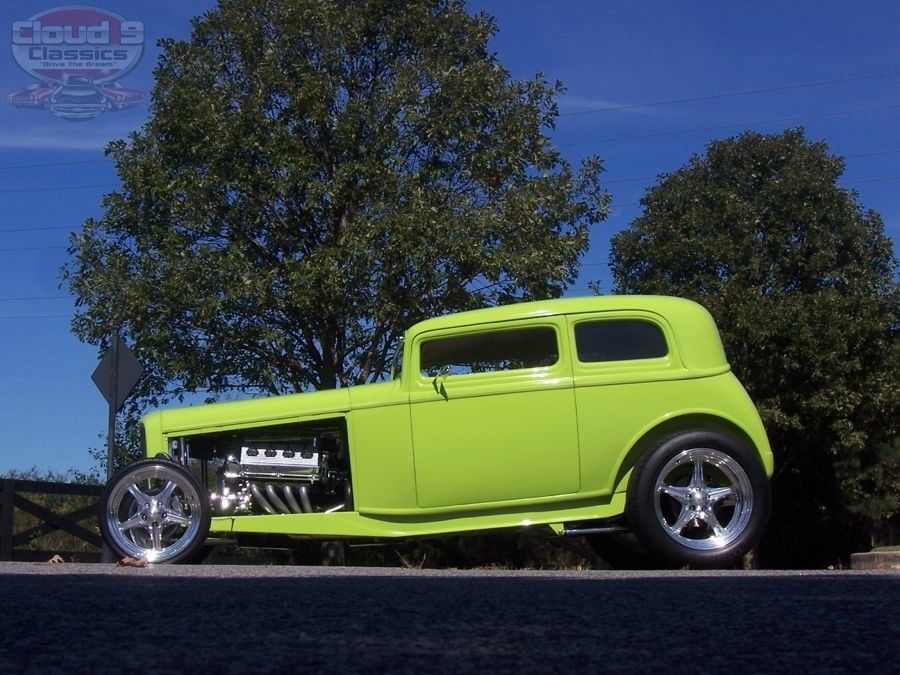 ARE YOU SEARCHING FOR A TRULY ONE OF A KIND, HOT ROD THAT CAN BE DRIVEN AND ENJOYED AND TURNS HEADS AND DRAWS CROWDS EVERYWHERE IT GOES?
DO YOU APPRECIATE A PROFESSIONAL, HIGH END BUILD AND KNOW THAT IT IS CHEAPER TO BUY ONE ALREADY BUILT THEN TO TRY AND BUILD ONE YOURSELF?
WOULD YOU LIKE YOUR HOT ROD TO HAVE THAT NOSTALGIC LOOK BUT WITH A MODERN, HIGH HORSEPOWER, FUEL INJECTED V8, 4 WHEEL DISC BRAKES, ICE COLD A/C, POWER WINDOWS, ETC..?
ARE YOU READY TO TREAT YOURSELF, OR A LOVED ONE, TO A HOT ROD THAT WILL BE A SMART INVESTMENT AND WILL HAVE YOU AND YOUR PASSENGERS GRINNING FROM EAR TO EAR??
IF YOU HAVE BEEN SHAKING YOUR HEAD

YES

THEN GET READY BECAUSE THIS

HOT LIME

'

32 FORD VICKY

COULD BE THE HOT ROD YOU HAVE BEEN WAITING FOR….SIT BACK, RELAX, AND ENJOY!!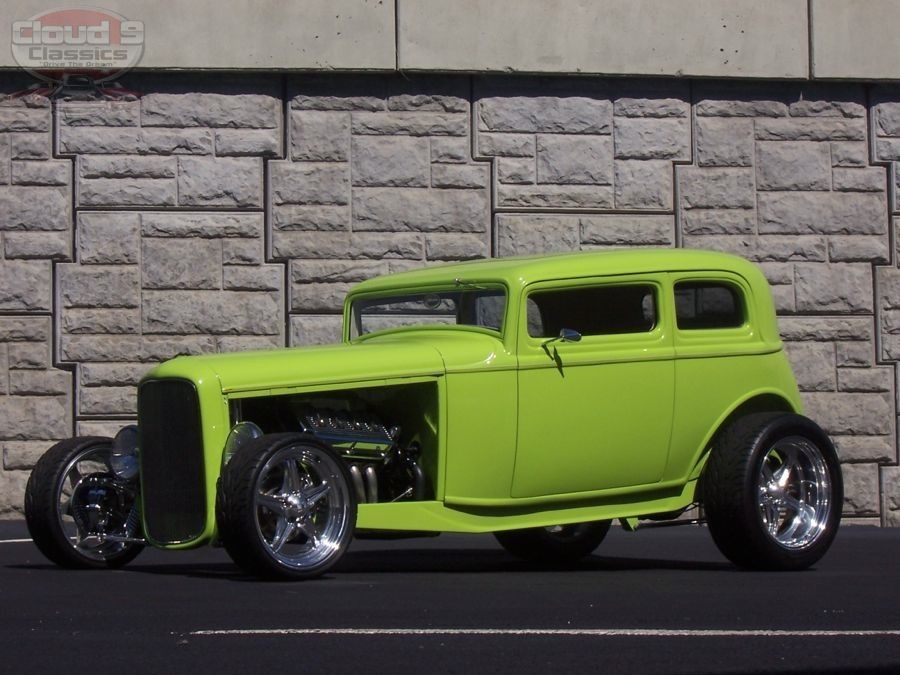 Once upon a time in 2007 an experienced, professional,  Hot Rod builder in North Carolina decided he wanted to build a car that would be a show winner at a very prestigious Hot Rod Show called Shades of the Past. This show draws over 4000 cars each year and 25 cars are chosen as Best in Show.  So off he went, working hour upon hour, fabricating, and putting together some of the best components he could afford in hopes that his vision would come to life.  Well, about a year and half after he began, his masterpiece was ready to be unveiled.  His Hot Lime 1932 Ford Victoria ( "Vicky") Hot Rod was trailered to Pigeon Forge, TN where it was surrounded by high end builds from all over the East Coast.  Would his vision thrill the judges and spectators as much as he had hoped??? You better believe it did and his mission was accomplished as his labor of love earned him a Best of Show award only given to 25 cars out of over 4000 entries.  One look at this beauty and you can see why this car was chosen that year.  With this honor under his belt he decided it was time to let another Hot Rod enthusiast enjoy the fruits of his labor and he sold the car to a serious car guy in Indiana about 5 years ago.  The car was driven sparingly but enthusiastically as it was shown at a variety of Hot Rod shows in the Mid West where it won many times locally. In 2013 the owner was invited to bring this Hot Lime Vicky to the Detroit Auto Rama.  Again, not surprisingly, this car took 2nd place in the Pre-1935 class. But let me be clear, while this is an absolute show winner and gorgeous piece of eye candy, this Hot Rod was built to be driven and enjoyed and will not only set you and your lucky passengers back in their seats but will also leave you with a grin from ear to ear every time you drive it!! After 5 years of ownership this Hot Rod again changed hands. This time it went to a serious car collector in SC who I have had the pleasure of knowing for several years now.  After buying this '32 Vicky a Military buddy of his who he had known most of his military career passed away and had left him his beloved '59 Chevy Pick up truck that he had been building for years. As a tribute to his friend he decided to focus on finishing the build of the truck so he decided to sell the '32 Vicky and offered it to me first before going to the Good Guys show with in Charlotte this month.  I jumped at the opportunity and now am making this drop-dead gorgeous, one of a kind build  available to the next fortunate car guy or gal to enjoy…..Maybe you????!!!
As you will see and read in the listing that follows this is not just another cool looking old Hot Rod. This '32 Ford Vicky has a Cadillac STS Northstar V8 power plant that I doubt you will find in another '32 and is dressed out in an absolutely top notch PPG Hot Lime paint job that looks like it was painted yesterday.  Everywhere you look, top to bottom, inside and out, this car shouts quality done right! As the old saying goes you could not build it for what you can buy it for.

For anyone wondering, this Hot rod is titled as a 1932 Ford and has the vin # stamped on the frame and comes with a clear Title.  

I will do my best to provide you enough large images, a video of this Hot Rod starting up and running, and an honest description to help you decide if this is the one for you. Sit back and enjoy!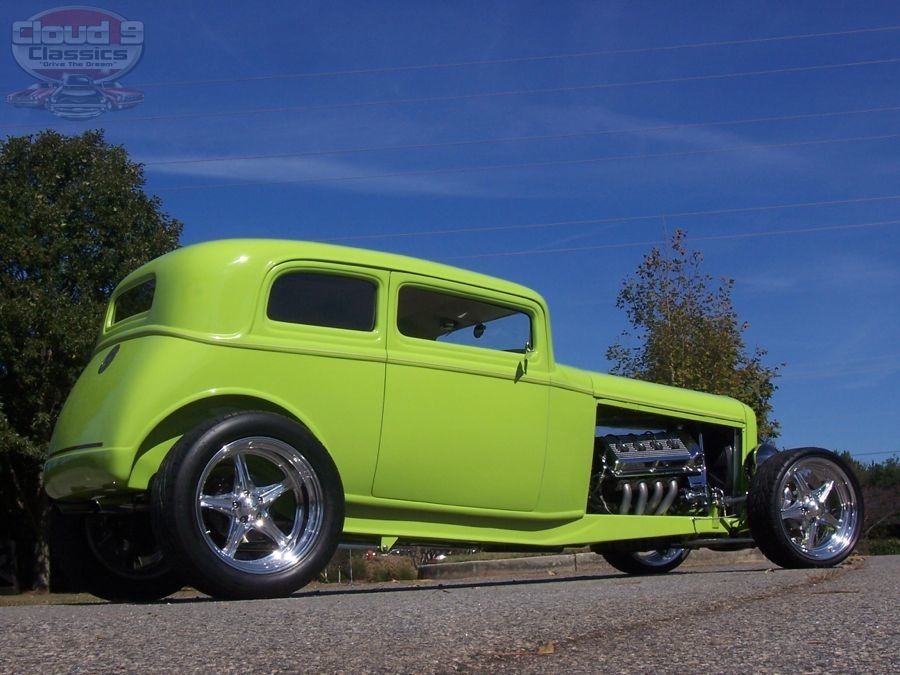 The body, as well as the entire car, is absolutely near flawless! The only thing keeping me from calling the body flawless are about 4 very tiny rock chips that I noticed that I will try to have touched up so that they will most likely never be seen.  This build truly looks like it could have been completed last week even though it has now been almost 7 years since it was completed.  With just under 2000 miles on the car since it was built, it has never seen rain and was always professionally detailed for show purposes.  The Paint is a PPG color called Hot Lime and is a 10! The body is fiberglass from a company called Heritage Hot Rods that has been building these bodies since the 80's and has a well deserved very strong reputation. A steel hood was custom made by Rootlieb and opens on both sides or can be completely taken off if desired. LED taillights and brake lights and Harley Davidson turn signals.  The gentlemen from NC who built this car had plenty of builds under his belt before this one so everything was done top notch.  The frame is a custom fab using rails that came from a shop in MS who made them exactly as they were made in 1932. The builder then custom bobbed and pinched them to accommodate the drivetrain and other custom touches he added.  As you will see in the photo tour of the body below the body is accented with custom pinstripe in a tomato red and ivory color. Custom glass was cut and power windows installed. This car is definitely still in show winning condition! I think the pictures will tell you the rest of the story on this sweet Hot Lime Body….have a look:
One push of the electronic door popper and you are welcomed by the plush white leather custom interior accented with a tomato red and lime green accent stripe. Front bucket seats are very comfortable and plenty of room for drivers of all sizes. One of the great features about the Vicky body is the added room for passengers in the rear.  This allows you to head out with friends, kids, or grandkids unlike most Hot Rods which are usually 2 seaters. Steering column is a GM tilt column with turn signals, high beams and ignition all on the column.  Leather wrapped steering wheel, great set of Dolphin gauges, and Vintage Air Conditioning Gen 2 Heat and Cool  controls and vents are all nicely laid out in a leather wrapped dash. Pioneer Am/fm/Cd unit neatly mounted under the dash with Polk speakers in the front and rear panels provide your tunes when needed.  Brand new Optima yellow top battery hidden behind rear seat.  Cell phone charger under the dash as well as battery cut off switch. Power window switches and inside door handles tastefully done. EZ wiring used throughout and the computer for the STS motor is neatly tucked under the dash.  Lokar automatic Shifter with an awesome shifter knob. Windshield wipers do work but never needed. I am probably missing a few items but again the pictures will tell the story…..Interior is show ready!
While the exterior and interior are definitely works of art, I think it is fair to say that the power plant of this '32 Ford Vicky is a big part of what makes it so unique. Under the Rootlieb steel hood sits a 1996 Cadillac STS Northstar V8 that only had 24,000 miles on it when it was transplanted in to this Hot Rod. All of the work that was needed to make this motor work in this configuration was done right and all parts needed were from Cadillac Hot Rod Fabrications (Chfab.com). Cast aluminum cam covers and fuel injection cover was custom polished and a great Cadillac crest adorns the top. I will not go in to all of the features of the STS motor but if you research it you will earn what a great Modern Hot Rod motor it is and why it is such a great addition to a build like this. The aluminum motor is a high rpm motor and offers tremendous performance and stock is 300hp. We estimate this particular motor and set up to be at about 325-350 horsepower. Given the light weight nature of this car you can be sure that this car has all the power you need and will get away from an inexperienced driver if they are over zealous.  The builder custom made the ceramic coated headers that are a work of art in and of themselves. The Holley 950 commander engine management system controls the fuel management and other functions. Power is transferred through the 700R4 overdrive automatic transmission that shifts beautifully and allows you to have plenty of stop light to stop light fun but also the ability to cruise at 75 mph and get an amazing 30+ mpg. Yes, you read that right. I was told by the builder that you can get 30+ mpg on the highway and 20 mpg+ in the city if you stay out of the throttle.  Rugged 9″ ford rear has great tall gears believed to be 3.00 or 3.25 ( builder could not remember for sure ).  Partnered with the 700R4 this is an awesome combination for both great torque and quick launches as well as the ability to cruise at low rpm's at higher speeds.  Borgeson steering box provides quick and sure steering and 4 wheel disc brakes for comfortable stopping power. Suspension is awesome with Kugel chrome and polished independent front suspension with coil overs in the rear.  Custom polished pulleys and custom polished alternator, a/c compressor and more help dress out the gorgeous engine bay. Griffin radiator and electric fans keep this set up running cool. Great sounding dual exhaust with soft rumble at idol and ground pounding tones under acceleration.  Power, handling and good fuel mileage all in one with show winning beauty….what more could you want??? Less then 2000 miles on the current set up since this Hot Rod was built and this car truly drives fantastic.
  I did a video that follows these pics so you can hear this power plant start up and running.  Make sure you watch the video!!
NOW IS A GREAT TIME FOR YOU TO HEAR THIS

HOT LIME

HOT ROD

START UP AND RUNNING…

HERE IS A SHORT VIDEO

…TURN UP YOUR VOLUME AND CLICK THE ARROW TO START:
The beauty continues underneath this incredible '32! Custom frame is a work of art and painted to look as good as the body.  Hoses, wires and brake and fuel lines are all neatly tied to the frame for an extremely clean and neat look. Awesome set of Billett Specialty wheels which were one-offs when this car was built. They are 20 x 9.5 in back with 295/45/20 G-force TA radials and 18 x 7 fronts wrapped in 215/35/18 radials.  This Hot rod has a great stance and rake! Vin # is stamped on drivers front frame rail. We have a good amount of info and documentation on the build and will provide the original builders contact info to the next lucky owner in case they have any questions in the future. He is a great guy and of course very proud of this car as he should be. 
Hopefully you will agree that this is one SWEET and UNIQUE Hot rod !

 

It truly looks as good in person as it does in the pictures and it is a real head turner and show winner! This will be a great investment that you can drive, enjoy and take to the shows if you want.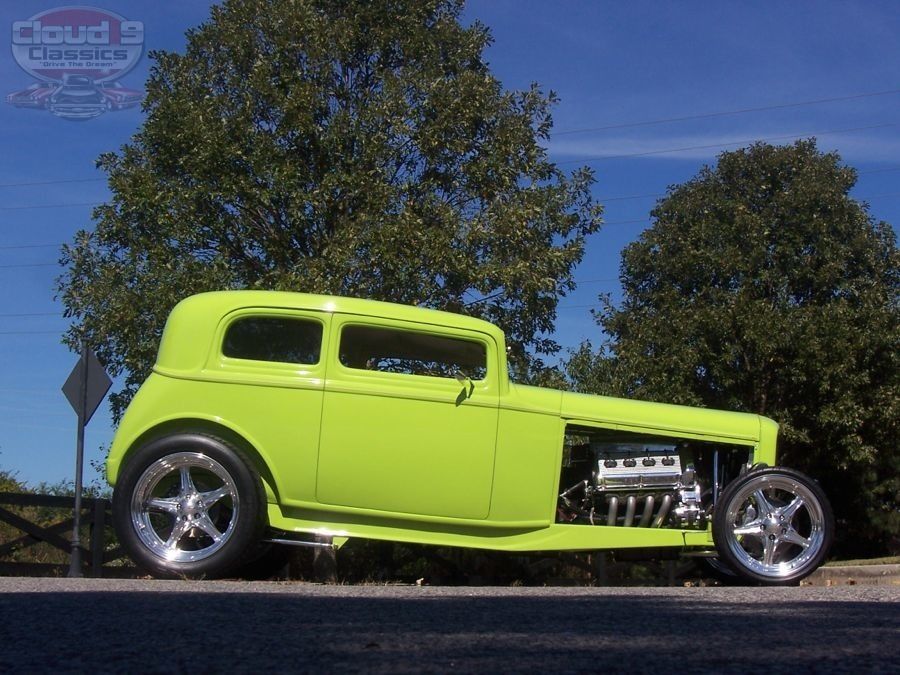 If you have any questions feel free to call me at 770-359-8400 and I will do my best to answer them.  If you are a serious buyer lets talk on the phone and discuss it. We also have this '32 VICKY HOT ROD advertised on other sites and reserve the right to end the auction if it sells elsewhere. IF you would like to put this sweet machine in your garage before the next car guy or gal does please give me a call.  In addition to being a licensed Classic Car Dealer I am also a Transport Broker and will be happy to assist the buyer with a great rate on Enclosed or Open Transport anywhere in the US at the buyers expense or to any port for overseas buyers.