About This Vehicle
Odometer: 90,250
Engine: 331 V8
Body Style:  Coupe
Transmission:  Automatic
Exterior Color:  Midnight Blue
Interior Color: Blue
VIN:  506116046
Price:  SOLD
ABSOLUTELY BEAUTIFUL,
1950 CADILLAC SERIES 61 
CLUB COUPE WITH MATCHING # 331 V8 AND 4 SPEED HYDRA-MATIC AUTOMATIC…
VERY ORIGINAL CLASSIC
THAT RUNS AND DRIVES GREAT…READY TO DRIVE AND ENJOY!!
IF YOU ARE LOOKING FOR A SUPER COOL 1950'S CADILLAC THAT IS IN AWESOME CONDITION, VERY AFFORDABLE, AND RUNS AND DRIVES "LIKE A CADILLAC" THEN THIS MIDNIGHT BLUE 2 DOOR COUPE MIGHT JUST BE THE ONE YOU HAVE BEEN LOOKING FOR!!
A VERY ORIGINAL CLASSIC THAT WAS EXTREMELY WELL CARED FOR. PERFECT FOR TAKING THE FAMILY OUT FOR A SUNNY DAY DRIVE, LOCAL CRUISE INS AND SHOWS, OR ADD TO YOUR COLLECTION.
THIS TURN KEY COUPE IS READY TO DRIVE AND ENJOY OR COULD BE TAKEN TO THE NEXT LEVEL IF DESIRED.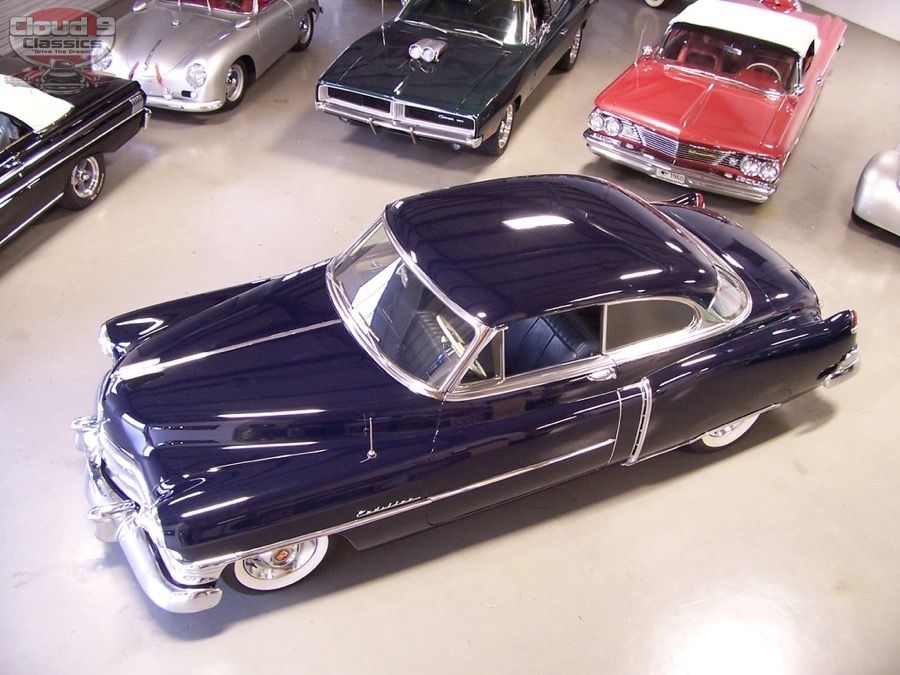 Hard to not fall in love with the body style on these Series 61 Coupes and this one is in beautiful condition and ready to be driven and enjoyed while making a great classic car investment. I recently acquired this one from a gentleman about an hour outside of Atlanta GA who found the car locally to him. He owned an auto repair business and had a nice collection of classics. Evidently a local gentleman had been given this Cadillac as a retirement gift from his company. He drove it a bit but then the car pretty much sat for a few years and they decided it made sense to sell it. The gentleman I bought it from went through the car making sure it was turn-key ready to drive and he drove the car back and forth in the weeks prior to selling it. The car is believed to have received a nice cosmetic restoration probably about 15-20 years ago that has held up beautifully and the car was always garage kept. This Cadillac has great integrity, very original with its matching number 331 V8 that starts with the push of a button and runs smooth as silk. I will do my best to provide you with enough large images, a video so you can hear it start up and running, and an honest description to help you decide if this beautiful coupe should be in your garage. 
I am also a transport broker and can get you a great rate on Open or Enclosed transport anywhere in the US. I welcome overseas buyers and can assist in getting this classic to the port of your choice. Sit back and enjoy!!!
The body on this '50 2 door coupe is in great condition with no sign of rust or rust repair that I can see. The car has spent quite a few years in Georgia where it was always garaged and judging from the overall condition this car was most likely always well cared for and garage kept. From what I was told we believe it received a cosmetic restoration about 10-15 years ago at which time the color was change to the gorgeous Midnight Blue color you see here. The PPG paint codes are on a sticker in the glove box. Body is really straight overall and body panel fit is excellent overall. All of the chrome and stainless looks great overall but is not brand new. Very minor signs of age should be expected but as you will see in the photo tour below she wears her chrome very well and this car has excellent original integrity. The hood and trunk Cadillac emblems are faded out. There are some minor paint chips that have been touched up, a scrape under the trim on the passenger fender that will be touched up,  and there is some sign of age to the paint but the car really presents very well. There are not any rust bubbles or evidence of rust along the body and believe this classic still wears its original sheet metal.  Do not expect a show car, although it will be more than welcome at any local show or cruise in event, and you will be proud to show it off! All of the glass looks great and the windows roll up and down nicely. Really cool the way the rear windows go down and the look of the Coupe without the pillar is awesome. Here is a photo tour of the body that should show you how nice the body is:
Complimenting the Midnight Blue exterior is an equally nice medium blue interior with Ivory accents. The interior was also redone probably at the same time as the paint job about 15-20 years ago. Medium blue color seats that I believe are leather look really nice and are very firm and comfortable. Navy Blue carpeting shows some wear but overall very nice. Door panels look great and the dash looks excellent. Original Steering wheel is in great condition for being 68 years old with some very minor hairline cracks and some chipping of the ivory paint. Door panels look great and so does the hardware and trim.  Gauges appear to be working correctly although the Speedometer had just stopped working before I bought it and we will get the car on the lift and see if it is a simple cable connection but I cannot guarantee it will be working at time of sale. Wipers are not working. Lights and turn signals all work and the original radio powers up. The headliner is in very nice condition. Overall the interior is really comfortable and very nice! Check it out:
Under the big hood steel hood sits the original, matching # 331 V8 that fires right up and sounds smooth as silk. The gentleman I bought it from was told the motor was rebuilt and judging from how well it runs I would think it was. Smooth shifting 4-speed Hydra-matic Automatic transmission. Odometer reads just over 90,200 miles which are believed to be original but no documentation to support that. The gentleman I bought the car from was driving it back and forth to his shop on nice days and it hits the road beautifully. It looks like front suspension parts were updated at time of restoration. Previous owner went through the brakes and adjusted them and this Caddy stops great! This '50 Coupe runs down the road beautifully thanks in part to a newer set of White Wall Radial tires. This is not a cut up, modified drive train…it is the original set up so it drives like a 1950 Cadillac which is not at all a bad thing…there is a reason the phrase " It drives like a Cadillac" is used. It is still a 6 Volt system and everything works so the previous owner did not see any reason to change it. Turn signals, head lights etc. all working. Horn is not currently working and it needs a wiper motor. Otherwise, this Midnight Blue Beauty is ready to cruise!!! Undercarriage is very solid overall and appears all original. Very small spots on front floorpans that may have had some work at one time. It's not all dolled up and painted but you can see how solid it is which is nice. The spare tire well appears to have had some rust which is typical. Inside of trunk was carpeted and looks very nice. The Vin # is clearly stamped on the engine pad and on the passenger side top of the frame rail. Georgia does not provide Titles for cars pre-1962 so this car will be sold with a GA Registration and bill of sale which can be converted to a valid Title in any title state. It can also be exported with these documents as well. Make sure you watch the video that follows to hear her start up and running.
HERE IS A SHORT VIDEO SO YOU CAN HEAR THIS CADILLAC START UP AND RUNNING (
CLICK THE ARROW TO START
):
At this point hopefully you can see how nice this 1950 Cadillac Series 61 Coupe
 is. As with all of my classics I do have this car listed on my website and several others. If you would like to discuss how we can put this baby in your garage before the next car guy or gal scoops it up, feel free to call me at 770-359-8400. I can also assist in getting the buyer a great rate on Enclosed Transport (http://www.transporttime.com) and I welcome overseas buyers. 
SERIOUS BUYERS CAN CALL ME AT 770-359-8400 WITH ANY QUESTIONS