About This Vehicle
Mileage: 2900
Engine: 350 V8 300hp
Body Style: Pick Up
Transmission:Automatic
Exterior Color: Platinum
Interior Color: Black/Silver
VIN: 8JPL20133
Price:       SOLD
ABSOLUTELY GORGEOUS

, PLATINUM

SILVER

METALLIC 1951 CHEVROLET 3100 PICK UP TRUCK…

FRAME OFF RESTORED,

HOT ROD, 

LOADED

WITH OPTIONS INCLUDING

ICE COLD AIR CONDITIONING

…READY TO

SHOW

AND

GO

!!
HAVE YOU BEEN SEARCHING FOR A HIGH QUALITY, FULLY RESTORED, CLASSIC CHEVY 3100 PICK UP?
DO YOU WANT IT TO BE UPDATED WITH A STRONG, V8 MOTOR AND AUTOMATIC TRANSMISSION?
WOULD YOU LIKE TO HAVE ICE COLD AIR CONDITIONING, POWER STEERING AND 4 WHEEL DISC BRAKES?
ARE YOU LOOKING FOR ONE THAT HAS A KILLER STANCE, IS READY TO DRIVE AND ENJOY AND ALSO WILL TAKE HOME TROPHIES AT THE LOCAL SHOWS AND CRUISE-INS??
WELL, IF YOU HAVE BEEN SHAKING YOUR HEAD YES THEN GET COMFORTABLE BECAUSE THIS COULD BE THE CLASSIC HOT ROD TRUCK YOU HAVE BEEN SEARCHING FOR!!!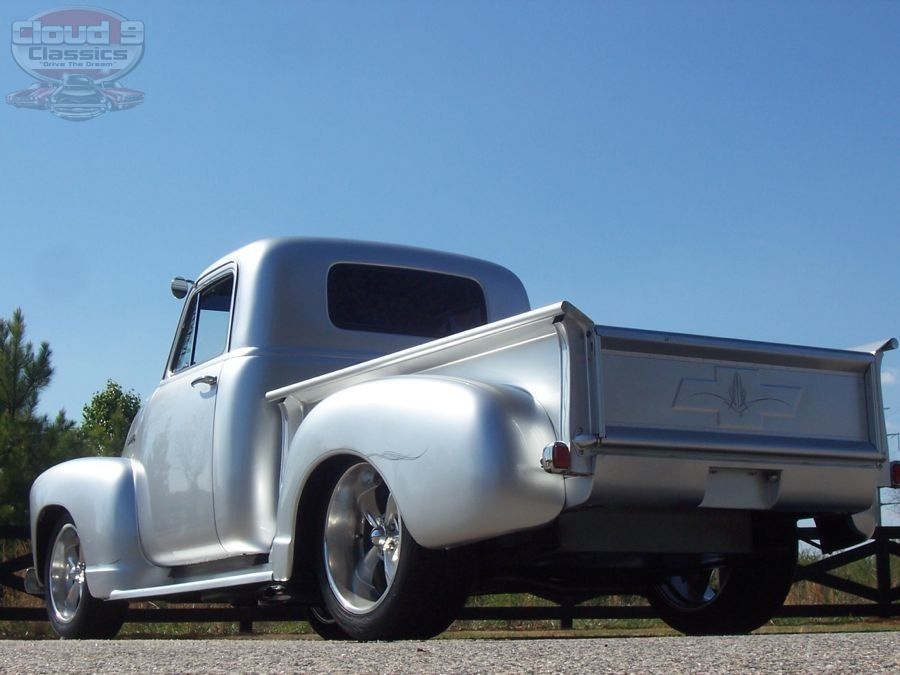 It is hard to dispute the fact that 1950's Chevrolet Pick Up trucks that have been nicely upgraded are a hot category in todays Classic car and truck market. One look at this Platinum Silver Metallic beauty should be all you need to know that this is definitely one to consider.  We recently acquired this Hot Rod from a great classic car guy in Florida who has built quite a few classics in his day.  He purchased this '51 in Georgia where he believed it had spent most, if not all its life as was evidenced by how rust free it was.  He was amazed that the cab corners and other typical rust problem areas on these trucks were not an issue on this one.  In fact he pointed out that this truck has its original cab, original bed, hood and original doors.  He had a vision of what he wanted this truck to be and over the course of almost 2 years he diligently did a frame-off restoration resulting in the jaw-dropping truck you will see here. He kept track of his receipts which you will see are several inches thick and add up to tons of $$$ spent on high quality parts.  Once the body was ready for paint he had his brother lay down a gorgeous Platinum Silver Metallic base coat/clear coat paint job that helps this truck stands out among the others!  He built it to be driven so he included all of the modern amenities that folks who seem to be buying these trucks want. This includes Ice Cold Air conditioning, heat, Power steering, 4-wheel disc brakes, Mustang II front end, a crate 350 V8, modern stereo,  and much more!!!  Well, as I have seen so often in the Hot Rod hobby, he was someone who enjoyed the build process as much, or more then actually driving them when they are done. After driving this one for about 18 months he was ready to move on to his next project and decided it was time to sell this truck to fund the next one.  This is a truck that you can truly drive and enjoy as well as take to the shows and cruise-ins. You will surely fill the bed with trophies if that is what you enjoy. While not an absolute, over the top, trailer queen, it is, without a doubt, a very high quality build that I doubt you could duplicate for the price you can buy it for.  Even better is knowing that it is a great investment in something you and your family can drive and enjoy, not just ready quarterly reports about.  I will do my best to provide enough large images, a video of it starting up and running, and an honest description to help you decide if this is the one you have been dreaming of.  
As you will see in the pics that follow the body on this Platinum Silver beauty is in amazing condition. The frame off restoration took almost 2 years and was completed about 1 1/2 years ago.  As pointed out it is all steel with the exception of the rear fenders which are slightly wider custom fiberglass fenders to accommodate the wider wheel and tire set up. The body lines on this truck are fantastic!!! Doors shut with ease and line up great. The body panels are super straight and near flawless.  All of the glass is brand new and has been tinted to keep you a little cooler.  The chrome was also all replaced.  Gorgeous dark wood bed.  The only real flaws I could find on the body are some very minor hairline cracks where he smoothed in the front fenders to the cab and maybe a minor rock chip or two.  I do not think you will be able to see these in the pics and they are extremely minor unless you are expecting an absolutely perfect, over the top trailer queen.  The paint quality is fantastic and was done by his brother who is a professional.  The only thing we did to this truck was to have it wet sanded, and buffed out before Larry Conway of Conway's Customs laid down some awesome pin striping. I told him I wanted them to be more conservative so that they would not take someones eye away from the glistening body. I think he nailed it as you will see in the pics that follow.  Enough talk, I will let the pics tell the rest of the story….Enjoy! 
Here are some close-ups of the pin stripe work and the dark wood bed. You will notice that the fuel tank was removed from its stock position behind the cab and placed under the bed. The filler cap is neatly mounted in the wood bed area and now you have much more room in the cab for those of you who are a bit taller.
Complimenting the Sparkling Platinum Silver exterior is a gorgeous Black and silver interior. The seat is from a 1989 chevy pick up and was custom covered in black and silver.  A nice, removable console unit sits in the center of the bench for drink holders, arm rest and storage. Flaming river tilt steering column and a beautiful, functional set of Dakota Digital Gauges provide all the vitals for the driver.  The cab of this truck has more room then most since the stock fuel tank was removed from behind the original seat.  Keeping the passengers cool is a Vintage Air Conditioning system that blows ice cold!! The heat also works for you cold climate folks.  IF you get tired of hearing the awesome sound from the thumping V8 there has been an upgraded Retro Sound System in the original uncut dash. It is currently set up for iPod/MP3 usage but with an antenna will get all the FM channels. Plenty of speakers professionally mounted throughout the cab including a kicker 10″ sub behind the seat.  Some other really cool touches like the gun barrel headlight switch and the pin striping accents on the dash. The interior is show ready just like the exterior. Have a look:
At this point hopefully you would agree that this is a gorgeous '51 Chevy 3100, but now maybe you are hoping to learn that it also runs as good as it looks. Well, IT SURE DOES!!!  Under the hood is a Crate 350 V8 putting out 300 horsepower from ATK. There is only slightly over 2800 miles on the motor so it has just barely been broken in.  As you will hear in the video below it has a nice little cam and as they say in the South, "It'll hit a good lick!!" Again, it was built to be driven on the street so while it has plenty of get up and go it also has great road manners at any speed including the highway. It turns about 2500 rpms at 65 mph and you should be able to squeeze out decent gas mileage on those long cruises.  A completely built Turbo 350 Automatic transmission shifts great and transfers the power to the 9″ Ford rear end with 3:50 gears.  Handling is awesome thanks in part to the Heidts Mustang II independent front suspension and power steering set up. Stopping is a breeze with the 4 Wheel Disc brake set up. An Aluminum radiator and cooling components electric fan help keep this baby running nice and cool.  Killer stance wight he help of the TCI lowering kit and the awesome set of Show Wheels…..20 x10 in rear and 18 x 8 up front wrapped in almost brand new set of Toyo tires. All of the electronics and lights work great with all new wire harness and fuse box done right. turn the key and listen to the roar out the Dual Flow Masters that exit under the running boards. As you will see the undercarriage also looks great.   This Truck truly runs and drives amazing and is very tight and easy to drive anywhere!! Take a look and then listen to the video to hear this baby rumble!!!
HOPEFULLY AT THIS POINT YOU AGREE THAT THIS '51 LOOKS PRETTY DARN SWEET….
WOULD YOU LIKE TO HEAR IT START UP AND RUNNING?? 
HERE IS A SHORT VIDEO SO YOU CAN DO JUST THAT ( CLICK THE ARROW TO START ):