About This Vehicle
Mileage: 1600
Engine: V8
Body Style: Truck
Transmission: Auto
Exterior Color: Red
Interior Color: White/Red
VIN:  H535017541
Price: SOLD
ABSOLUTELY BEAUTIFUL,

1953 CHEVROLET 3100, 5 WINDOW PICK UP….

FRAME OFF RESTORATION

…BUILT 350 V8, 375 HP WITH 700R4 TRANSMISSION…AIR CONDITIONED…READY TO

SHOW AND GO

!!!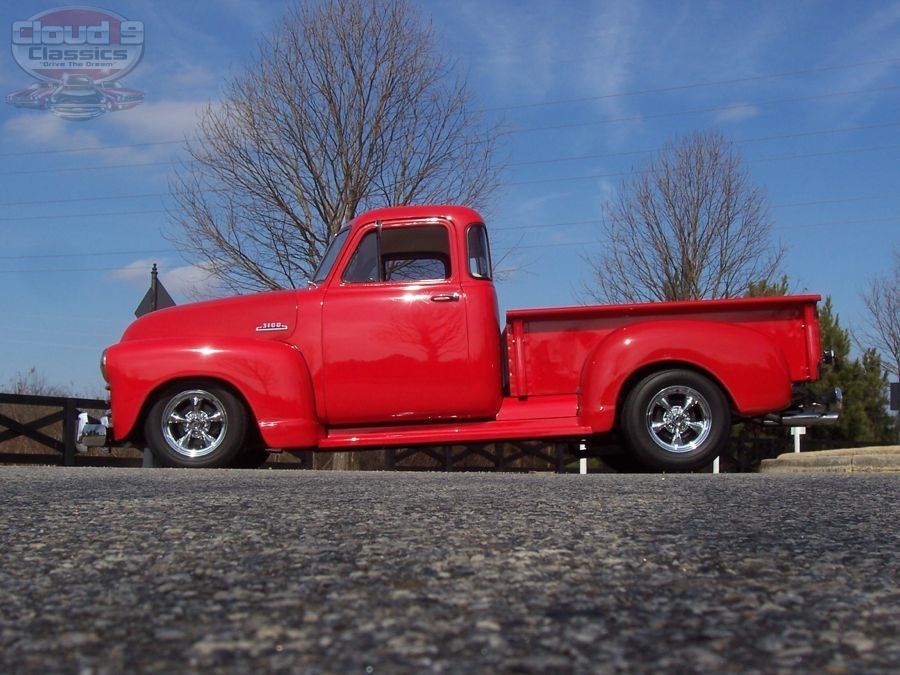 HAVE YOU BEEN SEARCHING FOR A FULLY RESTORED 1950'S CHEVY PICK UP TRUCK THAT WAS BUILT TO BE DRIVEN AND ENJOYED?
WOULD YOU PREFER A 5-WINDOW WITH A GREAT HOT ROD
STANCE AND A BUILT V8 MOTOR PUTTING OUT SOME SERIOUS HORSEPOWER MATED TO A 700R4 AUTOMATIC TRANSMISSION THAT SOUNDS AWESOME AND HANDLES THE ROAD AMAZINGLY WELL?
DO YOU REALLY WANT ONE THAT HAS AIR CONDITIONING, FRONT DISC BRAKES,  AND A GREAT STEREO?
WELL, IF YOU HAVE BEEN SHAKING YOUR HEAD YES TO ANY OF THE ABOVE THEN THIS MIGHT BE THE TRUCK YOU HAVE BEEN SEARCHING FOR!!!
This beautiful 1953 Chevrolet 3100 5 Window Half Ton pick up truck arrived to us recently from the previous owner in Michigan who owned this truck since 1999. He had too many cars in his collection and decided it was time to thin the herd a bit so that someone else could start enjoying this awesome 5-Window Hot Rod…maybe that someone will be you!!! He bought this truck 15 years ago from a guy in Arkansas who had owned the truck since 1980 and it is believed to have spent most if not all its life in Arkansas before that.  In the paperwork we received we have documentation showing the purchase of the truck in 1980.  The story was that this was believed to have been a farm truck that was stored inside most of its life and had very little rust when it arrived to Michigan. This is an All-Steel body with no fiberglass panels!! The gentleman we bought it from had a Frame-off, professional restoration done that took about 2 years to complete.  His goal was to build a really sweet, Hot Rod truck that he would be able to drive and enjoy on sunny days, and take to the shows and cruise-ins.  He wanted the truck to offer some stop light to stop light fun, but also be a truck that he could drive any distance at highway speeds as well.  I have tons of documentation showing what was done and I think when you see the pictures and video that you will agree that he definitely achieved his goal and built one heck of a good looking '53, 5 Window!!
 Well, as the story goes he enjoyed the heck out of the truck for several years. Eventually it began to sit more then it was driven as other classics began to fill his garage.  This Red Beauty has had less then 2000 miles put on it since the time it was restored and looks like it could have just been restored a few months ago.  The gear driven, professionally built 350 V8 has basically just been broken in and is extremely fresh. It will pin you back in the seat with a huge smile on your face. As they like to say here in the South, "It hits a good lick!!" I will do my best to provide enough large images, a video so you can hear it start up and running, and an honest description to help you decide if this Red Beauty is the one you have been searching for.  Sit back and enjoy!!
As you will see in the pics that follow, the all-steel body on this truck looks fantastic and it is hard to believe that the restoration is almost 15 years old.  As the previous owner told me and the documentation shows, this was a Frame-off restoration.  The only rust that was found was very minor and was cut out and repaired correctly with steel.  This included patch panels in the lower cab corners which is the most common rust prone area on these old trucks.  The rear tailgate was also replaced.  The body was stripped to bare metal, epoxy primered,  and then treated to a very nice Bright Red base coat/clear coat paint job on an extremely straight body.  Body panels line up very nicely and doors open and close with ease.  All of the glass is in great condition and was tinted.  All of the chrome, bumpers, and emblems were replaced and look close to brand new still. Lights, turn signals and brake lights all work properly. The cherry wood bed looks outstanding.  When the truck arrived to us it looked like it had been a few years since it had been professionally detailed so we took it to our guy who does an amazing job wet-sanding and buffing out these classics.  As you will see the paint truly glistens and it was hard to get  the pictures done because there was so much glare from the sun reflecting off the gorgeous curves of this truck.  The only other thing we did to the body of this truck was to invite Larry Conway of Conway's Custom Pin Striping down to the shop to lay down some awesome custom art on this truck.  Hopefully you will love the touches of gray and white that adorn the body and dash but if for any reason any of them are not to your taste keep it mind they can be professionally removed if needed. Overall the paint and body of this truck will turn all the heads and you will surely win your share of trophies at the local shows if that is what you enjoy.  Keep in mind the restoration was done almost 15 years ago so there have been some minor rock chips that have been touched up. This truck is not a trailer queen….it was built to be driven and enjoyed. With that said it still looks truly awesome and I am sure the next owner will be thrilled with it! Here is a walk around tour of the body:
Complimenting the gorgeous red exterior is a really sweet White and Red interior that was also completely restored. I love the simplicity of the dash on these 50's chevy trucks and I love the way the previous owner decided to leave the original gauges in place while neatly installing some modern comfort features like Air conditioning and a modern stereo/cd. The original bench seat was professionally recovered and looks close to new with no wear evident.  Speakers were neatly installed in the original doors. An updated tilt steering column and steering wheel were added.  An aftermarket tach and fuel gauge were neatly mounted. All of the gauges in the dash wre working although the speedometer just stopped working but we will take a look at it and try to have it working before the truck leaves. Air conditioning vents were also neatly mounted under dash and the A/C blows nice and cold!! Although the thumping 350 V8 breathing the dual flow masters will be music to your ears, there is also a very nice Kenwood AM/FM/CD player neatly installed as well.  A Lokar automatic shifter is at your finger tips and controls the 700R4 transmission with overdrive. OF course all of the weather stripping was replaced and windows roll up and down nicely. As you will see the red dash has also been treated to some great art work.  This is a very comfortable truck to ride in and the interior is ready for the shows just as the rest of the truck is!! Take a look: 
While it is always great to have a great looking classic truck the real question is how does it run and handle the road?? Well how about a professionally built 350 V8 with under 2000 miles on it that is pushing out easily 375 horsepower+.  This was an estimate from the previous owner but quite honestly I would not be surprised if this motor wasn't putting out over 400hp.  I have a pretty detailed receipt of the motor build and one turn of the key and you know it was built right!! The awesome sound of this gear drive motor with  Dart heads, Edelbrock Performer intake, and Holley 650 4bbl let people know this baby will get up and go!  Nice set of headers breathe out a great sounding dual exhaust. Make sure you listen to the video that follows!! All of this power is easy to drive thanks to the 700R4 Automatic transmission that was also completely rebuilt. This overdrive transmission is the way to go as it provides plenty of low end torque for strong launches and the overdrive lets you cruise at highway speeds all day long.  This Hot rod has a Mustang II front clip with independent front suspension and rack and pinion steering. Although it is manual steering it handles very easily and true. Front disc brakes work great and the rear drums were completely rebuilt.  10 Bolt Posi-trac rear end with I believe 3:73 gears.  Frame and rear were sandblasted and then painted with POR15 and the undercarriage still looks great as you will see.  This truck has a great stance and really drives and handles the road amazingly.  A new set of 15″ American Racing Torq Thrust Polished wheels were added about 2 years ago and the tires have plenty of tread.  This truck runs nice and cool and has electric fans.  As you will see, the Engine bay has been nicely detailed out for show.
This truck is truly an absolute blast to drive and handles todays roads easily and comfortably!!! Make sure you click on the video below so you can hear how sweet it sounds!!
HERE IS A SHORT VIDEO SO YOU CAN HEAR THIS HOT ROD START UP AND RUNNING  (

CLICK THE ARROW TO START

) :
If you have any questions feel free to call me at 

770-359-8400 

and I will do my best to answer them.  If you are a serious buyer lets talk on the phone and discuss it. I will be happy to negotiate a deal so we can get this beautiful car in to your garage as soon as possible.  In addition to being a licensed Classic Car Dealer I am also a Transport Broker and will be happy to assist the buyer with a great rate on Enclosed or Open Transport anywhere in the US at the buyers expense or to any port for overseas buyers.