About This Vehicle
Mileage: 11,501
Engine: 4 cyl
Body Style: SUV
Transmission:  Manual
Exterior Color: Green
Interior Color: Green
VIN: 51288
Price: SOLD
TRULY AMAZING, UNRESTORED,  

1953 WILLYS M38A1 MILITARY JEEP

WITH JUST

11,525 ORIGINAL ON-ROAD MILES

READY TO DRIVE, ENJOY, SHOW OR PUT IN A MUSUEM!!!!
As you would expect this Willys M38A1 Military Jeep has an interesting story behind it.  About 6 months ago we sold a 1965 Mustang Convertible to a great guy in Ohio. He contacted us a few weeks ago to let us know he has decided that what he really wants is a Classic Exotic car like a Ferrari or Aston Martin and therefore decided to sell the Mustang Convertible. We gladly bought it back from him and then he started telling me about this really cool Willys Military Jeep he had bought back in 1997.  He found it at a Hobby shop in a mall in Oklahoma City. It was on blocks and being used for display.  He was told it was a Reserve Jeep and never was used "off-road". At that time it had just 3820 original miles on it.  As a car collector and ex-marine the Jeep was something he had to have. He purchased it and took it to a Military Restoration expert in Massachusetts named Howie Bearse.  Howie got the Jeep in running condition and the owner put about 1100 miles before taking it back to Howie to consider having the motor rebuilt since it had sat for so many years.  Howie had a correct F Head 4 cylinder already completely rebuilt so the decision was made to swap out the motor. In addition the owner had quite a bit of other things done to the Jeep so that he would be able to get in and drive and enjoy it.  I will detail those items later in my description. The Jeep now has right about 11,500 original miles on it. Of course we had to buy the Jeep too, and now you have a chance to be the next lucky owner. This Willys Military Jeep is a very high quality piece with fantastic original patina and some great updates that make it a blast to drive and enjoy.  I have personally driven it several days and not only was it surprisingly easy to drive but gets all the attention that any of our other classics get on the road. This is a great investment collectible for any military collector or car enthusiast who wants to have something a little different to take to the cruise-in, car shows, and parades.  I will do my best to provide enough large images, a video of it running and an honest description to help you decide if this awesome piece of history should find a place in your collection.  Keep in mind I am far from a military expert but will do my best to answer any questions you may have.  As with all of my auctions I am more then happy to speak directly with serious buyers to negotiate a price to get this to your garage before the next car guy or gal scoops it up. Sit back, enjoy, and

GOD

BLESS

AMERICA

!!
This '53 is in amazing, un-restored condition and truly has all the patina you could ask for in a Military Jeep that you can hop in and drive whenever you please.  What you can expect is a body that is in amazing condition with no rust or rust repairs ever. Sure it has a few dings and battle wounds….unlike if it was a '65 Mustang or another classic car, these actually enhance the appearance by adding to the authenticity in my opinion.  I had an expert observe the pictures and he pointed out several things. The responsible agency plate shows the Jeep was initially issued to the Army.  The previous owner was an ex-marine so he had the Marine lettering added. The paint color is Army 24087 which is late 1954 and on field applied color and not the original applied 2430. He also noted that the USMC color would have been Marine Corp Forrest Green. He was very impressed with the un-restored condition and noted that it had not had any repairs made to remove the obvious non-stock items like old radio equipment holes, etc. From the holes remaining in both quarter panels and the wheel house tops it was most likely a radio unit.  The previous owner was quite positive this was a Reserve Jeep and never saw off-road usage. Amazing low mileage is consistent with the condition. Side view mirrors and front and rear turn signals were added for modern day safety.   It came with the original canvas top and the previous owner added original doors and side curtains.  Here is a walk around tour of the body of this awesome piece. 
The interior of this Willys is equally as impressive and here you will see some of the additions that were made to allow it to be a little more modern-day friendly.  The original seats and canvas duck covers are in great condition!! A civilian keyed ignition was installed to replace the military switch.  A functioning clock was added to the dash. Instruments are all believed to be original except perhaps the volt meter.  Dash serial plate shows MD51288 Jul 53. Civilian universal heater added on passenger floor.  Emergency brake works great. Seat belts were added.  Late military transistorized turn signal system was added. All of the gauges were gone through and work. Pop open the glove box and you will find an original manual and original military issued flashlight….very cool! You will feel like you are back in 1953 inside this Willys!  Take a look inside:
This M38A1 has never been used off-road to the best of our knowledge and has just a little over 11,500 original miles.  The 4 Cylinder F head motor that was put in this Jeep by a Military restoration expert has under 7000 miles on it and was completely rebuilt and runs great.  In 1997 over $7000 was spent on going through this Jeep completely and anything needed was done and the appropriate upgrades were made.  A picture of these receipts is included below.  The brakes were completely redone at that time and then again in 2010 brakes were redone. The previous owner was a meticulous guy with all of his cars so rest assured anything this Jeep needed he attended to. Turn the key, push the starter pedal and drive and enjoy!! The original wheels and multi-directional tires were removed and come with the Jeep. A set of Radial tires were mounted on a correct set of wheels so the Jeep is more road friendly and a civilian set of locking drive hubs were added. Undercarriage is rock solid, floors are original and solid.  This Jeep is ready to go!!! After the pictures below there is a video so you can hear it running.  Lets not forget that under the hood is the original shovel neatly mounted….ya never know!
HERE IS A SHORT VIDEO SO YOU CAN HEAR THIS WILLYS MILITARY JEEP RUNNING

( CLICK THE ARROW TO START ):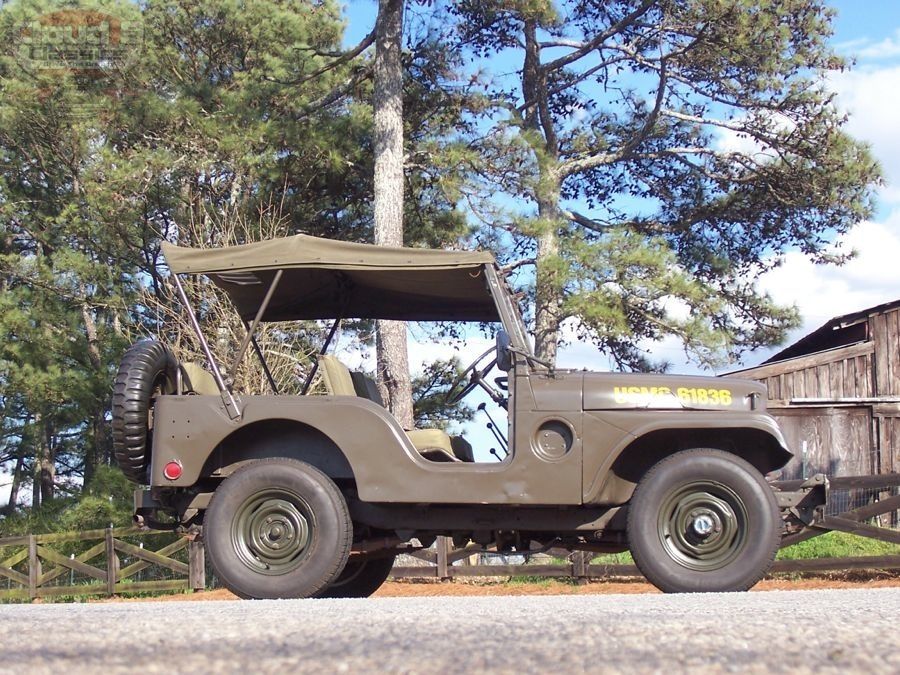 If you have any questions feel free to call me at 

770-359-8400 

and I will do my best to answer them.  If you are a serious buyer lets talk on the phone and discuss it. I will be happy to negotiate a deal so we can get this beautiful car in to your garage as soon as possible.  In addition to being a licensed Classic Car Dealer I am also a Transport Broker and will be happy to assist the buyer with a great rate on Enclosed or Open Transport anywhere in the US at the buyers expense or to any port for overseas buyers.