About This Vehicle
Odometer: 13,900
Engine:  390 FE V8 4bbl
Body Style: Standard Cab Pickup
Transmission:  C-6 Automatic
Exterior Color:  Orange
Interior Color: Black
VIN:  F10V5C14107
Price:  SOLD

 
ABSOLUTELY BEAUTIFUL

, CALYPSO CORAL,

1955 FORD F-100

….

FRAME OFF RESTORATION

, ALL STEEL BODY, NICELY MODIFIED AND LOADED WITH POWER STEERING, POWER DISC BRAKES,  AIR CONDITIONING AND MORE….READY TO

SHOW

AND

GO

!!!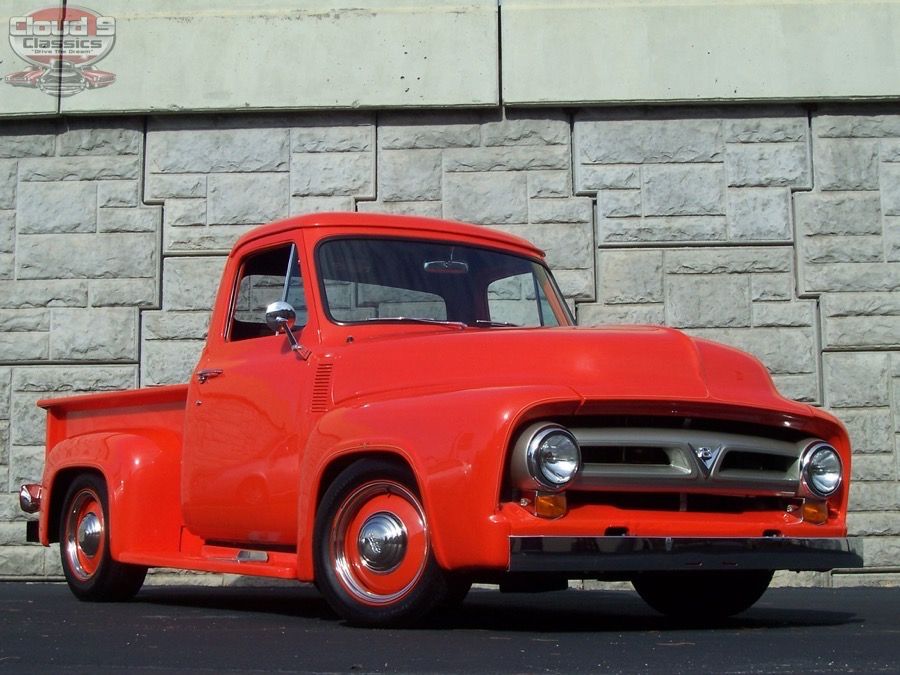 HAVE YOU BEEN SEARCHING FOR A BEAUTIFULLY RESTORED CLASSIC FORD F100 TRUCK AND WANT ONE THAT IS TURN KEY READY TO DRIVE AND ENJOY?
WOULD YOU PREFER AN ALL STEEL TRUCK THAT STILL HAS THAT CLASSIC LOOK?
DO YOU WANT A POWERFUL FORD V8 UNDER THE HOOD AND A TRUCK THAT IS A JOY TO DRIVE WITH AUTOMATIC TRANSMISSION, POWER STEERING, POWER DISC BRAKES, AND UPGRADED SUSPENSION FRONT AND REAR?
HOW ABOUT FINDING ONE WITH ICE COLD AIR CONDITIONING, AN UPGRADED STEREO, AND BEAUTIFUL CUSTOM INTERIOR?
WELL, IF YOU HAVE BEEN SHAKING YOUR HEAD
YES
THEN THIS '55 F100 MIGHT BE THE ONE YOU HAVE BEEN WAITING FOR!!
This gorgeous '55 F100 received a professional, frame-off restoration about 2 years ago. The gentleman who did the majority of the restoration has now restored 22 of these 1950's F100 trucks and he built this one for himself to drive to the local cruise ins and shows as well as just enjoy on a sunny day. He started with an ultra low mileage '55 that was supposedly an original fire truck that was always stored indoors. He loved to keep these trucks all Ford when possible and this one was no exception receiving a professionally built Ford FE 390 V8, C-6 Automatic transmission and a long list of other great components that I will detail in the listing below. He enjoyed this truck for several years and put a little under 3000 miles on it after it was done. He was moving on to another project, this time a '56 he told me. This is a phenomenal classic F100, perfect for someone who wants one that they can really get in and drive and enjoy. While it is definitely show worthy, it was not built to be a trailer queen and after the next lucky owner takes their first ride they will not want to stop driving it!! 
 I will do my best to provide enough large images, a video so you can see and hear it running, and an honest description to help you decide if this '55 should be in your garage. If you want to scoop it up before the next car guy or gal does I encourage you to call me to discuss how we can make that happen. As with all of my classics I do have this truck listed on my website and several others. I am also a transport broker and can get you a great rate on Enclosed Transport anywhere in the country. I also welcome overseas buyers and can assist in getting this truck to the port of your choice. Sit back and enjoy!!!
As you will see in the pics below, the body on this '55 F100 is in fantastic condition. The gentleman who did the restoration started with an original rust free cab and utilized the original doors, doors, hood and grille. He located a great set of original steel front fenders and purchased new steel rear fenders. He also replaced the running boards with new original style ones. The bed is completely new with beautifully finished pine wood bed and polished stainless strips. Once he had the body completely stripped and prepped for paint he had the truck drenched in a beautiful Ford Color called Calypso Coral.  It is a brilliant shade of orange that catches all the attention and at night and in the shade has a slight red tone.  Body panels are extremely straight and the doors on this '55 open and close better than any classic truck I have owned. Body panel gaps are very nice overall and probably better than when it was new.   New chrome bumpers were tucked a bit closer to the body for a sleeker look. All of the glass was replaced as was all of the weather stripping. We had our resident pin-stripe artist, Conway Customs, lay down so gorgeous pin striping in a few spots that really accents the beautiful lines on this truck and truly make it that much more unique then any other. While the paint and body on this truck are outstanding, I would not call it flawless as you will notice some minor blems and imperfections on close inspection. Most people would never notice most of them but I like to mention anything I have seen which included a very small hairline crack in the paint on the passenger door and a few chips that have been touched up. Overall the paint is what I would call local show quality meaning it is not perfect enough for the national events but it will still draw a crowd at all the local shows and looks excellent overall. The next lucky owner will be proud to show it off.  I think the photo tour of the body below will show you what you need to see: 
Open the drivers side door of this '55 F100 and you will be welcomed by an awesome custom interior that not only looks great but is also very comfortable. Rich black upholstery is all new from the bench seat to the door panels and custom headliner.  The bench seat has a nice fold down arm rest and the seat is adjustable if needed. 3 point seat belts were installed for driver and passenger. New black rubber mat was installed over the sound deadener along the cab floor and a great custom set of F100 carpeted floor mats await you. Tilt steering column from Flaming River and a great looking Billett Specialties steering wheel. Stock gauge cluster was used giving the dash a n ice authentic look and additional gauges for temperature and voltage readings were added in the drop dash that also house the ice cold Vintage Air conditioning and heat. All of the gauges appear to be working correctly including the original speedometer that was calibrated for the new driveline. The gentleman who restored also added a nice tach on the column and a slick push button start…turn the key, push the button and away you go.  Lokar automatic floor shifter operates smoothly with the push of the button and a Lokar emergency brake lever was also installed.  Updated stereo in the dash that looks older but cranks out your music through the speakers in the kick panels an behind the bench seat. It also has an electric antennae. Courtesy lights provide great light when needed at night.  This truck also has power windows that operate smoothly.  The interior looks like brand new and definitely nicer then original. Check it out:
At this point you might be wondering if this '55 Runs and drives as great as it looks….well, how about even better!!! Unlike so many classic Ford trucks that end up with Chevy motors in them, this '55 is all Ford and has a completely rebuilt 390 FE V8 built by Leggett Engineering. It was bored out .030 over and has new Edelbrock Aluminum heads, performer intake, and  Edelbrock 750 cfm carburetor with electric choke. This baby was built to run on pump gas and breathes through a st of 406 Shorty exhaust manifolds and out the 2 1/2″ custom exhaust that provide just the right amount of muscle tone out the rear. Smooth shifting C-6 automatic transmission was completely rebuilt before installation. Independent front suspension (IFS) from a 2005 Ford Crown Victoria with original power steering rack and sway bar. Rear suspension is a NO Limit 4 link system with Ride Tech coil overs. The rear end is a '62 Ford Galaxie 9″ that was rebuilt with 3.25 open gears for great cruising on the highway and plenty of stop light to stop light fun as well.  Handling is a breeze thanks to the Power steering with a new CVF chrome power steering pump. This truck stops with ease as well with all new brakes including power front disc. New MSD distributor and high torque starter making start ups easy. Under the hood everything is beautifully detailed and a Billet aluminum pulley system was used. Conways Customs also provided some great art work on the classic air cleaner.  Of course the undercarriage is equally as clean and detailed. Fuel tank was moved under the bed and is a from a 65-66 Mustang and a nice Billett fuel filler door is installed in the bed area. Custom fabricated fan shroud and a rebuilt original radiator keep this baby running cool.  This truck has a fantastic classic stance thanks to the 17″ Smoothie wheels that were painted to match and are wrapped in close to new BFG Radials. 
Make sure you take a minute to watch and listen to the video that follows to hear how great this '55 sounds!!
HERE IS A SHORT VIDEO SO YOU CAN SEE AND HEAR THIS SWEET F100 START UP AND RUNNING (

CLICK THE ARROW TO START

):
Hopefully at this point you can see that this is a very high quality '55 Ford F100 that will be welcome at any car show or cruise in and will certainly win its share of trophies. Perhaps even better, it is also a classic truck that was professionally built to drive and enjoy and truly hits the road beautifully.  I am confident that the next lucky owner is going to be absolutely thrilled when this Red Beauty arrives in their driveway.  As with all of my classics I do have this car advertised on my website and several others, so I encourage serious buyers to call me at 

770-359-8400

 with any questions or to discuss how we can get this sweet classic in your garage before the next car guy or gal scoops it up. I can assist in getting you a great rate on Enclosed Transport anywhere in the country and I welcome overseas buyers.