About This Vehicle
Mileage: 500
Engine: V8
Body Style: Truck
Transmission: Auto
Exterior Color: Blue
Interior Color: Black
VIN: V3A56L010223
Price:     SOLD
ABSOLUTELY BEAUTIFUL

1956 CHEVROLET 3100 BIG WINDOW PICK UP

….

FRAME-OFF RESTORED

WITH MODERN 4.8L FUEL INJECTED VORTECH V8 AUTOMATIC…READY TO

SHOW

AND

GO

!!!
HAVE YOU BEEN SEARCHING FOR A HIGH QUALITY, FULLY RESTORED, CLASSIC BIG WINDOW CHEVY 3100 PICK UP?
DO YOU REALLY WANT AN UPDATED FUEL INJECTED V8 MOTOR AND AUTOMATIC TRANSMISSION WITH OVERDRIVE THAT YOU CAN GET IN AND DRIVE?
WOULD YOU LIKE TO HAVE  POWER STEERING AND FRONT DISC BRAKES?
ARE YOU LOOKING FOR ONE THAT HAS A KILLER STANCE, IS READY TO DRIVE AND ENJOY AND ALSO WILL TAKE HOME TROPHIES AT THE LOCAL SHOWS AND CRUISE-INS??
WELL, IF YOU HAVE BEEN SHAKING YOUR HEAD YES THEN GET COMFORTABLE BECAUSE THIS COULD BE THE CLASSIC HOT ROD TRUCK YOU HAVE BEEN SEARCHING FOR!!!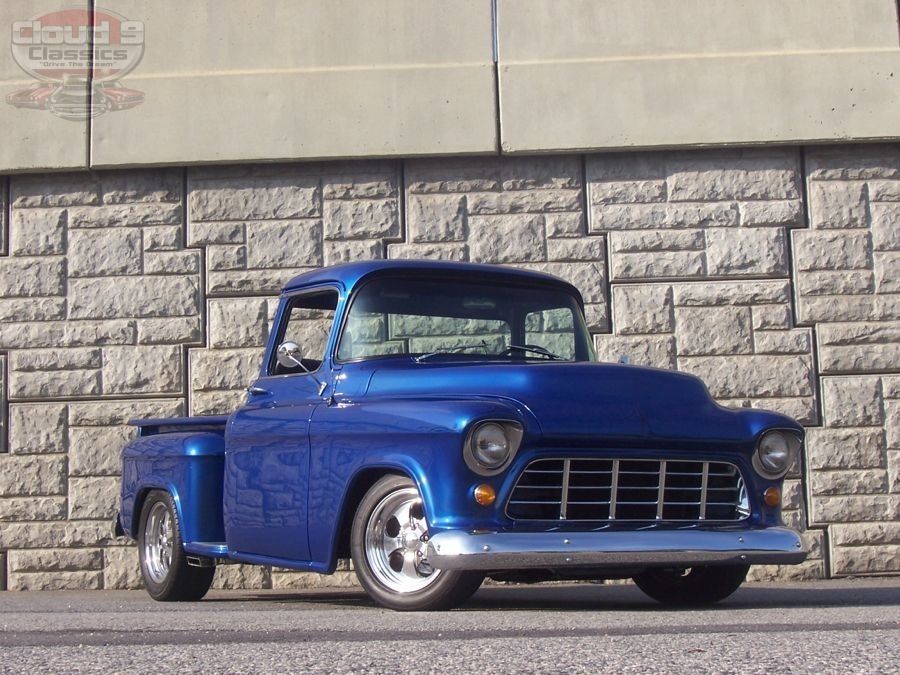 It is hard to dispute the fact that 1950's Chevrolet Pick Up trucks that have been nicely upgraded are a hot category in todays Classic car and truck market.  From 1955-1957 the Chevy trucks had a very similar style but the Big Window model is without a doubt the most sought after by collectors and truck builders.  This particular Big Window '56 is believed to have been a California truck most if not all of its life and in 2004 was treated to a professional, full frame-off restoration, by a gentleman who was in the automotive business, to transform it in to a Modern Hot Rod Truck that could be driven, shown and enjoyed.  I was able to speak directly to him recently to confirm what was done to this awesome truck.  Originally he built a carbureted motor for it which he drove for a few years until he got the itch to do something different.  He located a Vortech 4.8L Fuel injected motor that had 10 miles on it and had come from a 2006 Chevrolet truck that was damaged in transport to the dealership.  He also got the original 4L60E Automatic overdrive transmission along with all of computer equipment and electronics.  He put about 10,000 miles on the truck with the new drivetrain and about 2 years ago he traded it to another guy in California. The new owner made a few cosmetic changes and barely drove it putting only a few hundred miles on it during his ownership.  A divorce forced him to let go of his toy which he had originally planned on keeping for many years.  Unfortunate for him but lucky for the next owner….maybe you???
An appraisal was done on this truck back in 2008 after the new drivetrain had been installed and the appraisal came in at $51,000. We will include the appraisal report to the next owner.   Prices on trucks of this quality have continued to appreciate but the lucky next owner will be able to buy this truck quite a bit lower then the 2008 Appraised 
value so they will know they are making a great investment!!!
This is a truck that you can truly drive and enjoy as well as take to the shows and cruise-ins. It is actually the best driving 50's truck we have had and we have had some really nice trucks! You will surely fill the bed with trophies if that is what you enjoy. While not an absolute, over the top, trailer queen, it is, without a doubt, a very high quality build that I doubt you could duplicate for the price you can buy it for.  Even better is knowing that it is a great investment in something you and your family can drive and enjoy, not just ready quarterly reports about.  I will do my best to provide enough large images, a video of it starting up and running, and an honest description to help you decide if this is the one you have been dreaming of.  
As you will see in the pics that follow, the body on this '56 is in fantastic condition and the Bright Blue Metallic paint glistens. However, it was an overcast day when many of the pics were taken so I can honestly say the paint color pops even more in person then it does in the pictures.  I have seen pictures of the truck before the restoration and it started out as a super solid, close to rust free truck before the frame off restoration. This truck is all steel!!!  Body panels are very straight and line up very nicely. It was painted about 10 years ago and had accumulated quite a few chips from normal driving. We decided it deserved a fresh coat of paint which we had done about a month ago in the same color and it looks awesome. The wood in the bed had also dried out from the years of use and California sun so we had the wood bed refinished and it also looks awesome.  Chrome, trim and glass all looks excellent!! Front windows were changed out to the one piece windows which look great. As you will see this truck has an awesome Hot Rod stance and the body style will take you back to the good 'ol days. Enough talk….I will let the pics of the body tell you the story. 
While there is no doubt that the Royal Blue Metallic paint on this Big Window '56 is jaw-dropping gorgeous, we also felt it needed just a little something extra. A phone call to Larry Conway at Conway's Custom Pin Striping was all it needed. Larry came out and layed down some awesome custom pin stripe art. It is suddle enough that it does not jump out at you but I think you will agree that it really highlights the beauty of the body lines of this truck and will help this truck stand apart form the others at the shows. Check out some of the pin striping in the pictures below. He also continued the same theme on the interior which you can see in the interior pics later on. 
The retro, yet upgraded look continues on the interior of this awesome '56 with a stock style front seat that was custom done in a rich black leather on the seat bottom and a matching synthetic seat back.  This gives you all the comfort of leather plus added durability and comfort.  There is also plenty of room in the cab of this '56 since the original fuel tank that is normally mounted behind the seat was removed and a larger fuel tank was relocated under the wood bed. This enabled the bench seat to be repositioned further back so even the taller crowd will fit comfortably in this Hot rod.  As you will see this '56 has a stock original steering wheel mounted on a tilt column. It is a blast to drive with the original wheel!! An updated set of gauges were installed in the stock chrome gauge bezel and an additional tach was neatly installed in the dash. This gives you all the vital read outs for everyday driving. A retro look modern am/fm stereo was also added and a nice set of speakers installed in the front kick panels.  This stereo can be easily upgraded for use with an iPod or cd player.  You will also notice a yellow button installed under the dash which is for the awesome train horns that will let everyone know to get out of your way. The OBD plug in for the computer is also mounted under the dash for easy diagnosis and service if/when needed. The lokar automatic shifter has a great look in this Hot Rod.   Carpeting looks great and is close to brand new.  The only thing you may want to add to the interior of this awesome truck is aftermarket heat and air conditioning which will be an easy add-on if you decide to do it. The original a/c compressor on the 2006 motor is still in place and there are several kits available to retro-fit ice cold air conditioning to this 1956 Chevy. To compliment the pin striping on the exterior a similar theme was executed inside this beauty.  Overall the interior looks fantastic and is ready for the shows! Take a look:
This awesome truck looks extremely period correct from the outside and even in the interior, but under the hood is where you get a fantastic modern upgrade that makes this '56 an absolute blast to drive and is also extremely reliable!!  The suspension is also totally upgraded so that this '56 drives and handles more like a new truck then a '56.  In 2008 the gentleman who built this truck decided to swap out the carbureted V8 he had originally built for it with a practically brand new Vortech 4800 4.8L Chevrolet Fuel injected V8. The motor and the 4L60E Automatic transmission both came from a 2006 Chevrolet truck that was damaged in transport to the dealership. The drive line had less then 10 miles on it when he retro-fitted it in to the engine bay of this '56. All computer related equipment was also included and professionally installed. The motor also retained all of the stock accessories including the power steering, alternator, and air conditioning compressor.  Stock this motor put out about 285 horsepower but with the addition of the hand crafted custom made JBA tube headers and exhaust this motor is putting out about 310 horsepower and will definitely giddy-up on demand!! The 4L60E Automatic transmission with overdrive was perfectly mounted and shifts super smooth. Lokar shifter is awesome and looks very period correct.  This truck was a complete frame off restoration and the frame itself was completely stripped and epoxy painted not only for a great appearance but also for years of service. Front end is a Heidts II independent front suspension and power rack. Steering is nimble and precise and the truck handles beautifully at all speeds. Rear end is a rebuilt 1956 Chevy rear and is set up with highway cruising gears ideal for the overdrive transmission. Front disc brakes and rear drums stop this truck with ease.  This truck runs nice and cool with no overheating issues! Nice 20 gallon fuel tank mounted under the bed with electric fuel pump. Great stance and sitting on a sweet set of Eagle Polished Alloy wheels. Rears are 17″ wrapped in 275/60/17 Falken radials and fronts are 16″ with 225/55/16 Falken radials. Tires have tons of tread life left. The undercarriage looks fantastic. You will also see the air compressor underneath this truck for the train air horns that are a blast when needed or even when not needed just for fun. We also have excellent documentation of work that was done and a binder with many of the receipts.   I seriously cannot emphasize enough how amazing this truck drives and handles the road. I would put my 19 year old daughter behind the wheel in a heart beat if she wanted to take it out on a cruise!!  Not only does it drive amazing but it also sounds amazing. Make sure you put the volume on your computer up high and listen to the truck start in the video that follows these pics!!!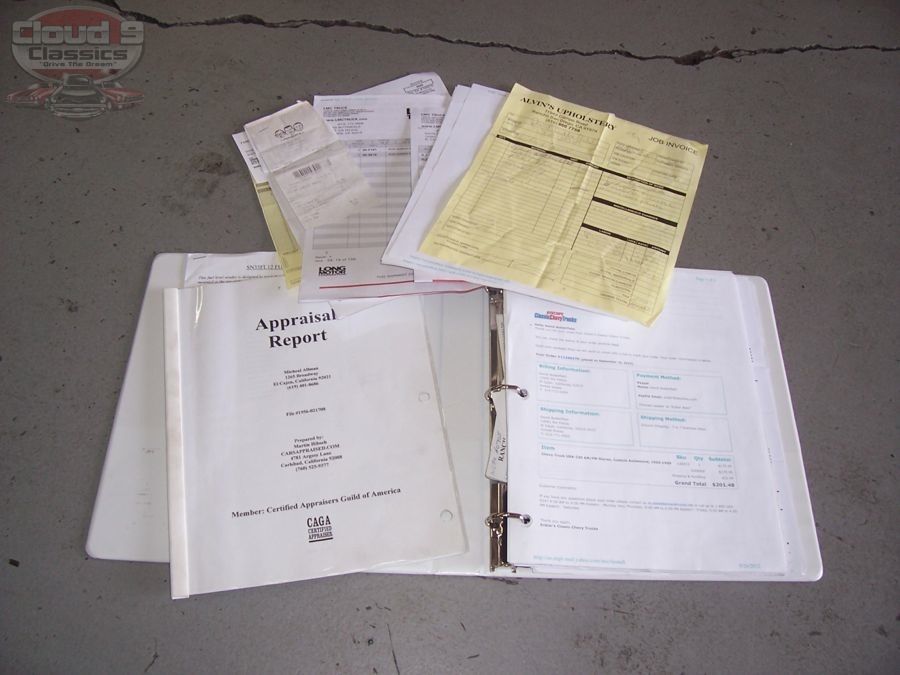 SEEING THIS BEAUTIFUL '56 CHEVY IS ONE THING, BUT HEARING IT AND DRIVING IT IS ANOTHER EXPERIENCE YOU DO NOT WANT TO MISS!!
HERE IS A SHORT VIDEO SO YOU CAN HEAR IT FIRE UP AND RUNNING ( TURN UP YOUR VOLUME AND 
CLICK THE ARROW TO START
):
If you have any questions feel free to call me at 

770-359-8400 

and I will do my best to answer them.  If you are a serious buyer lets talk on the phone and discuss it. I will be happy to negotiate a deal so we can get this beautiful car in to your garage as soon as possible.  In addition to being a licensed Classic Car Dealer I am also a Transport Broker and will be happy to assist the buyer with a great rate on Enclosed or Open Transport anywhere in the US at the buyers expense or to any port for overseas buyers.