About This Vehicle
Odometer: 87,245
Engine:  283 V8
Body Style: Big Window Pickup
Transmission: Manual
Exterior Color: Turquoise
Interior Color: Gray
VIN:  3A57B104242
Price: SOLD
ABSOLUTELY

STUNNING

, FRAME-OFF RESTORED, 1957

CHEVROLET 3100

BIG WINDOW

PICK UP, 283 V8….READY TO

SHOW

AND

GO

!!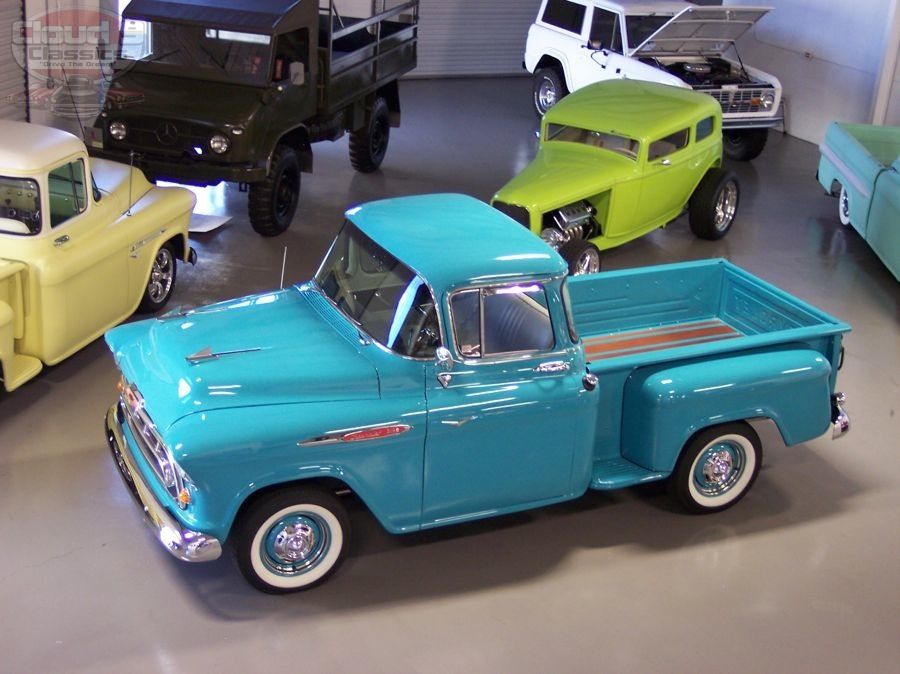 IF YOU HAVE BEEN SEARCHING FOR A BEAUTIFUL, PROFESSIONALLY RESTORED, 1950'S CHEVROLET PICK UP THAT HAS NOT BEEN MODIFIED LIKE SO MANY THAT ARE ON THE MARKET TODAY, THAN THIS GORGEOUS,

INDIAN TURQUOISE

, '57 3100 BIG WINDOW PICK UP MAY BE THE ONE YOU HAVE BEEN WAITING FOR!
THIS TRUCK TRULY STANDS HEADS AND SHOULDERS ABOVE MOST AND IS A TURN-YEY, INVESTMENT QUALITY CLASSIC THAT YOU CAN DRIVE AND ENJOY.
If you have been following the Classic Car and Truck market lately you are well aware of just how the 50's Pick up trucks have been.  We have had a beautiful selection of 1950's Chevrolet Pick up trucks lately most of which have been resto-mods which we love, but there is something about a fully restored classic truck that has been brought back to its original glory that really stands out. This 1957 Chevrolet 3100, Big Window pick up is a premium example of a frame-off restored classic truck that will truly knock your socks off. The original Indian Turquoise color shouts 1957!!! We recently acquired this from a gentleman in NC who had restored it about a year ago. After the restoration the truck was driven very little and other projects caused him to decide it was time to pass this beauty along to the next lucky owner…maybe you?? We were told the truck had spent most if not all its life in the NC area and was almost completely rust free to start out. He treated it to a frame off restoration and said that everything on the truck was either restored to like new condition or was replaced with new parts. It is truly a stunning truck and beautiful restoration! Best of all it is an original V8 truck and has a correct 283 V8 that was completely rebuilt and runs beautifully. This classic truck is ready to be driven and will definitely win its share of trophies at the local shows if that is what you enjoy.  As with all of our classics, we will have this truck on our website as well as several others. If you decide this is the truck you have been waiting for I encourage you to give me a call before another car guy or gal scoops it up.  I will do my best to provide enough large images, a video of it running, and an honest description to help you decide if this truck belongs in your garage this spring. Sit back and enjoy!
As I mentioned this '57 Big Window was treated to a frame-off restoration and was completely stripped to the metal prior to receiving the high quality PPG Base/Clear paint job in the original Indian Turquoise Color. We were told that the only rust that was spotted was in the cab corners and it was properly repaired with metal. Body panels are extremely straight and this truck is all steel!! Body is near flawless and the restoration still looks super fresh.  Chrome exterior trim was replaced with new including bumpers. Original stainless around the windows was polished out and looks great. All of the glass was removed at the time of paint and new weatherstripping was used. Front windshield was replaced and all of the glass looks excellent and windows roll up and down nicely. Overall body panel fit is excellent although the doors could be adjusted slightly for a perfect fit. The wood bed is gorgeous! He used mahogany bed planks that were carefully stripped, sanded, and resurfaced in a matte polyurethane finish. The styling on the '57 is awesome from the front grille to the big back window and the emblems and trim. I am sure the next lucky owner will be absolutely thrilled with this truck when it arrives in their driveway. I think the pics will tell you what you need to know. Here is a photo tour of the body: 
Open the drivers side door and you will feel like you are looking at a new '57 Chevy 3100. The complete interior was restored to original decor and painted in the correct grey color. The Bench seat was recovered in the grey vinyl and is super comfortable. New headliner, new door and window handles, new dash levers and buttons, new rubber floor mat with oem style carpet, new interior light and wiring, restored original steering wheel with new horn button,  modern am/Fm stereo with retro look with optional 2 speaker box above the rear view mirror.  All of the gauges and lights appear to be functioning properly although the fuel gauge may not be reading correctly and we will try to take a look at that. The interior is near flawless and ready for the shows!! Take a look inside:
Of course this truck drives as sweet as it looks and has an original, correct 283 V8 under the hood mated to the 3-speed manual on the column….just like the good 'ol days! We were told that the motor could be the original but we have not verified it. The previous owner had the motor completely rebuilt and at that time had it bored .20 over and installed a more modern street cam so it does have a bit of a lope which sounds great and performs fantastic. There are only about 500 miles since the rebuild.  He also decided to convert the exhaust to a dual exhaust with flow masters which give this truck a great tone. Be sure to listen to it running in the video that follows. It has a 2bbl carburetor and original oil air  breather. It also has a correct Remy Delco generator.  Drive shaft was rebalanced and new u-joints. New shocks, new bearings, new seals.  Front and rear brakes were completely redone and this truck stops with ease with no pulling. Steering is very tight and the steering box was completely rebuilt. Although it is manual steering it steers quite easily especially once you are moving and this truck tracks straight down the road! Great set of radial wide whitewalls mounted on original wheels that have been painted and detailed.  The truck is turn key ready and drives like a dream. As you will see the undercarriage was nicely detailed as well. The frame was painted in Sema rust inhibiting matte black and all other components were done in Sema Hot Rod black.  You won't find many cleaner then this!! I have driven this truck about 30 miles since we have owned it and it drives and handles the road beautifully. It will keep up with highway traffic with no problem and the horns you hear honking will be to let you know how cool your truck is!  Have a look and be sure to listen to the truck running in the video that follows. 
HERE IS A SHORT VIDEO SO YOU CAN HEAR THIS '57 START UP AND RUNNING

( CLICK THE ARROW TO START ):
As with all of our Classics we do have this truck advertised on our website and a number of other sites and reserve the right to end the auction early if it sells before the end of the auction.  We welcome serious buyers to call us to discuss a price that will put this awesome classic in your garage before the next car guy or gal scoops it up. 
SERIOUS BUYERS CAN CALL ME AT 770-359-8400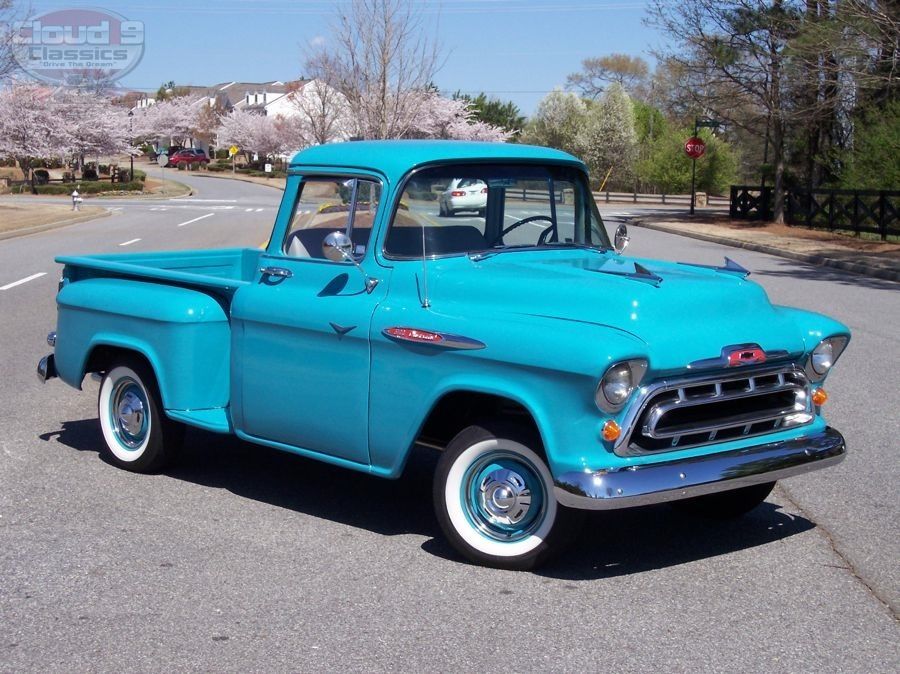 If you have any questions feel free to call me at 
770-359-8400 
and I will do my best to answer them.  If you are a serious buyer lets talk on the phone and discuss it. In addition to being a licensed Classic Car Dealer I am also a Transport Broker and will be happy to assist the buyer with a great rate on Enclosed or Open Transport anywhere in the US at the buyers expense or to any port for overseas buyers.