About This Vehicle
Odometer: 1,500
Engine:  LS1 Fuel Injected V8
Body Style: Wagon
Transmission: TKO 6-speed Manual
Exterior Color: Pearl Viper Blue
Interior Color: Black
VIN:  B57S245672
Price: SOLD
GORGEOUS

, HIGH-END CUSTOM, 1957 CHEVROLET BEL AIR 210

PRO TOURING WAGON

…

WELL

 

OVER $100K SPENT

ON THE BUILD

…LS1, 6-SPEED, A/C, 4 WHEEL DISC BRAKES,

FULL AIR RIDE SUSPENSION

…READY TO

SHOW

AND

GO

!!!!
IF YOU HAVE BEEN SHOPPING FOR A SHOW-STOPPING, CUSTOM 1957 CHEVROLET PRO TOURING WAGON THEN GET READY BECAUSE YOUR HOT ROD HAS ARRIVED!!!!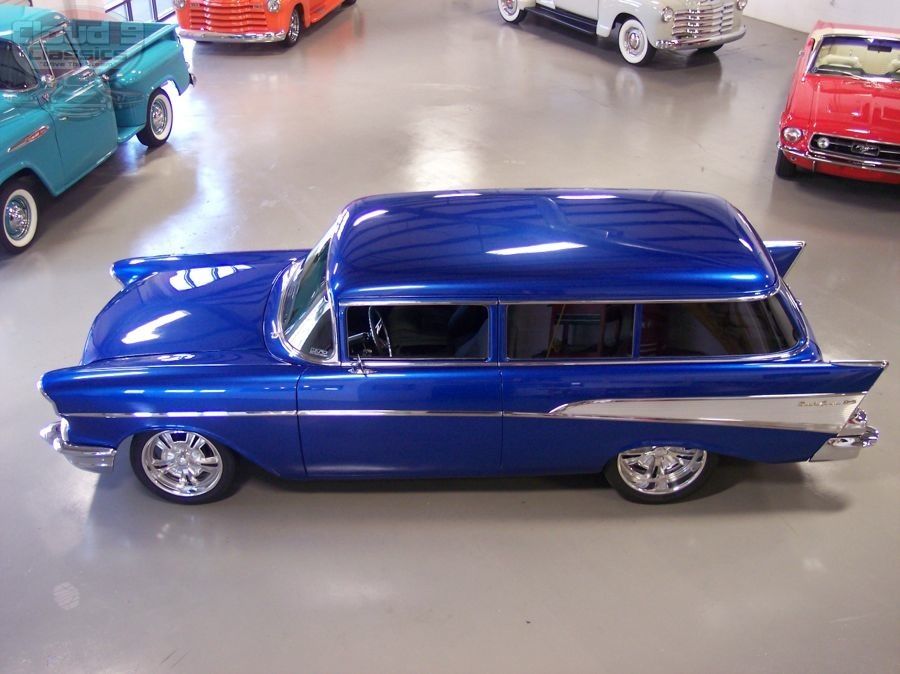 A few years ago I met a great guy from SC who has been in the car hobby quite a bit longer then me and had accumulated quite the collection of cars over the years.  His passion has been locating great cars or trucks that have been partially or fully restored and then taking them to the next level.  I have been fortunate enough to buy 14 of the cars and trucks he has done this with over the past several years and this Custom '57 Chevrolet 210 Bel Air Pro Touring Wagon may be the best of the bunch!  This awesome '57 Wagon was a 10 year restoration build and was done to not only win car shows, or complete the next lucky owners collection, but also to be able to be driven on a pro touring drive or perhaps be one of the coolest daily drivers on the road. The previous owner acquired the car after the initial build had been completed. There had already been well over $100k spent on the custom build and restoration not including the original cost of the car itself.  However,  he had his own visions and took this '57 to the next level as he always does. This included adding a $6000 custom set of Schott Modsport custom wheels,  having the interior completely customized and adding a high end custom stereo system.  As is always the case with him, he drove the wagon to a few shows and then found another cool car to work on so he let me know it was up for sale.  Within a few days this sweet ride arrived to our showroom and is now available for the next lucky owner….maybe you!!!!? I will do my best to provide enough large images, a couple of videos, and an honest description to help you decide if this is the one of a kind, custom that you have been wanting to add to your collection.  As with all of our classics, this wagon is advertised on our website and several others. If you decide you need to have it and do not want the next car guy or gal to beat you to it feel free to call me to discuss how we can make that happen.  Sit back and enjoy!!
The body and paint on this '57 Pro Touring Wagon are drop-dead gorgeous!!! The color is a Pearl Viper Blue PPG that was laid down on a body that had 100's of man hours making sure it was laser straight.  As you will see there are quite a few custom body modifications including shaved and smoothed front doors with bear claw latches and poppers, custom 1-piece tailgate on remote popper,  smoothed hood that tilts forward using a stock reversed '57 hood latch, and much more. All doors are on a 7 way remote control with  All of the original GM stainless steel was kept. It was smoothed and polished by hand at a cost of $3500 in labor alone. Brand new Bel Air trim and cladding. All new glass and rubber with one piece front windows.  New front bumper kit, front grill bar, hood bar and fender ends. Custom fabricated rear bumper is also a "smoothie" with no bolts showing.  The body is in near flawless condition and the paint truly glistens and sparkles from every angle. I noticed a tiny scratch on the tailgate that I think we can get buffed out.  As you probably already realized this Wagon is set up with Full Ridetech Shock Wave air ride suspension at all four corners.  I have taken pictures of it with it both lowered and raised. The first set of pics below has it in the lowered position. It is not completely slammed to the ground but it could be if you wanted to.  It currently has 2 pre-set positions which can be manually changed for your personal preferences.  Here is a walk around door of it lowered:
Here are a group of pictures showing it in the raised position that I have it set to for normal driving.  I also did a video that follows these pics so you can see the air ride suspension system in action.
HERE IS A SHORT VIDEO SO YOU CAN SEE THIS WAGON CHANGING HEIGHTS WITH THE FULL AIR RIDETECH SHOCK WAVE AIR SUSPENSION SYSTEM (

CLICK THE ARROW TO START

):
Complimenting the jaw-dropping Viper Blue exterior is an absolutely stunning, custom interior done in black with blue stitching.  The power front bucket seats are super comfortable and the rear bucket seats are separated by a custom console that runs front to back.  I had a hard time capturing the richness of the interior on my camera but I can tell you that I always receive compliments on how well the interior was done and it is truly one of a kind and very tastefully done. The seats are done in a synthetic, leather-like material with suede inserts. The same goes for the door panels and center console.  Open the rear hatch and you will see how nicely the pattern flows from front to rear. A nice storage area in the rear hatch with custom speaker pod housing the Hertz Speakers and amp.  It is set up with a custom I-pod radio in the center console. The center console also slides open to reveal the Ridetech programmable air ride controls. Power window controls in center console.  A very custom dash was hand fabricated and smoothed  and extended.  Carbon fiber Dakota digital instrument cluster and clock look fantastic and the dash has a very modern retro look to it.  Beautiful Ididit tilt steering column with custom Budnik steering wheel.  Lokar pedal assembly.  Vintage Air conditioning blows ice cold with Billet vents and controls. I think you will agree that the interior is as show worthy as the exterior…..have a look inside:
This Pro-touring '57 Wagon is definitely set up to be driven and enjoyed. The smoothie, front tilt hood reveals a very nicely installed LS1 fuel injected V8. We were told that the motor had only 5000 miles on it when it was installed and we believe the car itself has about 1500 miles on it since completion.  The motor is a stock spec transplant with approximately 375 horsepower.  Some of the details we were provided with say it has Billet motor bases, Mass Air intake manifold, cable mounted throttle body, ref lashed ECM and a serpentine belt driven pulley system.  The front end is a Fatman suspension with power rack and pinion steering. Rear end is believed to be a 9″ posi connected with Moser Axles with 3:25 gears. The LS1 is mated to a TKO 6-speed manual transmission. This Wagon pulls strong and hard off the line and will cruise at 75 mph in 6th gear at under 2000 rpm and you can probably get close to 30mpg.  Full air ride Ridetech Shock wave suspension with dual tanks. The car stops effortlessly thanks to the Wilwood 4 wheel disc brake set up. Polished stainless steel A-arms. Custom drive shaft by Rides Custom shafts. Car was completely rewired with a American Autowire 18 fuse panel and loom. Custom 20 gallon fuel cell uses an F1 pump, filters and AN lines and fittings.  The LS1 motor runs nice and cool thanks in part to the custom aluminum electric twin fan set up. The car performs as good as it looks and the engine bay looks awesome thanks to the hand fabricated smoothed firewall and inner fenders. As you will see the manifold has a very cool dipped skull design.  This '57 Wagon is also riding on a practically brand new set of custom Schott Modsport Performance wheels that cost close to $6000. Fronts are 18×7 and rears are 20×10.  They are wrapped in a close to new set of Bridgestones, 315/35/20 in back and 225/45/18 up front.  This wagon has an awesome stance!!!! Of course this Wagon sounds as good as it runs thanks to the twin 40 series Flowmaster exhaust system.  Make sure you listen to the video that follows these pictures to hear it start up and running!!!
HERE IS A SHORT VIDEO SO YOU CAN HEAR THIS LS1 POWERED '57 WAGON START UP AND RUNNING (

CLICK THE ARROW TO START

):
SERIOUS BUYERS CAN CALL ME AT 770-359-8400
If you have any questions feel free to call me at 
770-359-8400
and I will do my best to answer them.  If you are a serious buyer lets talk on the phone and discuss it. In addition to being a licensed Classic Car Dealer I am also a Transport Broker and will be happy to assist the buyer with a great rate on Enclosed or Open Transport anywhere in the US at the buyers expense or to any port for overseas buyers.