About This Vehicle
Odometer: 70,300
Engine:  371 cubic inch with J2 Tri-power
Body Style: Wagon
Transmission: Automatic
Exterior Color: Bronze & Beige
Interior Color: Bronze & Beige
VIN:  577K13012
Price: SOLD
NICELY RESTORED

,

VERY RARE

, 1957 OLDSMOBILE GOLDEN ROCKET SUPER 88 FIESTA WAGON WITH ORIGINAL 371 V8 AND

J2 TRI-POWER SYSTEM

…READY TO

SHOW

AND

GO

!!!
I recently acquired this very special 1957 Oldsmobile Fiesta Station Wagon from a true Oldsmobile enthusiast who grew up hanging around the Oldsmobile Dealership where his father worked.  He was a member of the Oldsmobile Club of America and had the opportunity to buy this Station wagon almost 2 years ago from a 72 year old gentleman in Michigan who owned the car for quite a few years. The body had been restored about 5 years ago and was professionally painted in the original colors. Years went by and the owner was not able to complete the mechanical rebuild so he decided to pass it along to the Oldsmobile enthusiast from Maryland who I bought it from. This gentleman went through the car from front to back and rebuilt or serviced any mechanical systems that needed it. This included a rebuild of the original J2 Tri-power carb. set up.  He also decided to give it a slight resto mod look with a great set of wheels but otherwise kept the look extremely original. While not flawless, this Wagon is in exceptional condition overall and is quite rare. Station Wagons in general are becoming a hot category in the classic car market and this '57 Oldsmobile Fiesta Wagon  with the J2 Tri-power is definitely one to get excited by.  I am not an Oldsmobile expert so I will not go in to all of the history and details on these cars but there is plenty of info on the internet for those of you who want to research it. My research shows that they built 8981 Fiesta Wagons and the J2 Tri-power was only offered in late '57 and early '58.  For just $83 buyers could add the J2 system to their order to turn there family sedan in to a muscle car.  Amazingly this could also be added to the family wagon but it is believed that very few were ordered this way.  This wagon has the cool factor going for it and is a great classic collectible for any car guy or gal to add to their collection. It is ready to be driven and enjoyed. These vintage wagons draw all the smiles and thumbs up you can handle!! I will do my best to provide enough large images, a video so you can hear it start up and running and an honest description to help you decide if this wagon should be in your garage. As with all of our classics I have this Fiesta Wagon on several other websites in addition to our own. If you want to scoop it up before the next car guy or gal does feel free to give me a call to discuss. Sit back and enjoy!!
The body on this Fiesta wagon is in absolutely beautiful condition. It is believed to have been professionally repainted about 5 years ago and was done in the original color code 64 which was called Cutlass Bronze Metallic.  I believe the roof accent color is called Shantung Beige. It is a beautiful color combination and of course very period correct. As you will see at the end of my listing this color combination was used in much of the original advertising for these cars.  Body panels are very straight overall and doors all open and shut with ease and line up nicely. I do not see any bubbles in the paint or signs of rust along the body. This wagon appears to still have all of its original steel.  All of the stainless and chrome all looks excellent. The bumpers were triple chrome plated by Keystone Company in Michigan and look awesome.  A few of the ornaments and stainless pieces have very minor signs of age but overall look great. The chrome roof rack looks great and I added a vintage surf board to some of the pics just to give you some ideas of what you can do to really add to the cool factor ( surf board not included).  Add some vintage luggage, picnic basket, etc. and this wagon will take you back to the 50's and 60's real fast.  The overall paint quality is excellent with only a minor flaw or town that I noticed. It is base coat/clear coat with a very light metallic that really pops in the sun and the color takes on a richer, darker tone in the shade.  There are 2 very tiny holes by the front drivers side fender "Fiesta" emblem that I think could have been for a slightly different emblem with the "88" on it but I am not sure.  Lets assume there may be a very minor rock chip or two also but I really did not notice any other flaws worth mentioning.  Those of you who are real Oldsmobile experts might notice that the "Oldsmobile" letters are not on the rear hatch.  These were not reproduced and are extremely hard to find but the holes were filled and the rear hatch looks awesome the way it is. The correct Oldsmobile letters are in the front grille and they are just one of the cool features on this wagon. All of the glass looks outstanding although the rear hatch windows does have some very fine scratches. All of the weatherstripping has been replaced.  It is hard to find one of these'57 Wagons at all yet alone in as nice of condition as this one. I think the photo tour of the body below will show you what you want to see:
Complimenting the Cutlass Bronze Metallic and beige exterior is an equally nice bronze and beige colored interior that has also been completely redone and looks outstanding! Gorgeous 2-tone door panels and seat covers have been professionally redone and the seats are extremely comfortable and you can easily fit 6 adults plus as many kids as you want to pile in the back just like the good old days! Or, fold down that rear seat and load it up for the next road trip.  Beige headliner was professionally redone and looks awesome.  Color matched carpeting was also all replaced and looks fantastic. The chrome and stainless dash looks awesome and appears to be mostly if not all original. Gauges are crystal clear and everything seems to be functioning correctly.  A nice set of aftermarket gauges were added under the dash for oil pressure, temperature, and voltage readings but otherwise this interior shouts 1957!! Reproduction owners manual and shop manual will be included in the glove box. A push button start was added under the dash as was a horn button. Interior is basically in show condition…take a look:
Lets pop the hood on this '57 Wagon and enjoy what sits beneath!!! That is right boys and girls, sitting atop the original 371 V8 is that $83 J2 Tri-power option that very few customers wanted in their family wagon. The Oldsmobile experts will be quick to point out that it should have a black tri-power air cleaner sitting on top of those triple carburetors. Well, I just located an original air cleaner that I may be able to acquire for the next lucky owner…we can talk about that once a deal is struck.  This motor has been completely gone through and runs fantastic. The previous owner installed a brand new complete engine seal kit so all of the gaskets are new.  He also had a top notch mechanic perform a long list of items including, completely rebuilding the tri-power carburetors, rebuilt the fuel pump, added in-line fuel filter, rebuilt the power steering pump,replaced front wheel bearings and complete rebuild of the brakes with new brake shoes, wheel cylinders, brake hoses and turned drums,  replaced front wheel bearings,  new upper control arms, upper ball joints, control arm bushings, and sleeves and replaced tie rods.  A complete tune up was performed with new plugs, points, condenser and distributor cap, new correct spark plug wires and plugs. Radiator was back flushed and all new hoses and belts and this wagon runs nice and cool. New fuel tank and sender unit.   Wiper transmission and linkage was repaired and rebuilt and new blades put on. Original generator was professionally rebuilt. We have a huge folder with all of the receipts and most of the parts came from Fusick which is well known in the Oldsmobile world for great correct parts.  The engine bay was nicely detailed out as well so you can proudly pop the hood at any shows or cruise-ins.  This Fiesta Wagon fires right up and cruises down the road with ease. When you want a little added fun factor mash the gas pedal and get all 3 carburetors to kick in for that added horsepower boost. This 371 V8 is breathing through stock manifolds and a completely redone dual exhaust system with a nice set of flow masters for a nice soft muscle car tone at idle.  Be sure to listen to the video at the end of the listing. The dual exhaust tips exits out each side right under the rear bumper.  This cool vintage wagon rides on a practically new set of Rocket gray ignitor wheels that resemble the salt flat style with spinner cap centers.  They are 15×8 in rear with brand new BFG TA 235/70/15 neatly tucked in and 15×7 in front with matching BFG Radial TA 215/70/15. This wagon is ready to be driven and enjoyed and has very few miles on it since all of the work has been performed. The undercarriage is also rock solid and nicely detailed. Frame rails and floorpans are all in fantastic condition. Take a look and be sure to listen to the video that follows.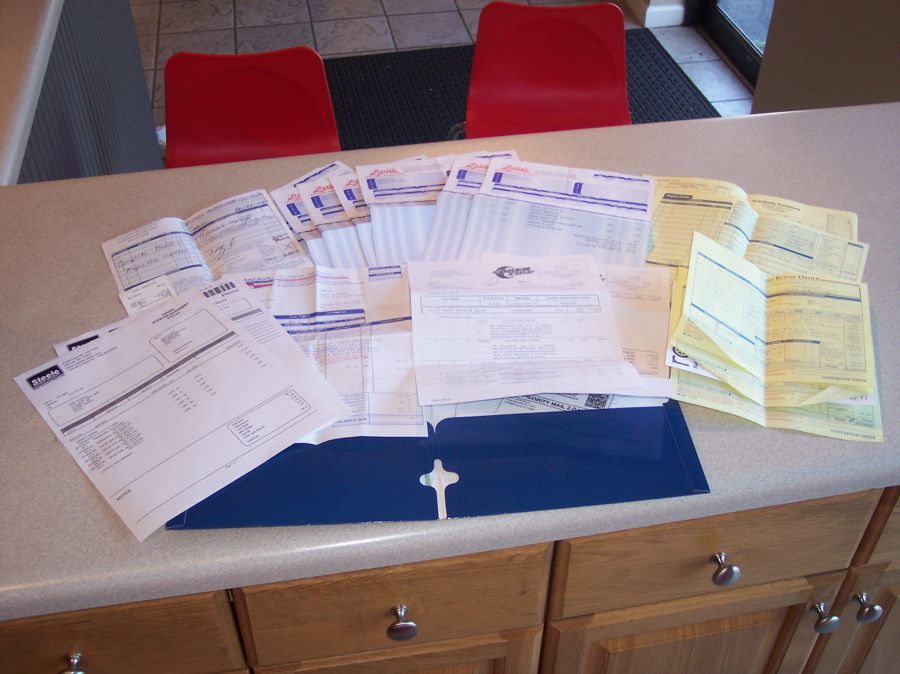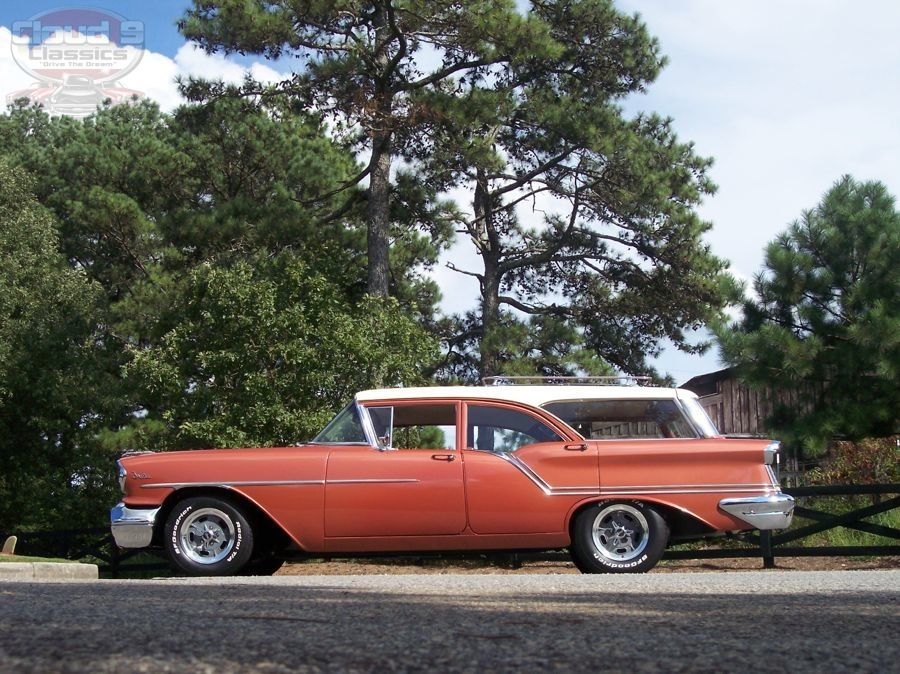 HERE IS A SHORT VIDEO SO YOU CAN HEAR THIS '57 WAGON START UP AND RUNNING (

CLICK THE ARROW TO START

):
SERIOUS BUYERS CAN CALL ME AT 770-359-8400
If you have any questions feel free to call me at 
770-359-8400
and I will do my best to answer them.  If you are a serious buyer lets talk on the phone and discuss it. In addition to being a licensed Classic Car Dealer I am also a Transport Broker and will be happy to assist the buyer with a great rate on Enclosed or Open Transport anywhere in the US at the buyers expense or to any port for overseas buyers.