About This Vehicle
Odometer: 4,450
Engine:  1915 cc
Body Style: Convertible
Transmission:  Manual
Exterior Color: Black
Interior Color: Red
VIN:  116252805
Price:  SOLD
ABSOLUTELY BEAUTIFUL

, 1957 PORSCHE 356 SPEEDSTER BUILT BY THE BEST,

VINTAGE SPEEDSTER

….

JUST 4450 MILES

ON THE 1915 CC DUAL CARB MOTOR, FRONT DISC BRAKES, FREEWAY FLYER TRANSMISSION…

NEAR FLAWLESS

CONDITION!!!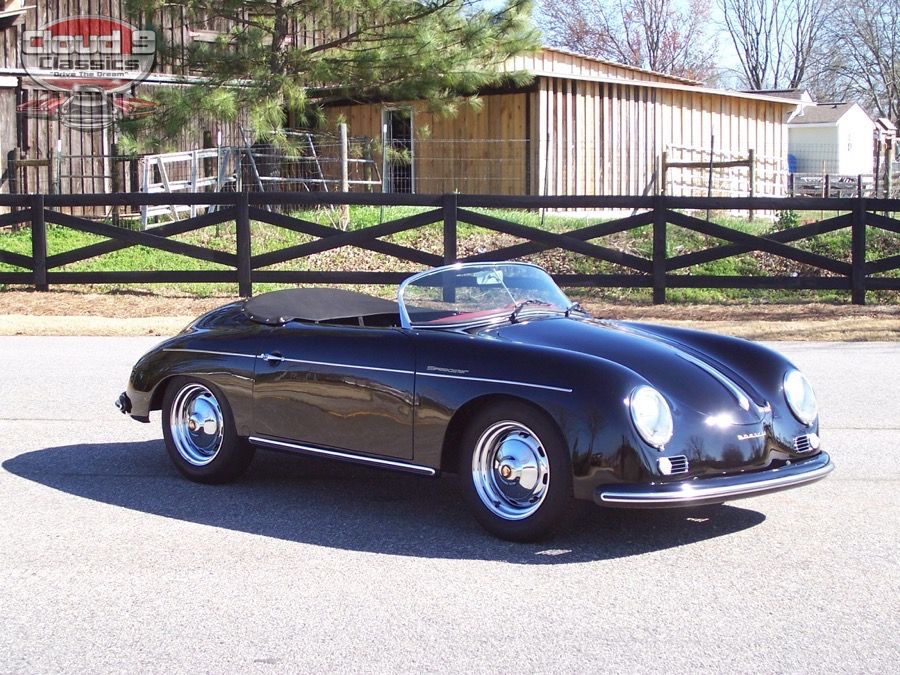 AN ABSOLUTE BLAST TO DRIVE AND READY TO

SHOW

AND

GO

!!!
This attention getting, beautiful, 1957 Porsche 356 Speedster Replica is an absolute blast to drive and is practically brand new with just under 4,450 miles!!  That's correct, I did say Replica, but not just any replica….this Speedster was hand built by Vintage Speedsters out of California, the #1 builder of Porsche Speedster Replicas. 
They are a California company that has built 90% of all of the Porsche Speedster replicas on the market and their quality is top notch! Vintage Speedsters uses a custom built, jig welded 2×4″ 11 gauge steel frame. This rigid new structure retains the original VW pan designed by Dr. Ferdinand Porsche and integrates the largest frame possible. In addition the steering wheel is offset slightly just as it was in the original Speedster. While the original Speedsters are certainly a rare breed, these Vintage Speedster replicas are rare in their own right with roughly only 3000 built.  I have owned about a dozen of these in recent years and have been truly impressed with the overall build quality and fit and finish. With the prices of the real 356 Speedsters going through the roof, this Vintage Speedster replica is a bargain and even hard core Porsche Enthusiasts would be easily fooled that this is not the real deal worth well over $150,000. In addition to being a tremendous value, these Vintage Speedsters are also a blast to drive and enjoy and handle the road beautifully. 
This particular Tuxedo Black over Red leather Speedster was originally built in 2005 for the original owner in Santa Barbara, California who owned it for 11 years. He was a true car enthusiast with a nice collection of cars but the time came for him to let it go. At that time it had just 2500 miles on it and was sold to another car enthusiast in Los Angeles.  He took it out every chance he had and put about 1800 miles on it in the short time he owned it.  He owned a small business servicing classic motorcycles and needed to finance some new equipment so he decided to let this beautiful Speedster go to the next lucky owner….maybe you??!! This Speedster has been pampered and with the super low mileage has basically just been broken in for the next owner to enjoy. 
This will definitely be a great addition to any car guy or gals collection, or perfect for someone looking for a truly unique, sports car investment that can be driven and enjoyed and is welcome at any car show or cruise-in. I will do my best to provide enough large images, a video of the car running and an honest description to help you decide if this gorgeous Speedster should be in your garage this Spring. As with all of my classics I have this Speedster advertised on my website and several others. I encourage serious buyers to call me at 770-359-8400 with any questions or to discuss how we can put this awesome car in your driveway before the next car guy or gal scoops it up.  Sit back and enjoy!
As mentioned, the body on this Tuxedo Black beauty is in near flawless condition and is sure to turn heads wherever it goes. The Black and red combination is truly nostalgic!  Body panel fit is fantastic and doors open and shut like a new Porsche. Everyone who has looked at this car is extremely impressed by the fit and finish. This car has obviously been opened by true car enthusiasts and was aways garage kept and nicely detailed.  The only real flaws I have noticed are a few extremely tiny rock chips down low along the front nose area. This Speedster truly looks like one that was just built and with just under 4500 miles on it you will be buying one that is practically brand new. All of the chrome trim, badges and glass look excellent. It is hard to argue with the elegant styling of this Speedster and the color combination really adds to the authenticity.  I think the pictures below will show you what you need to see. it was a very sunny day out so any white spots you may see in the pics were merely spots where the sun was glistening off the beautiful black paint of this curvy little roadster.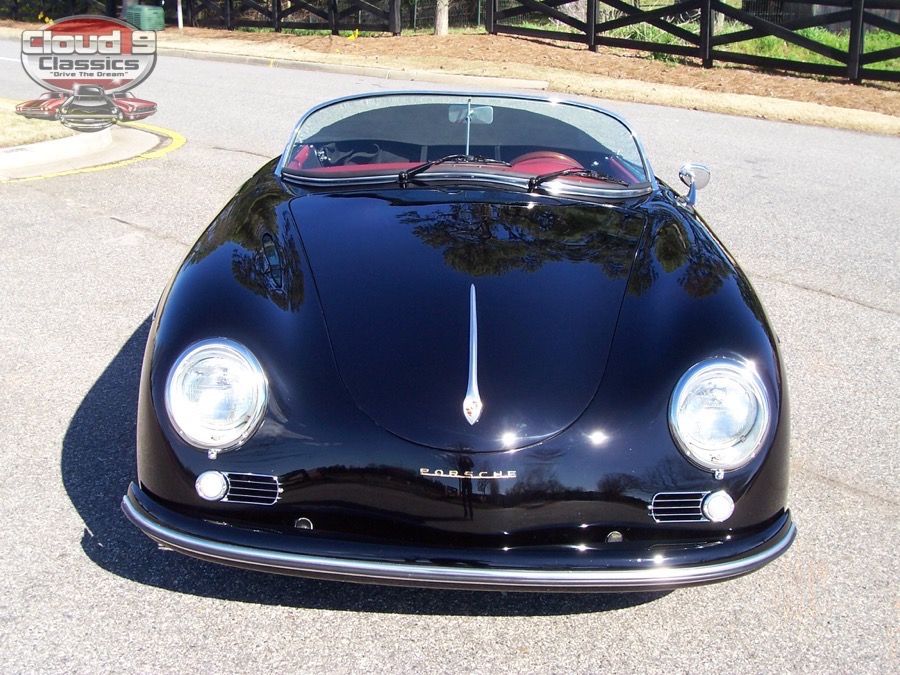 Although the best way to enjoy this beautiful Speedster is with the top down it is also nice to know that if needed this Speedster also has a full convertible top that is easy to put up or down as well as side windows that insert easily. When enjoying this beauty with the top down you have 2 different boot/tonneau cover options.  You can simply snap the boot cover over the convertible top area, or place the tonneau cover on which can cover 3/4 of the cabin while you are driving alone and can be zipped up to cover the entire cab area when you leave the car to keep the interior protected. Check it out:
The Tuxedo Black exterior is complimented by a beautiful Wine Red interior with black piping. This was an original Porsche color combination and it is truly stunning. Leather seats are in near perfect condition showing practically no wear. Beautiful Nardi Wood Steering wheel. Simplistic gauges in the dash all work correctly. Lights and turn signals all function correctly. Matching wine red shifter boot, e-brake cover and dash all in near flawless condition. I did notice a very small 1/2″ cut on the top of the dash pad that could easily be repaired if desired but it is barely noticeable. Rear seating area is padded to match and lets face it is really more of a storage area then a seat.  If needed this Speedster also has heat for those cool fall drives through the mountains. Just a beautifully designed interior that looks just like the real deal and in close to new condition…have a look inside:
I have owned quite a few of the Vintage Speedsters so I knew what to expect when this one arrived. However, when I got my first one I have to admit I was a little skeptical about how much fun it would be to drive. Well, after driving the first one we owned I was immediately a fan…after enjoying this Tuxedo Black Speedster on a nice ride today I am still a huge fan!!! I have driven plenty of high horsepower muscle cars, newer Corvettes, BMW's and Porsches but these little Speedsters have truly won me over!! It has a serious fun factor to it unlike anything else. This Speedster has just under 4450 miles on the 1915 cc, dual carb air cooled Volkswagen motor and the engine compartment is clean as a whistle.  This car has just been serviced, tuned and fresh oil change so the new owner should not need to do a thing. It fires right up and runs very nicely!!  This particular speedster also has the upgraded 3:88 4-speed transmission shifts smoothly and takes this little roadster up to speed quickly with no problem and sounds great doing it! This one also has front disc brakes making stopping a breeze. This little roadster really handles the road well and to me feels like a Porsche 911 on the road. Maintenance is cheap and easy on this car and any foreign car mechanic should be able to do a valve adjustment and tune up every 3-4,000 Miles to keep it running great. The wheels look great with the chrome Porsche Emblem hub caps and tires have tons of tread life left. There is nothing this car needs but you in the drivers seat!!! Undercarriage looks great! Plenty of storage in the front trunk area so go ahead and take that weekend trip to the mountains or the beach…this will be the ride of your life. Make sure you leave a little extra time for all the questions and conversations you will have with folks who stop you. Check it out and also be sure to listen to the video to hear this baby start up and running:
HERE IS A SHORT VIDEO SO YOU CAN HEAR THIS SPEEDSTER START UP AND RUNNING (

CLICK THE ARROW TO START

):
Hopefully you agree that this is just an awesome looking little Speedster Replica. It is in amazing condition and is an absolute blast to drive. People will be stopping you left and right asking you what it is or wondering if it is an original….that will be up to you to tell them…believe me it is hard to tell!  This is truly a sun in your face, wind in your hair, super fun roadster that you can drive and enjoy and take to the shows and cruise-ins. It is registered as a 1966 Volkswagen which is what the floor pan came from. It has a valid title that will be transferred to the next lucky owner. 
Don't let this one pass you by… Don't you deserve it???
If you have any questions feel free to call me at 770-359-8400 and I will do my best to answer them.  If you are a serious buyer lets talk on the phone and discuss it. I will be happy to negotiate a deal so we can get this beautiful car in to your garage as soon as possible.  In addition to being a licensed Classic Car Dealer I am also a Transport Broker (www.transporttime.com) and will be happy to assist the buyer with a great rate on Enclosed or Open Transport anywhere in the US at the buyers expense or to any port for overseas buyers.