About This Vehicle
Odometer: 3,800
Engine:  1915 cc 4 Cylinder
Body Style: Convertible
Transmission: Manual
Exterior Color: Merlot
Interior Color: Tan
VIN:  DPS07ASVE60187707
Price:  SOLD
ABSOLUTELY GORGEOUS

, 1957 PORSCHE 356 SPEEDSTER REPLICA,

HAND BUILT BY BECK

…

UNDER 3800 MILES

AND IN

NEAR FLAWLESS CONDITION

!!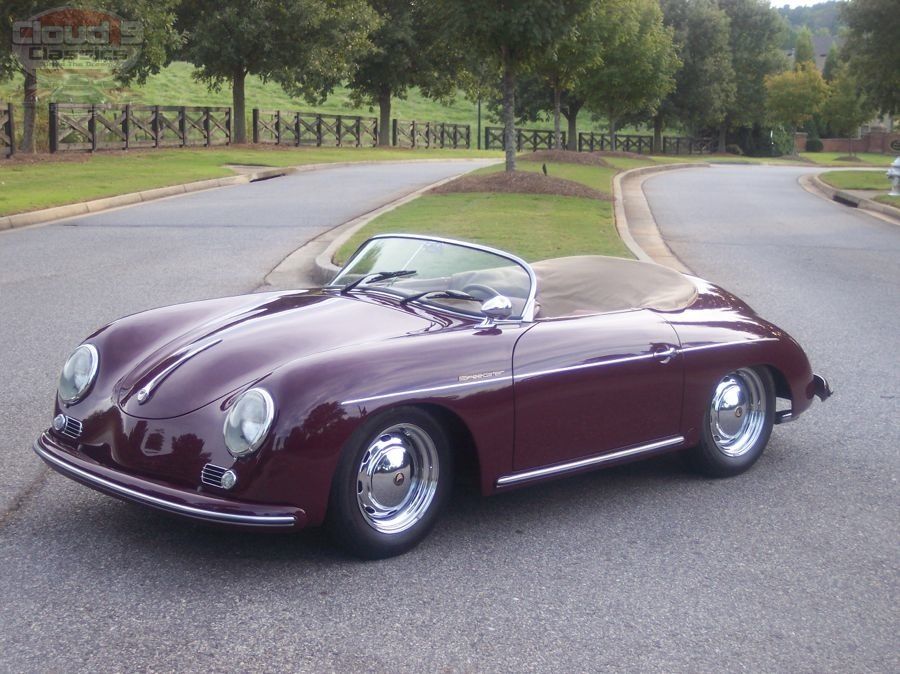 WHAT A

GREAT TIME OF YEAR

TO DRIVE AND ENJOY THIS PORSCHE SPEEDSTER!!!!
This attention getting, jaw dropping gorgeous, 1957 Porsche 356 Speedster Replica is truly a joy to drive and is practically brand new with just under 3800 miles on it. That's correct I did say replica, but not just any replica…this Merlot Speedster was built by one of the premier replica builders, Beck.  I have owned a number of these Speedster replicas over the years and all of them have been from a fantastic company called Vintage Speedster. As I followed various forums I kept reading about how great the Beck Speedster was primarily due to the custom built sports car chassis versus the use of a 40+ year old VW pan. Beck has been building these cars for over 30 years by hand and their reputation speaks for itself and the high resale value of their cars is also a testament to their quality and craftsmanship. I would invite you to google the Beck company if you would like all the details of their builds.  Well, the opportunity came along to purchase this stunning Beck Speedster from a gentleman who has actually owned close to 25 of these over the years.  He acquired it from a friend of his who commissioned Beck to build it for him in 2007.  His friend throughly enjoyed this Speedster in the Spring and Summer months but was barely driving it so he decided it was time to let it go. He knew his friend had sold many of these over the years so he sold it him.  This gentleman was a true VW/Porsche enthusiast and knows these cars inside and out. He did a complete tune up and valve adjustment and changed out a few trim items that were beginning to show their age. I think you will see that this Speedster is not only in amazing condition and a beautiful color combination but it truly runs and drives as good as it looks. Most people have a hard time telling these from the real thing as the workmanship is fantastic. I will do my best to provide enough large images, a video of it starting up and running and an honest description to help you decide if this sweet little sorts car should be in your garage this fall. As with all of my classics, I do have this car advertised on several other sites in addition to my own so if you want to scoop it up before the next car guy or gal does feel free to give me a call to discuss how we can make that happen. Sit back and enjoy!!
The hand laid fiberglass body on the Speedster Replica is top notch and this Merlot beauty is in near flawless condition. With just under 3800 miles it has always been pampered and garage kept and the paint looks fantastic. I took pictures in various light at different times during the day so you could see how the color really pops in the bright sun light and then takes on a darker tone towards sunset. Body panel fit and finish is excellent and doors open and shut like a new Porsche. The only thing I noticed that keeps me from saying that it is flawless are a couple of really tiny rock chips that have been touched up. All of the chrome trim, badges, etc. look fantastic and the previous owner replaced any trim items that were beginning to show any signs of age. I think the color of this car really stands out and truly matches the class and great lines of the Speedster body style.  Here is a walk around photo tour of the body:
Although there is no question that the best way to enjoy these Porsche Speedsters is with the top down it is also nice to know that if needed this Speedster also has a full convertible top that is easy to put and take down when needed. When enjoying this Merlot beauty with the top down you have 2 different boot/tonneau cover options. You can simply snap on the boot cover over the convertible top area, or place the full tonneau cover on the cabin that can cover the cabin completely when you leave it parked or can be zipped out to allow the driver to sit comfortably while keeping the remainder of the cabin covered.  These do come with window inserts as well and the previous owner is still trying to locate them for me and will forward to me as soon as he does. In the worst case scenario new ones can be purchased from Beck quite reasonably. Truthfully though, if you are driving this beauty with the top up and windows in , you are not getting the full experience! Check it out:
Complimenting the gorgeous Merlot colored exterior is an equally impressive Whiskey Tan colored interior. Great authenticity from the front racing style seats just as the original '57 Speedsters had. These are very comfortable and look close to brand new with no wear evident. Simplistic gauges in the dash just like the originals. They are in metric so you need to get used to the conversion of kilometers per hour to miles per hour. The odometer currently reads just over 6000 kilometers which converts to just under 3800 miles. Matching whiskey tan shifter boot and e-brake cover and the dash also looks great. Yes, for those of you who need heat this Speedster has it and it blows nice and hot when needed.  Envision a cool early evening drive through the winding mountain roads with the cool air in your face and blowing through your hair….ahhhhhhh. Retractable seat belts for driver and passenger. If you decide you want to listen to some music you will enjoy the neatly installed am/fm/cd/ipod compatible stereo system. Just a beautifully designed interior hard to tell from the originals and in like new condition.  Here is a look inside:
This Porsche Speedster is far from being just eye candy….it is also truly a blast to drive and enjoy and will get up and go and handle beautifully. I have owned all sorts of hot rods, sports cars and muscle cars but these little Speedster Replica always plant a huge smile on my face when I take them for a drive. There is a serious fun factor to this car unlike anything else…anytime you stop for gas people will definitely smile, give thumbs up and ask you about this Speedster. With just under 3800 miles on this 1915 cc dual carbureted Volkswagen Motor it has just been broken in and pulls strong through all 4 gears and will cruise on the highway at 75 mph with ease. This motor was recently serviced and tuned up by the previous owner who knows what he is doing! Valve adjustment was done, fluids changed and carbs. tuned and synchronized.  As you will see the engine compartment looks great as you would expect. Handling is awesome and partly because of the lightweight, extremely rigid 3″ tubular steel chassis that Beck hand builds.  This speedster stops beautifully thanks to front disc brake set up. Wheels and tires are close to brand new. Any future maintenance needed is simple and inexpensive to perform by any experienced air cooled VW mechanic. This car needs nothing but a driver…it is turn key ready to be driven and enjoyed!! Very nice tone from the dual exhaust.  Plenty of storage in the front trunk area and also a spare tire which is rarely found in these replicas. Make sure you listen to the video that follows below to hear it running.
HERE IS A SHORT VIDEO SO YOU CAN HEAR THIS AWESOME SPEEDSTER START UP AND RUNNING: (
CLICK THE ARROW TO START
)
Hopefully you agree that this is an awesome looking Porsche Speedster Replica. It is truly in amazing condition and a fantastic investment opportunity in a classic you can get in, drive and enjoy!! This is truly a sun in your face, wind in your hair, super fun roadster! It is registered as a 1957 Beck and has a valid title and you will be able to title this the same way in your state. Don't less this one pass you by…Don't you deserve it??
If you have any questions feel free to call me at 
770-359-8400
and I will do my best to answer them.  If you are a serious buyer lets talk on the phone and discuss it. In addition to being a licensed Classic Car Dealer I am also a Transport Broker and will be happy to assist the buyer with a great rate on Enclosed or Open Transport anywhere in the US at the buyers expense or to any port for overseas buyers.