About This Vehicle
Mileage: 7,165
Engine: 1600cc dual carbed
Body Style: Conv
Transmission:  Manual
Exterior Color: Ivory
Interior Color: Beige
VIN: 118373860
Price: SOLD
ABSOLUTELY GORGEOUS,CLASSY, TOP OF THE LINE,

1957 PORSCHE 356 SPEEDSTER

REPLICA BUILT BY VINTAGE SPEEDSTERS….

ONLY 7100 MILES

…NEAR FLAWLESS CONDITION AND AN ABSOLUTE BLAST TO DRIVE…SHOW AND GO!!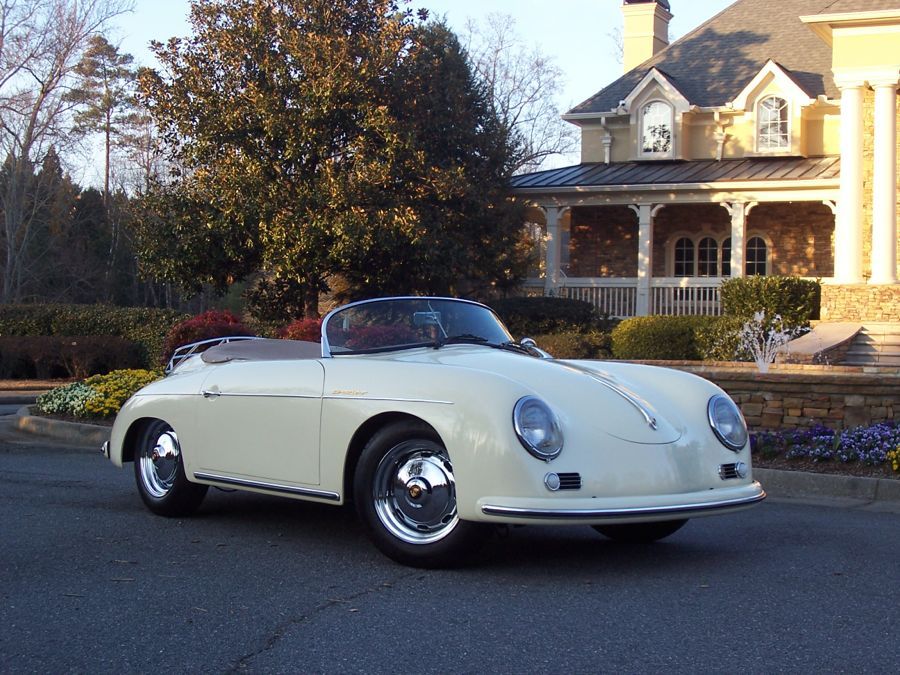 Wow, is that a real 356 Speedster?? What is that, it's gorgeous? Those were 2 of the questions I got in the short time I was photographing this truly awesome, near flawless 1957 Porsche 356 Speedster Replica. Ok, that's right I said replica…who cares!! This is not just any replica though. This beautiful Speedster was hand built by Vintage Speedsters, the #1 builder of Porsche Speedster Replicas.  They are a California company that has built 90% of all of the Porsche Speedster replicas on the market and their quality is top notch! Vintage Speedsters uses a custom built, jig welded 2×4″ 11 gauge steel frame. This rigid new structure retains the original VW pan designed by Dr. Ferdinand Porsche and integrates the largest frame possible. In addition the steering wheel is offset slightly just as it was in the original Speedster. While the original Speedsters are certainly a rare breed, these Vintage Speedster replicas are rare in their own right with roughly only 3000 built. 
This particular Ivory beauty was built in 2002 and has only been driven 7100 miles in 11 years by the original owner.  We acquired this awesome sports car from the original owner recently. He had a tremendous car collection and was trimming it down a bit. He had several residences and originally had this Speedster at his home in California for most of its life before transporting it up to one of his vacation properties in Wisconsin where it was stored in a heated building and maintained with the highest regard by his staff.  He only drove it occasionally when he was there in the spring and summer. It is truly in near flawless condition and drives as good as it looks. I drove this car about 40 miles today and was seriously impressed with how great it drives.  This lightweight Speedster has no problem keeping up on the highway. I was driving it, top down, at 75 mph on the highway and it was just cruising along. It also handles  and stops quite impressively.  Best of all it is truly a head turner and draws smiles and thumbs up everywhere. This would be a great addition to any car guy or girls collection! I will do my best to provide enough large pictures, a video so you can hear it running and an honest description to help you decide if this sweet ride should be in your garage before it goes to someone else.  Sit back and enjoy. The pictures may take a few minutes to load but I think you will find it is worth the wait. 
As mentioned the body on this Ivory Porsche Speedster is in near flawless condition.  With only 7100 miles on it, it has always been pampered and detailed and the paint looks as good as new. Body panel fit is fantastic and the doors on this car open and shut like a new Porsche. The only things I noticed that keep me from saying that it is absolutely perfect are a couple of very tiny chips that were professionally touched up. There is a very small one on the bottom front corner of the passenger side door and some really small ones on the front nose from rock chips. Other than that it looks like new.  All of the chrome trim, badges, and glass look fantastic.  The Ivory color really stands out on this car and truly matches the class and great lines of this Speedster. Here is a walk around photo tour:
Although the best way to enjoy this Porsche Speedster replica is with the top down, it is also nice to know that it comes with a full convertible top, side windows, a boot cover for when the top is down and a Full tonneau cover that covers the entire cockpit if needed.  All of the tops and covers are in great condition however the full tonneau cover had a few dirt spots that could be cleaned off. There is a storage bag for the side windows which simply slide into a few holes and snap in place…a great design! The car actually looks pretty cool with the top up also….have a look:
The beige interior is also essentially flawless and is absolutely beautiful. Simplistic sophistication is the best way to describe the layout of the interior. Very comfortable and supportive bucket seats look like new. Door panels and carpeting look awesome.  Matching set of CoCo mats. Dash is neatly layer out with all of the gauges you need to monitor the performance of the 1600cc dual carb air-cooled engine. All of the gauges, lights and turn signals are working correctly.  Beautiful Nardi wood grain steering wheel. Just a beautifully designed interior in like new condition…have a look:
While I knew this Speedster looked fantastic I have to admit I was a little skeptical about how much fun it would be to drive. Well, after my 40 mile drive today I am a fan…a huge fan!!! I have driven plenty of high horsepower muscle cars, newer Corvettes, BMW's and Porsches but this little Speedster has truly won me over!! It has a serious fun factor to it unlike anything else. This Speedster has just under 7100 original miles on the 1600cc, dual carb air cooled Volkswagen motor and the engine compartment is clean as a whistle. The 4-speed 4:12 transmission shifts smoothly and takes this little roadster up to speed quickly with no problem and sounds great doing it! This one has front disc brakes making stopping a breeze. This little roadster really handles the road well and to me feels like a Porsche 911 on the road. Maintenance is cheap and easy on this car and any foreign car mechanic should be able to do a valve adjustment and tune up every 3-4,000 Miles to keep it running great. The wheels look great with the Porsche badging and tires have 80% tread. There is nothing this car needs but you in the drivers seat!!! Plenty of storage int he front trunk area so go ahead and take that weekend trip to the mountains or the beach…this will be the ride of your life. Make sure you leave a little extra time for all the questions and conversations you will have with folks who stop you.
This little Speedster truly runs as good as it looks and is a pure pleasure to drive!
HERE IS A SHORT VIDEO SO YOU CAN HEAR IT RUNNING

:
(TURN UP YOUR VOLUME AND CLICK THE ARROW TO START)
Hopefully you agree that this is just an awesome looking little Speedster Replica. It is in amazing condition and is an absolute blast to drive. People will be stopping you left and right asking you what it is or wondering if it is an original….that will be up to you to tell them…believe me it is hard to tell!  This is truly a sun in your face, wind in your hair,  super fun roadster that you can drive and enjoy and take to the shows and cruise-ins. It is registered as a 1968 Volkswagen which is what the door pan came from. it has a valid California title that will be transferred to the next lucky owner.   Don't let this one pass you by… Don't you deserve it???
 If you have any questions feel free to call me at 

770-359-8400 

and I will do my best to answer them.  If you are a serious buyer lets talk on the phone and discuss it. I will be happy to negotiate a deal so we can get this beautiful car in to your garage as soon as possible.  In addition to being a licensed Classic Car Dealer I am also a Transport Broker and will be happy to assist the buyer with a great rate on Enclosed or Open Transport anywhere in the US at the buyers expense or to any port for overseas buyers.