About This Vehicle
Odometer: 2,150
Engine:  1600 cc Dual Cab
Body Style: Convertible
Transmission: Manual
Exterior Color: Black
Interior Color: Red
VIN:  117439714
Price: SOLD
TRULY AWESOME

,

NEAR FLAWLESS

, 1957 PORSCHE 356 SPEEDSTER BUILT BY THE BEST,

VINTAGE SPEEDSTER

, WITH

JUST 2150 MILES

…GREAT COLOR COMBINATION, NICELY EQUIPPED, READY TO

SHOW

AND

GO

!!!
AN ABSOLUTE

BLAST

TO DRIVE!!
HARD TO TELL FROM THE REAL DEAL AT A FRACTION OF THE PRICE!!
This eye catching, truly vintage, 1957 Porsche 356 Speedster Replica s an absolute blast to drive and has barely been broken in with just 2150 miles!! That's correct, I did say replica, but not just any replica…this speedster was hand built by Vintage Speedsters out of California, the #1 builder of Porsche Speedster Replicas. They are a California based company that has built 90% of all of the Porsche speedster replicas on the market and their quality is top notch! They use a custom built, jig welded 2×4″ 11Gauge steel frame. This rigid new structure retains the original VW pan designed by Dr. Ferdinand Porsche and integrates the largest frame possible. In addition the steering wheel is offset just as it was in the original Speedster. While the original Speedsters are certainly a rare breed, these Vintage Speedster replicas are rare in their own right with roughly 3000 built. 
This particular black beauty was built in 2011 and was sold to a gentleman in Oklahoma who had a bit of a car collection. After 3 years of ownership he only put about 1500 miles on it and decided to let it go. Another car enthusiast in Minnesota bought it and owned it for the past 2 years. Stored in a climate controlled building throughout the long winter he also barely drove the car accumulating just an additional 600 miles. With limited space and the itch for a 1966 Corvette he decided to let someone else enjoy this awesome speedster….maybe you??! I have now owned 10 of the Porsche Speedster Replicas, 9 of which have been built by Vintage Speedster and 1 from Beck. I have grown extremely fond of these little roadsters and my personal preference is the Vintage Speedster. I am 6 ft.tall and the found the Beck to be better suited for folks smaller than me. Fit and finish on both is outstanding. I recently sold a Vintage Speedster to a very well connected car guru who told me that when he drove it to a meeting place with a bunch of his car buddies, some of whom are Porsche enthusiasts, they were all shocked to learn it was a replica. He loved the fact that for a fraction of the price of a real one he could get out and enjoy this car without worrying about it. These Vintage Speedsters also drive out great and handle the road wonderfully. This would definitely be a great addition to any car guy or gals collection, or perfect for the someone looking for a truly unique sports car investment that can be driven anywhere and will always fit in at any car show or cruise in. I will do my best to provide enough large images, a video of it the car running, and an honest description to help you decide if this beauty should be in your garage! As with all of my classics, I do have this Speedster advertised on several other sites as well as my own. Sit back and enjoy!!
As mentioned, the body on this Black beauty is in near flawless condition.  With just 2150 miles on it, it has always been pampered and detailed and the paint and body look awesome. Body panel fit is fantastic and doors on this car open and shut like a new Porsche. Everyone who looks at the car is very impressed with the fit and finish. As you will see in the pictures, the paint has great reflection and luster. It was a beautiful sunny day and the curves of the body had the sun dancing so some of the pics may have some white spots which are merely reflections from the sun. I really did not notice and flaws on the body to speak of but lets assume that there may be a minor rock chip or two that I may have missed. All of the chrome trim, badges, and glass look fantastic. In addition to the Speedster emblems a Custom Coachwork badge was added to the fender and a vintage badge was added to the engine grille adding to the authenticity and vintage look. Black is an original 1957 Paint color and many of the memorable Porsche Speedsters in the movies have been black ( 48 hours and Top Gun come to mind). Here is a walk around photo tour that should show you just how awesome this car is: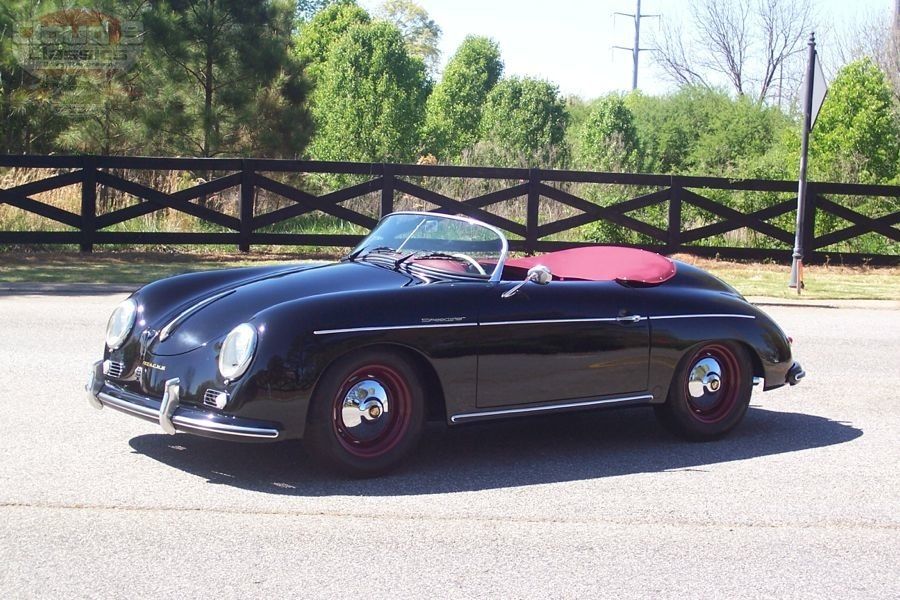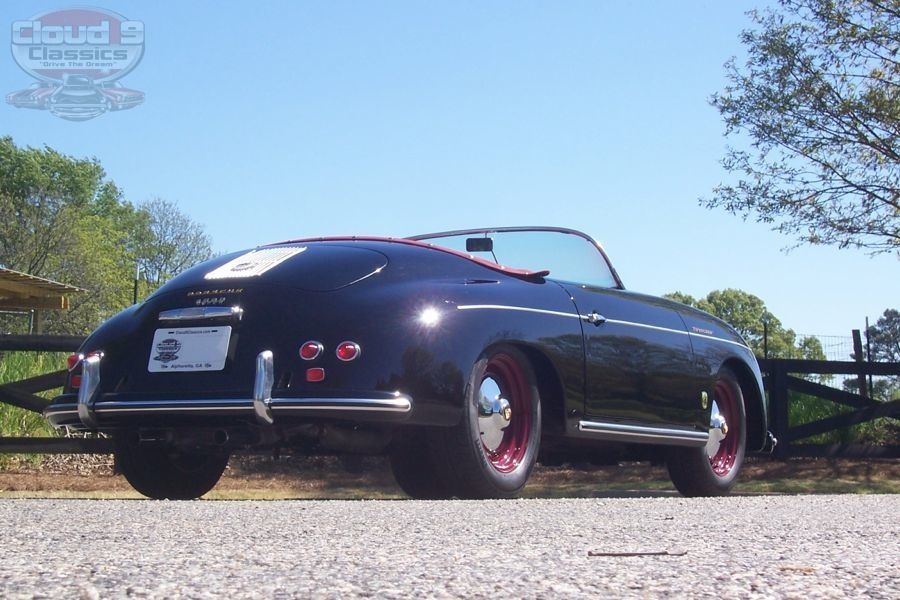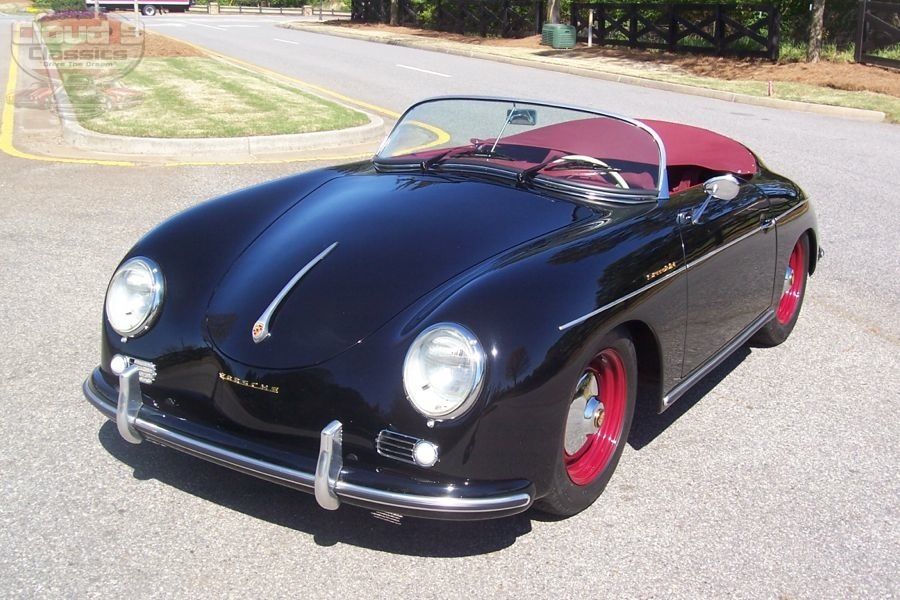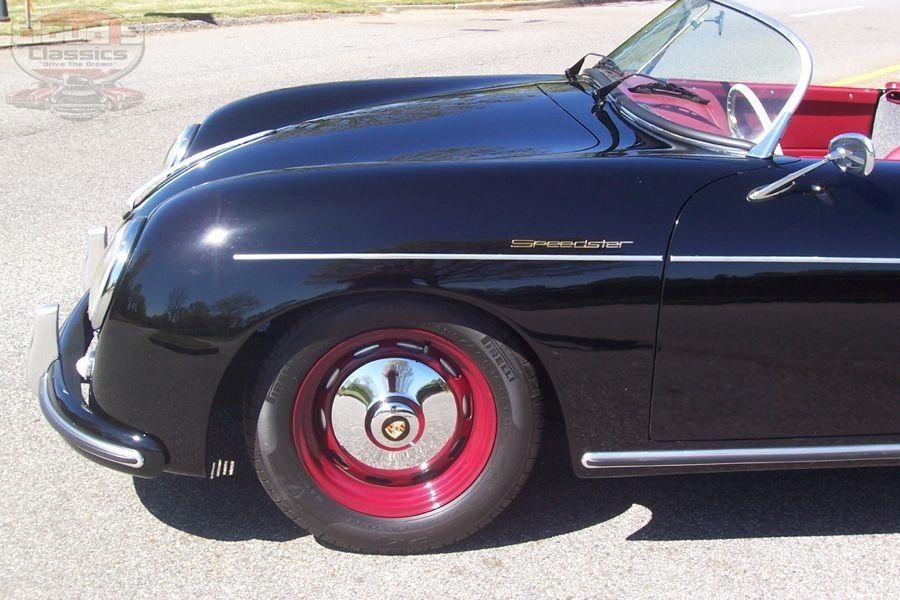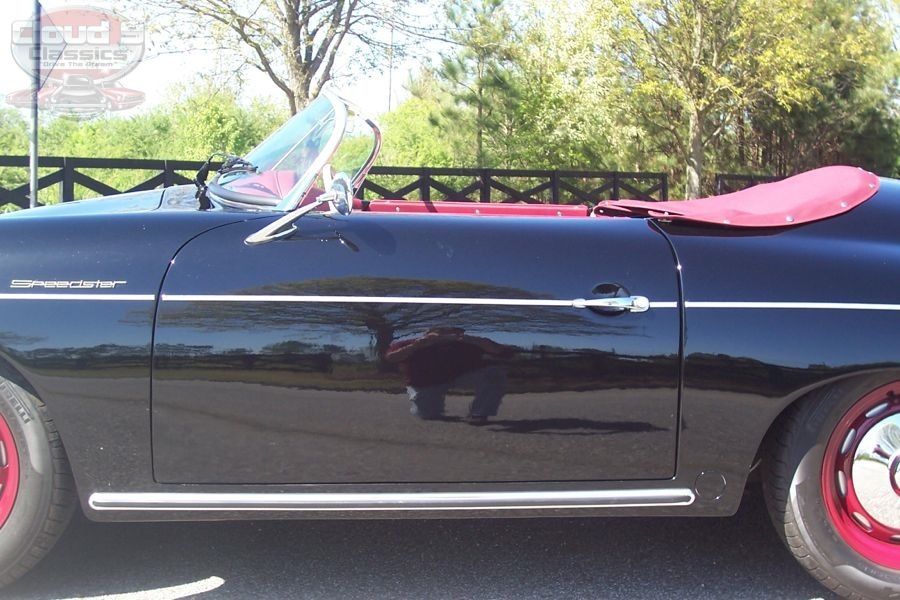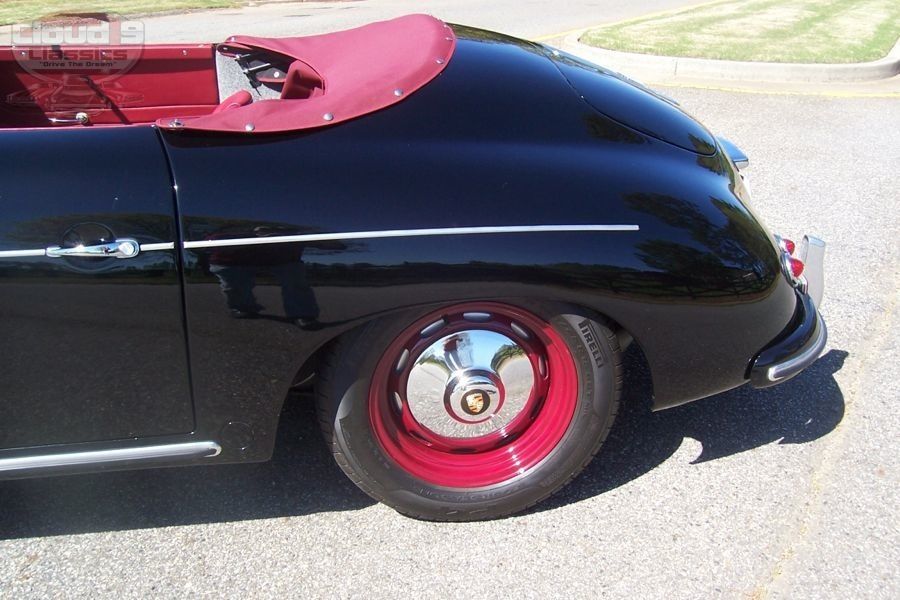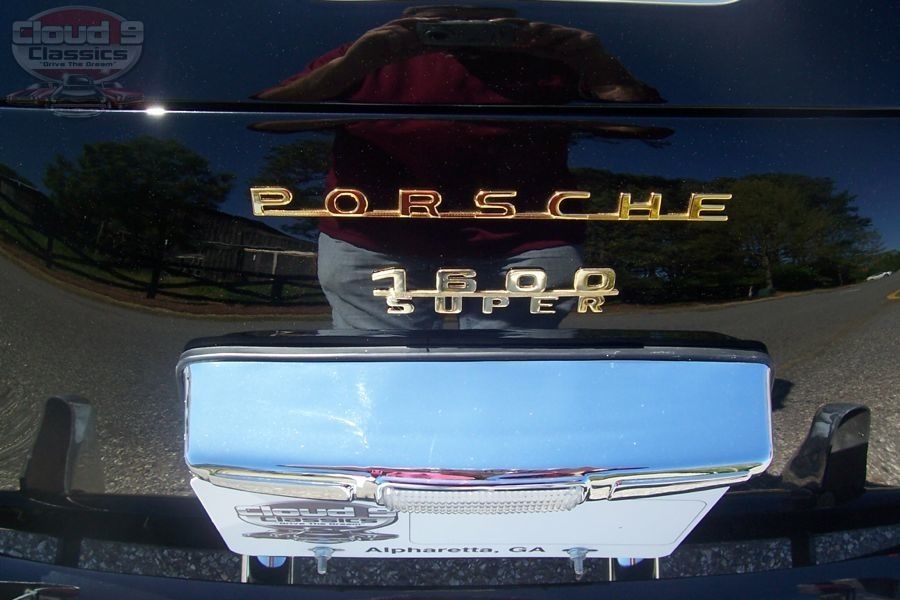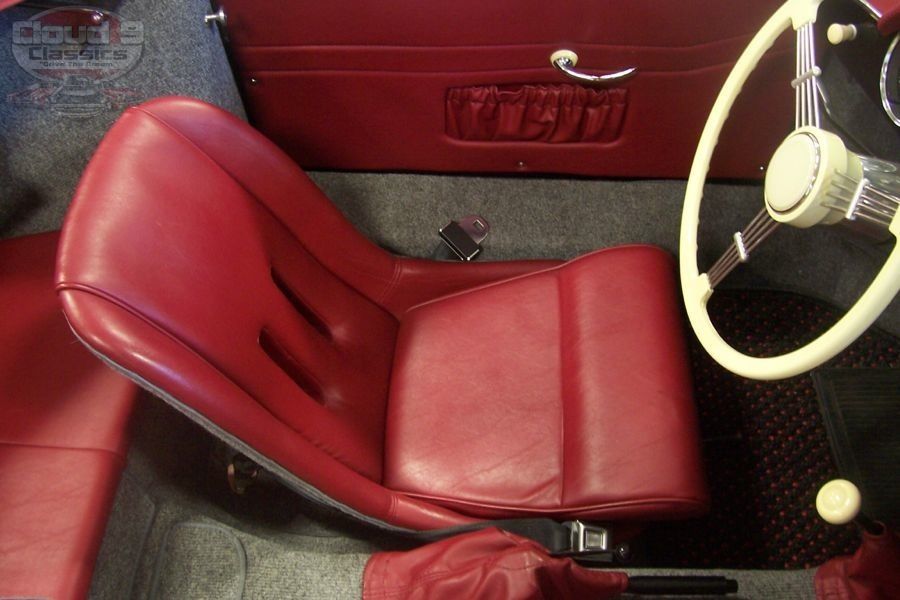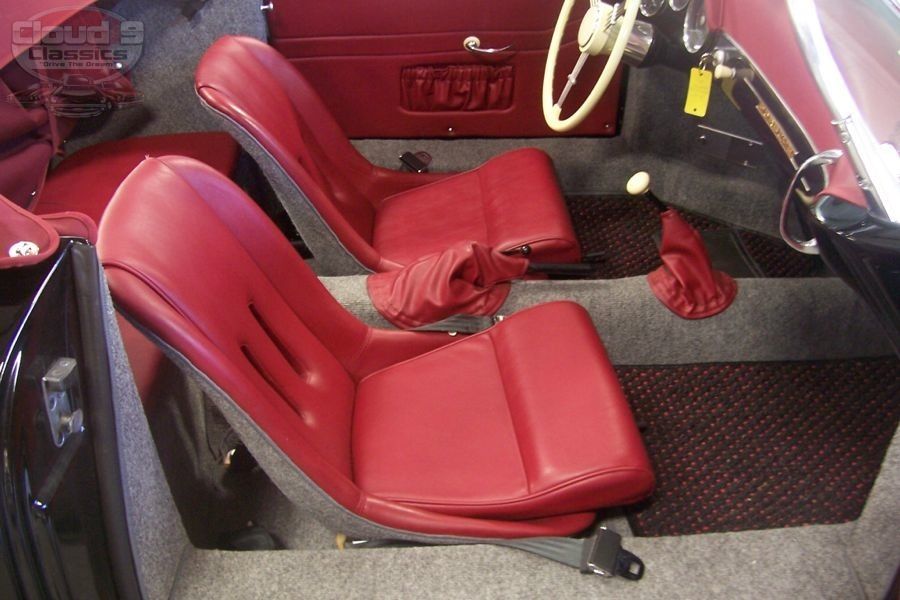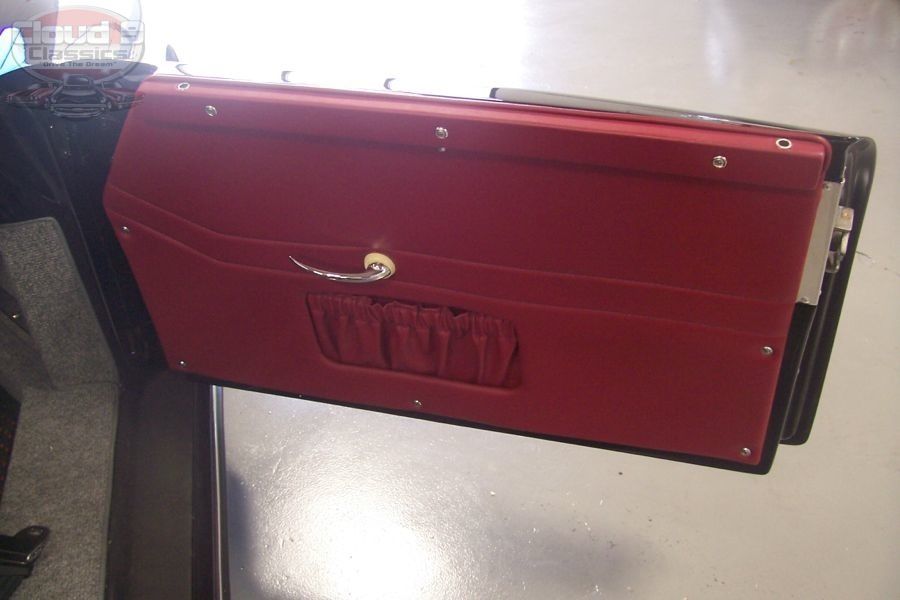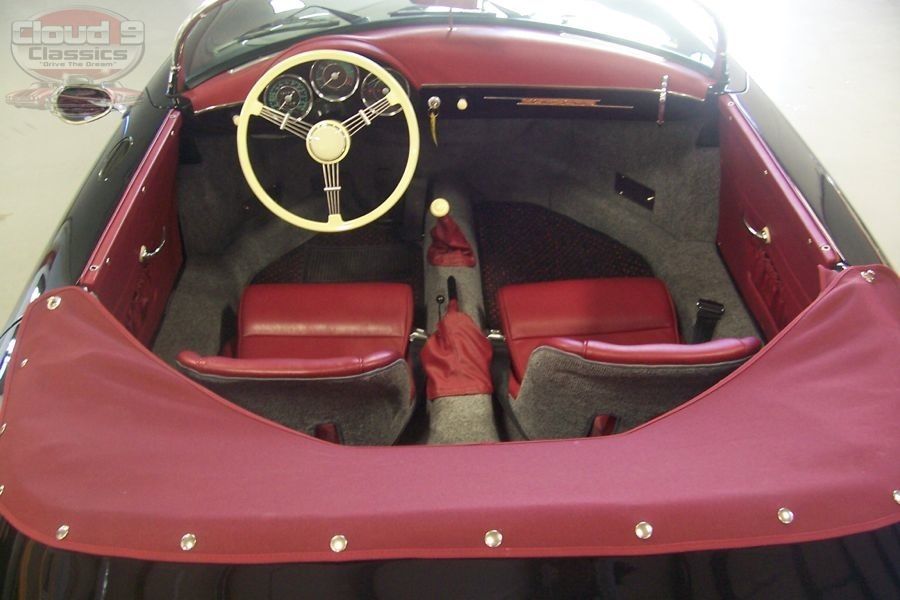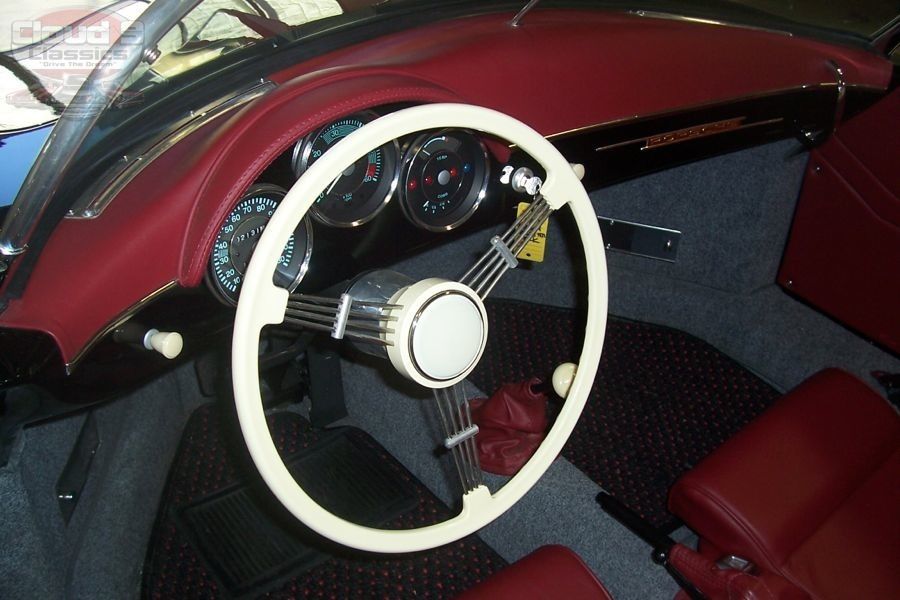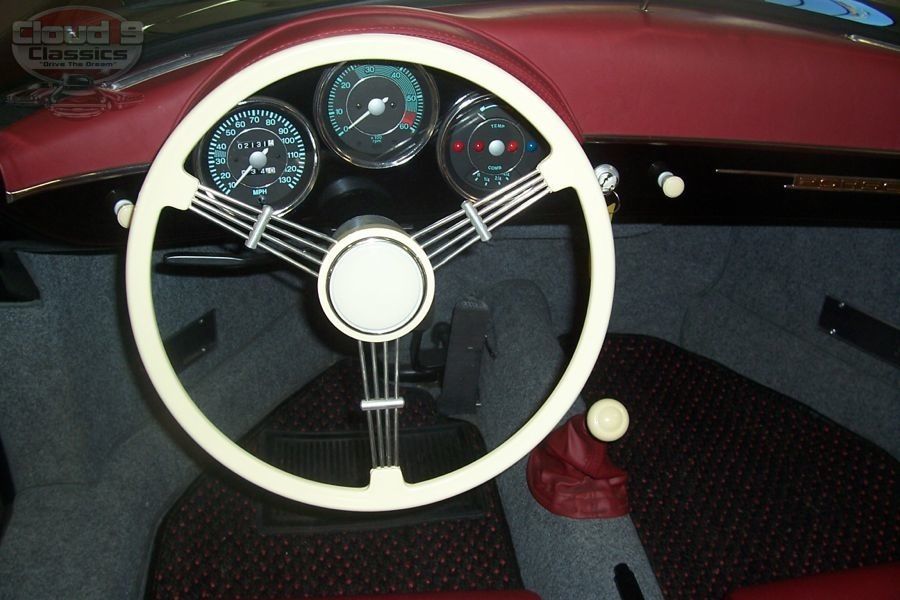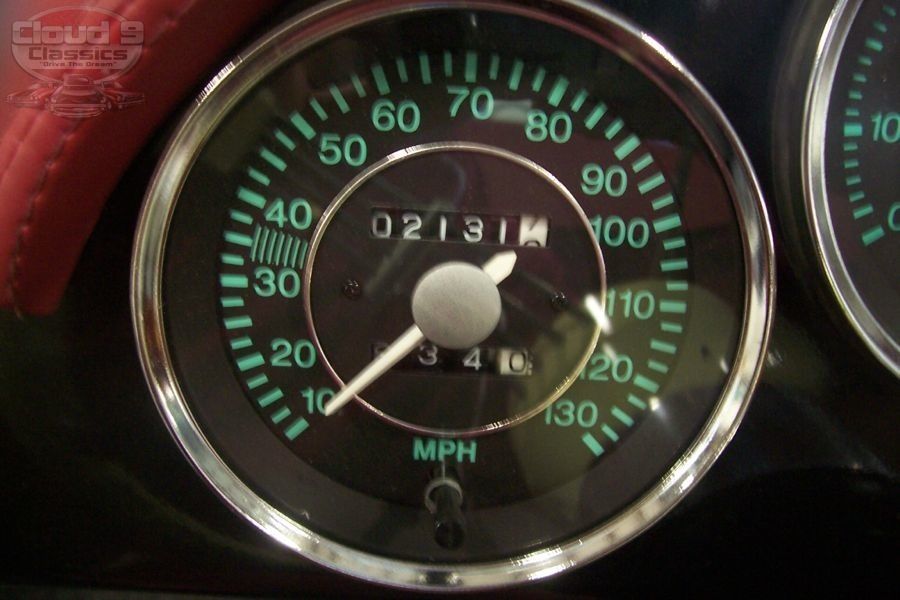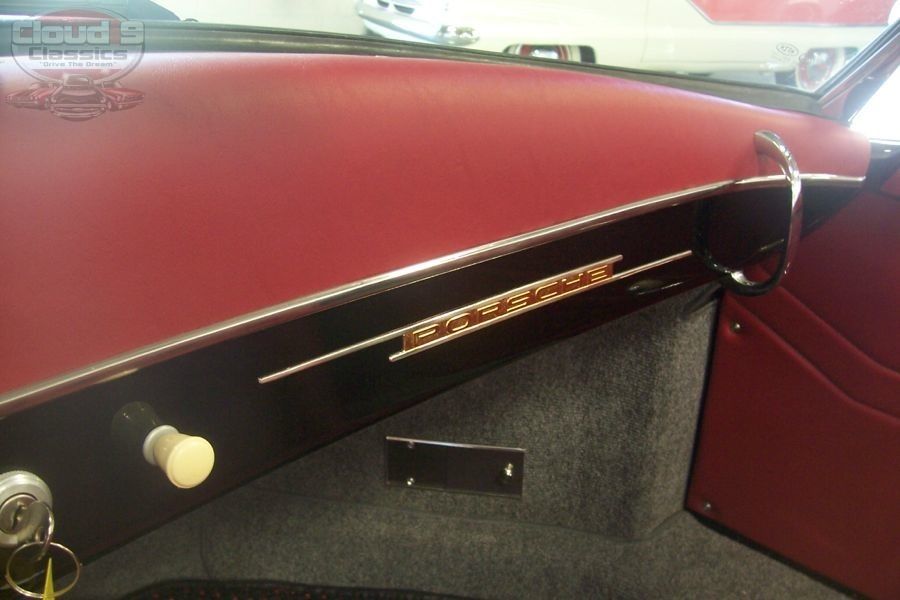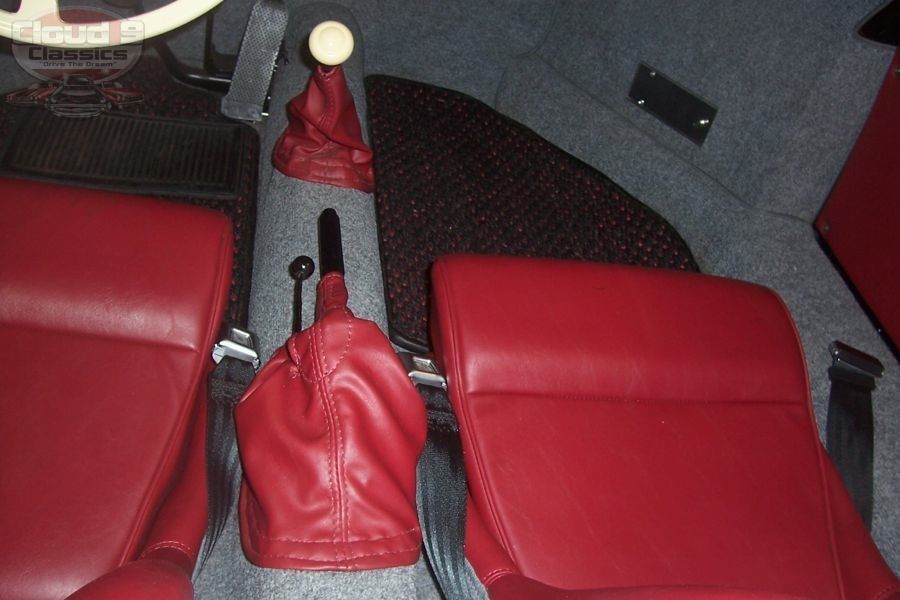 This is the tenth Speedster replica I have owned so I knew what to expect when this one arrived. However, when I got my first one I have to admit I was a little skeptical about how much fun it would be to drive. Well, after driving the first one I was immediately a fan. With just 2150 miles on this one, it drives as good as any of the previous ones and I continue to be a huge fan. It has a serious fun factor unlike anything else. This Speedster has just 2150 miles on the 1600cc, dual carb, air cooled Volkswagen motor and the engine compartment is clean as a whistle. The previous owner was not happy with the Empi carburetors so he upgraded to a great set of Weber Carburetors that he found much easier to tune. This particular Speedster also has the upgraded 3.88 Freeway flyer 4-speed transmission shifts smoothly and takes this little roadster up to speed quickly with no problem and sounds great doing it. Upgraded front disc brakes feel great and stopping is a breeze in this lightweight roadster. This Roadster really handles the road well and to me feels like a Porsche 911 on the road. Maintenance is cheap and easy on this car and any foreign car mechanic should be able to do a valve adjustment and tune up every 3-4,000 miles to keep it running great. As you have probably have noticed the wheels on this one have been painted in a deep red which really give this car a vintage look. Some people cal it an outlaw look or style and the wheels are the wider 5 lug wheels and actually look pretty cool without any hub caps at all. However, I love the look with the chrome Porsche badged hub caps. This Speedster has a high end set of Pirelli P4 tires that are like new and provide great traction in all conditions. Oil was recently changed and this Speedster is dialed in and ready to roll the minute it hits your driveway. There is nothing this car needs but you in the drivers seat. Undercarriage looks great. Plenty of storage in the front trunk area so go ahead and take that weekend trip to the mountains or the beach…this will be the ride of your life. Make sure you leave a little extra time for all the questions and conversations you will have with folks who stop you. Check it out and also be sure to listen to the video to hear this baby start up and running:
HERE IS A SHORT VIDEO SO YOU CAN HEAR THIS SPEEDSTER START UP AND RUNNING (

CLICK THE ARROW TO START

):