About This Vehicle
Odometer: 7,950
Engine:  2110 cc
Body Style: Convertible
Transmission:  Manual
Exterior Color:  Burgundy
Interior Color: Tan
VIN:  1442010345
Price:  SOLD
ABSOLUTELY STUNNING

, VERY HIGH QUALITY, 1957 PORSCHE 356 SPEEDSTER REPLICA, BUILT BY JPS MOTORSPORTS, WITH

JUST 7950 MILES

…

VERY STRONG 2110 CC MOTOR

WITH DUAL WEBERS…

4 WHEEL DISC BRAKES

, FREEWAY FLYER TRANSMISSION, FULL TONNEAU, STEREO, AND MORE….READY TO

SHOW

AND

GO

!!
GORGEOUS COLOR COMBINATION

, A

BLAST TO DRIVE

, AT A FRACTION OF THE PRICE OF AN ORIGINAL!!!
This Burgundy and Tan Porsche 356 Speedster Replica is in outstanding condition and was built in 2013 by JPS Motorsports for a gentleman in Arizona who owned it for about 2 years before selling it to another enthusiast in Arizona who owned it for the past 3 years. He was in his 70's and unfortunately having some medical issues that made getting in and out of the Speedster uncomfortable for him. I had a great conversation with him when I bought the car. He told me he used to own several of the original Porsche 356's and actually raced them on the track. In his opinion this particular 356 Replica was actually more fun to drive then the real thing was. So, yes, I did say Replica but I assure you that almost nobody will know it unless you fill them in.  JPS Motorsports has been known to put out a very high quality build. I learned that they actually purchased the bodies from Vintage Speedster and that his finished product seems to be a notch above that of Vintage. Based on what I have seen on this one I would agree and I have owned over a dozen of these beautiful replicas.  This one was built with a very healthy 2110cc motor with about 125 hp. While that may not seem like a ton of horsepower by todays standards it it is quite a bit more than then the stock 85-95hp that most of these have and provides plenty of power to enthusiastically enjoy this lightweight roadster. I will do my best to provide you with enough large images, a video of the car running and an honest description to help you decide if this is the Speedster you have been searching for!
As with all of my classics I do have this car listed on my website and several others. Therefore, if you decide you want to scoop it up before the next car guy or gal does, feel free to call me at 770-359-8400 to discuss any questions and how we can make that happen. In addition to being a licensed Classic Car Dealer I am also a transport broker and can assist you in getting a great rate on enclosed transport anywhere in the US. I also welcome overseas buyers and can assist in getting it to the port of your choice. Sit back and enjoy!!
As you will see in the photo tour of the body below, the Burgundy metallic paint truly glutens and dances in the sunlight and takes on a slightly darker tone in the shade.  The paint quality overall is spectacular and the body panels are extremely straight. Doors open and close more like a newer Porsche then a replica and most everyone will think this is the real deal original unless you tell them. I have spoken with several other owners of JPS Motorsports builds and they have all agreed that the overall paint quality and fit and finish are as good if not better than Vintage Speedster who is one of the leaders in the industry.  JPS has produced over 400 cars including the Coupe replicas. The JPS build is done with a tubular steel 
chassis mated to a VW pan. The hand laid, steel reinforced, fiberglass body is then prepped and treated to high end paint job using Sikkens paint.  Overall this car is in near flawless condition with just a few minor rock chips along the front nose, a very minor flaw in the paint on the passenger door, and a scratch that was touched up on the lower side of the rear passenger quarter panel.  All of the chrome and stainless trim look excellent and windshield looks great. Some Porsche badging adds to the authenticity and this one has a third brake light hidden away in the engine compartment vent area for added safety. Overall this Speedster is definitely show worthy and will draw crowds and attention and lots of thumbs up wherever you drive it.  Take a look: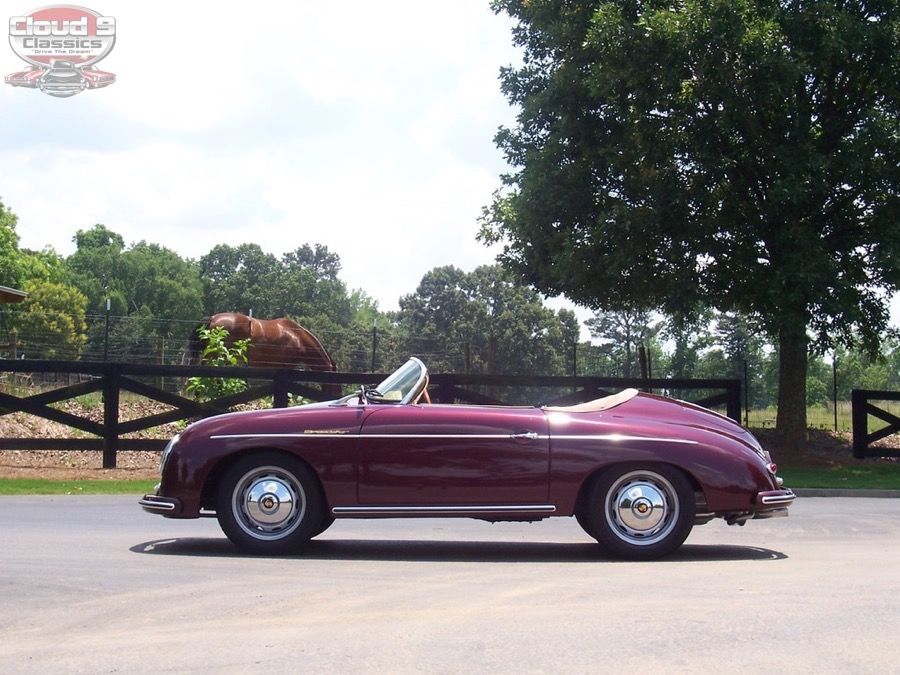 I always recommend enjoying these 356 Speedsters with the top down as much as possible but it is also nice to know that if/when needed this one does have a beautiful tan convertible top that accents the Burgundy paint quite nicely. The previous owner never really put it up so there are a few wrinkles but the condition is close to brand new. There are also a set of window inserts as well.  When you are enjoying it with the top down you have 2 different options. You can utilize the full tonneau cover which can cover all of the interior when parked or be zipped out for just the driver or fully unzipped and folded back when riding with a passenger. Or, you also have a matching boot cover and you can store the tonneau in the front trunk. Here is a look with the top up and the other options with the top down.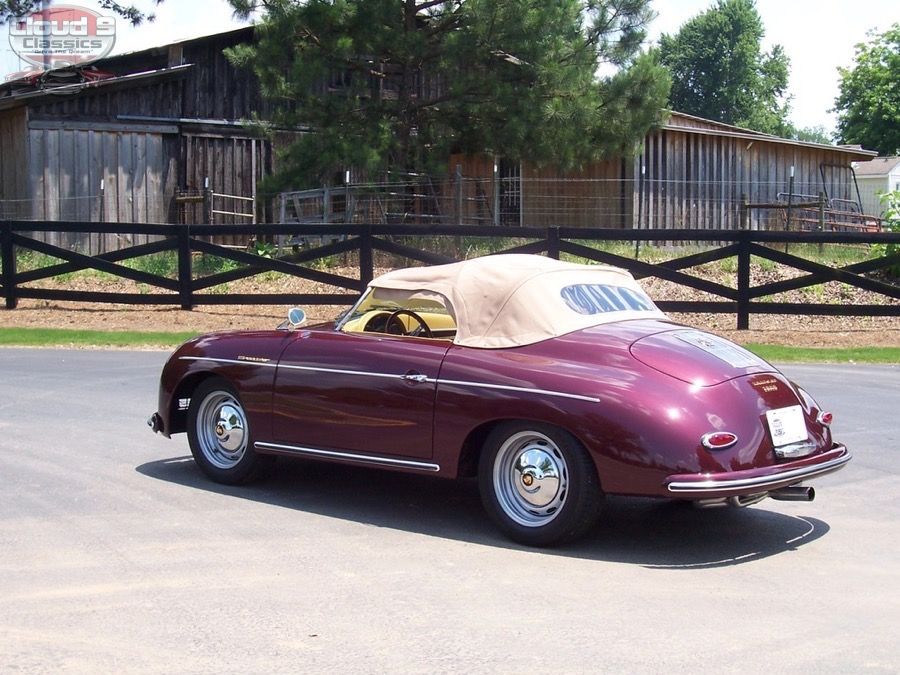 Accenting the gorgeous Burgundy metallic exterior is an equally impressive tan interior. The seats are finished in leather and are authentic Speedster bucket seats that are really quite comfortable. The previous owner was a little taller and the drivers seat was lowered a bit but if needed we can put a riser back in to have it sitting the same height as the passenger. Beautiful door panels with map pockets and matching dash that wraps from door panel to door panel. Light tan carpeting looks great. Previous owner used velcro to attach the black rubber floor mats and black rubber foot rest areas to prevent wear. A sporty, high quality wood grain steering wheel with the Porsche crested horn button sets the dash area off nicely.  Authentic styled gauges all seem to function properly and the odometer is reading just under 7950 miles. Under the dash is a nice Pioneer am/fm/cd stereo unit with speakers neatly mounted in the kick panel areas. Someone also added a nice little glove box area to store the remote control and documents. Nice set of 3-point seat belts for driver and passenger as well as a lap belt for driver provides a little extra safety over the original. A battery cut off switch was also installed beneath the passenger seat for when you are storing the car for long periods. Overall the interior looks pretty close to brand new! Have a look inside:
I have now owned about 14 of these awesome 356 Speedster Replicas so I know what to expect when they arrive but I have to admit I was a little skeptical about how much fun these would be to drive when I got my first one. Well, after driving that first oneI immediately became a fan and now this one, with the larger 2110 cc motor with added horsepower has really won me over!! I admit this car is no where near as fast a a new Porsche but with about 125 hp from this nicely built 2110cc motor it will get up and go quite nicely with no issues cruising at highway speeds. This motor has a stroker crank, counterweighted and balanced, Mahle Pistons, a 110 cam, lightened flywheel, and has the larger 44mm dual bowl weber carburetors that breathe out the A1 Carrera Stainless stinger exhaust with a nice exhaust tone. Wishing only about 1600lbs means this baby is actually pretty quick and handles like it is on rails. Nice 4-speed short throw shifter mated to the 3.88 geared Freeway flyer transmission for comfortable driving at any speed. Great stopping power from the 4 wheel disc brakes. Fully adjustable twin torsion I-beam front end and rear torsion bar with swing axle and adjustable spring plates. Just under 7950 miles on this build so it is still very strong and fresh! This car is really fun to drive and just received a full tune up with new plugs, oil change, etc. Maintenance is cheap and easy on this car and any good foreign car mechanic should be able to handle the valve adjustment every 3-4000 miles to keep it running great. Great set of wheels with the Porsche emblemed chrome hub caps wrapped in a close to new set of Kumho radials. Undercarriage looks like new as well with no rust and has been treated to resist rust. I have not seen any leaks.