About This Vehicle
Odometer: 325
Engine: 350 V8
Body Style: Standard Cab Pickup
Transmission: Automatic
Exterior Color: Sea Foam Metallic
Interior Color: Black & White
VIN:  3A59L111644
Price: $37,500
ABSOLUTELY GORGEOUS

,

FULLY RESTORED

, NICELY MODIFIED 1959

CHEVROLET APACHE SHORT BED

PICK UP…

LOADED UP

WITH A NICELY BUILT 350 V8, AUTOMATIC,

POWER

STEERING

,

POWER

FRONT DISC BRAKES

,

VINTAGE AIR CONDITIONING

AND HEAT, AND MORE….READY TO

SHOW

AND

GO

!!!
Searching for an awesome late 50's Classic Chevy Pick-Up truck that stands out among the crowd?
Would you like an investment quality classic truck that you can truly get in and drive and enjoy?
Do you want it to look like a true Hot Rod with a flare all of its own but also be loaded up with some great comfort features like Vintage Air Conditioning, Power Steering,  Power front disc brakes,  and a smooth 350 V8 with Automatic transmission??
How about a truck with an awesome stance that sounds as good as it looks?
Are you ready to enjoy the Spring Car show and cruise-in season in a super sweet '59 Apache Short Bed that will turn all the heads, win its share of awards, and is ready to drive the moment it arrives to your home?
Well, if you have been shaking your head

yes

then get ready because this

Sea Foam Beauty

may be the one you have been waiting for!!!
This gorgeous '59 Apache Short bed is believed to have lived most, if not all, of its life in the dry, rust free Arizona climate. The gentleman I purchased this truck from spent close to 4 years restoring it a little bit at a time.  He was building it to keep, and with one young child thought it would be the ultimate cruiser for him and his family.  He did not want to cut corners so he built it as he could afford it, wanting to make sure the finished product had quality parts, as well as all the features that would make it enjoyable to drive and show occasionally.  Well, I think it is fair to say he accomplished that goal. The only thing he did not factor in was that towards the end of those four years he learned he was going to have his second baby…..now what?? Well, he decided it was time to find an equally cool 50's station wagon to build that would be able to accommodate the growing family….bummer for him, but lucky for the next owner….maybe you!!!? As you will see this Apache was treated to a very nice and unique paint job in Hot Rod Flatz brand sea foam metallic flat paint. It was done professionally and once the truck arrived to me I had a super talented pin-stripe artist we have used over the years lay down some gorgeous accents. This truck was not only built to be eye-candy but it was built to be driven too! A great running crate 350 V8 mated to an automatic transmission with power steering, power front disc brakes, great sounding dual exhaust and aluminum radiator make this truck a joy to drive. Add in the ice cold air conditioning, beautiful custom interior, an awesome lowered stance with a great set of wheels/tires and you have a serious head turning cruiser ready to win its share of trophies at the local shows or just driven wherever you desire.  I will do my best to provide enough large images, a video of it starting and running and an honest description to help you decide if this is the custom, classic, Chevy truck you have been waiting for. As with all of my classics I do have this '59 advertised on my website and several other sites. So, if you decide you have to have it and want to make that happen before the next car guy or gal scoops it up, feel free to give me a call to discuss how we can make that happen. I welcome overseas buyers and can assist with transport to any port in the country.  Sit back and enjoy!!!
As I mentioned this truck lived a good life prior to the restoration spending most, if not all its time in the sunny, dry Arizona climate. The body was extremely nice to start out needing only minor paths in the cab corners and lower front fenders which were done correctly with metal. It was as close to a frame off restoration as you will get although the previous owner told me he never actually removed the cab from the frame but just about everything else came off. This is an all steel truck, no fiberglass body panels on this one! Body panels are extremely straight and body panel fit is as good if not better than back in 1959. The bed area looks awesome with a custom stained ebony bed. The Hot Rod Flatz metallic paint really looks fantastic with only some minor flaws in the paint. I have had 2 other trucks done in this paint and it is really great stuff. It cleans super easy with windex and a micro fiber towel. No need for waxing and buffing. As you can see the center portion of the cab was accented in a flat white and  Conways Customs laid down some beautiful custom pin-stripe work that offers subtle vintage accents in turquoise and gray making this Apache even more one of a kind than it already was.  All of the glass except the rear glass was replaced. Weatherstripping was all replaced. Front and rear bumpers and front grill area were painted in a gloss white. This Apache is ready to be shown off, is in near flawless condition and looks fantastic!!! Check out the body:
Complimenting the Sea Foam metallic hot rod flats exterior is a sweet black and white custom interior that also looks extremely period correct.  The custom done black and white diamond tucked bench seat is super comfortable and looks like new. The original dash was dressed out with some more custom pin-stripe work and a beautiful set of Dolphin gauges were installed providing you with all of the vital readings you will need. As the odometer states, there are just over 300 miles on this truck since it has been completed!  For added comfort a beautiful polished tilt steering column with a sweet white and chrome steering wheel with a bullet center was installed.  Horn is currently not hooked up. New carpeting, headliner, dome light assembly, window cranks…new, new, new!! All new wiring throughout the truck! Very cool push button start was added. Lets not forget the ice cold vintage sure fit air conditioning and heat with working defrost if needed. Everything seems to be working correctly including the windshield wipers!! About the only thing missing for some folks is a stereo. The original radio hole is still present and a retro sound stereo can easily be added if desired. The previous owner simply enjoyed the sound and driving experience so much he decided that music was not needed. Take a look inside this baby:
During the build a good friend of the owners told him they had a very low mileage crate 350 V8 that they were pulling out of their hot rod to put in a big block. He jumped all over that and they installed this beautiful crate 350 V8 in the Apache pushing out about 275hp making it the perfect cruiser that still gets decent gas mileage if that really matters. The motor is very stock, not radical with a 600cfm Edelbrock carb feeding the fuel and breathing out stock manifolds that run out a brand new dual exhaust with very nice cherry bomb mufflers running out under the rear bumper. MSD HEI distributor for quick and easy starting. New plugs, wires, water pump, fuel pump, polished one wire GM alternator, etc…Great looking under the hood with chrome tall Chevrolet Valve covers, chrome air cleaner with washable air filter. Steering is a breeze thanks to the newly rebuilt quick ratio power steering. New 7″ power brake booster with dual reservoir master cylinder and new front disc brakes stop this truck effortlessly.  The front end is a mid 70's Camaro front clip with 
New McGaughy's 2" drop spindles, and 2" drop springs up front. Rear end is a mid 70's Camaro 10 bolt that was rebuilt with very friendly highway gears, new rear brake shoes and wheel cylinders. New drive shaft and u joints. New battery, belts, hoses, shocks and wiring….new, new, new. New aluminum radiator and chrome overflow tube keep this baby running cool. Rear end has a mini c-notch and axle flip done providing a great stance. Awesome set of 15×7 Astro Supreme wheels wrapped in brand new white walls really work on this ride. The undercarriage, frame, and floorpans look fantastic as well with no rust issues!!!
The bed of this Apache was treated to a beautiful wood treated bed that was stained in an ebony color and treated with 3 coats of urethane for a truly show stopping appearance. Bed rails were sealed and new polished chains with covers added. Great set of tail lights from a Model A were used for a bit of a custom look.  As mentioned previously pin-striping really compliments the lines and beauty of this Apache.  Check it all out and then make sure you listen to the video of this baby starting up and running as well!!
HERE IS A SHORT VIDEO SO YOU CAN HEAR THIS SWEET APACHE START UP AND RUNNING (
CLICK THE ARROW TO START
):
I am confident that the next lucky owner is going to be absolutely thrilled when this truck arrives!  Since we do have this truck advertised on our website and several others I encourage serious buyers to call me to discuss the possibility of getting this car in your garage before the next lucky car guy or gal does. I am also always open to answering any questions you may have. I welcome overseas buyers and can asset with getting great rate on enclosed transport anywhere in the country.
Serious buyers can call me at 770-359-8400.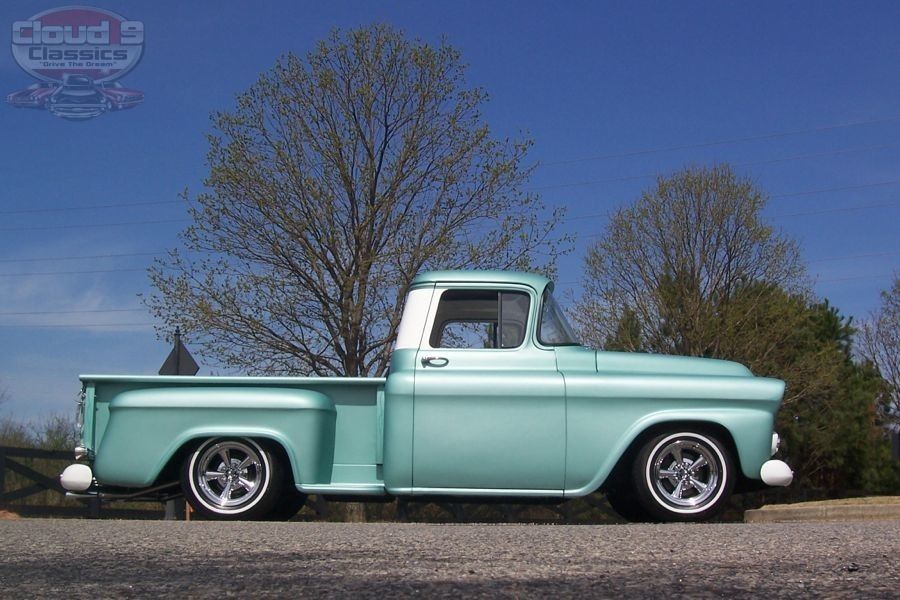 SERIOUS BUYERS CAN CALL ME AT 770-359-8400
If you have any questions feel free to call me at 
770-359-8400 
and I will do my best to answer them.  If you are a serious buyer lets talk on the phone and discuss it. In addition to being a licensed Classic Car Dealer I am also a Transport Broker (www.transporttime.com) and will be happy to assist the buyer with a great rate on Enclosed or Open Transport anywhere in the US at the buyers expense or to any port for overseas buyers.