About This Vehicle
Odometer: 1,000
Engine:  1600cc
Body Style:  Coupe
Transmission: Manual
Exterior Color: Light Jade/Ivory
Interior Color: Ivory
VIN:  2159722
Price:  SOLD
ABSOLUTELY AWESOME
,
TWO-TONE
, AIR COOLED CLASSIC, 1959 VOLKSWAGEN BEETLE,
BEAUTIFULLY RESTORED
,
PAN-OFF
AND
UPGRADED
WITH FRESHLY
BUILT 1600CC
, FREEWAY FLYER 4-SPEED,
4 WHEEL DISC BRAKES
, AND MORE…READY TO
SHOW
AND
GO
!!!
SEARCHING FOR A SWEET CLASSIC VOLKSWAGEN BEETLE WITH A GREAT BLEND OF ORIGINALITY PLUS SOME UPGRADES TO MAKE IT A LOT MORE DRIVER FRIENDLY?
DO YOU APPRECIATE A HIGH QUALITY RESTORATION BUT WANT A CAR THAT IS READY TO DRIVE AND ENJOY AND NOT JUST BE A TRAILER QUEEN?
WOULD YOU LIKE IT TO HAVE A NICELY BUILT, LARGER THAN STOCK MOTOR WITH A FRESH REBUILD, FOUR WHEEL DISC BRAKES, AND UPGRADED TO 12V?
HAVE YOU SEEN THE VALUES TRENDING UPWARD ON THESE EARLY VW BEETLES AND WANT TO BUY ONE THAT WILL ALSO BE A SMART INVESTMENT? 
WELL, IF YOU HAVE BEEN SHAKING YOUR HEAD YES, THEN THIS
TWO-TONE 
1959 IS DEFINITELY ONE YOU NEED TO CHECK OUT!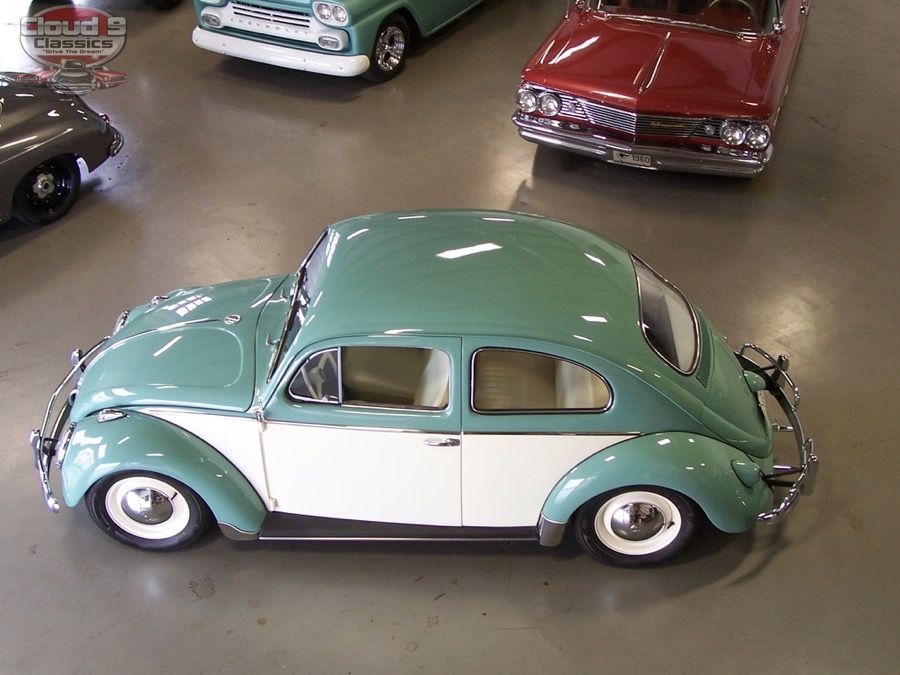 This attention getting, two tone classic 1959 VW Beetle received an extensive restoration, done to a very high level, and is now ready for the next lucky owner to drive, show off, and enjoy!!  This was a Texas VW that was purchased by a gentleman who wanted to have it restored so that his wife could drive and enjoy it.  He asked his brother and one of their employees to handle the restoration process and 2 1/2 years later when it was completed his wife let him know that she was not comfortable driving a manual shift, classic car.  He then asked his brother to locate a new owner who would enjoy the car and I scooped it up quickly and had it transported via an enclosed transporter to my showroom in the Atlanta, GA area.  I had just recently sold another classic Beetle which was truly awesome so I was not expecting this one to be quite as nice. However, I was pleasantly surprised when this one rolled off the trailer as it was actually a notch above the already exquisite one I had just sold. Now, a lucky new owner will get a chance to enjoy this sweet V-Dub…maybe you!! With less than 500 miles on it since the restoration was completed it is truly in amazing condition and ready to be enjoyed. As with all of my classics, I do have this car listed on my website and several others. If you decide this sweet Beetle needs to be in your garage before the next car guy or gal scoops it up, please feel free to give me a call to discuss how we can make that happen. In addition to being a licensed Classic Car dealer I am also a transport broker and can assist you with a great rate on transport anywhere in the country. I also welcome overseas buyers and can assist in getting the car to the port of your choice.  I will do my best to provide you with enough pics, a video of the car running, and an honest description to help you decide if this classic VW should be in your garage.  Sit back and enjoy!!
This was a true, professional, high quality, pan-off complete restoration and the paint and body are absolutely exceptional. I am not exactly sure what the color is called but I would call it a light seafoam or light jade green color paired with Ivory along the doors and center of the body. It is a super nice, period correct color and look.  I would call the body near flawless as I really did not notice any flaws to speak of and the paint quality is what I would call show quality which is a term I really do not use very often.  Chrome trim, emblems, all look great and the weather stripping was all replaced.  Brand new set of Triple Chrome plated front and rear bumpers with over-riders really stand out on this Beetle.  Body panel fit is excellent and the body is super straight from front to back. Cool set of original style rock guards on both front and rear fenders. Running boards look awesome. The Ivory colored 15″ wheels are a beautiful accent to the 2-tone body. I considered adding a classic roof rack with some vintage luggage or a surf board but did not want to risk scratching this beauty so I will leave those choices up to the next owner. If I had to pick a few minor items I would mention that there is a slight scratch in the windshield and the bottom of the
 front trunk handle has some minor pitting that cannot really be seen. This Beetle catches all the eyes when it is on the road and is sure to win its share of trophies at the local shows and cruise-ins. I think the photo tour of the body will show you just how nice this '59 is:
The interior was also completely restored and finished in Ivory that really compliments the 2-tone exterior perfectly. Seats look like new and are very comfortable. Everything inside was replaced including door panels, headliner, and carpeting. Original style Ivory steering wheel looks awesome with very minor hairline blemishes that are barely noticeable. Speedometer is crystal clear and operates correctly as do the lights and turn signals.  Ivory knobs and accents along the dash look great. Shifter and e-brake also look like new and function correctly. About the only thing that the future owner might want to add is a stereo which could be mounted inside the glove box or under dash. The simplicity of these cars is really something to admire and this '59 really looks as good as new inside and you will be proud to show it off!
While this '59 has the iconic classic styling, it also has some great upgrades to the 
drivetrain that will make it an absolute blast to drive. Under the engine lid sits a freshly built 1600 cc that is mated to a freshly rebuilt 3.88 freeway flyer 4-speed. I was told there is probably less than 500 miles on the drivetrain since the restoration was completed. The 1600 cc puts out an estimated 70-80hp which is plenty of power to get this Beetle up to highway speed surprisingly quickly! The free way flyer allows you to cruise at 65 mph comfortably and go faster without problem as well.  You may have noticed that this '59 has a nice little stance as it was lowered slightly and sits on a really cool set of original styled 15″ wheels adorned with VW badged baby moon chrome hub caps and wrapped in like new set of Nankang 165/80/15 radials on all four corners. All new shocks and bushings and a Front stabilizer bar was added and this Beetle really handles the road beautifully. Stopping is a breeze thanks to the upgraded 4 wheel disc brakes that were added.  This'59 was completely re-wired at the time of restoration and upgraded to a 12V system. You will also notice that the engine Bay Area was nicely dressed out with a bit of chrome and very neatly detailed so you will be proud to show it off when asked.  This was a pan-off restoration and the pan itself was actually powder coated and you could put mirrors around this one at the shows and be proud of what people see underneath. Inside the front trunk also looks great.
Check it out and be sure to also watch the video that follow the pics below to hear it start up and running:
HERE IS A SHORT VIDEO SO YOU CAN SEE AND HEAR THIS '59 V-DUB START UP AND RUNNING

(

CLICK THE ARROW TO START

):
At this point hopefully you can see that this is truly a gorgeous, professionally restored classic VW. It has the right colors, the right stance and look, and is just a blast to drive around in. These early VW Beetles are quickly rising in value and this one is sure to make a great investment. 
If you want to scoop this amazing car up before the next car guy or gal does feel free to 

give me a call at 770-359-8400 to answer any questions

 and discuss how we can make that happen.  In addition to being a licensed classic car dealer I am also a Transport Broker (
http://www.transporttime.com) and can assist in getting you a great rate on Enclosed Transport anywhere in the country. I also welcome overseas buyers and can assist in setting up transport to the port of your choice.