About This Vehicle
Odometer: 825
Engine:  350 V8 4bbl
Body Style: Standard Cab Pickup
Transmission: 700R4 Automatic w/overdrive
Exterior Color: Turquoise
Interior Color: Turquoise & White
VIN:   1C144K143421
Price:  $34,500
ABSOLUTELY AWESOME

,

FRAME-OFF RESTORED

, 1961 CHEVROLET C-10 APACHE SHORT BED PICK UP….OLD SCHOOL LOOK WITH UPDATED 350 V8, AUTOMATIC,

POWER STEERING,

POWER DISC BRAKES

,

AIR CONDITIONING

AND MORE…READY TO

SHOW

AND

GO

!!!
Searching for a spectacular Classic 1960's Chevrolet Short bed Pick Up and love an original looking truck but want one that has been professionally restored and updated so that it can be driven anytime, anywhere?
Do you love the look of the 1961 Apache 10 with the unique big hood and front end?
Are you planning on driving and enjoying your classic truck investment and want it to have a fresh 350 V8, Automatic, Power Steering, Power Disc Brakes, and Vintage Air Conditioning and heat?
Well, if you have been shaking your head yes then get comfortable because your Classic Chevy Apache Pick up truck is here!!!!
Classic trucks have been one of the hottest categories in the collector market over the past few years. As you search for your dream truck you will find  everything from bone stock original to highly modified pro street.  If you have been searching for a beautiful early 1960's Chevrolet Short bed pick up and want it to have that stock, original look but with an updated 350 V8, power steering , power disc brakes, air conditioning, modern stereo and more then this may be the one you have been searching for.  I purchased this awesome '61 from a gentleman in the Atlanta, GA area who had done a frame-off restoration on it for his father 6 years ago. His father wanted a truck that he could get in and drive any day of the week and one that would also draw a crowd at the local shows and cruise-ins.  After driving this turquoise beauty back to my showroom I can tell you that he built exactly that.  In fact, the though that ran through my head as I was driving it was that this could truly be a daily driver if desired. Now, keep in mind it is far nicer than what people call driver quality and will certainly win its share of trophies at the local shows if that is what you enjoy.  The previous owner actually trailered it down to the Turkey Rod Run in Daytona Beach, FL this past winter just to show it.  He was flooded with people wanting to buy it, but at the time had no desire to let it go. Well, a few months later he got the itch for a slightly newer C-10 and asked his son to sell this one so they could build his next dream truck.  This '61 is believed to have lived most, if not all its life here in Georgia and as a result wears pretty much all of its original sheet metal. There has only been a little over 800 miles put on the crate 350 V8 since the truck was finished 6 years ago so this truck is still extremely fresh. I will do my best to provide you with enough large images, a video of the truck starting up and running, and an honest description to help you decide if this truck should be in your garage this spring. As will all of my inventory I do have this truck listed on my website and several others. So, if after taking a look you decide you want to scoop this beauty up before the next car guy or gal does, feel free to give me a call to see how we can make that happen.  Sit back and enjoy!
As I mentioned, this truck received a professional, frame-off restoration 6 years ago.  But, with just over 800 miles on it still looks amazing! The body still has just about all of its original sheet metal including the original, very hard to find, large hood.  The previous owner told me the only sign of rust was in the lower doors so they removed that and welded in correct patch panels. The bed was in amazing condition and is original steel with an updated oak bed floor.  Body panels are extremely straight and body panel fit is awesome. Doors close nicely. It was repainted in an original Tartan Turquoise and white combination which looks awesome. There are some really minor flaws in the paint on the hood and a few minor spots that were touched up along the inner bed rails. Otherwise the body is just about flawless.  All of the weatherstripping was replaced and glass looks excellent. Door handles, chrome trim all look fantastic.  The simplistic, utilitarian body lines on this truck are really sweet and the front end of the '61 really sets it apart.  Here is a photo tour of the body that should tell you the rest:
The interior looks just as sweet as the exterior and follows the same theme of originality with some modern upgrades. The Turquoise and white bench seat looks like new and is extremely comfortable. At first glance the dash looks original until you turn the key and notice the updated Dakota Digital gauge cluster that provides you with all of the readouts you need.  A modern custom stereo fits in the stock radio location and looks original until you turn it on to reveal the digital read out. There is a Cd changer in the glovebox and speakers are neatly mounted in the kick panels. Under the dash you will find you Vintage Air Conditioning vents neatly mounted with the control nicely hidden under the dash. Ice cold A/C for the summer months and heat for the winters if needed.  Great, original steering wheel and column shifter with just minor signs of age. Carpeting and chrome sill plates are new. The interior is definitely ready for the shows and will be super comfy anywhere you want to go. Check it out:
Pop the huge hood on this '61 Apache and you will find a beautiful crate 350 V8 nicely dressed out in chrome with an Edelbrock 4bbl Carburetor feeding the fuel and a beautiful set of Doug Thorley Polished headers breathing out the dual exhaust. With only a little over 800 miles on this motor it drives extremely strong and has no problem keeping up with traffic at todays highway speeds.  Horsepower is estimated at 300 hp.  Mated to the crate 350 is a TCI 700R4 automatic transmission with overdrive. This is a great combination and with great highway gears in the 10 bolt rear end you can cruise all day and still get decent gas mileage if you stay out of the pedal.  Handling is a breeze with the updated power steering and newer suspension components. Stopping is just as easy with the CPP power front disc brake set up.  The Billet polished frontrunner pulley system was expensive and looks great. Modern Vintage A/C compressor neatly mounted. This truck runs cool with a new radiator and electric cooling fan. This truck fires right up, sounds great, and is ready to be driven and enjoyed. Make sure you listen to it running in the video that follows. The undercarriage of this Georgia truck looks fantastic as well and is rock solid and rust free. Frame was sprayed at the time of restoration and original floorpans look great. The oak wood bed was nicely refinished and the bed itself looks awesome.  Adding to the nostalgic look of this Apache are the original wheels and hubcaps wrapped in a great set of Radial Wide White wall tires for a smooth and quite ride.
HERE IS A SHORT VIDEO SO YOU CAN HEAR THIS AWESOME '61 APACHE START UP AND RUNNING (
CLICK THE ARROW TO START
):
I am confident that the next lucky owner is going to be absolutely thrilled when this truck arrives!  Since we do have this truck advertised on our website and several others I encourage serious buyers to call me to discuss the possibility of getting this car in your garage before the next lucky car guy or gal does. I am also always open to answering any questions you may have. I welcome overseas buyers and can assist with getting great rates on enclosed transport anywhere in the country.
Serious buyers can call me at 770-359-8400.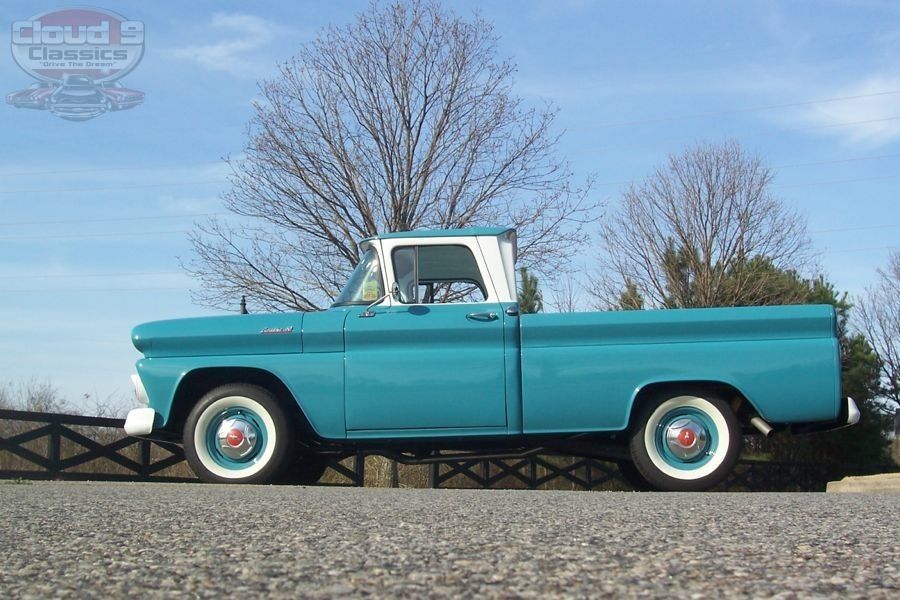 SERIOUS BUYERS CAN CALL ME AT 770-359-8400
If you have any questions feel free to call me at 
770-359-8400 
and I will do my best to answer them.  If you are a serious buyer lets talk on the phone and discuss it. In addition to being a licensed Classic Car Dealer I am also a Transport Broker (www.transporttime.com) and will be happy to assist the buyer with a great rate on Enclosed or Open Transport anywhere in the US at the buyers expense or to any port for overseas buyers.