About This Vehicle
Odometer: 48,571
Engine: V8
Body Style: Conv
Transmission: Auto
Exterior Color: Red
Interior Color: Red
VIN: 45667A158502
Price: SOLD
GET READY TO VIEW A TRULY

AWESOME

,

MATCHING NUMBER

,

WELL DOCUMENTED

,

LOW MILEAGE

,

1964 CHEVELLE MALIBU CONVERTIBLE

WITH

GREAT UPGRADES

THAT IS READY TO

SHOW

AND

GO

!!
Let me start off by telling you that this awesome '64 Chevelle, Malibu Convertible is a car that we sold to a gentlemen 4 1/2 years ago.  I received an email from him recently letting me know he thought it was time to let this beautiful car go to a new owner and asked if I would assist him.  He explained that he truly enjoyed the car over the years and in fact spent quite a bit of money improving it by upgrading various components or adding modern comfort features like Air Conditioning . He had moved from Virginia to Florida while he owned it and enjoyed the car thoroughly but decided he would like to find another great classic to enjoy and did not have the room for both.  I clearly remembered just how nice this car was when we sold it to him and how great it drove. I told him it would be a pleasure to assist him in selling it to the next lucky owner….maybe you!!! He transported the car to us in an Enclosed trailer and included all of the receipts for the work he had done to the car over the years.  He spent some serious $$$$ on quality upgrades that would ensure that the car would perform and be enjoyed whenever he drove it. It is always great to find a classic that has already been upgraded so that you do not need to worry about anything but enjoying it. As you will see in my description below this is believed to be a very low mileage, original car. The mileage when we sold it 4 1/2 years ago was just under 35,000 miles and currently the car has just under 46,800 miles on it.  This is a Classic that you can truly get in, turn the key, and drive and enjoy anywhere you want to go! Of course it will also be a welcome addition at any local show or cruise in and will most likely take home its share of trophies along the way.  I will do my best to provide you with enough large images of the car, a video of it starting up and running, and an honest description to help you decide if this sweet, low mileage, Malibu Convertible is the one for you! 
The previous history on the car is as follows. I acquired this sweet Chevelle from a Chevelle enthusiast in Pennsylvania 4 1/2 years ago. He had located the car from a friend of his who knew the original owner. He was so impressed with the car he bought it on the spot. Evidently the original owner had used the car for as a daily driver for the first few years and then decided to use it only as a Spring/Summer sunny day cruiser.  At one point the car was taken off the road and stored properly on blocks for years. The mileage on the car was represented by the original owner as accurate and it was just under 35,000 miles at that time.  I am always careful to represent our cars as honestly as possible and will tell you that I truly believe this car maybe one of those very rare, very low mileage, original cars. You have to see and drive it to appreciate it.  There is some documentation that would support the low mileage but not enough to be 100% certain.  We sold this '64 quickly as expected to the gentleman in Virginia who has now decided it is time to sell it.  He had a blast with the car and I am sure the next owner will also. 
Sit back and enjoy!
This awesome convertible appears to have all of its original body panels and is what many people would call laser straight. According to the original owner the car was repainted one time in the early 1980's in its original Ember Red color. It was a professional lacquer paint job that held up wonderfully over the years. When we sold the car 4 1/2 years ago there were a few spots where the paint was starting to show its age as lacquer will do. Some of the panels were getting a little bit of "rash" but the paint still held a wonderful shine and luster.  It had what we considered to be excellent patina. 4 1/2 years later and the car still shines wonderfully however the areas that were showing some wear in the lacquer paint have expanded a bit and the rash is a bit more evident now.  As you will see from the pictures it is not noticeable from 20 feet away but up close there are very tiny "pimples" in the paint.  I would consider this a survivor body that has only had one repaint.  To be a total show winner the next owner could repaint the car but the car is extremely presentable and can still be proudly shown at local events and cruise ins.  There are a few tiny chips that have been touched up and a couple of scratches that do not take away from the beauty and originality of this survivor quality classic. The body does not have any signs of rust or show signs of ever having any rust or rust repair. It is truly a fantastic body! As you will see all of the stainless trim,grill, and chrome bumpers look great. You will also notice how nice and even the body gaps are and how great the lines are along the trunk. Again, no evidence of any panel replacement or body work ever done. I personally love the simplistic styling of the '64 Malibu as well as the stainless trim along the body lines that very often you will find removed. 1964 Was the first Chevelle and although it was not the muscle car that it became in later years it had classic styling that still has a muscle look all its own.  You will get a great look at this car in the walk around tour of pictures that follows. 
The 4 pictures below were taken 4 1/2 years ago when we initially sold this car to the gentleman in VA.  You may notice that the car now sits up a little higher in the rear thanks to new shocks and springs.  Pictures taken a week ago will follow these 4 pictures:
Here are the current pictures that were just taken last week of this beautiful Ember Red '64 Malibu Convertible.
I always believe these Classic Convertibles should be driven top down every opportunity you get but it is always nice to know that this '64 Malibu Convertible has a beautiful white convertible top that is in fantastic condition. The top is manual and is simple to operate. It seals up great and the rear window is crystal clear.  There is also a matching boot cover for when the top is down to give it a clean finished look.  Have a look:
Open the drivers door and slide in to the beautiful complimentary red bench seat interior. Again, truly amazing survivor condition with little to no wear on the seats, door panels, dash pad, and even the red carpeting looks great. While bucket seats are nice, I have to tell you that this year and model is perfect for the bench seat. Drop the top, put your arm around your girlfriend, wife, or child. Ir, just stretch yourself out and enjoy the sun shining in your face and the wind in your hair as you cruise in this awesome ride.  The gentleman we sold the car to loved the interior but wanted to avoid any wear that would occur as he enjoyed driving the car so he had a custom set of soft seat covers custom made that were professionally installed over the original seats.  They were very comfortable and definitely prevented any wear from occurring but we had them professionally removed before taking the pics so you can see how nice the original interior is. The custom seat covers will also be included in case the next owner prefers to use them. The stainless on the dash has held up very nicely and original gauges are all working. The previous owner also added a great set of gauges under the dash to monitor oil pressure, temp and voltage. The original steering wheel had a bit of patina with a few chips in the paint but the previous owner had a custom leather steering wheel cover installed which looks and feels great. One of the great upgrades the previous owner added was an Ice-Cold Air Conditioning system from Vintage Air. All of the receipts and the diagrams of how the system was installed are included.  As you can see the install was professional and looks great and is sure to be a bonus for those of you in hot climates. Windows all roll up and down nicely and seal well. Windshield is the only glass that appears to have been replaced at some point.  He also added new rear seat belts for passenger safety. He also added a few added courtesy lights under the dash. Front door locks were changed so that they can be locked.  As you will see in the pics the interior is in fantastic condition and needs nothing but you to sit and enjoy. 
Under the hood is the factory original, matching number 283 2bbl V8.  We have the build sheet and we verified the numbers on the engine pad match the identification code.  Engine bay was nicely detailed to look the way it did off the showroom floor.  This little 283 V8 was rated at 225hp and feels very strong and cruises great at 30mph or 75 mph.  This is a Factory power steering and power brake car. Another one of the great upgrades from the previous owner was the addition of front disc brakes which were professionally installed and add to the safety of this ride.  He also had his mechanic go through every component in the steering and suspension and anything that was needed was changed with new.  This included 4 new coil springs, new shocks, lower front ball joints, steering center link, new power steering lines, new brake lines, and much more.  Original Carburetor was rebuilt, new alternator, battery, new fuel pump, water pump, fuel tank and sending unit, etc. All of this is documented in the receipts that will be included.  This beauty steers and stops straight and effortlessly.  When we sold the car it had its original 2-speed power glide transmission which was operating smoothly and correctly. The new owner decided he preferred the shifts of a Turbo 350 3-speed automatic so he had a completely rebuilt period correct turbo 350 rebuilt and installed. He kept the matching # 2-speed Power glide which will go with the car as well.  This car also sounds fantastic thanks to a great set of flow master mufflers that were added to the dual exhaust.  This car will also always run nice and cool as the previous owner upgraded the cooling system with a larger 4 row Radiator and new seven blade fan.  This '64 Chevelle is as reliable as you are going to find and handles the road beautifully at any speed.  Beautiful set of American racing wheels give this car a great stance and with the new shocks and springs the car sits up great with a nice raked stance indicative of the 60's.  The radial redline tires were just replaced in July and new inner and outer front wheel bearings were installed and new front pads were put on the brakes. We also had the original wheels and hub caps which are still with the car and will be available for the new owner.  Basically if it was needed it was done while the previous owner had it!! 
The trunk is as rock solid and original looking as the rest of the car and there is a full size spare as well. The undercarriage and floorpans also look rock solid and original. Evidently the original owner had the floorpans rust protected at the dealership with something that was called Kendall Unda-guard which was a petroleum based product applied to the floorpans and underbody to prevent corrosion. It worked!!!!If you do not like the way it looks I am sure it can be removed but I say leave it be as it has stood the test of time.  A brand new custom car cover will also be included!
Make sure you listen to the video of this sweet Malibu starting up and running that follows the pics. If you like driving your classics this one will put a smile on your face from ear to ear!!!!
HERE IS A SHORT VIDEO SO YOU CAN HEAR THIS '64 MALIBU START UP AND RUNNING…TURN YOUR VOLUME UP AND CLICK THE ARROW TO START:
In addition to the original Build Sheet I also have a variety of original paperwork and the original owners manual and warranty booklet.  As you will see it was bought new at Bill Book Chevrolet in Altoona, PA. Believe me this is not your typical PA car and there is no doubt that this car received the finest care by all of its owners including the original owner who kept this car until 2007.  There is an inspection sticker in the paperwork that shows the car had 29,220 miles in 1980 which I believe was right before the car received its one and only repaint before it was placed on blocks for many years. You will also see I have all of the receipts and history from the current owner who had all of the maintenance and upgrades done recently. This is definitely one of the sweetest, original , '64 Malibu Convertibles you will find!!
Hopefully you will agree that this '64 Chevelle Malibu Convertible is pretty darn sweet. You will be able to get in and drive it the day it arrives at your driveway and you will be making a great investment in a proven Classic. If you would like to discuss a price that can put this '64 in your garage before the next car guy or gal gets it then feel free to call me at 770-359-8400 to discuss it.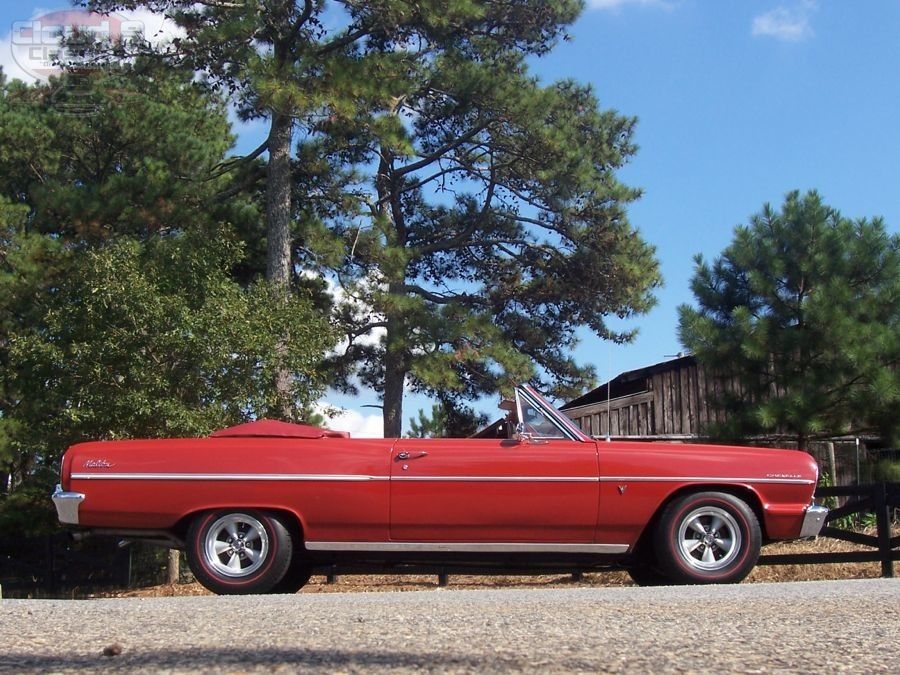 If you have any questions feel free to call me at 

770-359-8400 

and I will do my best to answer them.  If you are a serious buyer lets talk on the phone and discuss it. I will be happy to negotiate a deal so we can get this beautiful car in to your garage as soon as possible.  In addition to being a licensed Classic Car Dealer I am also a Transport Broker and will be happy to assist the buyer with a great rate on Enclosed or Open Transport anywhere in the US at the buyers expense or to any port for overseas buyers.