About This Vehicle
Mileage: 28,496
Engine: V8
Body Style: Convertible
Transmission: Manual
Exterior Color:Silver Blue
Interior Color: White
VIN:5R08C170579
Price: SOLD
ABSOLUTELY GORGEOUS

SILVER BLUE

1965 FORD MUSTANG CONVERTIBLE 289 V8 4-SPEED WITH

ICE COLD

FACTORY A/C…..READY TO SHOW OR GO!!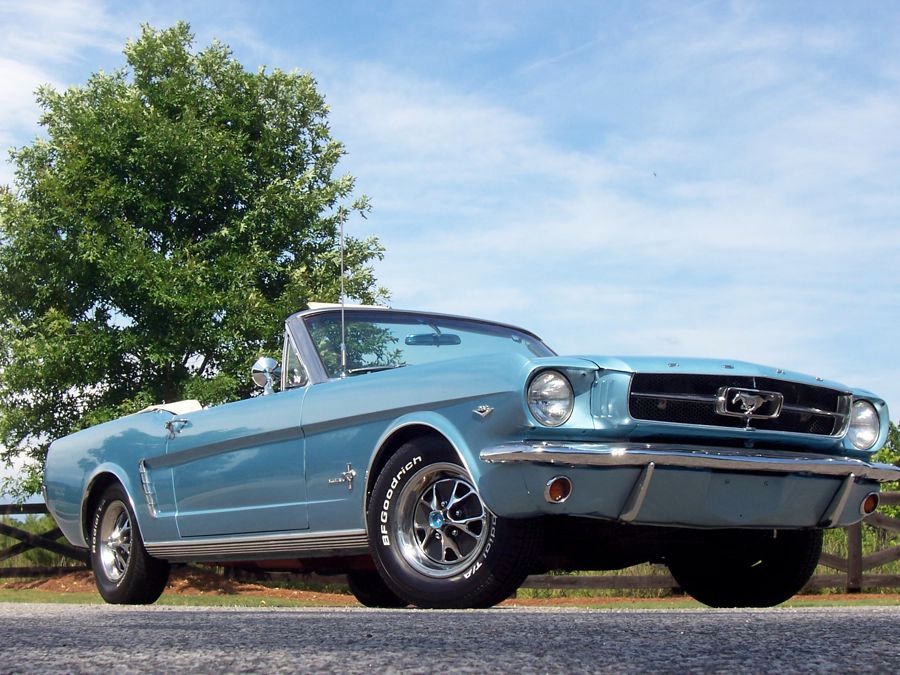 IT'S PONY CONVERTIBLE SEASON!!! THIS

4-SPEED

CONVERTIBLE IS ONE OF SEVERAL WE HAVE AVAILABLE READY FOR YOUR STABLE AND YOU WILL SEE IT PICTURED BELOW WITH AN EQUALLY NICE TAHOE TURQUOISE '68 CONVERTIBLE THAT WE WILL BE LISTING SOON AS WELL.
This auction is for the Silver Blue 1965 Mustang Convertible that we acquired recently from the 4th owner in Alabama.  The history of the car, as was explained to us by this gentleman, was that the car was originally produced at the San Jose, CA plant ( R code) and delivered to a dealership in Denver, CO ( DSO 51).  The car spent most of its life in the Denver area until it was sold to a gentleman in Montgomery, AL about 12 years ago.  He had the car cosmetically restored about 10 years ago and at that time made a slight color change of the exterior from Tropical Turquoise to Silver Blue. He also did a mild rebuild of the original 289 V8.  It then was sold to a Professor at the University of Alabama who drove it occasionally for a few years and then the gentleman we acquired it from bought it about 2 years ago.  He was not driving it as much as he had hoped so decided it was time to pass it along to the next lucky owner….Maybe you!!!  This is an absolutely beautiful Pony Convertible that is ready to drive and enjoy and will also probably win its share of trophies at the local shows if that is what you enjoy.  It is hard to find 4-speed Convertibles with Factory A/C and this is one of the rare times I can say that the A/C in this car really does blow cold as the system was completely redone and charged by the previous owner.  I will do my best to provide enough pictures and a couple of videos so you can see and hear this Pony and decide if it is the one for you.  Sit back and enjoy!!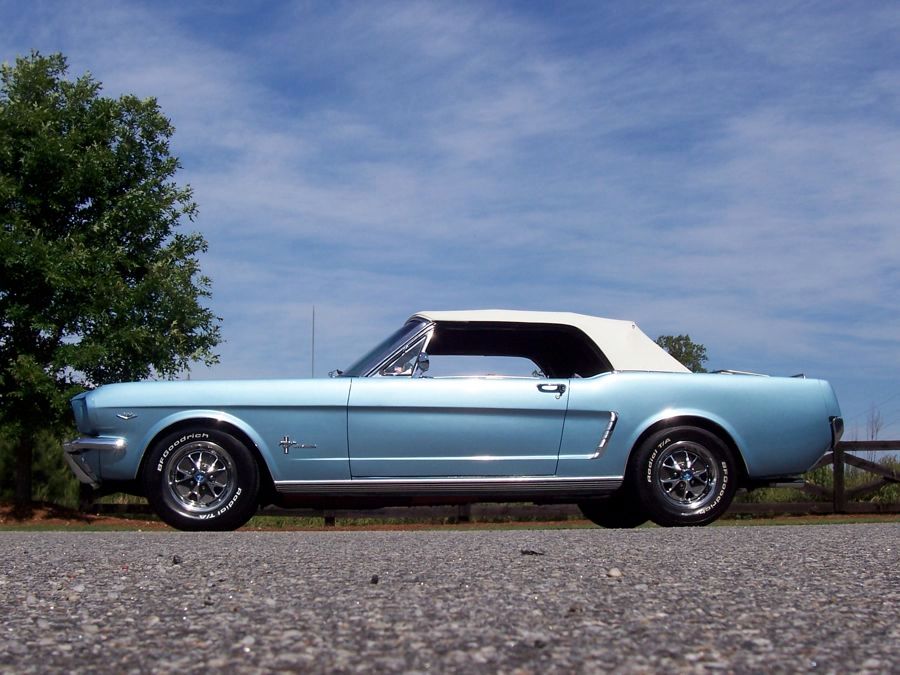 The body on this '65 Pony Convertible is in fantastic condition! Keep in mind the car was painted 10 years ago and it has really held up beautifully which should tell you that it was done professionally and it did not start out with many issues.  There are no bubbles or signs of rust anywhere along the body and a thin refrigerator magnet stuck almost everywhere along the lower body panels.  It is possible that this car has all of its original sheet metal or if any repairs were done they were done very professionally as I did not notice anything.  Body line gaps are excellent and the car is very straight. Given that the car was driven and enjoyed it is not flawless. I did notice a few chips and tiny scratches that had been touched up but I do not think they will show in the pictures. There is also a small pinch in the middle of the passengers side door where it looks like the door must have opened to far and rubbed the front fender. These minor flaws do not take away from the quality and beauty of this Mustang Convertible but I like to disclose everything I see. As mentioned the color was changed from tropical turquoise to the Silver Blue. The only spot I noticed the old color was in the convertible top well and when I removed the rear seat.  All of the Chrome trim, bumpers, emblems look great. All of the glass is in great shape and windows roll up and down nicely.  The Silver Blue paint looks excellent and we had the car wet sanded and buffed and it has plenty of luster and shine as you will see in the pics.  Below is a walk around picture tour of the body and there is also a video tour at the end of the description.
Complimenting the beautiful Silver Blue Body is a white convertible top and white and blue accented interior.  The convertible top is manual and operates extremely easy and is in great condition including the rear window. It comes with a matching boot cover that snaps on easily when the top is down.   I would guess it was replaced 10 years ago but looks close to new. The interior is also in fantastic condition!! The only wear I saw was some very slight fraying on the bead on the lower edge of the drivers seat. Otherwise everything looks awesome. Seats, carpeting, dash pad, door panels, etc…all look close to new!! The previous owner added some white faces to the gauges and also changed the original black shifter knob to a white one to accent the interior nicely.  He also did the future owner a huge favor and spent $700 completely redoing the Factory Air Conditioning and updated it to R134. This is quite rare and it blows nice and cold when needed!! He also added a Custom Auto Sound Digital Stereo system with speakers in the front kick panels. You can easily add a CD changer to this system .  A nice set of matching Pony floor mats was added.  All in all the interior is very close to show quality. Have a look:
Powering this beautiful stallion is the original C-Code 289 V8 mated to the smooth shifting 4-speed manual transmission.  The odometer shows right under 28,550 miles so we are assuming it has 128,550 miles. We were told the motor was rebuilt about 10 years ago and it definitely feels like it has been. It pulls very strong and still has the original 2bbl carburetor and stock manifolds. I have driven this convertible locally and on the highway and it handles the road beautifully. It does not need anything to be driven and enjoyed!  Under the hood is nicely detailed with polished Mustang Valve covers and chrome air cleaner. As you can see all of the A/C components are newer as it was just redone in August, 2011.  The dual exhaust has a nice tone and you can hear this Pony running in the video below:
HERE IS A SHORT VIDEO SO YOU CAN HEAR THIS PONY RUNNING: ( just click on the arrow)
The undercarriage of this Pony is rock solid and was nicely detailed with Red Oxide Primer. Floorpans and torque boxes are solid and no issues. Inside of the trunk is also rock solid and rust free. It has the correct mat in the trunk and spare tire with spare tire cover.  This pony rides on a nice set of  14″ Styled Steel wheels with Blue Center caps which I realize are correct for a '67 Mustang but they match the blue paint nicely and look great. Styled Steel wheels are wrapped in BFG Radial TA tires. Fronts are brand new and rears have plenty of tread life. Pictured below is the VIN stamping on the drivers side fender apron and a picture of the door tag. It looks like the door tag was changed to reflect the Silver Blue color that it was painted but all of the other info is correct.  This Mustang is quality through and through!
HERE IS A FINAL WALK AROUND VIDEO TOUR: ( CLICK ON THE ARROW)
AS I MENTIONED WE ALSO HAVE A BEAUTIFUL TAHOE TURQUOISE '68 MUSTANG CONVERTIBLE THAT IS AN AUTOMATIC 289 CAR WITH POWER STEERING. FEEL FREE TO CONTACT ME FOR MORE INFORMATION ON THIS CAR.
Hopefully you will agree that this is one sweet '65

SILVER BLUE 4-SPEED 

Pony Convertible!!

This car truly looks as good in person as it does in the pictures and it is a real head turner! This will be a great investment that you can drive, enjoy and take to the shows if you want. Finding one in this color and this condition will not happen often!!
THE MARKET IS VERY STRONG RIGHT NOW AND MOST OF MY AUCTIONS END EARLY AS I WILL NEGOTIATE A DEAL WITH SERIOUS BUYERS. DO NOT WAIT UNTIL THE LAST MINUTE OR YOU MAY BE DISAPPOINTED YOU MISSED OUT.
If you have any questions feel free to call me at 770-359-8400 and I will do my best to answer them.  If you are a serious buyer lets talk on the phone and discuss it. I will be happy to negotiate a deal so we can get this beautiful car in to your garage as soon as possible.  In addition to being a licensed Classic Car Dealer I am also a Transport Broker and will be happy to assist the buyer with a great rate on Enclosed or Open Transport anywhere in the US at the buyers expense or to any port for overseas buyers.