About This Vehicle
Mileage: 1,564
Engine: V8
Body Style: Coupe
Transmission: Auto
Exterior Color: Ivy Green
Interior Color: Palomino
VIN: 5F08C616963
Price: SOLD
BEAUTIFUL, NICELY RESTORED,

IVY GREEN METALLIC

WITH

PALOMINO INTERIOR

 1965 FORD MUSTANG CONVERTIBLE, 289 V8, AUTOMATIC,

LOADED

WITH

POWER STEERING

, POWER BRAKES,

POWER TOP

AND FACTORY AIR CONDITIONING…READY TO

SHOW

OR

GO

!!!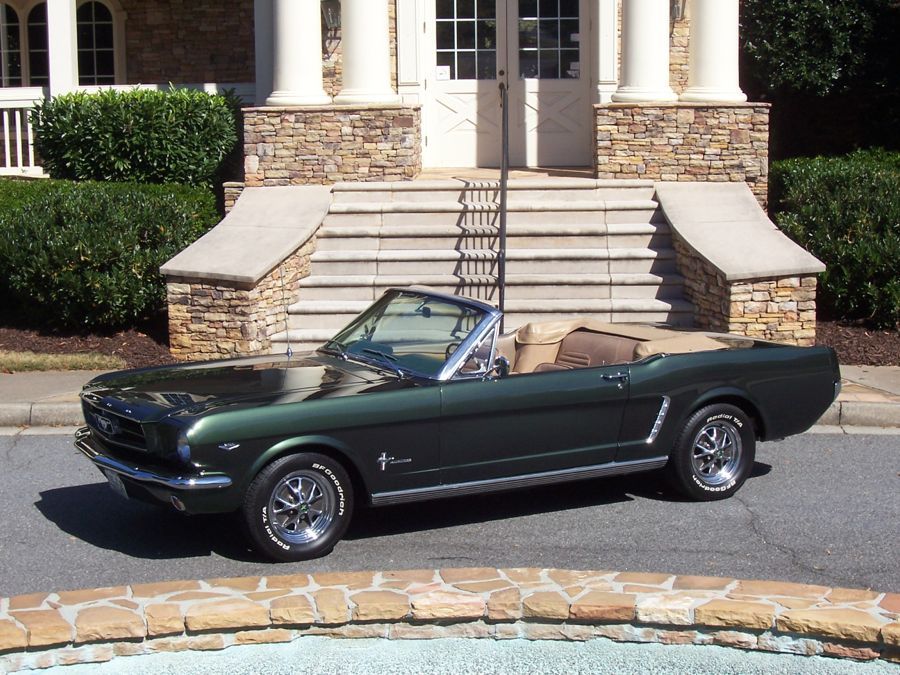 IN ADDITION TO THIS BEAUTIFUL IVY GREEN METALLIC WE ALSO HAVE 2 OTHER GORGEOUS PONIES THAT WILL BE LISTED FOR SALE SOON. ONE IS A BURGUNDY METALLIC '65 CONVERTIBLE WITH WHITE INTERIOR AND WHITE TOP AND THE OTHER IS A CANDY APPLE RED '67 CONVERTIBLE WITH RED INTERIOR AND WHITE TOP. ALL OF THEM ARE IN BEAUTIFUL CONDITION AND ALL ARE 289 V8 AUTOMATIC , POWER STEERING, AIR CONDITIONED STANGS!! HEY, IF YOU CAN'T DECIDE JUST BUY 'EM ALL AND START YOUR OWN STABLE!! FEEL FREE TO CONTACT ME ABOUT THE OTHERS IF THEY INTEREST YOU. THIS AUCTION IS ONLY FOR THE IVY GREEN METALLIC '65 CONVERTIBLE. 
IF YOU HAVE BEEN SEARCHING FOR THAT SPECIAL CLASSIC FORD MUSTANG CONVERTIBLE AND WOULD LIKE TO HAVE ONE THAT TRULY STANDS OUT FROM THE REST THEN THIS GORGEOUS '65 IVY GREEN METALLIC MUSTANG CONVERTIBLE MAY BE THE PONY YOU HAVE BEEN WAITING FOR!!  I KNOW THIS CAR QUITE WELL AS I ACTUALLY SOLD IT TO A GENTLEMAN IN COLORADO ABOUT 6 YEARS AGO.  IN MY SEARCH FOR GREAT MUSTANGS RECENTLY I CAME ACROSS THIS CAR AND AFTER SPEAKING TO THE OWNER FOR A WHILE I REALIZED THAT THIS WAS THE SAME CAR I HAD SOLD TO HIM 6 YEARS AGO.  HE HAD ONLY PUT ABOUT 1000 MILES ON THE CAR IN THE 6 YEARS HE OWNED IT AND DECIDED HE WAS READY FOR SOMETHING DIFFERENT. I KNEW THIS WAS A GREAT CAR AND QUICKLY BOUGHT IT BACK AND HAD IT TRANSPORTED BACK TO GEORGIA. WHEN IT ARRIVED I WAS AMAZED THAT IT LOOKED JUST AS GOOD AS IT DID 6 YEARS AGO.  ONE TURN OF THE KEY AND I QUICKLY REMEMBERED HOW GREAT THIS CAR SOUNDED AND HOW STRONG IT WAS.  I HAVE HAD THE PLEASURE OF OWNING THIS CAR 2 TIMES NOW AND I KNOW THAT THE NEXT OWNER IS GOING TO BE EQUALLY AS EXCITED WHEN IT ARRIVES IN THEIR DRIVEWAY…..COULD THAT BE YOU?? I WILL DO MY BEST TO PROVIDE ENOUGH PICTURES, A VIDEO OF THE CAR RUNNING, AND AN HONEST DESCRIPTION TO HELP YOU DETERMINE IF THIS STALLION BELONGS IN YOUR STABLE.  IT MAY TAKE A FEW MINUTES FOR ALL THE PICTURES AND INFO TO LOAD BUT I PROMISE IT WILL BE WORTH THE WAIT…SIT BACK AND ENJOY!!
This awesome 1965 Mustang Convertible spent most of its life in Georgia and North Carolina before it went to Florida in 2001. The gentleman I purchase it from 6 years ago believed he was the third owner and this car was his pride and joy and he was very sad that he had to sell it due to a financial situation.  He had the restoration done in 2001 and told me the body was extremely solid and close to rust free when he started. He spared no expense and the work was completed by a Mustang restoration specialist.  The paint work alone was close to $10,000 and the paint quality is still fantastic!!  He noted that he believes the car has all of its original body panels with the exception of the trunk lid which had a dent and was replaced.  He had the car painted in its original "R" code Ivy Green Metallic color and it is a stunning color that glitters in the sunlight and looks almost black in the shade.  We had the the paint wet sanded and buffed out since it had not been done in 6 years and it looks amazing.  Body panels are extremely straight and aside from a few minor rock chips that have been touched up the body is near flawless. This is definitely a car you can take to all of your local shows and even the regional mustang specialty shows and you should come home with trophies if that is what you enjoy.  Chrome trim still looks great although I did not some very minor pitting on the side view mirror and some light scratches in the rear bumper chrome. I also noticed a very tiny bubble at the edge of the chrome trim that goes around the back of the convertible top.  You probably will not be able to see any of these in the pictures and may not even notice them up close in person but i like to point out the flaws I have seen. None of these flaws take away from the high quality of this Mustang and given that the restoration was done 11 years ago this Pony still shows very strong.  Here is a walk around tour of the body:
Complimenting the Ivy Green Metallic exterior is a beautiful Palomino standard interior that was also completely redone 11 years ago and still looks fabulous.  The original interior color wad Ivy gold but I think you will agree that the Palomino has a richer look to it and was a good decision. Door panels, seats, dash pad all look close to brand new. Carpeting looks excellent with just some stains on one side of the rear carpeting that are covered by the carpeted  floor mats. Steering wheel looks new with no cracks. Gauges are all crystal clear and the current odometer reading is just over 1600 miles. When the car was restored a new reconditioned speedometer was installed and they set the odometer at 0. At that time the old odometer read 28,000 miles which was believed to be 128,000 miles. Therefore the car has only had slightly over 1600 miles put on in the past11 years.  All of the gauges and lights are working correctly including the courtesy light in the center console.  The Factory Air Conditioning unit was completely reconditioned by Classic Air and switched over to R-34 using a Sanden Compressor kit. Windows all roll up and down nicely. There is a small rock chip down low on the passenger side of the windshield.  Overall the interior looks close to showroom new. 
I always recommend driving a classic Mustang Convertible with the top down any chance you get but it is nice to know that the White Power Convertible top also looks great and functions perfectly.  Rear window is very clear and the top seals nicely. Great looking Palomino colored boot cover snaps on when the top is down. Take a look at the pics below:
This Pony doesn't just look great….she also performs great with plenty of giddy up!!! This is an original C-code 289 2bbl car that has been upgraded with an original Ford 4V intake and 4 bbl Autolite Carburetor. The motor is very strong and pulls hard and smoothly. I do not have any record of a complete rebuild but it is evident that the motor has been gone through and it performs great. According to the gentleman I bought it from in Florida the transmission was rebuilt with a performance shift kit installed. Distributor was upgraded to electronic ignition. New 4 core radiator with new hoses and belts.New Alternator and regulator. New fuel pump. New front and rear brake lines and new wheel cylinders all around.  New master cylinder. New Power steering pump. Complete new front suspension including control arms, tie rods, power steering slave cylinder and bushings. New rear leaf springs and bushings.New shocks all around. All motor mounts replaced.  This car has Power Steering and Power Brakes and drives like a dream….easy to steer and easy to stop! Newer BFG Radial TA tires on the original 14″ Styled steel wheels with green pony center caps to match the car.  The engine bay has also been nicely detailed and you will be proud to pop the hood at any car show or cruise in. At time of restoration the owner also added a set of Tri-y headers that breath out the dual exhaust and give the car a Great soft Pony rumble.  Have a look and also below is a video so you can hear this Pony start up and running.
HERE IS A SHORT VIDEO SO YOU CAN HEAR THIS PONY START UP AND RUNNING…TURN UP YOUR VOLUME!
(CLICK ARROW TO START)
Hopefully you will agree that this is one sweet looking

 '65 Mustang

 

Convertible!!!

 

This car truly looks as good in person as it does in the pictures and it is a real head turner! This will be a great investment that you can drive, enjoy and take to the shows if you want.
THE MARKET IS VERY STRONG RIGHT NOW AND MOST OF MY AUCTIONS END EARLY AS I WILL NEGOTIATE A DEAL WITH SERIOUS BUYERS. DO NOT WAIT UNTIL THE LAST MINUTE OR YOU MAY BE DISAPPOINTED YOU MISSED OUT.
If you have any questions feel free to call me at 770-359-8400 and I will do my best to answer them.  If you are a serious buyer lets talk on the phone and discuss it. I will be happy to negotiate a deal so we can get this beautiful car in to your garage as soon as possible.  In addition to being a licensed Classic Car Dealer I am also a Transport Broker and will be happy to assist the buyer with a great rate on Enclosed or Open Transport anywhere in the US at the buyers expense or to any port for overseas buyers.