About This Vehicle
Mileage: 138,720
Engine: 289
Body Style: Fastback Coupe
Transmission: Manual
Exterior Color: Rangoon Red
Interior Color: Black
VIN: 5F09C282165
Price: SOLD
BEAUTIFUL, RUST FREE

RANGOON RED

, 289 V8, 4-SPEED, FACTORY A/C 1965  FORD MUSTANG FASTBACK 2+2 READY TO SHOW OR GO!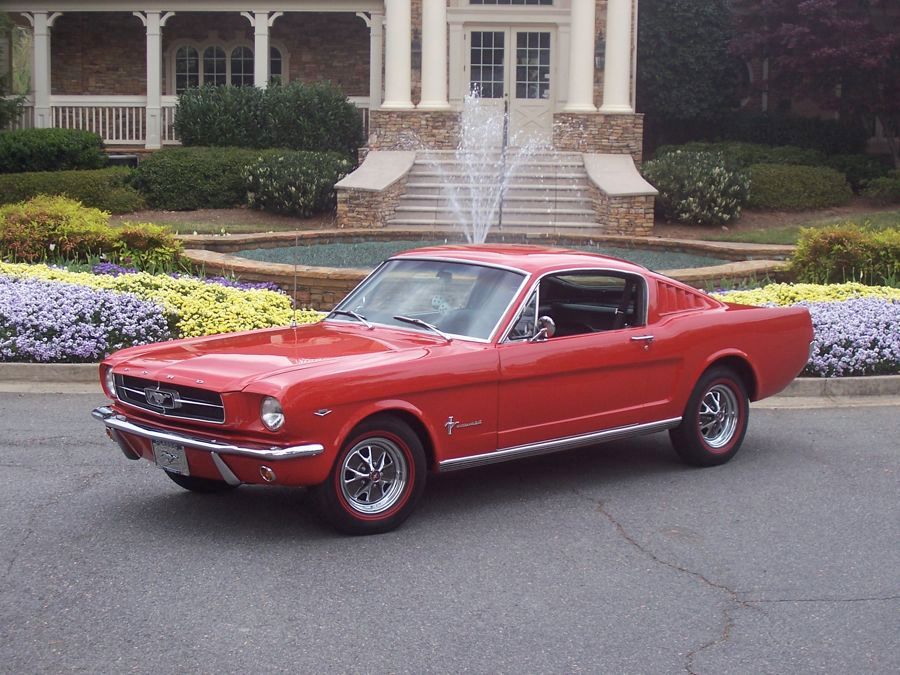 If you have been on the search for a beautiful, 4-Speed, Mustang Fastback that you can drive, enjoy and take to the shows on occasion then get comfortable, sit back and enjoy because this could be the one!  Spring is here and this Rangoon Red Beauty is ready to hit the streets!
This 1965 C-Code Mustang Fastback 2+2 is an awesome example of a tastefully restored car that was obviously a very rust free and original car to start with. According to the previous owner we believe this pony was restored about 7 years ago and since then has always been meticulously cared for and kept in a warm stable when it has not been in use.   I bought this one from a gentleman in Tennessee who had owned it for the past 6 years and it had been restored by the owner prior to him.  The car spent most of its life in Alabama and Oklahoma and judging from the rust free condition of both the body and undercarriage appears to have been a very solid car all its life.  The mileage on the odometer is just under 139,000 and it is believed to be the original mileage. This  4-speed fastback is nicely equipped with Power Steering and Factory Air Conditioning.  This is a very high quality restoration that has been extremely well cared for and will make its next owner proud on the road or at shows!  I will do my best to honestly describe this Fastback and provide enough pictures and a couple of videos at the end of the auction to allow you to see the true condition and quality of this Pony.
As you can see, the body on this Fastback is in fantastic condition and the 7 year old restoration looks like it could have been done a week ago. The body is extremely straight and the paint quality is excellent.  I would call it show quality but everyone has their opinion on that. I can easily say that it is a good bit above what most will call driver quality and as you will see in the pictures the Rangoon Red paint has plenty of luster and reflection. I believe the car has its original body panels and any work that may have been done when it was restored was done top notch! Overall body panel fit is great! You will not find any of the common bubbling in the corners of the doors or any signs of rust along the body.  With that said it is not flawless but yet very close! I did notice about 3 very tiny chips that had been professionally touched up at some point. The largest was about the size of my pinky nail below the side view mirror on the drivers door. You have to really be looking for it and I do not think it will show in the pics. All of the exterior chrome and stainless is in fantastic condition! I will do a walk around picture tour of the body below and I think you will agree that this Fastback can comfortably be taken to any local show or cruise in and although it may not win the Mustang Nationals I would feel great about bringing it to any MCA show! There is also a walk around video at the end of the auction.
Moving on to the interior I think the best way to describe it is to tell you to close your eyes and picture that it is 1965 and you are in the local Ford Dealerships showroom and have just opened the door on the brand new Fastback on the showroom. Ok, now open your eyes….it truly is in practically brand new condition and extremely original with the exception of a few modern updates and a few fun add ons.  As you will see in the picture of the body tag this car was born with the Black Standard interior.  I have to guess that the interior was completely redone at the time of restoration some 7 years ago or so.  Everything from the door panels, seat covers, dash pad, steering wheel, carpeting, headliner, center console, factory A/C unit,  dash bezel, glove box, everything is in amazing condition!!! The previous owner did add a few touches to the interior that I think the next owner will really appreciate. First of all he added the 3 point seat belts in front allowing you and your passenger a bit more security. These were professionally installed and function perfectly.  In the dash, what looks like a stock radio is actually a modern, digital Custom Autosound AM/FM stereo that is connected to a 10 disc CD changer in the trunk and great sound provided by a neatly installed subwoofer in the trunk and pioneer speakers in the front kick panels.  You have to smile at the Barefoot style gas pedal he added as well as a barefoot style high beam pedal as well. The chrome inner rocker panel trim pieces are a nice touch and Lets not forget the set of Fuzzy dice over the rear view mirror! All of the glass looks great and windows roll up and down properly.  All of the gauges and lights are working correctly including speedometer and fuel gauge.  The Factory A/c is also working however a slow leak in the system requires it to be charged each season according to the previous owner.  I can confidently say that the interior is in show condition although my pictures do not do it justice.
Everyone knows that as important as the body and interior are on these Classic Mustangs the undercarriage is just as important. Well, this one shines in this category as well. The floorpans appear to be all original with absolutely no rust issue whatsoever. The underside of the doors are also free of any rot or rust that is common when the drain holes clog up over time. The trunk drop offs look great. In the trunk you will see it is nicely detailed as well and is also rock solid, rust free. Cd Changer and subwoofer and neatly mounted and the original jack is in the jack bag. This pony also rides on a set of almost brand new set of Dual Redline radial tires mounted on original styled steel wheels that look like new as well. This car shouts quality everywhere you look!
Under the hood of this fine Pony is the original C-code 289 2bbl that has just under 139,000 original miles. This motor runs strong and is truly a joy to drive.  Very nicely detailed engine bay with original Ford Hoses, clamps, etc. It's a blast to shift smoothly through the factory 4-speed manual transmisson. The 289 breathes out original manifolds and back through a newer dual exhaust with Flowmasters running thorugh the GT style rear valance.  It has just the amount of rumble you would want from this Pony and I did a short video so you can hear her running. Power steering makes maneuvering effortless and manual drum brakes that have been gone through and stop easily, true and straight. The entire front end was gone through and received new bushings and tie rods.  A new battery was installed recently. The next owner will love driving this Pony and she sounds as good as she looks…make sure you listen to the video at the end of the description.
HERE ARE THE AMATEUR VIDEOS SO YOU CAN GET A WALK AROUND TOUR AND LISTEN TO HER RUNNING:
Hopefully the pics and videos have made it clear that his is truly a quality, original, '65 Fastback that is sure to be a great investment that you can drive and enjoy! I know the next owner will be thrilled with the condition and quality of this Classic Pony!  If you have any questions feel free to call me at 770-359-8400 and I will do my best to answer them. If you are a serious buyer lets talk on the phone and discuss it. In addition to being a licensed Classic Car Dealer I am also a Transport Broker and will be happy to assist the buyer with a great rate on Enclosed Transport anywhere in the US at the buyers expense or to any port for overseas buyers.
SERIOUS BUYERS CAN CALL ME AT 770-359-8400