About This Vehicle
Odometer: 43,700
Engine:  289 V8 2bbl
Body Style: Fastback
Transmission: Automatic
Exterior Color: Red
Interior Color: Black
VIN:  5F09C648944
Price: SOLD
BEAUTIFULLY RESTORED,

RANGOON RED

, 1965 FORD MUSTANG FASTBACK, C-CODE, 289 V8 AUTOMATIC, POWER STEERING, DUAL EXHAUST,

GORGEOUS

FROM TOP TO BOTTOM…READY TO

SHOW

AND

GO

!!!
HAVE YOU BEEN SEARCHING FOR AN ABSOLUTELY GORGEOUS '65 FASTBACK  THAT HAS BEEN PROFESSIONALLY RESTORED AND IS READY TO DRIVE AND ENJOY THE DAY IT ARRIVES TO YOUR DRIVEWAY?
DO YOU WANT YOUR FASTBACK TO BE HIGHLY ORIGINAL, WITH SOME NICE ADD-ONS?
WOULD YOU LIKE ONE THAT IS A JOY TO DRIVE WITH A POWERFUL 289 V8,  AUTOMATIC TRANSMISSION, POWER STEERING AND RUNS AND SOUNDS AS GOOD AS IT LOOKS?
ARE YOU READY TO MAKE A SMART INVESTMENT IN ONE OF THE MOST ICONIC CLASSIC PONY CARS IN AN ICONIC ORIGINAL COLOR COMBINATION?
WELL, IF YOU HAVE BEEN SHAKING YOUR HEAD

YES

, THEN GET READY BECAUSE THIS RANGOON RED BEAUTY COULD VERY WELL BE THE ONE YOU HAVE BEEN SEARCHING FOR!
This beautiful Rangoon Red 2+2 '65 Ford Mustang Fastback arrived to me recently from a great car guy in the Indianapolis, IN area who said he has owned over 30 classic Mustangs over his lifetime. He purchased this one about a year ago from a guy local to him who had owned it since 1972 and was believed to be the 2nd owner.  The car had already received a professional cosmetic restoration about 15 years ago and was driven very little after the restoration. It was treated like the true classic it is and was taken out to car shows and cruise-ins or sunny spring and summer day drives. The gentleman I bought the car from went through the car from front to back and updated or serviced anything he felt was needed so that he and his wife could enjoy the car and again take it to the shows and cruise ins. A financial situation arose that caused him to need the money so sadly he had to let the car go…unfortunate for him, but not for the next lucky owner…maybe you??! As you will see, this C-code Fastback was restored in its original colors and then was nicely upgraded with a great sounding dual exhaust, classy fog lights,  and a great set of Dual Redline Radial tires.  This Classic Mustang runs and drives as good as it looks and is absolutely ready for the shows and cruise-ins where it will surely win its share of trophies.  I will do my best to provide enough large images, a video so you can hear it start up and running, and an honest description to help you decide if this Pony belongs in your stable.  As with all of my classics, I do have this Fastback advertised on several other websites including my own. If you decide this is the one you have been searching for, feel free to call me to discuss how we can get this beauty to you before the next car guy or gal scoops it up. Sit back and enjoy!
As you will see in the pics that follow, the body on this '65 Fastback is in amazing condition.  I was told the car was professionally restored about 15 years ago and was repainted in the original J code Rangoon Red in base coat clear coat.  The body is very straight and body panels align beautifully. No sag in the doors and no rust or signs of rust anywhere along the body. It appears that the car received new outer quarter panel skins at the time of restoration which was done extremely well.  The rest of the sheet metal appears to be original.  I really did not see any flaws along the paint and body but to be safe lets say there may be a few tiny rock chips that I may have missed.  The paint is what I would consider to be local show quality and has an awesome shine and luster.  All of the chrome, trim and badges look excellent.  Great set of amber colored GT style fog lights were added a year ago.  All of the glass is in excellent condition with some minor scratches on the rear glass. Windows roll up and down nicely and there is new weather stripping throughout.  I believe the photo tour below will show just how nice the body is: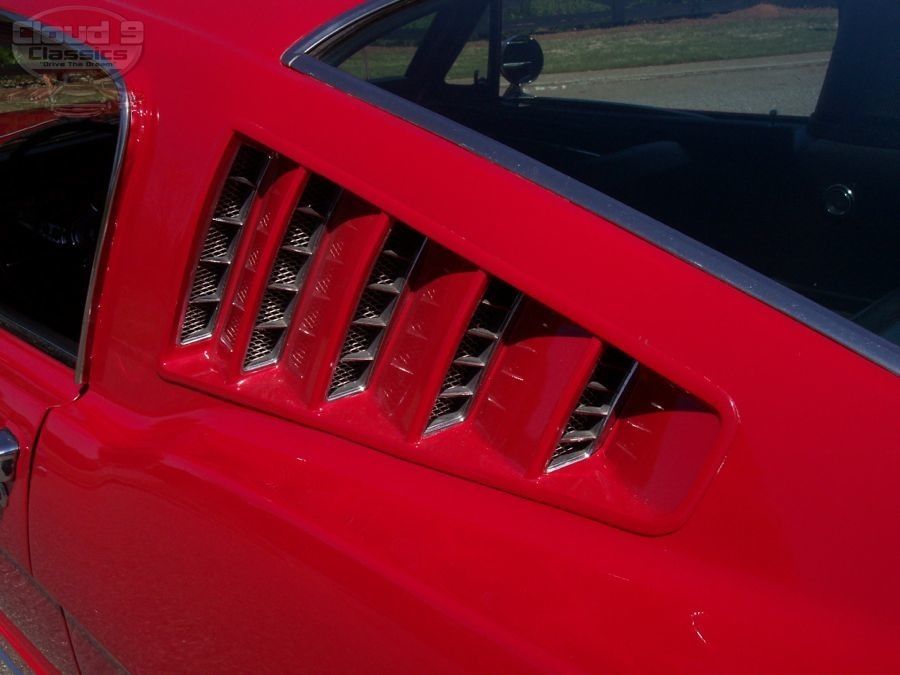 Complimenting the near flawless Rangoon Red exterior is an equally impressive black standard interior.  You will feel like you are on the showroom floor back in 1965 when you open the drivers side door and sit inside this Pony.  Front seats were recovered and are like new. Rear seats are original and in fantastic condition. Of course this Fastback has the fold down rear seat which is awesome. Door panels and carpeting were replaced and look great. Dash pad is like new.  Great looking original center console.  This car has the optional remote drivers side mirror and also the optional passenger side view mirror.  Gauge cluster looks great and all of the gauges and lights appear to be functioning correctly. Great set of Pony rubber floor mats finish out the interior.  Overall the interior of this Fastback truly looks as good as it did when the car was brand new and is ready for the shows.  Take a look inside:
Of course you may be wondering if this Classic Mustang Fastback runs as good as it looks….absolutely!!!! The stout 289 V8 fires up with the turn of the key and has excellent compression and plenty of power.  It is the original C-code 289 motor that I believe has been rebuilt although I do not have documentation to support that.  I am extremely confident that the next lucky owner is going to be thrilled with the way this '65 runs and performs. The original 2bbl Carburetor was rebuilt in the past year and I do have receipts for a variety of the work done by the previous owner. He went through the entire suspension  and anything that needed to be replaced was done.  The power steering makes handling a breeze!!! The brakes were also completely gone through and stop this Pony with little effort straight and true.  The 289 breathes out the stock exhaust manifolds and then back through a new dual exhaust system that was installed last year. It has a great rumble thanks to the Magnaflow mufflers!!  As you will see the engine bay was nicely detailed for show as well with the proper decals and tags. This Mustang is truly ready to be driven and enjoyed and handles the road beautifully.  In fact, the tires are practically brand new and are a great set of Vintage looking dual redline BFG Radials wrapped around an awesome set of Styled Steel wheels.   These really add to the look of this iconic classic.  The undercarriage is also nicely detailed and is rock solid as well. Floorpans have been lightly coated with a POR 15 paint to prevent any future rust issues. Frame rails, front and back look excellent with no rust issues.  Pop the trunk and you will see it is also rock solid with no rust issues and has been detailed out as well with the correct trunk mat and spare tire cover. It does have an additional Styled Steel wheel for the spare. The door tag is still attached and confirms the original color combination and equipment of this '65 Fastback.  Take a look and then be sure to watch the video that follows so you can hear how great this Fastback sounds. 
HERE IS A SHORT VIDEO SO YOU CAN HEAR THIS AWESOME FASTBACK START UP AND RUNNING (

CLICK THE ARROW TO START

):