About This Vehicle
Mileage: 101,700
Engine: 5.0 V8
Body Style: Coupe
Transmission: Automatic
Exterior Color: Honey Gold
Interior Color: White
VIN: 5F07T601215
Price: SOLD
AWESOME 1965 FORD MUSTANG RESTO MOD READY TO SHOW 'N GO!!
It is with mixed emotions that I am listing this awesome 1965 Ford Mustang on ebay.  When I bought this rust-free coupe in May I bought it with the sole intention of having it restored so that it could be used in a fund raiser to benefit my daughters high school athletic department. . Unfortunately the timing was just not right as the summer had just begun and the students already had too many fund raising efforts scheduled for the Fall Season.  Hopefully sometime in the future I can help them raise some much needed funds. The good news is that someone now has the opportunity to get an awesome '65 Mustang Coupe that is ready to show or go!!
I found this rust free coupe in the Atlanta, Ga area. It had spent all of its life in TN and GA and as a result is one of those dry rust free classics that are so hard to find in many parts of the country. At the time I bought it the drive train and suspension were completed but it had some very old  green paint and an original interior that showed its 45 years of age  It was perfect for what I had in mind so I jumped on it and got it right over to a paint and body shop I had used in the past.  My daughters school colors are Burgundy, Gold and black so I thought I would try to match those colors.  After taking a look at the factory trim tag on the drivers side door I discovered that the original color fo this car was Honey Gold. I had seen a Honey Gold fastback years ago that I loved so I thought it made sense to put this Pony back to its original color.  As you can see I did add a little flare to the paint scheme by adding a Wimbledon White Super Snake style stripe from the hood to the tail panel. A sweet 2" fiberglass cowl hood was added that fits extremely well and gives this Pony a little more aggressive look. Since this stang had the original body panels that were rust free it made it much easier for my body guy to lay down a really nice paint job.    While it looks fantastic it is not a concourse show quality paint job and upon close inspection you will find some minor flaws. Emblems were replaced and chrome trim looks excellent, however, I did leave some of the chrome trim original so it is not perfect but certainly very nice! This is a great looking car that can be proudly taken to a local car show or cruise in and probably would come home with a trophy or two if that is what you wanted.  My goal was to make it a sweet looking Mustang that any High school student would die to own, and, for that matter any High School students Dad, mom or relative would want to own and drive. Hopefully you will agree that this Pony came out great and has an awesome stance and is sure to get you all of the thumbs up and attention you can handle.
As I mentioned the interior was definitely showing its age so once the paint was done it went to a top notch upholstery guy in my area. Rather then go with the original ivy gold interior I went with a white factory interior that compliments the Honey Gold and Wimbledon white stripes great.  Seats were completely redone as was the headliner.  Brand new Ivy gold carpet with Ivy gold Mustang mats were installed along with a new dash pad and new door panels. Woodgrain Mustang Steering wheel, woodgrain gauge cluster and woodgrain glove box door were also added.  The interior looks pretty close to factory new! There is a small chip below the glovebox and there are a few small holes in the factory pull out ash tray. Gauges in the dash are all working except for the fuel gauge which recently stopped working.  Also the gauges are not lighting up at night which is probably just a bulb issue. All of the windows roll up and down well. There is a tiny chip in the windshield on the drivers side.   Overall the interior looks as good as the exterior and smells new.  The undercarriage and trunk are rock solid and original.
The previous owner had installed a low mileage, fuel injected 5.0 Roller motor from a 1989 Mustang to replace the original 6 cylinder.  The motor was completely gone through and runs very strong!!! Many new items were added including a new water pump, alternator, battery, mass air intake, coil, oil pan, wiring harness and computer, among other items. Shorty headers breath out a brand new dual flow master exhaust that exits through a GT styled rear valence.  It sounds awesome!!!  The rear is a 8" Ford rear with 3:00 gears and the Automatic 4 speed AOD transmission shifts strong and hard. you can cruise at highway speeds all day long in this pony with no issue and also still have plenty of fun from stop light to stop light. There is a slight stall converter added to the tranny but it still launches very responsively. it is manual steering so at low speed tight areas you will use a little muscle but power steering could be added easily if desired. There is also a little movement in the steering that feels like bushings may be needed in the column. The car tracks straight and does not float at all.  Power Front disc brakes were added to making stopping easy. There currently is not an emergency brake installed. This Pony is riding on brand new 16"  Polished Aluminum American Racing Hopster Wheels wrapped in a great set of Toyo Proxes ( 225/50/16) with only a few hundred miles on them.  The front and rear suspension was also replaced by the previous owner including new rear leaf springs, shocks, front control arms, bushings, ball joints, and sway bar.  Bottom line is this drivetrain set up makes this car very reliable and fun to drive and still easy to maintain by any mechanic. Here is a short video so you can hear how great this Pony sounds!!
Hopefully that gives you a good feel for this awesome '65 Resto Mod Pony! As always I welcome your calls to discuss anything else I may not have covered. If you have any questions feel free to call me at 770-712-1326 and I will do my best to answer them. As with all of my auctions I will also listen to serious offers from serious buyers and reserve the right to end the auction early if needed.  Please do not email me asking the reserve price. If you are a serious buyer lets talk on the phone and discuss it. Take a look at the pics and video and then picture yourself behind the wheel!!!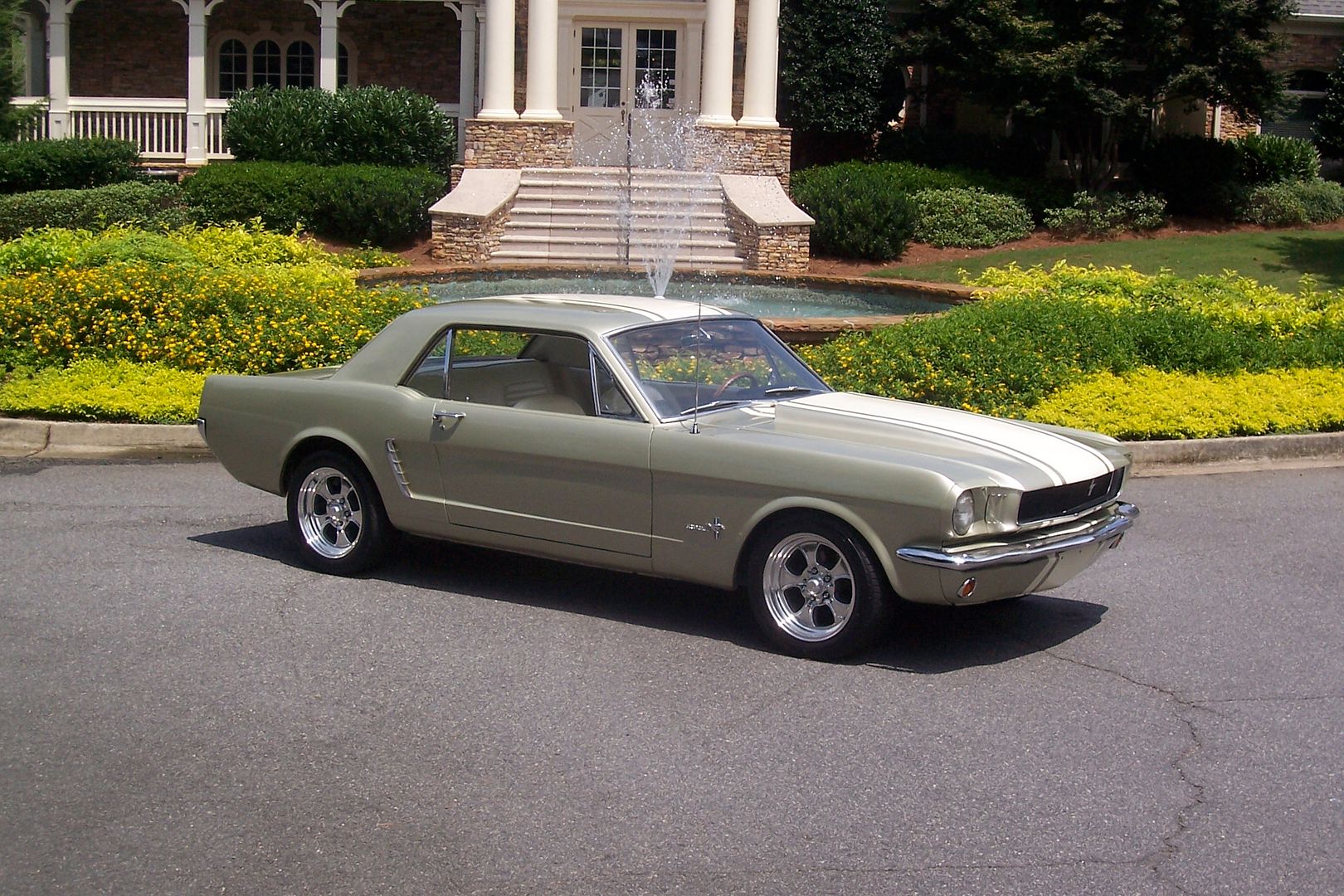 DRIVE THE DREAM!!!