1965 Mustang Fastback GT350 Clone – SOLD
About This Vehicle

Mileage: 63,893

Engine: 289

Body Style: Coupe

Transmission: Automatic

Exterior Color: Ivy Green

Interior Color: Ivy Gold & White Pony

VIN: 5F09C303188

Price: SOLD
AWESOME

1965 FORD MUSTANG FASTBACK

WITH THE LOOK OF A

GT 350 SHELBY

…THIS ONE IS READY TO SHOW 'N GO!!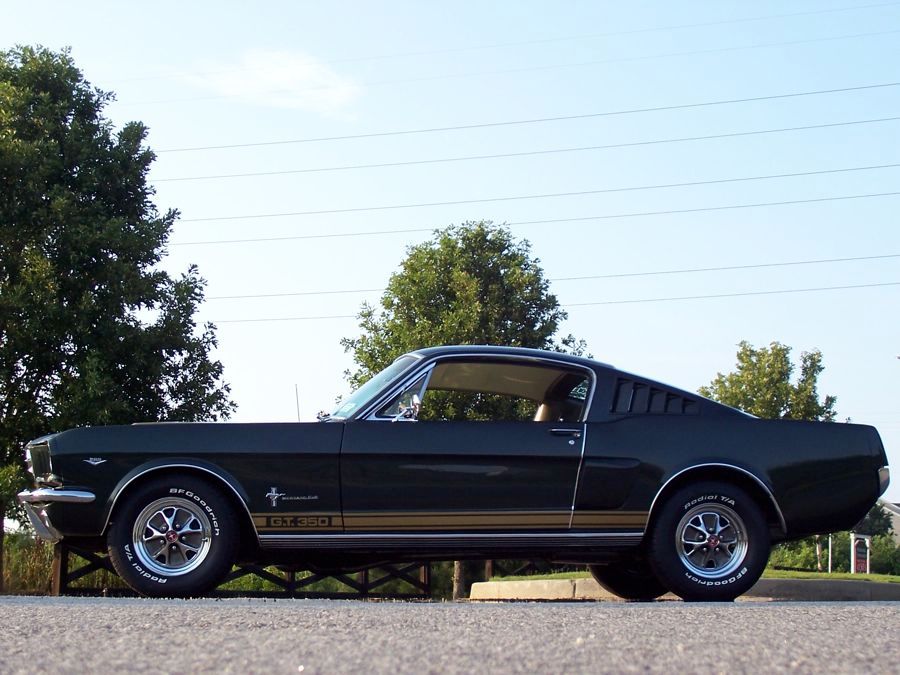 If you are in the market for a beautiful restored '65 Fastback that stands out in a sea of Mustangs then sit back and enjoy and get ready to bid.  This Pony was treated to a very nice, professional restoration about 7 years ago and has been a weekend cruiser and local show car ever since. The gentleman we purchased it from owned it for the past 5 years and was moving to a much smaller home and no longer had the garage space for some of his toys. When he bought the car 5 years ago it had already undergone a full restoration and was repainted in its original Ivy Green Color.  He decided to dress the car up a bit and added some scoops, beautiful gold metallic painted stripes, GT fog lights, GT trumpet Exhausts, and GT 350 side stripes.  This is a beautiful color combination and as you will see it has an equally impressive upgraded Ivy Gold and White Pony interior.  This was not simply a cosmetic restoration. The original 289 and C-4 Automatic Transmission were also rebuilt about 12,000 miles ago so this is not only a sweet looker but she runs out great and sounds awesome.  This is a great Fastback for someone looking for a quality classic that can be driven and enjoyed, taken to the local shows and bring home some trophies, and is sure to be a great investment for many years to come! I will do my best to provide an honest description with enough pictures and a couple of videos so you can see and how hear how nice this fastback is.  Enjoy!!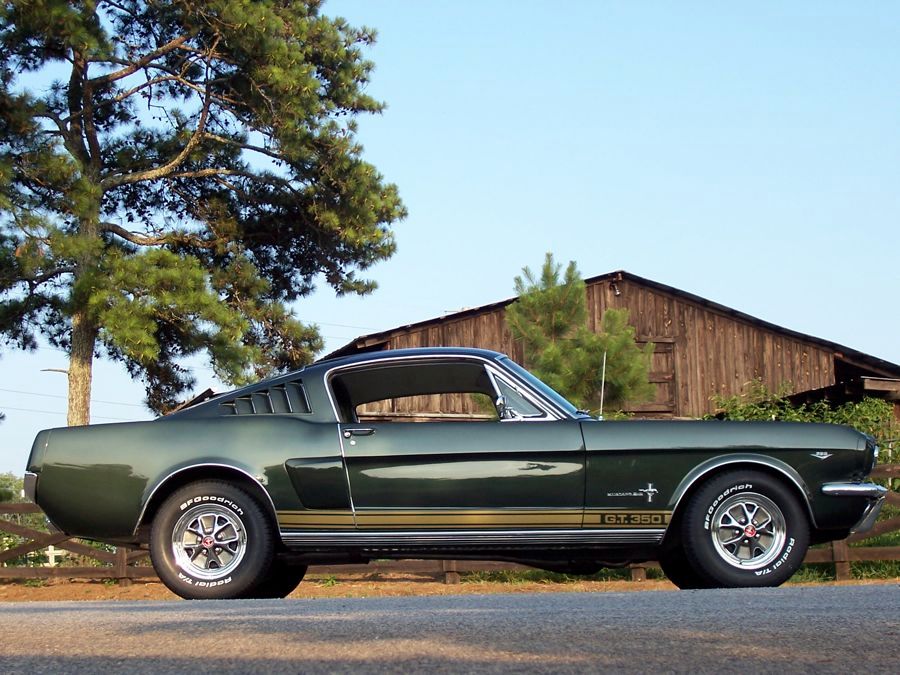 As mentioned, you are looking at a car that had a professional restoration approximately 7 years ago.  The body on this Pony is rust free and is very straight with excellent body gaps all around.  I am not certain if it has all of its original body panels but any body work that has been done has been done professionally. The previous owner told me that he was told the car spent much of its life in TN before it went to an owner in Minnesota who did the restoration and then to New York where the previous owner had it for 5 years. This was obviously not a car that was driven in the snow and salt as it is way too clean and it has been pampered since the restoration.  The Ivy Green metallic paint is absolutely gorgeous and has terrific depth, reflection and shine to it. The Shelby style racing stripes were painted on from the front valence to the trunk and look awesome.  Keep in mind the car has been driven and enjoyed since its restoration so it is not flawless but it is nice enough to win trophies at the local shows and in fact the previous owner indicated he took several 2nd place trophies and a first place at his local shows. The minor flaws I noticed are a small touched up chip at the drivers front headlight bezel, a one inch scratch that was touched up behind the rear glass, and a tiny hairline crack in the paint on the passenger side in front of the trunk. There are no bubbles or signs of rust along the body! Nice fiberglass Shelby scoops were added to the hood and sides of the car and the GT 350 side decal stripe adds a nice touch as well.  GT style fog lights look great although they have not yet been wired so they are not currently functioning.  GT style rear Valence with correct GT trumpet style exhaust tips add to the awesome look of this fine pony.  All of the Chrome trim looks excellent as does the weatherstripping and glass.  This Fastback is riding on a BRAND NEW set of BFG Radial TA's mounted on  a set  of Styled Steel wheels that are in great condition.  Overall the body is in fantastic condition! Here is a walk around tour and at the end of the auction I also have an amateur walk around video you can check out.
Lets slide in inside this classic and take a look at the beautiful 2-tone Ivy Gold and White Pony interior that also helps to set this one off from the rest. According to the original door trim tag this Fastback came with a standard Ivy Gold interior.  As you will see it was very nicely upgraded to the deluxe Pony seat covers and door panels. You will also note that this Fastback has a very rare front bench seat with a fold down arm rest.  Again, according to the trim tag this may have been a bucket seat car originally although it is hard to imagine someone found a bench seat to convert it to but who knows.  This is the first bench seat Mustang I have owned and I can honestly say that I really , really like it!!  With the center arm rest folded down you get the look and feel of buckets but get a spot to rest your arm, or slide your arm around your gal and pull her close on an evening cruise!!  The seats, carpet, dash, door panels all look fantastic!!! Aftermarket wood grain steering wheel adds a nice touch and of course a Cobra center cap keeps the Shelby GT 350 theme going inside. The center cap does not seem to want to stay on all the time but we will try to address that.  Gauges all seem to be working and a nice set of aftermarket gauges were added to keep more accurate track of oil pressure, temperature and voltage. The fold down rear seat looks awesome and works well although the latch is missing to lock it in place. Headliner and rear trim panels all look great. I think you will be as pleased with the beautiful condition and unique color of the interior as you will be with the exterior! Take a look:
The heart of this Pony beats strong! Previous owner indicated that the original 289 V8 and C-4 Automatic transmission were rebuilt at the time of restoration 7 years ago and have only about 12,000 miles on them since the rebuild.  The engine bay was nicely dressed up and detailed and a Shelby GT 350 plate was added over the original vin stamping on the drives side fender. The original 289 was treated to a few upgrades including a 4 bbl intake and Holley carburetor and a mild cam with a slight lope.  A nice set of headers breathe out through the dual exhaust that a sweet muscle tone rumble that is not too loud but give it the sound you would want. Power steering makes maneuvering a breeze and the complete front end was rebuilt including front end bushings inner and outer tie rods, and new shocks. Manual drum brakes were redone and stop the car with ease. Overall the performance is close to stock with some mild upgrades and this Pony is ready to cruise!! The undercarriage is rock solid with no issues as is the inside of the trunk. Check out the pics and listen to the video of the car running at the end of the auction:
It's time for this Sweet Pony to join its next owners stable. It is safe at home with the other Ponies here at
Cloud 9 Classics
for now but she is ready to run free!! The other Ponies pictured below will be up for sale soon also!
Here are a couple of amateur videos I took for you. One is a walk around tour and the other will allow you to hear her rumble: