About This Vehicle
Mileage: 9,821
Engine: V8
Body Style: Convertible
Transmission: Auto
Exterior Color: Red
Interior Color: Black
VIN: P352215302
Price: SOLD
EXTREMELY RARE

,

FRAME-OFF RESTORED

, 1965 PLYMOUTH FURY III CONVERTIBLE WITH ORIGINAL,  

MATCHING NUMBER 426/365HP COMMANDO STREET WEDGE

V8!!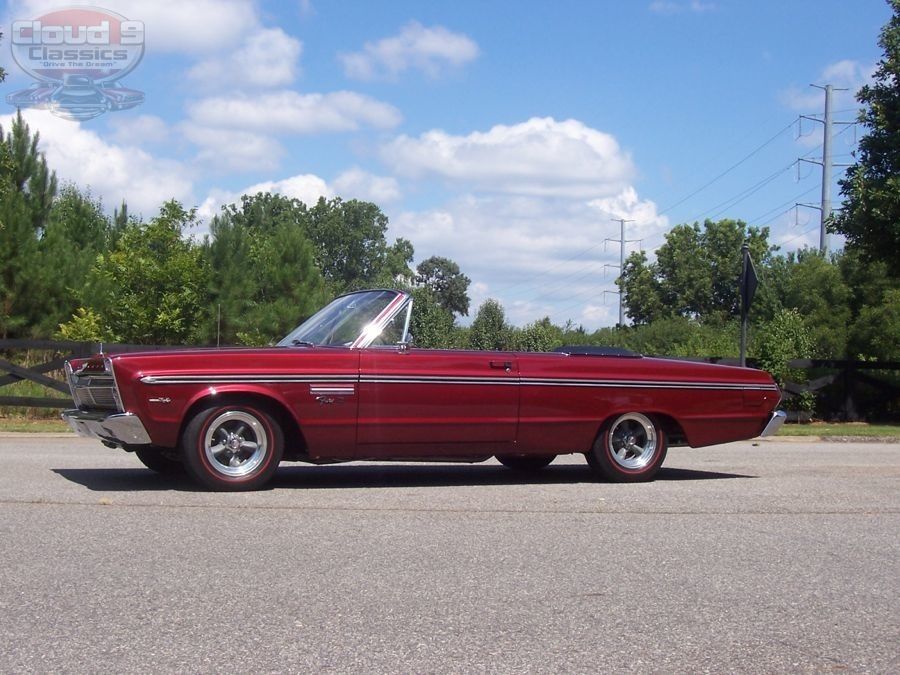 GORGEOUS B-BODY MOPAR CONVERTIBLE

READY TO SHOW

AND

GO

!!!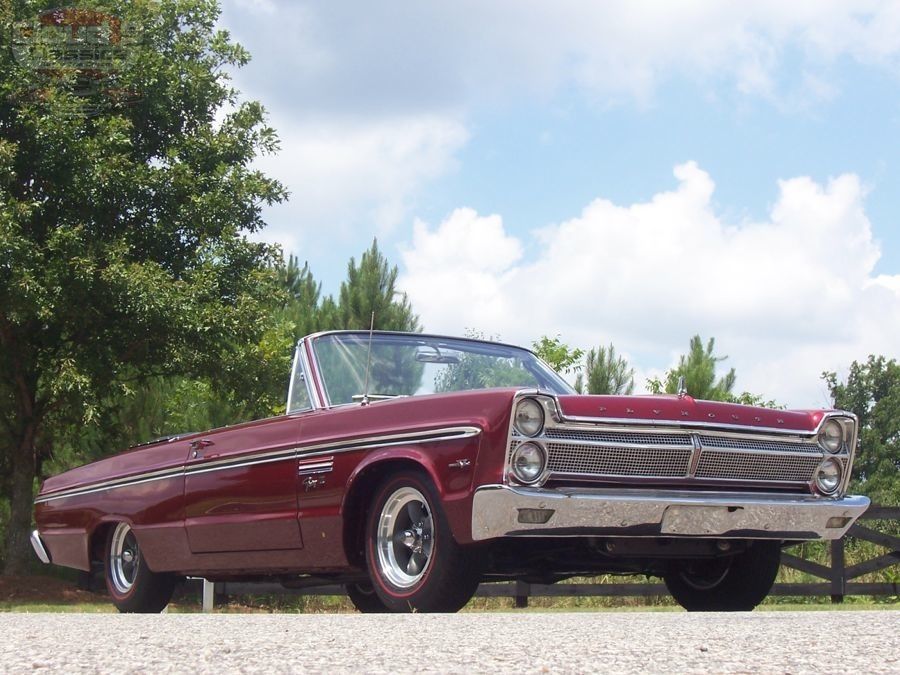 YOU WILL NOT SEE THIS MOTOR UNDER THE HOOD OF A '65 PLYMOUTH FURY III VERY OFTEN!!!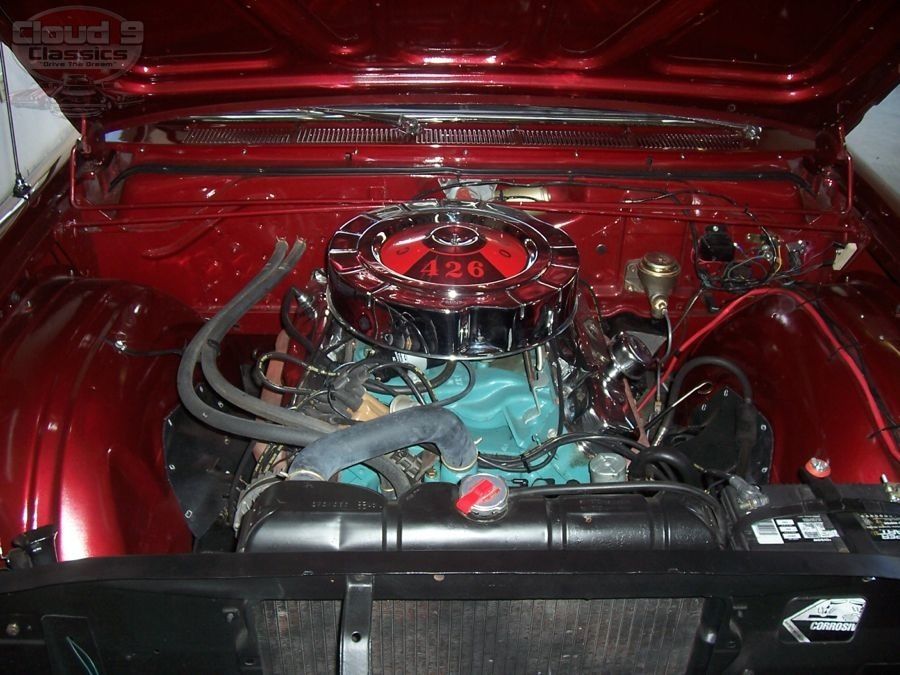 Part of what I love about being a Classic Car Dealer is having a legitimate reason for buying a wide variety of cars that I would never otherwise have thought of owning or driving.  When I located this awesome '65 Plymouth Fury III convertible I was intrigued not only by the great stance and unique styling but also the owners description that said it had its original matching number 426/365hp Commando Street Wedge motor.  Did they really make a 426 Wedge Fury III I wondered?  Well, a little research and a message to a well known MOPAR expert and I quickly learned that while most of the '65 Fury's had 318 or 383 V8's the Commando 426 Street Wedge was an option and is quite rare. Experts say that the actual production numbers of a 1965 Plymouth Fury III Convertible with this 426 Street Wedge Motor are not available but one expert said if he had to guess it was probably only a few dozen.  I think it is fair to say that this makes this particular car quite rare indeed!!!  Perhaps, you are like me and are searching for a cool and different Classic Convertible that you just do not see very often. Or, maybe you are a serious MOPAR enthusiast who knows exactly what this car is and just how rare it is. Regardless, I think you will see that this Fury III Convertible will truly stand out in a crowd and is also an awesome investment that you and your family can drive and enjoy!!
Enough about how rare it is! l acquired this car from a retired Physician in Arkansas who was a serious car enthusiast and had restored quite a few cars over the years. He purchased this Fury about 3 years ago from another car enthusiast in Missouri who had started the restoration but got side tracked.  After verifying that the car had its matching number, original drivetrain the Dr. in Arkansas purchased the car and began a 2 1/2 year, frame-off restoration ( or sub-frame off if you get technical).  He completed the restoration about 6 months ago. He enjoyed the car for a few months on Sunny days but his real passion and enjoyment was the build process and  he was ready to search for the next project.  After you take a look at the pictures and video that follow I think you will agree that this guy did an outstanding job of restoring this Fury III Convertible to its original glory.  I have driven this car to several cruise-ins and it is an absolute joy to drive.  It is also quite the crowd pleaser and I have been amazed by the number of people who stopped to tell me that their parents had a car just like it when they were a kid.  Once they see the 426 under the hood they are shocked. In fact one guy told me there was no way they put a 426 in a Fury. I showed him the original stamping on the motor and he quickly apologized.  I have included quite a few large images that may take a few minutes to load, a video of the car starting up and running, and will do my best to provide an honest description to help you decide if this rare Fury III Convertible should be sitting in your garage.  Sit back and enjoy!!!
The body on this' 65 Fury III convertible is in amazing condition.  The previous owner spent quite a bit of time stripping the car to bare metal before repairing any rust that was discovered.  He did replace the outer rear quarter panel skins and the trunk pan but all body work was performed beautifully and is difficult to detect.  The body panels are very straight and overall body fit and panel gap is outstanding.  It is very difficult to locate trim and other parts for some of these Mopars so he had all of the original stainless trim straightened and polished and all of the chrome items re-chromed.  In fact he told me he spent about $8000 on just the stainless and chrome and it was money well spent as these items look brand new. A gorgeous, high end, professional Base Coat/ Clear Coat paint job was done in a slightly darker shade of Red then the original Ruby Red color. The metallic paint truly glistens in the sunshine and looks fantastic with just a few very tiny flaws upon close inspection.  There is a very tiny spot on the hood where it looks like the stud from the air cleaner might have been poking up too high and left a tiny mark on the hood when it was closed. There are a few tiny rock chips in the windshield but all of the glass looks excellent overall and windows roll up and down nicely.  These minor flaws do not take away from the beauty of this car and most people would never notice them.  I like to point out that the car is not flawless so that anyone looking for a complete trailer queen will not be disappointed. As you will see later the undercarriage of the car was painted as nice as the body. This car will definitely win plenty of trophies at the local shows and possibly even at the Mopar Nationals if that is what you enjoy.  It was built to be driven and enjoyed which I know the next lucky owner will thoroughly enjoy doing.  I will let the pictures tell the rest of the story. Here is photo tour of the body: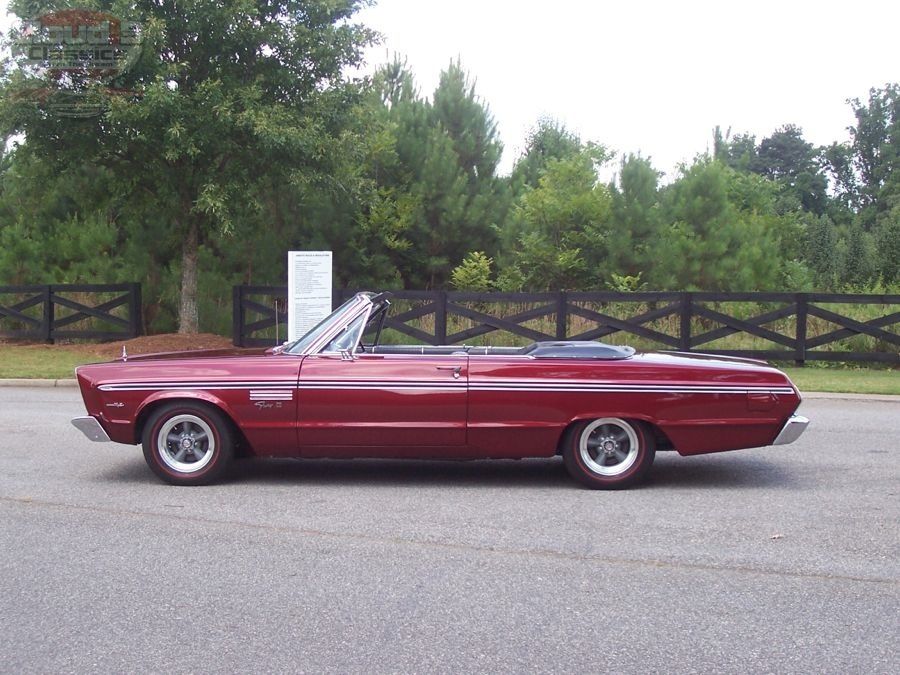 I try to enjoy my Classic convertibles with the top down as often as possible but it is always nice to know that this '65 Fury Convertible also received a brand new top at the time of restoration. The top frame was completely restored and painted before the new top and pads were installed. All new weatherstripping and the top seals up great around the windows.  Of course it is a power top and it works beautifully. The chrome latches were re-chromed and look new. A brand new boot cover was purchased and fits perfectly when the top is down. When we received the car it did not have a well-liner installed inside of the trunk so we had one custom ordered and will try to have it installed before the car is delivered. I have kept the top down since the car arrived so when you look at the pics you will see some minor wrinkles in the top that are only there because I had just put the top up for the pics.  Take a look:  
insert pics
xxxxxxx
Complimenting the gorgeous deep red metallic exterior is a beautiful black interior. Just about everything inside this Fury is brand new, or original parts that were completely reconditioned to look new.  New carpeting and seat belts.  Seats were completely redone although the gentleman who did the restoration said he could not located exact replica seat covers so he had custom seat covers made with the original material but they might be slightly different the the originals.The dash pad looks fantastic with just a very small crack near the front speaker grille. He had the original AM radio refurbished. The only item in the dash not working is the clock.  All gauges and lights appear to be working correctly. Original steering wheel is in great condition. The bench seat is super comfortable and this classic Convertible has plenty of room for the entire family!! Overall the interior looks amazing and is ready for the shows. 
Pop the huge hood of this Mopar and grin from ear to ear as you view the factory original, matching # 426/365hp Commando Street Wedge V8.  Motor was completely rebuilt and has under 500 miles since the rebuild. total original mileage is bellieved to be just under 110,000 miles.  Original 4 bbl Carburetor was given a premium restoration by Bob Kunz in Missouri. The Torqueflite 3-speed Automatic transmission was also rebuilt and shifts beautifully.  Pretty much everything under the hood was replaced or rebuilt just like the rest of the car. New hoses, voltage reulator, horn relay,  fuel pump, water pump, distributor, plug wires, heat regular, washer motor, etc….Radiator was re-cored, fuel tank was power cleaned and sealed with Hirsch tank sealer, new fuel sending unit, new stainless fuel lines, new brake lines, new master cylinder,new wheel cylinders,  new bushings, bearings and u-joints….New, new, new!!!! Power steering completely rebuilt and all new suspension front and rear. This car handles like a dream and glides along the road at any speed!!Stomp on the accelerator and the fire-breathing 426 comes to life as the 365hp V8 pins you back in your seat. Drum brakes were completely gone through with new components and stop this car with ease, nice and straight with no pulling.  A recent alignment was also performed.   Brand new set of American Racing Torque Thrust D 15″ Wheels are wrapped in BFG radial Redline tires that really give this Fury IIII a great stance and period correct look. Stock manifolds breathe out an awesome sounding, brand new Flowmaster dual exhaust.  As you will see in the pics the motor clearly has the original, correct 426 Stamping.  Rare and a blast to drive!!! You will thoroughly enjoy cruising in this luxury, powerful MOPAR classic. I have included a video at the end of the listing so you can hear this baby start up and running. 
As previously mentioned this car was given a high end sub frame-off restoration and the inside of the trunk and undercarriage look as good as the rest of the car.  The trunk pan was professionally replaced and painted correctly with the correct style mat and spare tire in place.  Floorpans are original and were completely sanded down and painted to match the exterior. You can put mirrors under this car at the shows to show off the underside if you want. It is super clean everywhere you look. 
xxxxxxxxxxxxxxxx
 An original 1965 Plymouth Fury dealer brochure will also be included.  The original fender tag is in place and clearly shows that this is an original 426 Wedge V8 car. When the previous owner restored the car he found a punch card from a parts order and a piece of a build sheet under the rear seat but they are un-readable so I cannot be sure they belong to this car. Regardless, this is a Matching # , rare MOPAR that the next owner will absolutely love!!
I did my best to decode the original fender tag shown above. Here is what I came up with:
 426 Street Wedge Motor, Automatic Transmission, AM Music maker, rear speaker, back up lights, Plymouth Convertible, Black Vinyl  Bench seat, vinyl dash,  Ruby Red Paint color.  There are various websites that you can decode these tags. 
HERE IS A SHORT VIDEO SO YOU CAN HEAR THIS SWEET 426/365HP STREET WEDGE START UP AND RUNNING (

CLICK THE ARROW TO START

):
If you have any questions feel free to call me at 
770-359-8400 
and I will do my best to answer them.  If you are a serious buyer lets talk on the phone and discuss it. In addition to being a licensed Classic Car Dealer I am also a Transport Broker and will be happy to assist the buyer with a great rate on Enclosed or Open Transport anywhere in the US at the buyers expense or to any port for overseas buyers.