About This Vehicle
Odometer: 52,050
Engine:  389/400 V8 4bbl
Body Style: Coupe
Transmission: Manual
Exterior Color: Red
Interior Color: Black
VIN:  23775P271463
Price: SOLD
ABSOLUTELY BEAUTIFUL

, 1965 PONTIAC GTO CLONE….NICELY

RESTORED

AND

LOADED

WITH

4-SPEED

, POWER STEERING, POWER BRAKES, AND

AIR CONDITIONING

….READY TO

SHOW

AND

GO

!!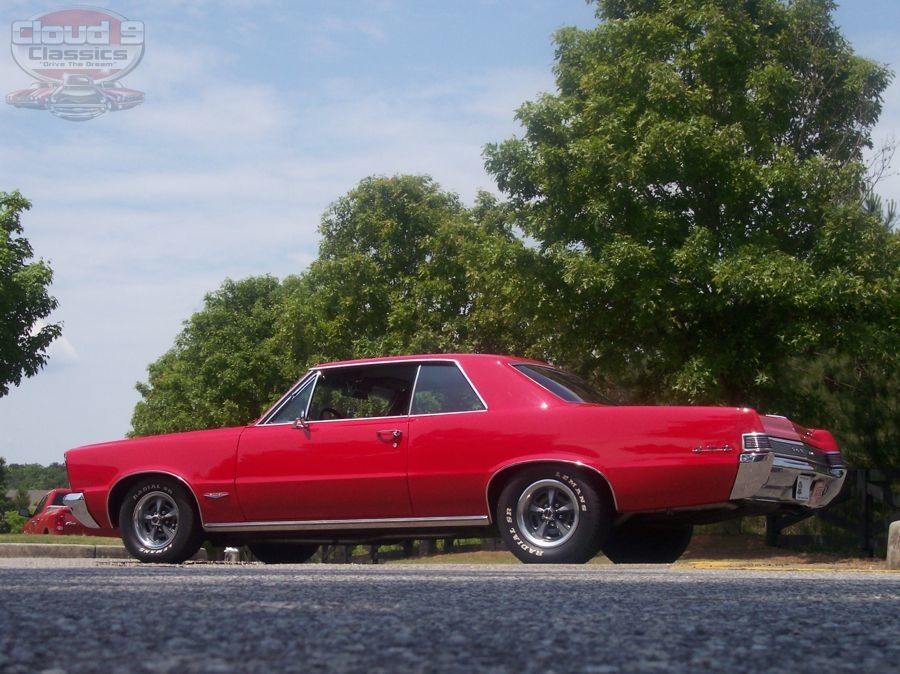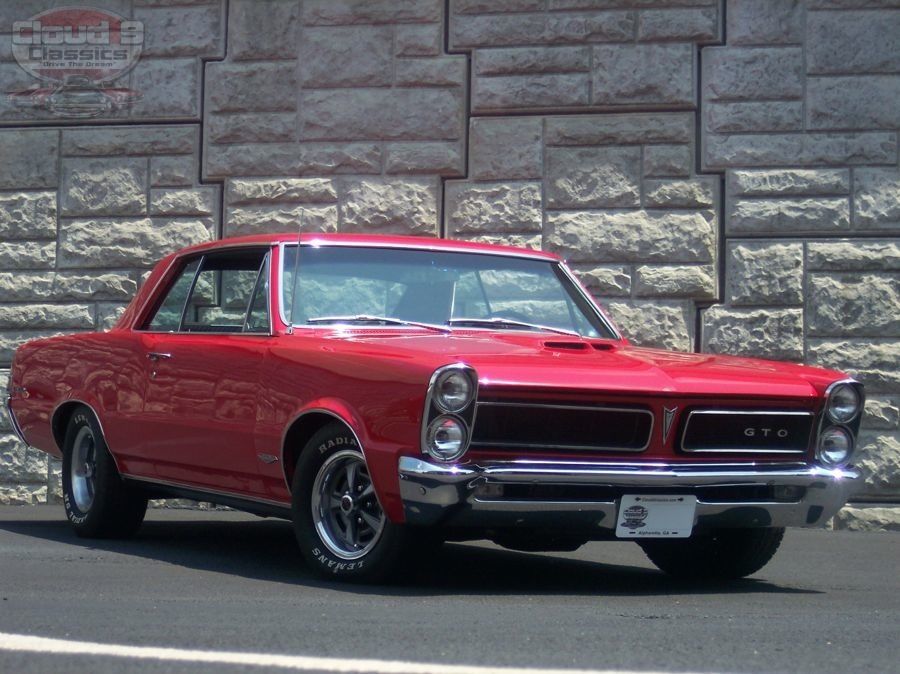 Many of you know that in 1964 and 1965 the GTO was essentially a Lemans. However, one could check off the W62 GTO option when ordering and get a 389 under the hood instead of the 326 V8 that the Lemans was offered with.  In addition you got dual exhaust, GTO emblems in several spots, non-functional hood scoops and one could also order  a variety of performance options. There were some slight changes in the body styling in '65 and the addition of the Tri-Power option but the GTO remained an option on the Lemans. This gorgeous 1965 that we are offering for sale was originally ordered as a Lemans and at the time of restoration a number of years ago was treated to the GTO upgrades and options that were available from the factory. Therefore, it is a  GTO Recreation, or clone as some call it. However, if we did not say anything you would have a difficult time knowing it was not a factory ordered GTO optioned car!!! In fact, the gentleman who asked us to list it for sale purchased it 10 years ago at a Mecum auction and at the time he believed it was a true GTO, and bought it thinking it was.  We had him order the PHS documents which show that it was originally a Lemans. While he was surprised, he said it really never mattered to him. For him it was exactly what he wanted…a 4-speed, Muscle Car with Power Steering, Power Brakes and Air conditioning.  It had a professional restoration that was done beautifully and has held up extremely well!  The car looks gorgeous, runs and sounds amazing!!  He recently moved from Illinois to Georgia and has decided that he no longer has the room or the time for his baby so he is allowing someone else to enjoy its beauty and muscle….maybe you??!! I will do my best to include enough large images, a video of the car running and an honest description to help you decide if this GTO Recreation should be in your garage.  As with all of our classics I do have this car listed on our website and several others so if you do not want another car guy or gal to beat you to this one feel free to give me a call to discuss buying it before the listing ends. Sit back and enjoy!!
As previously mentioned this GTO clone was professionally restored about 12-15 years ago. The car had spent most, if not all of its life in Florida and was restored before it was sold to a gentleman in Indiana who owned it for a few years before taking it to the Indianapolis Mecum auction in 2005 when the current owner purchased it.  According to the PHS documents this car started life as a N code, Burgundy car. The color was changed to Montero Red which is undoubtedly one of the best colors on a GTO. Overall paint quality is excellent and this car would be welcomed at any local show or cruise-in and will surely win its share of trophies if that is what you enjoy. The body is extremely straight and overall body panel fit is excellent. There is no sign of rust or previous rust repair along the body that I can see.  We had the paint wet sanded and buffed and it holds a brilliant luster with great reflection. Although the body is not flawless, it is difficult to spot any real chips or blemishes.  The pickiest of buyers will note that the front piece of the hood scoop is a slightly darker shade of red then the rest of the hood but it is a very minor difference.  All of the chrome trim and bumpers are in great condition as well.  Glass all looks great and windows roll up and down nicely.  You have to love the stacked headlight styling on the '65!  I think the pictures will tell you the rest of the story on this beautiful body so here is a walk around photo tour:
At the time of restoration the interior of this GTO clone was completely redone to look completely correct for a GTO.  The black interior is a great accent to the Montero Red exterior color and I believe you will find the interior to be as near flawless as the exterior.  As you will see it was also done just as it would have been if it was factory ordered as a GTO other then an aftermarket steering wheel.  The seats, door panels, carpeting, dash, headliner, etc all look fantastic!!  This car was originally an automatic but it was properly converted to a 4-speed car with a correct center console and shifter. A tach was mounted in the original gauge cluster and a manifold vacuum gauge was also correctly mounted on the center console. A set of aftermarket gauges were also neatly added under dash for temp, voltage, and oil pressure readings. This was a factory air conditioned car and still retains the factory a/c which works well. All of the gauges and lights appear to be working correctly.  A nice set of rubber Pontiac floor mats finish out the interior. Have a look inside: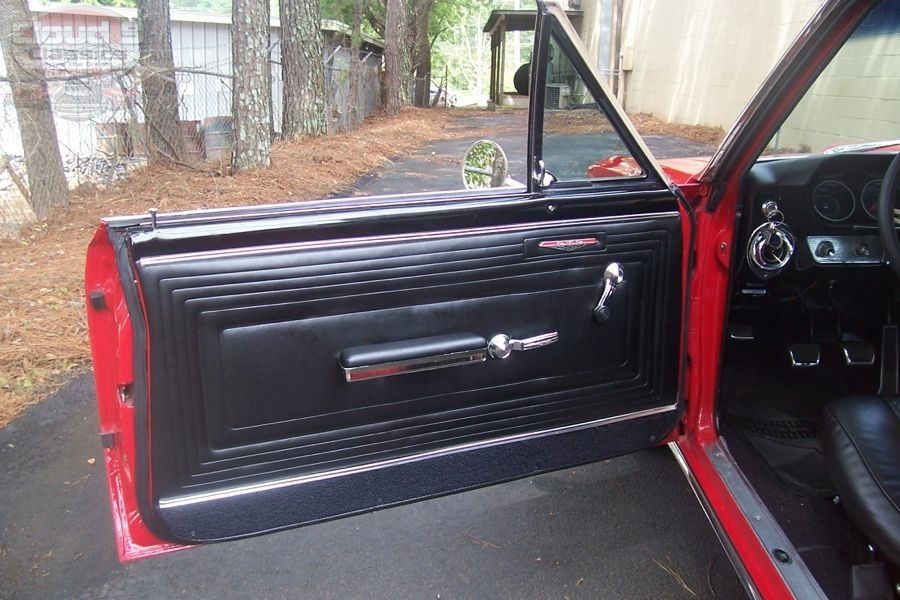 Pop the hood on this '65 and you will again assume you are looking at an original GTO.  The YX coded V8 is believed to be a period correct 389 or possibly a 400 motor that was completely rebuilt at the time of restoration and is believed to be pushing out 325-350 horsepower. There are probably under 10,000 miles on the motor since it was built and it has great compression and pulls extremely strong through all 4 gears. Fuel is supplied through the Holley dual feed 4bbl with Electric choke and it breathes out the stock manifolds and through an awesome sounding dual exhaust. Make sure you listen to the video of this car starting an running that follows. I have driven this car and it is a true muscle car that will offer some great stoplight to stoplight fun and can also be taken out to the shows and cruise-ins.   In addition to the ground pounding V8 you also can have all the fun you can handle running through the gears of the 4-speed transmission that shifts smooth as butter. This GTO clone is also equipped with Power steering and Power brakes just as it was originally equipped according to the PHS documents.  Suspension is awesome and tight thanks to the larger front sway bar and newer suspension components that also have very low miles and wear on them.  The current owner was getting some noise from the rear end and had a rebuilt Posi rear end installed which is a great addition.  The car rides on a beautiful set of Ralley II wheels that I think look better then the original '65 GTO wheel options.  White Letter radial tires have tons of tread life left as well.  The trunk is rock solid and was detailed at time of restoration with correct trunk mat and spare tire cover.  The undercarriage and floorpans are rock solid and appear to be original and was lightly undercoated for protection.  The owner did order the PHS documents that will be included with the car.  Take a look and remember to listen to the video.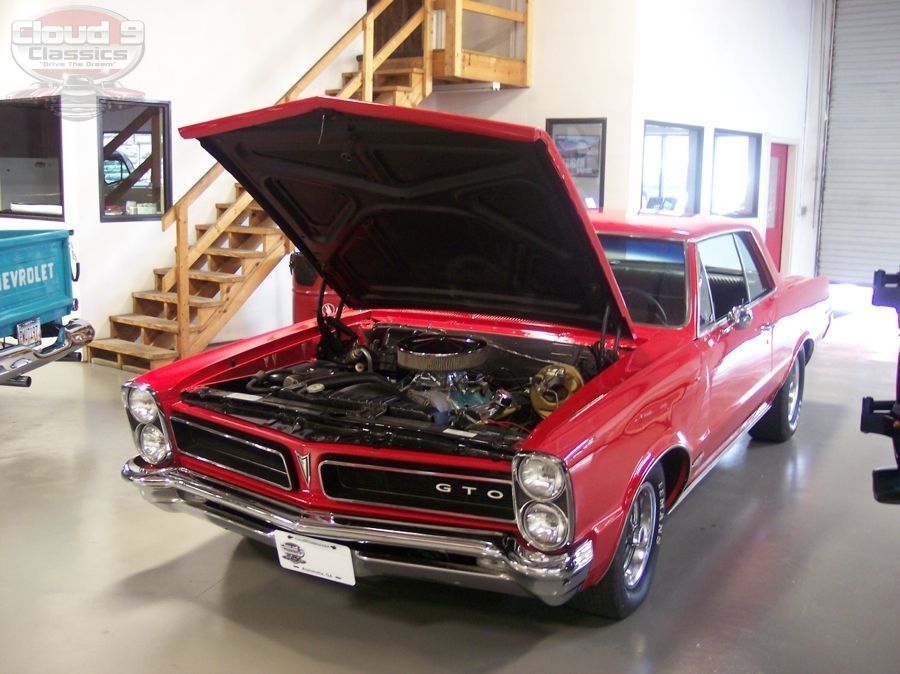 HERE IS A SHORT VIDEO SO YOU CAN HEAR THIS GTO CLONE START UP AND RUNNING (

CLICK THE ARROW TO START

):
If you have any questions feel free to call me
and I will do my best to answer them.  If you are a serious buyer lets talk on the phone and discuss it. In addition to being a licensed Classic Car Dealer I am also a Transport Broker and will be happy to assist the buyer with a great rate on Enclosed or Open Transport anywhere in the US at the buyers expense or to any port for overseas buyers.