About This Vehicle
Mileage: 126,200
Engine: V8
Body Style: Convertible
Transmission: Auto
Exterior Color: Signal Flare red
Interior Color: Red/White
VIN: 6F08C712169
Price: SOLD
BEAUTIFUL 1966 FORD MUSTANG CONVERTIBLE…

RED AND READY

TO ROLL!!!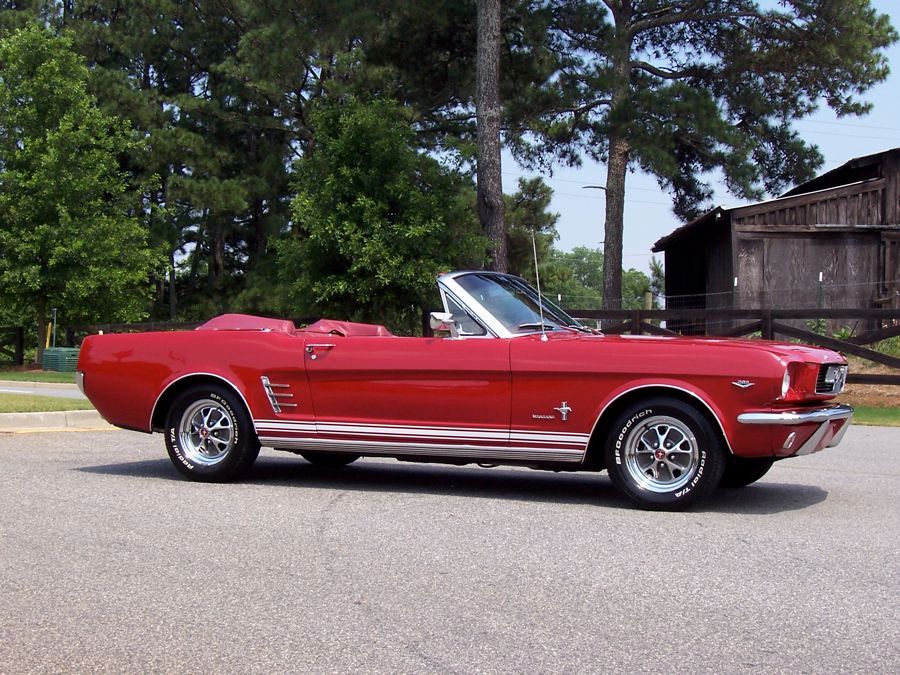 If you are looking for a super solid '66 Pony Convertible that you can drive, enjoy and maybe take to the local car show and cruise-in then this may be the one for you!
We recently acquired this sweet 1966 Mustang Convertible from a gentleman in Alabama who bought the car about 5 years ago at the Rod Run in Pigeon Forge, TN for his wife to enjoy. For years they went to the local car shows and cruise-ins together and got tons of enjoyment from the car but realized it was time to pass the car along to the next lucky owner! According to the previous owner the car spent most of its life in the Southeast. He wanted his wife to be cool on the hot summer days so he installed an aftermarket A/C that is blowing ice cold! As you will see in the pics this Signal Flare Red Pony shines beautifully and is what we would call a great Driver Quality Classic that will fit in at the local shows and cruise-ins and  can be driven and enjoyed while knowing you have one of the best investment classic cars on the market.  I will do my best to accurately describe the condition of this awesome classic and will provide plenty of pics and a video that should tell you all you need to know.  Sit back and enjoy!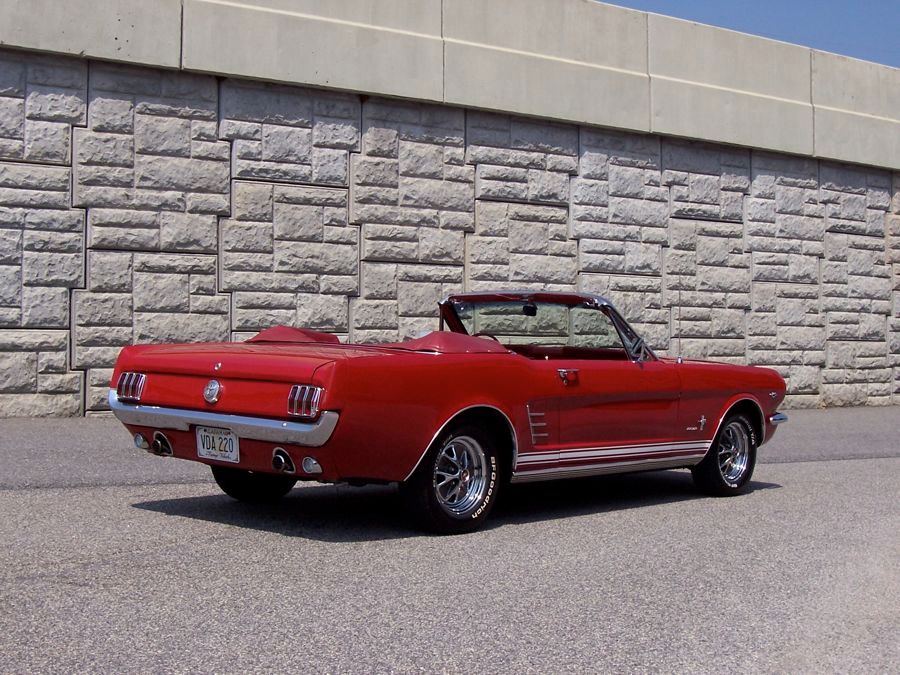 As you can see from the door tag, this was originally a Signal Flare Red car with red interior.The previous owner was told that the car was probably painted about 9-10 years ago. Restored about 9 years ago the paint has held up very nicely and is a nice driver quality paint job that you will be proud to show up at any local cruise in or car show with. As you can see they added a nice GT style stripe and also added the GT style rear valence with the GT style dual exhaust tips. There are some flaws in the paint that keep it from being show quality.  Body lines are very good and the car is very straight. The hood could be aligned a bit better.  Doors open and close with ease and do not sag.  There are a few tiny chips and some scratches on the hood that have been touched up. Basically you should expect some of the normal wear on the body that you would expect from a Classic that has been driven for pleasure. There is a small pinch on the passenger side front fender where it meets the door where I imagine the fender might have been aligned too closely at one point.   Bumpers and chrome trim look excellent. You might notice that someone decide to use side view mirrors from a 67-68 Mustang as opposed to the round '66 Style. None of these cosmetic blemishes take away from the overall quality of this fine vintage mustang but I believe in pointing out the good with the bad. I am providing panel by panel pictures and you will see that overall the body on this stang looks great!
As you can see the Signal Flare Red Exterior is complimented by a White Convertible top and Red/White Pony Seats. Although this car was originally a red standard interior car someone made a nice choice by adding the deluxe pony seat covers. The seats are in excellent shape with a very small cut in the rear seat about 1/4 inch in size.  Red Dash pad and red carpeting are in beautiful condition and a new set of Pony Floor mats add a nice touch. Black dash bezel looks great and all of the gauges appear to be functioning correctly. Original style steering wheel is in nice condition but could be painted as it is starting to show some wear. You will also notice that an aftermarket underdash Air Conditioner was added by the previous owner and the A/C blows ice cold!! The white convertible top is a manual top and is in nice condition overall with a few spots that appear to have been patched previously. There are no leaks and you can only notice these small spots on close inspection. The top operates perfect and is very easy to put up and down. Many power tops end up having leaks in the hoses or operate slowly but you will not have this issue here. There is also a very nice red boot cover that snaps on easily. Overall the interior is in great condition and it is hard to beat the color combination!! Take a look:
The previous owner wanted to make sure this Pony would drive as good as it looked so he had the C-Code 289 motor gone through and the engine bay was very nicely detailed. Automatic transmission shifts nicely.  Power front disc brakes were added to making stopping effortless and his wife decided she did not need power steering since these lightweight Mustangs drive easily without it. He also completely went through the front suspension adding all new components so it handles very nicely!! As I mentioned previously an aftermarket A/C system was added. The engine bay is pretty much show quality! Original Styled Steel wheels are in great shape wrapped in BFG Radial TA rubber that has most of its tread left.  The undercarriage of this pony is very solid and rust free although it appears that at some point, probably about 10 years ago when the car was restored they replaced some of the floorpans with original style pans. They also did some work on the front frame rails and added some frame rail extensions to stiffen up the undercarriage that tended to allow these unibody cars to twist and flex. While it is rock solid I think they could have done a neater job. The trunk is also rock solid and the fuel tank was replaced at some point recently as well and lightly undercoated as were the floorpans. You will notice a Transmission cooler that was installed along the passenger side front frame rail. Dual exhaust with GT style trumpets adds a nice touch and has a nice soft rumble.  This Pony drives great and runs cool. You will love dropping the top and cruising in this sweet running 289 V8 and if you decide you need to cool off you have the convenience of a modern A/C unit to cool you down!
This car was purchased in the State of Alabama. Alabama is a non-title state as is Georgia on the older cars so the car is sold with a Bill of sale and Registration. If your state is a Title State you will have no problem obtaining a Title for this car and we are licensed dealers and will assist if needed.  If you are an international buyer and want to export this car it will not be a problem as we will have a letter from the State of GA that will be sufficient for Customs. We have handled this before with no issues.
Here is an amateur walk around video of this car for you:
In summary, this is just a sweet running, great looking '66 Mustang Convertible that you can drive and enjoy while knowing that you have one of the hottest classic cars on the market in any economic environment.  It is not a concourse, show winning trailer queen but you will get thumbs up and compliments everywhere you go in it. Hopefully I have given you all the info you need to decide if this is the one for you but as always I welcome your phone calls and questions.  If you have any questions feel free to call me at 770-359-8400 and I will do my best to answer them.  Take a look at the pics and video and then picture yourself behind the wheel!!!
If you are a serious buyer lets talk on the phone and discuss it. In addition to being a licensed Classic Car Dealer I am also a Transport Broker and will be happy to assist the buyer with a great rate on Enclosed or Open Transport anywhere in the US at the buyers expense or to any port for overseas buyers.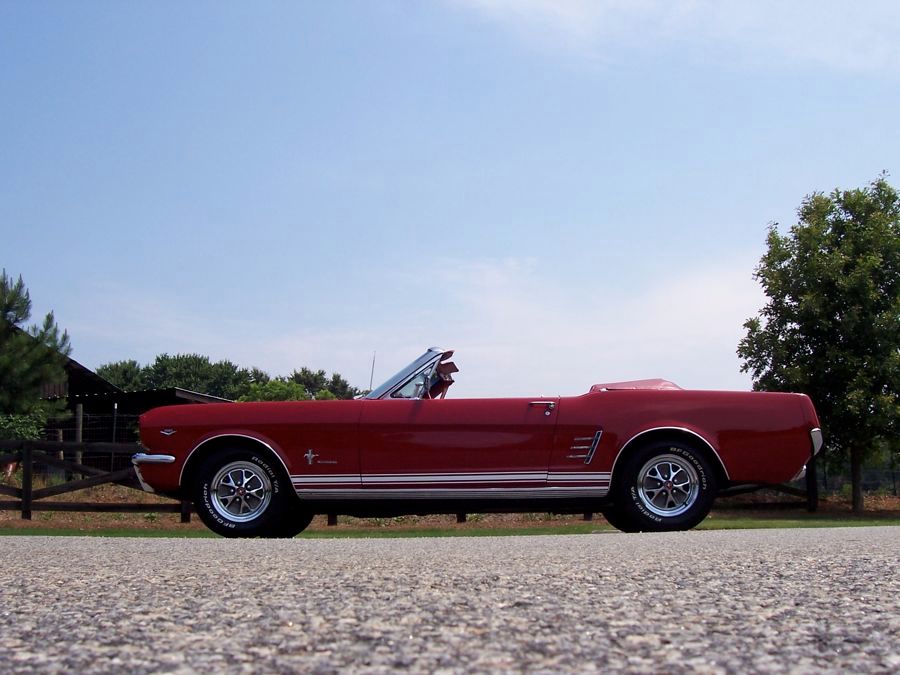 SERIOUS BUYERS CAN CALL ME AT 770-359-8400