About This Vehicle
Mileage: 57,750
Engine: V8
Body Style: Convertible
Transmission: Auto
Exterior Color: Candy Apple Red
Interior Color: Black
VIN: 6F08C149689
Price: SOLD
1966 FORD MUSTANG CONVERTIBLE, C-CODE,

CANDY APPLE RED

BEAUTY READY TO SHOW OR GO!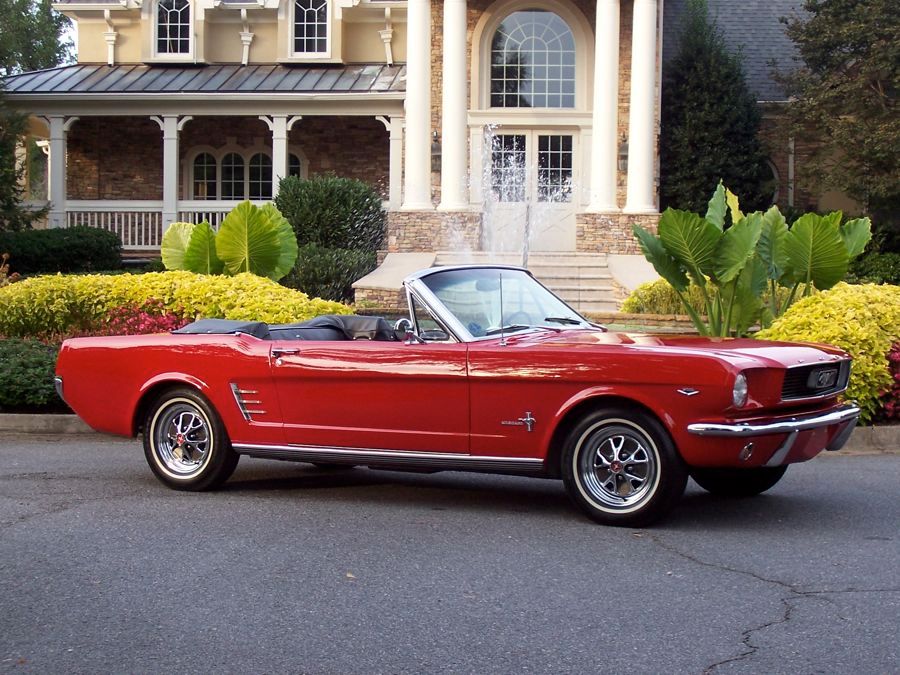 ARE YOU LOOKING FOR A CLASSIC, ORIGINAL 289 V8 1966 MUSTANG CONVERTIBLE THAT CAN BE DRIVEN AND ENJOYED?
WOULD YOU LIKE TO HAVE A MUSTANG THAT YOU CAN TAKE TO THE LOCAL SHOWS AND CRUISE-INS?
DO YOU WANT A CLASSIC MUSTANG THAT IS IN GREAT CONDITION BOTH INSIDE AND OUT WITH NO ISSUES?
IS MAKING AN INVESTMENT IN A QUALITY CAR IMPORTANT TO YOU?
YOU MAY HAVE JUST FOUND YOUR PERFECT PONY!!!!
This beautiful 1966 Ford Mustang Convertible spent most of its life in the State of Tennessee and judging from the overall condition lived a very pampered life.  The gentleman we acquired the car from in TN owed it for a little over 3 years and knew the previous owner who owned the car for 10+ years.  About 10 years ago this Pony was repainted in what is believed to be its original Candy Apple Red color.  As you will see the paint is absolutely beautiful. In fact the entire car is in amazing condition while still being a car that can be driven and enjoyed.  This is the perfect classic Mustang for someone looking for a turn-key car that is ready to be driven and enjoyed and if desired it is ready for the local shows and will most likely win its share of trophies.  I will do my best to provide enough pictures, a couple of videos, and an honest description to help you decide if this stallion belongs in your stable. Sit back and enjoy: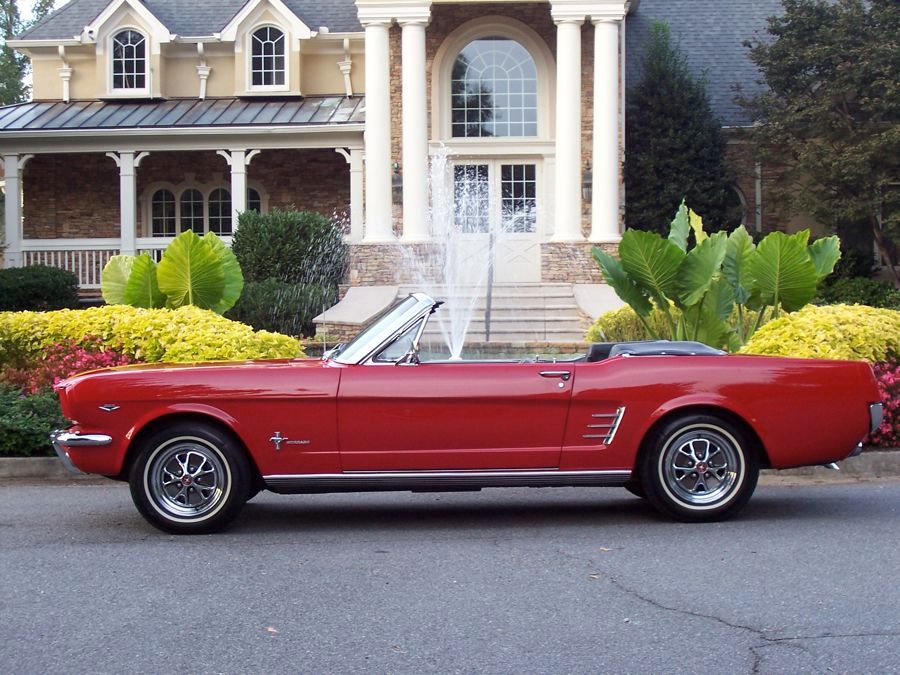 As I mentioned this car was restored about 10 years ago and from what I can tell it appears to have its original body panels leading me to believe this car needed very little in the way of body or rust repair. The body panel fit is excellent and the doors open and close easily. The paint quality itself is excellent and is what i would call close to show quality but definitely above what is commonly called driver quality.  This mustang has been driven and enjoyed since the restoration so there may be some very minor flaws but overall it looks like the car could have been painted a week ago. The only flaw in the body I noticed was a chip that was touched up along the passenger side door edge below the door handle. All of the chrome, bumpers etc…look excellent. As you look down the sides of the car it is extremely straight with excellent body lines and gaps. Overall the body is in fantastic condition and this is an investment quality Mustang that can be driven and enjoyed. Here is a photo walk around tour and there is also a video at the end of the listing as well.
Although I believe these Classic Mustangs should be driven top down whenever possible it is nice to know that this car has a close to brand new Power Top that looks great and works perfectly. the boot cover that goes over the top when it is down snaps on easily and is also like new.  In addition, the entire interior was redone about 3 years ago and also looks as good as the rest of the car! Door panels, seat covers, dash pad all look close to new! An updated stereo was neatly installed in the original space and speakers were neatly installed in the kick panels.  All of the lights and gauges appear to be working correctly and a tachometer was added below the ashtray which also works.  A brand new set of Lloyds Pony Floor mats were added to finish the look. You will feel like you are back in 1966 when you slide inside this Pony. Overall interior condition is fantastic and needs nothing!
Ok, so she looks great….but how does she run you might ask??  Well, I think she truly runs as good as she looks. The original C-code 289 V8 has plenty of power and pulls strong at all speeds. The previous owner chose to remove the original intake and carburetor and replaced it with an upgraded Edelbrock performer intake and 4bbl carburetor for even better performance. The original intake and carb are in my possession and can be included if you would like it. The previous owner also upgraded the brakes to a Power front disc brake system. Steering is manual but is easy to maneuver and this car tracks straight and true. This pony rides on a beautiful set of original styled steel wheels wrapped in nice set of white wall radial tires.   The car still has the original c-4 automatic transmission which shifts perfectly. The rear end is also original to the car and is a 3:00 to 1 ratio so it is the perfect highway cruiser. Ignition was switched over to an electronic ignition.  Very nice sounding dual exhaust exits neatly below the rear valance.  This is a turn-key Pony that is a joy to drive!! As you will see the engine bay has also been neatly detailed and dressed up with a nice set of cobra Valve covers. You will be proud to pop the hood at any show or cruise in.  Original Vin # is stamped on the drivers side apron. Inside of the trunk is also rock solid and has the correct plaid mat and spare tire cover. Beneath mat there is a close to new gas tank.  The undercarriage is also very clean and rock solid. Floor pans and torque boxes look to be original and are extremely solid.  Again, there are no issues to address with this Classic Mustang and it is ready to be driven and enjoyed. Be sure to listen to the video of the car running at the end of the listing.
BELOW IS A WALK AROUND VIDEO AND A SHORT VIDEO SO YOU CAN HEAR THIS PONY RUN:
THE 1969 MUSTANG CONVERTIBLE PICTURED WITH THIS CAR ABOVE WILL ALSO BE UP FOR SALE SOON…FEEL FREE TO CALL ME FOR INFORMATION.