About This Vehicle
Odometer: 95,200
Engine:  289 V8 4bbl
Body Style: Convertible
Transmission: Automatic
Exterior Color: Turquoise
Interior Color: Tan
VIN:  6F08c318425
Price: SOLD
ABSOLUTELY GORGEOUS

,

FULLY RESTORED

, 1966 FORD MUSTANG CONVERTIBLE, 289 V8 4BBL, AUTOMATIC, WITH

LOW ORIGINAL MILES

,

NICELY LOADED

INCLUDING AIR CONDITIONING…READY TO

SHOW

AND

GO

!!
This 1966 Ford Mustang Convertible is absolutely stunning from every angle and has lived a pampered life in Colorado for 50 years with just 2 owners and just over 95,000 original miles.  It was treated to a high end restoration by Colorado Mustang Specialists 15 years ago but with just 2000 miles since the restoration looks like it was just restored last month!!!
If you have been searching for a beautiful, fully restored, 1966 Ford Mustang Convertible and would like one in a unique color combination that stands out among the others and is nicely loaded with options then this Twilight Turquoise Pony may be the one you have been waiting for!
There is no doubt that 1966 is one of the most popular Ford Mustang model years. In March of 1966 the millionth Mustang was produced and people began to recognize it was the car to have it you needed a daily driver, or the car to own if you wanted a weekend cruiser with a sporty edge. Advertisements with the message, "Youth is a wonderful thing. What a crime to waste it on our children" It was the car to have if you were seeking the fountain of youth, or trying to win over your neighbor, or just the hitting the road for fun and adventure.  Well it is now 50 years later and I think those same sentiments hold true! These Classic Mustangs continue to be one of the most popular classic cars on the market and truly represent a piece of Americana! My first two cars were 1966 Mustangs so this car certainly brings back memories for me. 
I recently received this '66 Mustang Convertible from Colorado where it had spent the last 50 years. Amazingly this car has had just 2 owners prior to me.  It was purchased new on September 30th, 1966 at Rosen Novak Ford in Denver, Colorado. In 2000 the car changed hands to its 2nd owner in the Denver area. At that time the car had just 93,000 original miles and was in completely original, unrestored condition.  The gentleman who bought it was a bit of a collector and liked his cars to be in show condition. He took the Mustang to a well known Mustang Restoration shop called Colorado Mustang Specialists. They went through the car from front to back, top to bottom and restored this '66 Convertible to a very high level, noting it to be a concourse level restoration on the receipt documents that will be included with the sale and are shown later.  That was 15 years ago and there has only been 2000 miles put on the car since the restoration and it still stands tall and is ready for the shows and even better yet, ready to be driven and enjoyed! The car was originally Tahoe Turquoise but was repainted a slightly darker shade called Twilight Turquoise which was a factory color in 1965.  I think you will agree that it is a fantastic color and it truly looks even nicer in person then it does in the pictures that follow.  He also had some other nice upgrades done such as adding a 4bbl intake and carburetor to the original 289 C-code motor.  Fog lights and GT styled dual exhaust were also added and the factory air conditioning was upgraded with a newer compressor and modern refrigerant. 
I will do my best to provide you with enough large images, a video of the car running, and an honest description to help you decide if this amazing Pony Convertible belongs in your stable. As with all of my classics I do have it advertised on my website and several others. Therefore, if you decide this is the one you have been waiting for and do not want another car guy or gal to beat you to it, feel free to call me at 770-359-8400 to discuss how we can make that happen.  I welcome overseas buyers as well and I am also a transport broker and can assist with getting you a great rate on transport anywhere in the country.  Sit back and enjoy!!!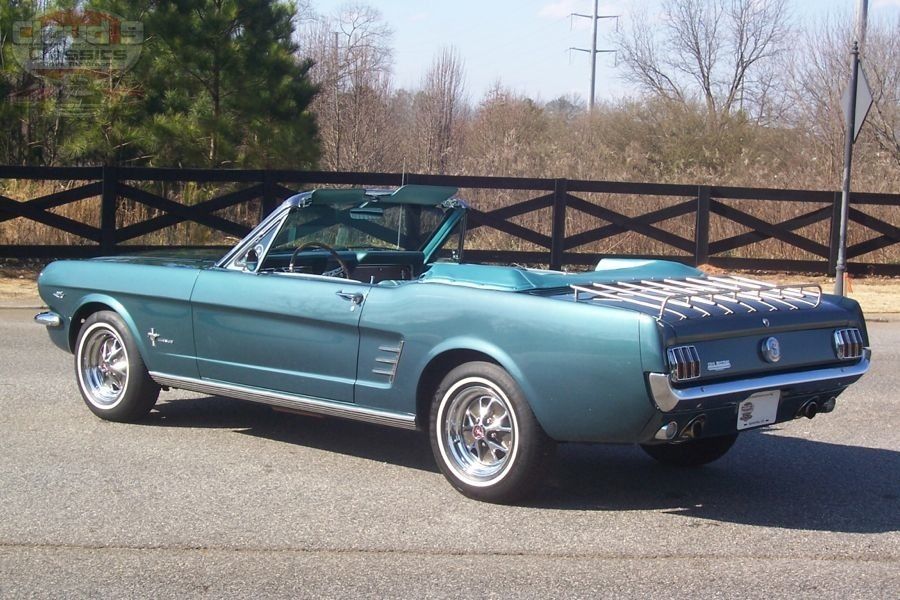 As previously mentioned this Colorado classic received a high level, professional restoration in late 2000. The work was performed by a shop in Aurora, Colorado called Colorado Mustang Specialists. They have been in business since the 1980's and are well respected in the industry.  Evidently the original owners took extremely good care of the car during their 34 years of ownership and the car still had most of its original paint. The 2nd owner enjoying owning a variety of classics and liked them to be in show ready condition.  He spent about $25k on the restoration and the result is an absolutely gorgeous car. It is truly hard to believe that the work was done 15 years ago! The paint and body look amazing. Although the original door of the car tahoe turquoise, apparently the 2nd owner decided he really liked a similar color from 1965 called Twilight Turquoise. I think he made a great choice as this is a rarely seen color and with the two tone pony interior it is extremely striking. The paint is near flawless with a nice metallic. It appears darker in the shade and in the evening but glistens in the sunlight. I would say it is near flawless however there is one extremely tiny bubble on the front corner of the passenger side door. Perhaps there is a rock chip somewhere I missed but the body is really in exceptional condition. This lifelong Colorado car appears to have all of its original sheet metal from what I can see and the body panels line up better than new probably and the body is extremely straight. All of the chrome trim is in fantastic condition. All of the glass is in great condition and windows roll up and down nicely. Optional luggage rack is a nice touch. You will see that several GT style options were added to this car at the time of restoration including fog lights and dual trumpet exhaust exiting the rear valance. I think the photo tour of the body below will tell you everything you want to know. I am confident the next lucky owner will be absolutely thrilled with the condition of this Mustang and it is ready for the shows where I am sure it will win plenty of trophies if that is what you enjoy. Enjoy the photo tour:
Although I hope the next lucky owner enjoys this Classic with the top down as much as possible it is nice to know that the power convertible top is in close to new condition and operates smoothly.  The white convertible top against the twilight turquoise color is a beautiful combination and this car looks as good with the top up as it does down!!
Complimenting the glistening Twilight Turquoise Exterior is a beautiful turquoise and parchment deluxe Pony Interior. The combination is outstanding!! The entire interior was restored at the time of restoration in 2000 and looks close to brand new with essentially no wear showing. Door panels, dash pad, carpeting, seat covers….everything looks great! The original deluxe steering wheel looks fantastic with just one small crack that I detected at the 6 o'clock position. Gauges and lights all appear to be functioning correctly and the original mileage is just slightly under 95,200 miles. Upgraded stereo with CD changer in the trunk. The Factory air conditioning was nicely upgraded with a modern compressor and R134 refrigerant.  The heater was rebuilt at time of restoration. Matching set of Pony carpeted floor mats finishes out the interior nicely. Overall the interior of this Pony truly looks close to showroom new….check it out:
Under the hood you will find the original C-code , 289 V8 that was nicely upgraded to a 4bbl in 2014  for a bit more performance. At the time of restoration the engine was removed and completely gone through. Before it was re-installed in was nicely detailed and dressed up with Mustang valve covers and air cleaner. This Mustang runs and drives beautifully! Power steering makes handling a breeze and was also completely gone through. Suspension front and rear was redone at the time of restoration and the car handles the road beautifully.  Brakes were completely redone and although they are manual drum brakes believe me they stop fantastic and better then some power front disc brake Mustangs we have had.  The c-4 Automatic transmission shifts nicely and was completely resealed in 2014.  The upgraded 4 bbl intake breathes out through stock manifolds that run out the dual exhaust with a very stock sound. Radiator was upgraded at time of restoration as well and any wiring that needed to be replaced was replaced.  Beautiful set of Styled Steel Wheels wrapped in close to new set of radial whitewall tires for a truly vintage look.  Inside the truck you will see it has been nicely detailed out for shows in a matching turquoise carpeting with carpeted spare tire cover. Under this carpeting is a rust free trunk painted in the same color as it should be.  Floorpans, frame rails and torque boxes also look great and are rock solid with no rust issues. Much of the floorpans look original with the original drip markings although t is possible the front drivers floorpan was replaced with a correct factory pan and the work was done very nicely. The undercarriage was treated and detailed in the original red oxide primer. Take a look at the pics below and then make sure you also watch the video that follows to see and hear the car start up and running. 
The original Vin # stamping on the drivers side inner fender is still legible and the car also has its original door tag.  In addition the car comes with the original owners manual and you will see the name on the manual matches the title for the original owner before it was sold to the 2nd owner. We also have a good receipt history of the restoration and some other work that was done to the car after that. Overall a very nicely documented, 2 owner, investment grade collectible!!!
HERE IS A SHORT VIDEO SO YOU CAN HEAR THIS BEAUTIFUL PONY CONVERTIBLE START UP AND RUNNING (
CLICK THE ARROW TO START
):
DRIVE THE DREAM!!!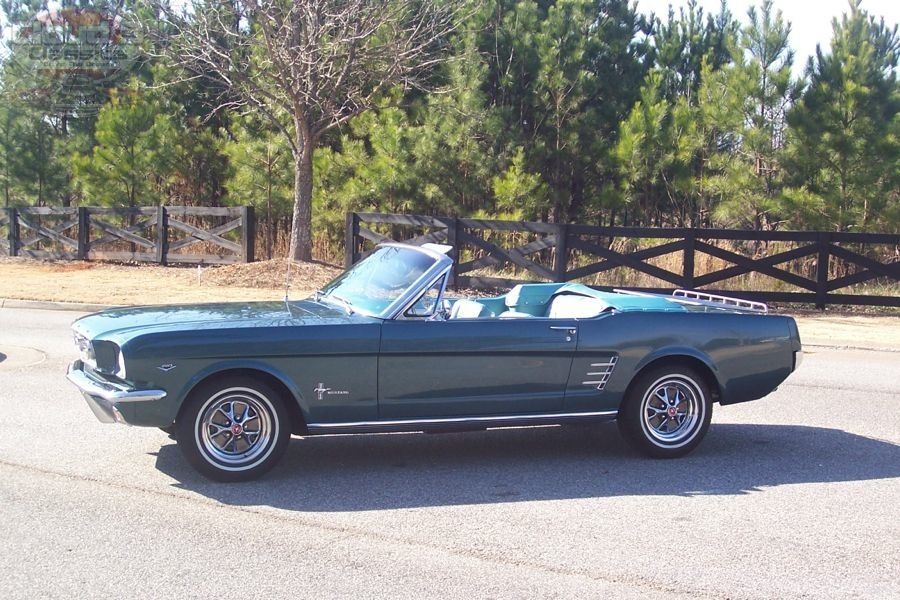 Please do not email me asking what the reserve is. 

 If you have any questions feel free to call me at 

770-359-8400 

and I will do my best to answer them.  If you are a serious buyer lets talk on the phone and discuss it. I will be happy to negotiate a deal and end the auction early so we can get this beautiful car in to your garage as soon as possible.  In addition to being a licensed Classic Car Dealer I am also a Transport Broker (www.TransportTime.com) and will be happy to assist the buyer with a great rate on Enclosed or Open Transport anywhere in the US at the buyers expense or to any port for overseas buyers.