About This Vehicle
Odometer: 39,300
Engine:  289 2bbl V8
Body Style: Convertible
Transmission:  Automatic
Exterior Color: Emberglo
Interior Color: Tan
VIN:  6F08C205316
Price:  SOLD
ABSOLUTELY GORGEOUS

,

BEAUTIFULLY RESTORED

, 1966 FORD MUSTANG CONVERTIBLE IN

RARE

ONE YEAR ONLY COLOR

,

NICELY LOADED

, C-CODE 289 V8, DELUXE

PONY INTERIOR

,

POWER STEERING

,

POWER BRAKES

AND POWER TOP…READY TO

SHOW

AND

GO

!!
HAVE YOU BEEN SEARCHING FOR A GORGEOUS CLASSIC 1966 FORD MUSTANG CONVERTIBLE AND WANT AN INVESTMENT QUALITY, EXTREMELY ORIGINAL PONY, IN A RARE COLOR THAT STANDS OUT AMONG THE CROWD?
DO YOU WANT ONE THAT HAS LIVED A RUST FREE LIFE AND WAS TREATED TO A PROFESSIONAL RESTORATION BRINGING IT BACK TO ITS ORIGINAL GLORY

?
ARE YOU LOOKING FOR A 289 V8 WITH AUTOMATIC TRANSMISSION AND EQUIPPED WITH POWER STEERING AND POWER BRAKES SO IT IS SIMPLE AND ENJOYABLE TO DRIVE?
WOULD YOU LIKE TO BE ABLE TO TURN THE KEY, DROP THE TOP AND DRIVE AND ENJOY YOUR CLASSIC THE DAY IT ARRIVES?
 DO YOU ENJOY HITTING THE CRUISE-INS AND LOCAL SHOWS AND WANT A CAR YOU CAN BE PROUD TO SHOW OFF BUT ALSO CAN DRIVE ANYWHERE WITH THE WIND IN YOUR HAIR AND SUN ON YOUR FACE?
WELL, IF YOU HAVE BEEN SHAKING YOUR HEAD
YES
THEN GET READY BECAUSE THIS EMBERGLO 1966 PONY CONVERTIBLE COULD BE THE ONE YOU HAVE BEEN SEARCHING FOR!
This amazingly beautiful Emberglo 1966 Ford Mustang Convertible spent its entire life in Colorado prior to me having it transported in an enclosed carrier to its temporary home here in Alpharetta, Georgia.  As the original DSO code on the door tag shows, this '66 was originally allocated to the Denver district sales office. The original owners manual is still in the glove box and indicates the car was sold by a dealer in Boulder, Colorado. I purchased this Mustang from an awesome guy who bought it about 6 years ago. His passion was actually restoring old Mercedes, however someone told him about this car and after seeing it decided it was time to switch gears for a change. He did his best to uncover the history of this car and was actually able to track down the original owner who is now in his nineties and still lives in Colorado. Evidently he sold the car to one of his good friends about 10 years after he bought it new but did not know what happened after that. Well, evidently at some point this car sat for about 5 years prior to being purchased by the gentleman I bought it from. He was amazed at how rust free and original the car was. It was still wearing the original paint he believes and the interior was in need of replacement as was the convertible top. But it was a gem that deserved to be brought back to its original glory and so he set out to do just that. He was never in a rush to get it done but wanted to make sure it was done right. I had some great conversations with him while I was considering purchasing the car from him and it was clear that not only was he a professional at what he did but he was a man of great integrity. This was not a quicky restoration down to flip and make a quick profit. This was a labor of love and about 500 miles were put on the car after it was completed to take care of any issues that surfaced so it would be well sorted out for the next lucky owner…maybe you!!!? My first 2 cars were 1966 Mustangs so I have always had a soft spot for these. When the car arrived at my showroom it was quickly apparent that this was a special car that was extremely well preserved and then was treated to a very nice restoration and was ready to be loved by a new owner just as it was by the original owner. I have learned over the years  that classic cars that spent their lives in Colorado are often times as rust free as those that spent their lives in California.  This Mustang is a prime example of that. If you appreciate a very original, Classic Mustang and want one that is ready to drive and enjoy the minute it arrives to your driveway then sit back and enjoy because this Emberglo Pony is a special one! As with all of my classics I do have this car advertised on my website and several others. Therefore, if you want to put this beauty in your stable before the next car guy or gal scoops it up, feel free to call me to discuss how we can make that happen. I will do my best to provide enough large images, a video of the car running, and an honest description to help you make your decision.  I welcome overseas buyers and I can also assist in getting you a great rate on Enclosed Transport anywhere in the country. Sit back and Enjoy!!!
The gentleman who did the restoration on this Emberglo '66 was amazed at how rust free and solid the body was when he got it. It appeared to be wearing its original paint so to be sure of the condition of the body before paint he had the car media blasted. Sure enough he was right and this Mustang was a gem wearing its original sheet metal including original rear quarter panels, floor pans etc. The body was professionally prepped, block sanded and painted in the original "V" code, one year only color of Emberglo.   I assure you this color is really impressive in person and really grows on you. As you will see in some of the pictures the car takes on a darker tone in the shade or evening but the color glistens in the sunlight and looks like a shiny new penny when the sun hits it.  The paint quality is excellent and the body is extremely straight. Although the 2 year restoration was just completed recently the paint has been on the car for about a year.  I hesitate to use the word flawless as I did detect just a tiny chip on the lower portion of one door that was touched up and I am sure there are just a few tiny imperfections that the pickiest of buyers may find. But, believe me, this is one of the nicest '66 Mustangs you will find that you can drive and enjoy and do not need to trailer to the shows.  Chrome trim all looks excellent and bumpers were replaced and shine like new. Original trunk luggage rack adds a nice touch and looks great.  Chrome and stainless trim around the windshield looks great. If I had to pick something I would say that the windshield appears to be original and has some minor rock pecks in it but nothing terrible. I debated on replacing it but the glass is very clear so I think it adds something to the originality of this classic. Windows roll up and down nicely and of course all of the weatherstripping was replaced at the time of restoration. I should also mention that there are 2 very small holes in the rear tail panel that are from an original dealer emblem. I was going to purchase a vintage Ford Dealer emblem to cover the holes but could not find one from the original Boulder Colorado dealer that no longer exists so I decided to leave that choice to the next owner.  Body panel fit is outstanding and doors open and close beautifully with no sag. There is no doubt that this Mustang will win its share of trophies at the shows if that is what you enjoy! But best of all it is a show quality car that can be driven and enjoyed!!! I think the photo tour of the body below will show you what you want to know: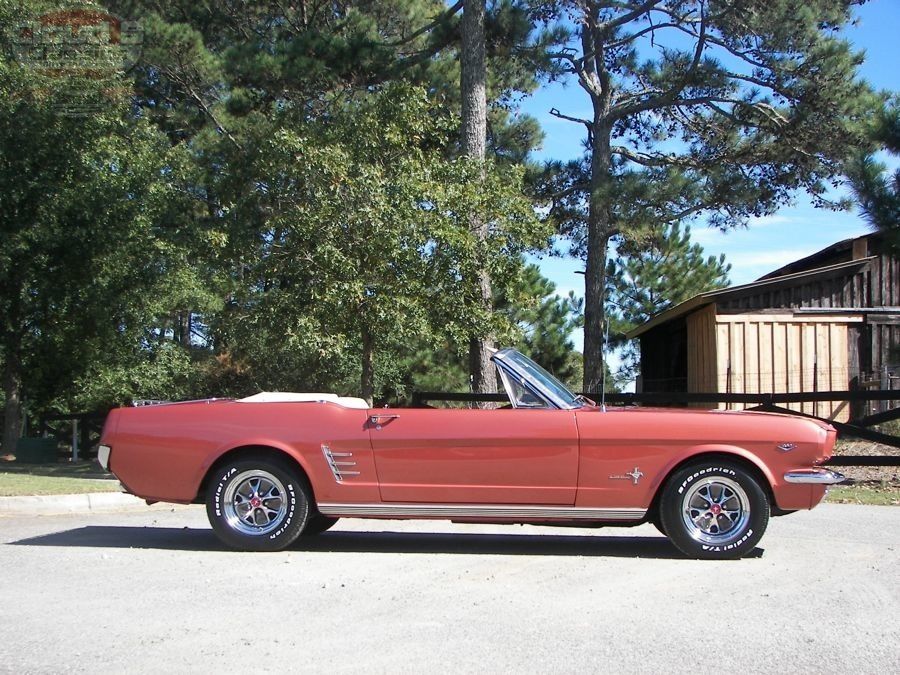 I believe these Classic Pony Convertibles should be enjoyed with the top down as much as possible but I cannot deny that this Emberglo beauty also looks stunning with the Parchment white convertible top up as well. Of course a new top was installed at time of restoration and looks fantastic.  It is a power top that functions like new. It latches down easily and seals up very nicely. When the top is down a matching boot cover in parchment gives the car a clean finish.  Take a look:
Complimenting the truly unique Emberglo exterior is an equally impressive Parchment white Luxury Pony interior just as it was ordered when the car was new. The entire interior was redone and looks amazing. If you are not familiar with all of the codes, the easiest way to tell if a '66 Mustang was originally equipped with the Pony interior is to look at the door trim tag if it still is on the car.  If the body code is 76B it means it was originally a Convertible with the luxury interior which is also referred to as a Pony interior. This interior is really classy and has all of the great looking woodgrain trim items like dash bezel, center console, and woodgrain steering wheel.  The door panels are also quite a bit nicer than the base interior and the doors also have courtesy lights built in to them. As you will see, the Parchment Pony interior in this car looks like brand new. The carpeting was replaced in the original emberglo color and dynamite sound deadening was applied to keep the interior nice and quiet.  Dash pad looks fantastic. Instrument bezel looks great and gauges are all crystal clear and appear to be working correctly. The only non-original looking piece in the interior is the cigarette lighter.  Original Am Radio in dash appears to work. New front seat belts with the Pony logo were added. The woodgrain steering wheel looks like new! Door sill plates were replaced and shine like new and a great looking matching set of Emberglo pony floor mats give the interior a great finishing touch. Overall the interior is truly show quality and is near flawless. Check it out: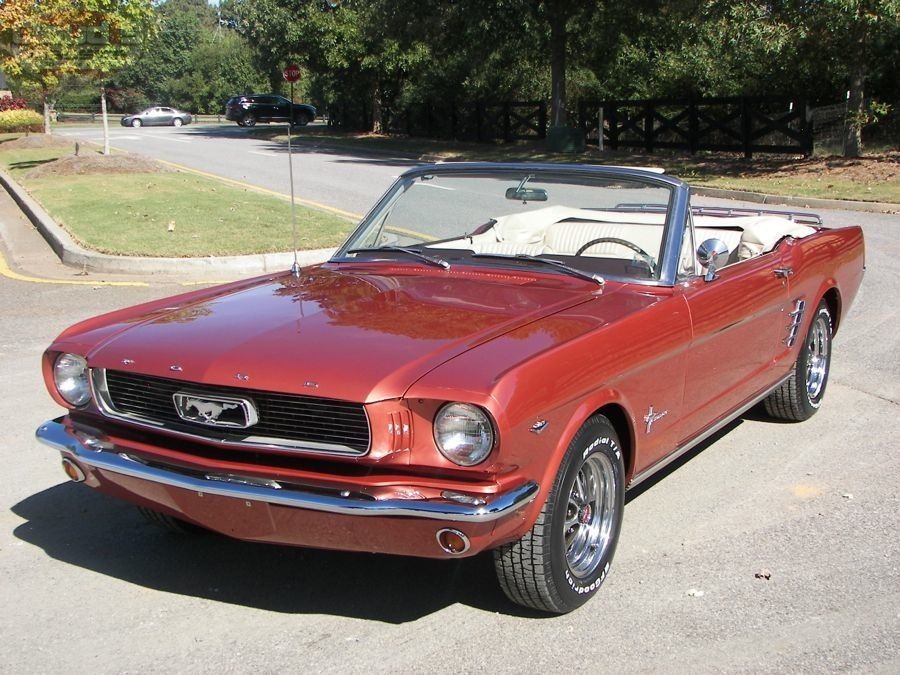 At this point hopefully you agree that this is an amazingly beautiful '66 Convertible inside and out and are wondering if it runs and drives as good as it looks….ABSOLUTELY!!! The original 289 was completely gone through during the restoration. Odometer reads a little over 39,000 miles and it is believed to have 139,000 miles on the car itself, however only about 500 miles since the motor was rebuilt and the restoration was completed. All fluids were drained and flushed. The heads were pulled and complete valve job was done. Compression was checked and was strong and very even. The motor is a very stock build and pulls strong. All of the cooling system was replaced including new water pump, radiator, thermostat, five blade fan and fan shroud.  The original C-4 automatic transmission was completely gone through as well and shifts beautifully.  This Mustang truly drives as nice as any C-code I have driven and cruises at 75 mph effortlessly and is fun to drive at any speed. It handles beautifully with Power steering that was completely rebuilt and stops with ease thanks to the Power brakes that were also completely gone through. No pulling upon braking and the steering is true and tight. All of the suspension was gone through and updated at the time of restoration and this car simply glides along with no squeaks or rattles. Original 2bbl intake and carburetor which is tuned perfectly. Stock manifolds breathe through an original style single exhaust with original style transverse muffler that offers a nice soft tone. I considered updating it to dual exhaust but after driving the car over 30 miles one day I decided the exhaust tone fit this car perfectly.  I did decide to update the original stock wheel and hub cap combination with the optional 14″ Styled Steel Wheels that I wrapped in brand new BFG Radial TA white letter tires for a sporty look and great ride. Of course when you pop the hood the engine bay is highly detailed and very original and ready to show off at the shows and cruise-ins.  Most importantly, this Pony fires up at the turn of the key, idles beautifully and drives effortlessly and is ready to be enjoyed!!! Make sure you listen to the car running in the video that follows. 
Pop the trunk and you will again find a very nicely detailed, very original look with the correct trunk mat and spare tire cover. Of course no rust issues to be found here either.  This '66 Mustang also has its original floorpans and torque boxes which are rock solid with no rust issues. At the time the interior was redone and the carpeting was out the previous owner was amazed at how clean and solid the floorpans were inside the car…a rare find indeed. When we got the car we could still see some of the original red oxide primer on the undercarriage but there was also a fair amount of factory or dealer installed undercoating remaining. We gave the undercarriage a very light spray of undercoating to even out the look and make sure it would be protected for another 50 years.  The floors and frame rails are in amazing condition just like the rest of the car.  Original Vin number stamping is still on the drivers side inner fender apron. Original door trim tag is still in place. 
HERE IS A SHORT VIDEO SO YOU CAN HEAR THIS PONY START UP AND RUNNING (
CLICK THE ARROW TO START
):