About This Vehicle
Odometer: 73,350
Engine:  289 V8
Body Style: Coupe
Transmission: Automatic
Exterior Color: Turquoise
Interior Color: Turqoise & Tan
VIN: 6R07C215593
Price: SOLD
ABSOLUTELY GORGEOUS

,

TAHOE TURQUOISE

1966 FORD MUSTANG, C-CODE 289 V8…

NICELY RESTORED,

LOW MILEAGE AND

LOADED

WITH FACTORY A/C, PONY INTERIOR, POWER STEERING, POWER BRAKES, RALLY PAC…READY TO

SHOW

AND

GO

!!
This '66 Mustang Coupe is stunning from every angle and was owned by the same family since the early 1970's. An original California Production car that was sold in San Antonio, TX and was nicely restored and stored in a climate controlled facility with only about 4000 miles on the car since the restoration!!
If you have been searching for a beautiful Classic Mustang in an absolutely stunning original color combination then this might be the one you have been waiting for!!!
There is no doubt that 1966 is one of the most popular Ford Mustang model years. In March of 1966 the millionth Mustang was produced and people began to recognize it was the car to have if you needed a daily driver, or the car to own if you wanted a weekend cruiser with a sporty edge. Advertisements with the message, "Youth is a wonderful thing. What a crime to waste it on children." It was the car to have if you were seeking the fountain of youth. It was the car to have if you were looking to win over your neighbor or hit the road for fun and adventure. Well, it is now 50 years later and I think those same sentiments hold true!  The Classic Mustangs continue to be one of the most popular classic cars on the market and represent a piece of Americana!  My first two cars were both 1966 Mustang Coupes so these cars definitely bring back memories for me.  
I recently received this beautiful Tahoe Turquoise '66 Coupe from Michigan. The gentleman I purchased it from was assisting the family to liquidate a small collection of cars their father had purchased over his life time before he passed away.  This particular car was said to be in the family since the 70's. It was originally produced at the San Jose, CA production facility and distributed to the Houston DSO. The original owners manual still resides in the glove box and has the original owners name and info typed in it. Apparently it was sold at Gillespie Ford in San Antonio, TX. I do not know exactly when it was purchased by the gentleman in Michigan but the family believed it was in the 70's.  He loved cars and kept this Mustang stored inside a climate controlled building. The car was never driven in the winter time and it is obvious from the condition and originality that the car was always pampered. The family recalls that he had the Mustang restored in the early 1990's so the restoration is about 20 years old. Essentially it was a cosmetic restoration which was all it needed to bring this pony back to its original glory so that it could be continued to be enjoyed and driven to the local shows and cruise-ins that he enjoyed so much. Of course it made many appearances at the Woodward Dream Cruise in Michigan. Aside from the fantastic original color combination, this '66  289 V8 Coupe is also highly equipped with some great options including Factory A/C, Power steering, Power brakes, Rally Pac, and more!  The odometer reads just over 73,300 miles and based on the information from the family of the previous owner, some receipt history, and the originality and condition I believe this to be the correct, original, low mileage.  This C-code V8 Mustang was very well maintained over the years, hits the road beautifully and is a pleasure to drive. I will do my best to provide enough large images,a video of the car starting up and running, and an honest description to help you decide if this beauty belongs in your garage.  As with all of my classics I do have this Pony listed on my website and several other national sites. Therefore if you want to make sure you scoop this classic up before the next car guy or gal does, feel free to call me to discuss how we can make that happen. Sit back and enjoy!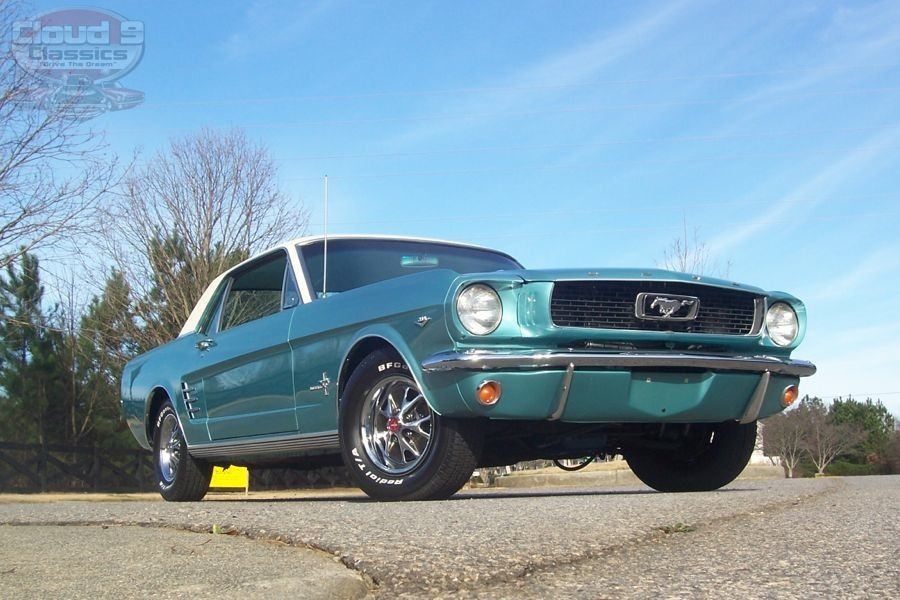 As I mentioned this coupe received a very nice cosmetic restoration about 20 years ago.  As you will see in the pics the paint and body still look fantastic.  It was repainted in the original Tahoe Turquoise color which really glistens in the sun. As you will see in some of the pics there is plenty of crystal clear reflection in the paint and I had the car professionally buffed out and waxed which really made this baby shine.  From what I can tell the car still wears all of its original body panels. The rear quarters and front fenders have original stampings on them, there is a factory chalk marking on the underside of the hood, and doors appear original as well. There is no evidence of body panel replacement or rust repair that I can see. Body panels are extremely straight and overall body panel fit is excellent. No door sag, hood and trunk line up really well! The parchment top sets off the Tahoe Turquoise really nicely and the vinyl top is in great condition. To be picky I would say that there is some slight discoloration in spots on the top but these could be dyed if desired. Otherwise the body is near flawless. I noticed a couple of really tiny rock chips that have been touched up.  All of the chrome and trim is in excellent condition. Bumpers look close to new, window trim looks excellent. Some minor signs of age on the original door handles. Weather stripping all looks excellent.  All of the glass looks great and windows roll up and down nicely and seal up well.  It think the pics below will show you what you need to know…enjoy the tour!
Complimenting the beautiful Tahoe Turquoise body is an equally impressive deluxe Pony Interior in the two-tone Turquoise and Parchment color combination. I believe the seat covers were probably replaced at the time of restoration, because they just look too nice to be original.  The only tiny flaw I noted was a bit of  extremely minor wear on the piping that runs along the edge of the drivers seat. Seat belts front and rear were added.  Door panels and dash pad look excellent and headliner in a light turquoise looks great. Carpeting looks great and a nice set of matching Pony floor mats were added. The Deluxe interior really makes these cars stand out inside. The wood trimmed bezels, courtesy lights, and pony seats simply add to the look of these classics. As you will see the original deluxe wood grain steering wheel is in fantastic condition without any of the usual cracks these get. Center console looks great and this Coupe is nicely equipped with the Factory A/C unit and Rally pac. The tach in the Rally Pac is working properly but I do not think the clock is working. Factory A/C unit blows nice and cold still.  All of the gauges and lights appear to be functioning correctly as well.  Have a look inside:
Pop the hood on this extremely original '66 Stang and you will find the original C-code 289 V8 2bbl.  As previously mentioned the current mileage reads just over 73,300 miles and is believed to be accurate. There has only been about 4000 miles put on it since it was restored approximately 20 years ago.  The gentleman who owned it made sure the car was started regularly through the winter and only driven in nice weather. Although I do not have any receipts showing the motor was rebuilt I do not think it needed to be due to the low mileage. I do have a receipt showing the C-4 automatic transmission was rebuilt in 1987. It shifts nice and smooth.  This Pony is a breeze to drive thanks to the factory power steering and power brakes. The power drum brakes were gone through recently and power steering appears to have had work done fairly recently as well. The car really runs and drives great. Electronic ignition was aded at some point as well. The car runs nice and cool with no overheating issues. Radiator appears to have been replaced. One look under this Mustang and you can quickly tell this was not a car that saw many if any winters. Since it was a California production car it did not get any heavy undercoating. In fact when we got the car the original factory red oxide was evident and with a simple wipe down exposed all of the original factory floors with original drip markings. We re-sprayed the underside in red -oxide to keep it fresh and protect it for many years to come. It is such a pleasure to have floorpans that look this good which reinforces the originality and condition of this car. Frame rails look great as well and the fuel tank appears to be relatively new also. In line with the originality is the original single exhaust with transverse muffler for a nice quiet ride.  Pop the trunk and you will again notice the originality and excellent preserved condition. It appears to have original paint inside the trunk so you can see what you are getting! Of course all the original VIN markings are in place and match which includes the drivers side inner fender stamping and original door tag. We received a pic with the car probably taken shortly after it was restored. As you will see it had the original wheels and hub caps which came on the car when I got it. I love the look of the styled Steel wheels so I replaced the original wheels with correct 14″ Styled Steel wheels with the correct Chrome trim rings and wrapped them in brand spanking new BFG radial TA tires. I think these wheels give the car an updated sportier look while still keeping with originality. Take a look at the pics below and be sure to listen to the short video that follows to hear the car start up and running.
HERE IS A SHORT VIDEO SO YOU CAN HERE THIS '66 START UP AND RUNNING (

CLICK THE ARROW TO START

):
DRIVE THE DREAM!!!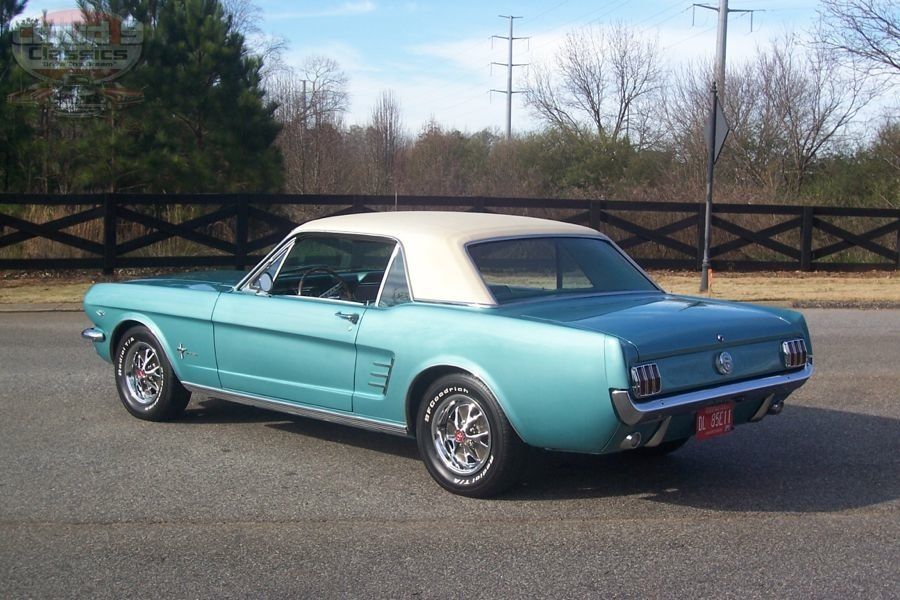 If you have any questions feel free to call me at 

770-359-8400 

and I will do my best to answer them.  If you are a serious buyer lets talk on the phone and discuss it. I will be happy to negotiate a deal and end the auction early so we can get this beautiful car in to your garage as soon as possible.  In addition to being a licensed Classic Car Dealer I am also a Transport Broker and will be happy to assist the buyer with a great rate on Enclosed or Open Transport anywhere in the US at the buyers expense or to any port for overseas buyers.