About This Vehicle
Mileage: 72,742
Engine: 289 C-code
Body Style: Coupe
Transmission: 4-speed
Exterior Color: Candy Apple Red
Interior Color: Red-white Pony
VIN: 6R09C186014
Price: SOLD
BEAUTIFUL, RUST FREE, LOW MILEAGE, ORIGINAL, 

CANDY APPLE RED

, 4-SPEED, 1966  FORD MUSTANG FASTBACK READY TO SHOW OR GO!
If you have been on the search for a beautiful Mustang Fastback and always wanted an original 4-speed car that you can drive, enjoy and take to the shows on occasion then get comfortable, sit back and enjoy because this could be the one!  Spring is coming and this Candy Apple Red Fastback is ready to hit the streets!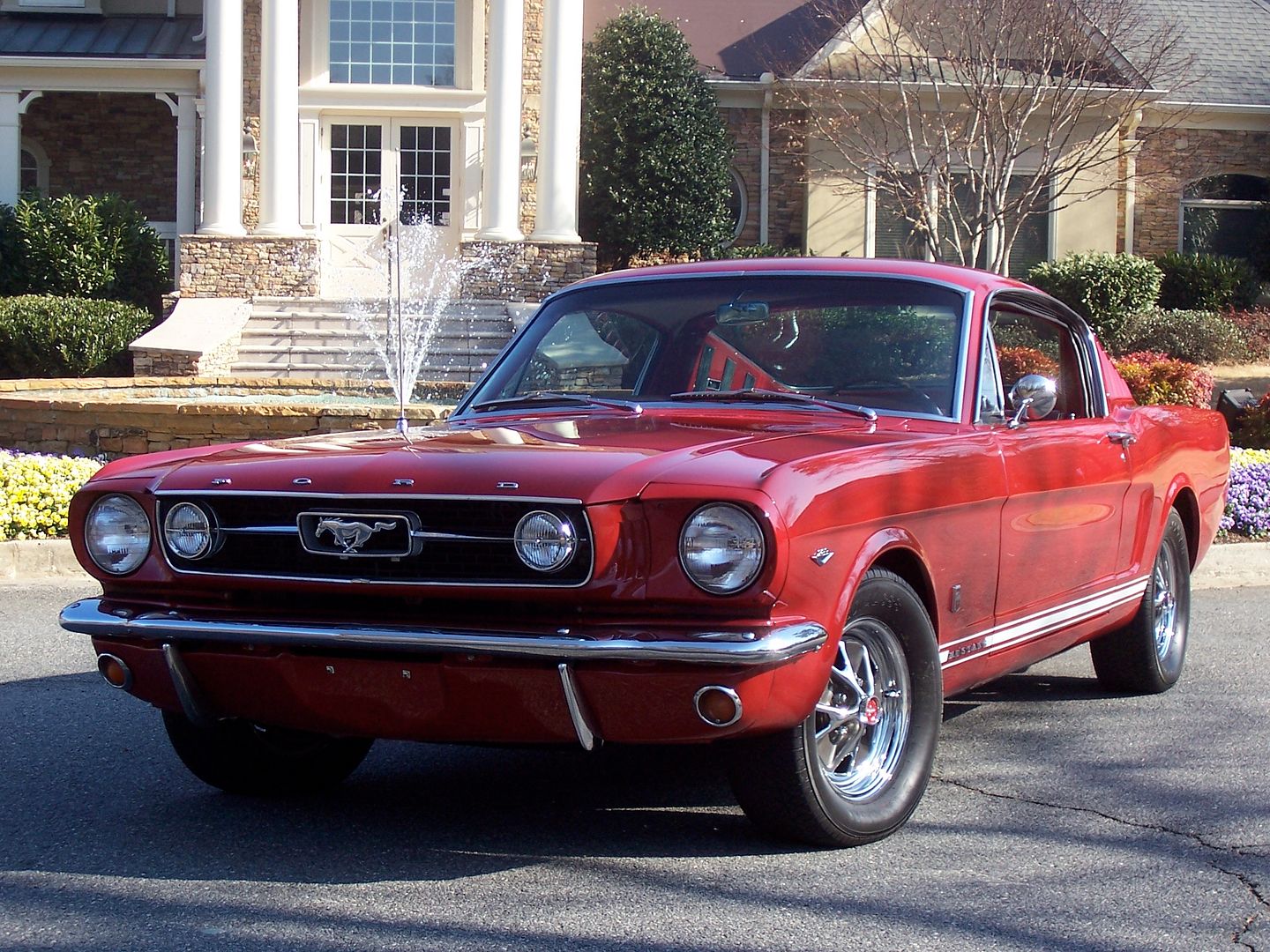 Everyone knows that the great state of Kentucky is known for it's horses. Well, I recently found not one but two great Pony thoroughbreds in KY. I sold one to a lucky buyer in SC and you are about to see and read about the second one. After all, if you are gonna bet on a pony you should really know more about it and be able to judge it for yourself before laying your bet, or in this case, bid.  This 1966 C-Code Mustang Fastback is an awesome example of a well restored car that has been enjoyed as they should be.  Restored in the late 90's, it received some nice GT options and has always been meticulously cared for and kept in a warm stable when it has not been in use.   I bought this one from a gentleman who had owned it for the past 4 years and put less than 3000 miles on it during his ownership. When he bought it there was a little over 70,000 original miles on it and currently has just under 73,000 miles on the odometer.  I definitely believe these to be original miles based on the originality and condition and it shows these miles on the title.  This is a very high quality, older restoration that has been extremely well cared for and will make its next owner proud on the road or at shows!  I will do my best to honestly describe this Fastback and provide enough pictures and a couple of videos at the end of the auction to allow you to see the true condition and quality of this Pony.
As I mentioned, this Mustang underwent a professional restoration we believe in the the late 90's and was babied ever since. The gentleman I bought the car from in Kentucky bought the car from a guy in Arkansas who had the car restored about 15 years ago. From what I can tell this pony still has all of its original body panels and I do not see evidence of any rust repair on the body. This Mustang started off as a California car and is a San Jose Production, code R.  It is finished in the original Candy Apple Red paint code that it came with from the factory and the paint job is top quality. Keeping in mind that this is an older restoration, this paint job still looks better up close then most paint jobs you see these days.  The body panels are extremely straight and the body panel fit is excellent overall. You will notice that the trunk seems to be up just slightly at the passenger rear side but I have looked at this with some Mustang Experts and the consensus is that the weatherstripping is causing this and that it should be able to be corrected by replacing with the correct weatherstripping if the next owner desires.  Doors close with ease, nice and tight.  I wish I could say it was flawless but it is not. However, it is in fantastic condition and better then most you will find here or anywhere.  The small cosmetic blems along the body I noticed include a couple of tiny paint chips in the trunk lid which happened when the previous owner let his daughter use the car as the getaway car when they were married and her friends tied some cans to the bumper that kicked up and hit the trunk lid. There are a couple of very tiny bubbles on the roof  of the car that have been there for many years and probably cannot be seen in the pics.  There is also a small spot beneath the GT gas cap where some fuel must have splashed out and damaged the paint slightly there.  There are no other bubbles along the body of the car that you will usually see on these fastbacks.  None of these flaws take away how outstanding the condition of this body is and I do not think any of them are noticeable in the pictures. You should be able to see how straight the body is and how much reflection the paint has on this Candy Apple Red beauty in the pics below. I also did a walk around video at the end of the auction for another look as well.
This awesome Fastback also has the Deluxe Luxury Red/White Pony interior just like it did when it left the production facility in San Jose CA.  It appears that the interior was also completely redone at the time of restoration and it is in beautiful condition throughout with no tears, cracks os issues.  The Woodgrain deluxe steering wheel looks very good with a couple of minor separations which are common. A more modern Am/Fm stereo was neatly placed in the glove box with speakers installed in the original front grill and in the rear panels very neatly. This system sounds great if you choose, or just listen to the sweet rumble of the stout 289.   The dash pad looks new.  The floor mats are a little soiled and could probably be cleaned a bit. I was going to put new ones in but Mustangs Unlimited was out of the correct red colored ones for 1966.  Center console,  Door panels, kick panels, seat belts front and rear,  fold down rear seat…..everything looks great and is ready to show or enjoy! All of the lights and gauges appear to be functioning properly including the GT style fog lights that were added. The interior is truly in fantastic condition and needs nothing! Take a look:
Everyone knows that as important as the body and interior are on these Classic Mustangs the undercarriage is just as important. Well, this one shines in this category as well. The floorpans appear to be all original with absolutely no rust issue whatsoever. The underside of the doors are also free of any rot or rust that is common when the drain holes clog up over time. The trunk drop offs still have original drain plugs. This pony also rides on a set of almost brand new performance radial tires mounted on original styled steel wheels that look like new as well. In the trunk you will see it is nicely detailed as well and is also rock solid, rust free.  This car shouts quality everywhere you look!
Under the hood of this fine Pony is the original C-code 289 2bbl that has just under 73,000 original miles. This motor is stronger than most A-code 4bbl cars I have driven and very impressive. Very nicely detailed engine bay with original Ford Hoses, clamps, etc…The only alteration I can see is the addition of some Cobra Valve covers that look great.  It's a blast to shift smoothly through the factory 4-speed manual transmisson. The 289 breathes out original manifolds and back through a newer dual exhaust running thorugh the GT style rear valance.  It has just the amount of rumble you would want from this Pony and I did a short video so you can hear her running. Although it is manual steering and manual brakes you will have no problems handling or braking in this Fastback. Brakes were redone recently and this pony tracks straight and true.  Improved handling comes from the GT upgraded suspension including larger front sway bar. The entire front end was gone through and received new bushings and tie rods.  A new starter and battery were also installed recently.  The next owner will love driving this Pony and she sounds as good as she looks…make sure you listen to the video at the end of the description.
HERE ARE THE AMATEUR VIDEOS SO YOU CAN GET A WALK AROUND TOUR AND LISTEN TO HER RUNNING:
Hopefully the pics and videos have made it clear that this is truly a quality, original, low mileage original '66 Fastback that is sure to be a great investment that you can drive and enjoy!  Although it was not originally a GT it certainly looks like one and I know the next owner will be thrilled with the condition and quality of this Classic Pony!  If you have any questions feel free to call me at 770-359-8400 and I will do my best to answer them.