About This Vehicle
Odometer: 36,625
Engine: V8
Body Style: Coupe
Transmission: Auto
Exterior Color: Red
Interior Color: Black
VIN: 6T09C257522
Price:  SOLD
ABSOLUTELY BEAUTIFUL,

CANDY APPLE RED

, 1966 FORD MUSTANG FASTBACK 2+2.

NICELY RESTORED

AND IN

AMAZING CONDITION

! RUNS AND DRIVES AS GOOD AS IT LOOKS! READY TO

SHOW

AND

GO

!!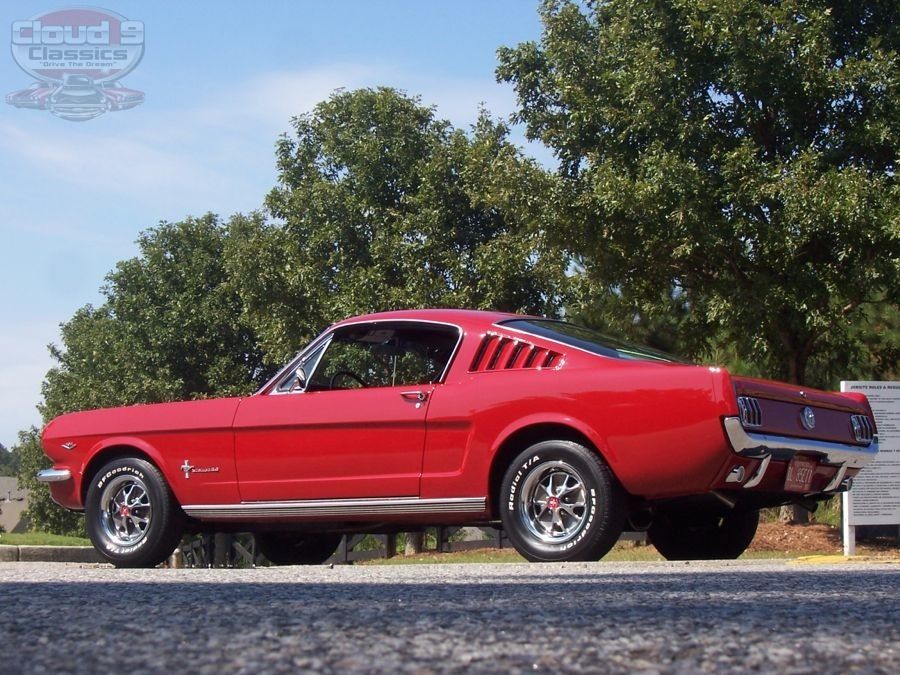 HAVE YOU BEEN SEARCHING FOR A HIGH QUALITY, NICELY RESTORED 1966 FORD MUSTANG FASTBACK??
DO YOU WANT ONE THAT NOT ONLY LOOKS FANTASTIC BUT ALSO DRIVES EXTREMELY WELL AND IS READY TO GO THE DAY IT ARRIVES TO YOUR GARAGE?
WOULD YOU LIKE A 289 V8, 4BBL, THAT SOUNDS AWESOME AND HANDLES WITH EASE?
DO YOU APPRECIATE A CAR THAT IS SUPER STRAIGHT,  HAS ITS ORIGINAL BODY PANELS AND ORIGINAL RUST FREE FLOOR PANS?
WOULD YOU LIKE IT TO BE NICE ENOUGH TO WIN SOME TROPHIES AT THE  LOCAL SHOWS AND BE A CAR THAT WILL DRAW ALL THE ATTENTION YOU CAN HANDLE??
DO YOU LOVE AN ORIGINAL CANDY APPLE RED MUSTANG THAT LOOKS LIKE THE PAINT IS STILL WET??
IF YOU HAVE BEEN NODDING YOUR HEAD
YES
, THEN SIT BACK AND GET READY BECAUSE THIS  '66 CANDY APPLE RED FASTBACK MAY BE THE ONE YOU HAVE BEEN DREAMING OF!!!
This awesome '66 2+2 Ford Mustang Fastback arrived to us recently from a great car guy who owned it for the past 12 years.  He had purchased the car from a well known Mustang Restoration and parts supply house called K.A.R.S mustang.  I have dealt with them occasionally over the years and they are extremely reputable.  According to the previous owner the Mustang arrived to him in fantastic condition and he has only put about 1000 miles on it in the 12 years of owning it and decided it was time to let it go. This Fastback was extremely original when he got it and the body was in tremendous condition with no rust. Evidently the car had received a light cosmetic restoration about 20 years ago and had also been gone through mechanically as well at that time with updated suspension components and possibly an engine rebuild.  He strictly drove this car in the Spring and summer and primarily to local shows and cruise in events. He upgraded the car in several ways while he owned it, changing the intake and carburetor to the current 4bbl set up, adding a beautiful sounding dual exhaust system, had the transmission rebuilt, and upgraded the stereo. When the car arrived to us it looked great but the paint was starting to show its age. The body was in such beautiful condition that we decided to go ahead and treat it this Pony to a beautiful new base coat/clear coat paint job in its original Candy Apple Red color. It was wet sanded and buffed and looks amazing!! We also added a brand new set of BFG Radial TA tires. This Pony is truly ready to turn the key and go!! It is sure to win its share of trophies at the local shows and would also be welcome at many of the larger Mustang Events where it would do quite well also. I will do my best to provide enough large images, a video so you can hear how great it sounds, and an honest description to help you decide if this is the Mustang Fastback you have been waiting for. Keep in mind we do have this '66 advertised on several different sites so if you decide this is the one feel free to give me a call. 
The body on this '66 Fastback is near flawless!! The body panels appear to be all original and they line up fantastic. Body is extremely straight as you look down the sides. We recently had a professional new paint job applied which required almost no body work. It was sanded down, blocked, primed and then a gorgeous Candy Apple Red Base Coat/Clear coat was applied. This is the cars original color! The paint looks awesome. Very smooth and reflective!! All of the chrome, bumpers, trim, emblems look close to new. Weatherstripping was all replaced recently and looks great. Drip rails look great unlike so many rusted out ones I have seen that have filler gunked in the drip rails.  All of the glass looks great and windows roll up and down nicely and seal up well.  I have not noticed any rock chips or flaws to speak of but to be safe lets call the body near flawless with the chance that there is something extremely minor that I missed.  I am very confident that the next owner is going to be extremely pleased with the body on this Pony….have a look:
Open the door of this '66 Fastback and you will swear you just turned back the clock to 1966 and were on a Ford Dealership's lot looking at a new one. The Black standard interior looks just like it would have on day one with the exception of an upgraded stereo in the uncut dash. Seats look brand new and were recovered years ago. Fold down rear seat works properly and looks great. Carpeting appears to have been replaced and looks excellent. Nice set of Mustang rubber floor mats in place. Original steering wheel in great condition with no cracks. All of the gauges and bezels look awesome. All courtesy lights and gauges appear to be working correctly. Door panels and headliner look like new.  Very minor wear on the drivers side arm rest keeps this interior from being perfect. Seat belts for front and rear passengers.  The aftermarket stereo is a digital am/fm upgrade with speaker in the front speaker grill area. Once you hear this car running in the video later you will probably decide you do not need music.  Take a look inside this beauty:
Under the hood this Pony shows as well as everywhere else. This is an original C-code 289 V8 Mustang that was recently upgraded to a 4bbl Edelbrock intake and 4bbl carburetor that add some extra horsepower for added fun. Pertronix electronic ignition was also added for reliable starts. Stock manifolds breathe out an amazing sounding polished stainless dual exhaust. You really have to listen to the video that follows to hear her running.  The automatic transmission was rebuilt by previous owner and shifts smoothly and firmly.  This Fastback will put you back in your seat if you get on her and also handles fantastic. The suspension components all appear to have been redone with very little miles put on the car since. Power steering handles like a dream and manual drum brakes stop this Pony easily.  I took a very nice long drive in her the other day and she runs very cool with no overheating issues.  Odometer shows a little over 36,000 miles which i will assume is 136,000+ miles.  Although we do not have records of a complete rebuild of the motor, I have a strong suspicion the motor was rebuilt. Compression was checked recently by the previous owner and each cylinder was within 5 lbs.  I would confidently get in this Fastback and drive it where you want to go! We added a brand new set of BFG Radial TA white letter tires on the original 14″ Styled Steel wheels.  As you will see in the pics below the VIN # is clearly stamped on the inner fender, the buck tag, and the door tag. This car is exactly as it left the factory with the exception of the upgraded 4bbl. 
Inside of the trunk is rock solid and rust free. Also nicely detailed with correct mat and spare tire with jack.  The undercarriage is amazing on this car. Be sure to look at the pics and compare to others if they will even dare to show you the detail we will show you. Floorpans appear to be all original and the original red oxide primer was showing through in many spots when the car arrived to us. As a result we decided to wipe down the undercarriage and detail it even further. You could proudly place mirrors along the sides  of this car at shows to show off how nice the undercarriage is!!  Best of all, as I continue to point out this car runs and drives as good as it looks!!
Take a look and then make sure you listen to the video to hear it running!!
HERE IS A SHORT VIDEO SO YOU CAN HEAR THIS BEAUTIFUL RED PONY START UP AND RUNNING….
TURN YOUR VOLUME UP AND CLICK THE ARROW TO START
:
If you have any questions feel free to call me at 
770-359-8400 
and I will do my best to answer them.  If you are a serious buyer lets talk on the phone and discuss it. In addition to being a licensed Classic Car Dealer I am also a Transport Broker and will be happy to assist the buyer with a great rate on Enclosed or Open Transport anywhere in the US at the buyers expense or to any port for overseas buyers.