About This Vehicle
Mileage: 82,500
Engine: V8
Body Style: Convertible
Transmission: Auto
Exterior Color: Red
Interior Color: Parchment
VIN: 6R08A217922
Price: SOLD
ABSOLUTELY GORGEOUS,

SIGNAL FLARE RED, 

1966 FORD MUSTANG GT CONVERTIBLE….

VERY LOW MILEAGE

, NICELY LOADED INCLUDING PONY INTERIOR,

TRUE GT

….READY TO

SHOW

AND

GO

!!!
HAVE YOU BEEN SEARCHING FOR A GORGEOUS CLASSIC MUSTANG CONVERTIBLE??
DO YOU HAVE YOUR HEART SET ON FINDING A TRUE GT CAR BECAUSE YOU REALIZE THESE ARE VERY RARE AND HAVE STRONGER INVESTMENT VALUE?
WOULD YOU LIKE TO FIND ONE THAT LIVED A RUST FREE LIFE,  HAS ITS ORIGINAL BODY PANELS, AND RECEIVED A PROFESSIONAL RESTORATION?
DO YOU PLAN TO DRIVE AND ENJOY THE MUSTANG CONVERTIBLE YOU PURCHASE AND WANT IT TO BE READY TO CRUISE IN OR TAKE TO THE LOCAL SHOWS??
WELL, IF YOU HAVE BEEN NODDING YOUR HEAD YES TO ANY OR ALL OF THESE QUESTIONS THEN SIT BACK AND GET READY, BECAUSE THE CLASSIC GT PONY CONVERTIBLE YOU HAVE BEEN WAITING FOR HAS JUST ARRIVED!!!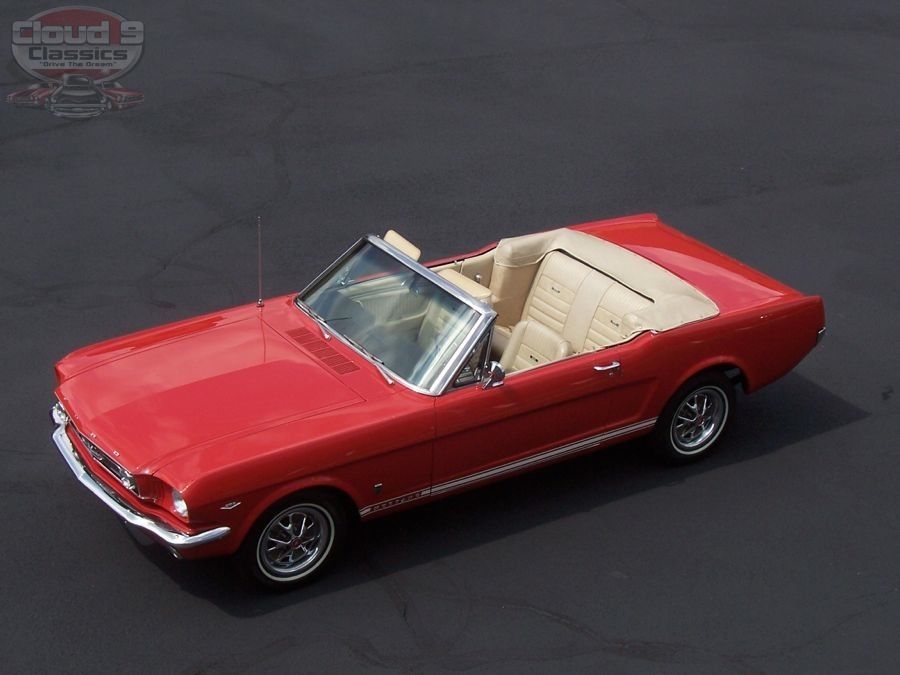 We recently acquired this gorgeous Signal Flare Red 1966 GT Convertible from a terrific woman in the Detroit, Michigan area.  Her husband had purchased this car 21 years ago and bought the car very close to where our business is located here in the Atlanta, Georgia area.  The car had been professionally restored prior to him and was exactly what he had been searching for.  It was a True, A-Code, GT '66 Convertible with the Deluxe Pony Interior and was ready to be taken to the shows and cruise-ins.  For almost 19 years he and his family enjoyed this car only during the warm, sunny months in Michigan and then it was properly stored in his heated garage the remainder of the year.  When he purchased the car it had just over 73,000 original miles and now, 21 years later has just under 83,000 original miles.  In 2009, he had the car completely gone through mechanically to freshen up all of the seals, brakes, and anything that may be needed.  He continued to enjoy the car for a few more years until sadly he passed away.  In speaking with his wife it was obvious that this car had become part of the family and she and her daughters had many great memories of their father and his Classic Mustang.  They attended many shows and cruise-ins together making it to the Woodward Dream Cruise as many years as possible.  She decided it was time to allow the next lucky owner to enjoy her husbands pride and joy. Maybe this fortunate person will be you!!!! I will do my best to provide enough large images, a video of the car running, and an honest description to help you decide if this Classic GT Pony Convertible is the one you have been waiting for….it truly is a special car and I know the next owner is going to be extremely pleased! Sit back and enjoy!!
If you have been searching for a Classic Mustang Convertible then I am sure you have seen many cars that are dressed up to look like GT cars. Many people call these clones, or just cars with GT options.  I have no issue with any of these cars as the GT options really add to the look of the Classic Mustang as well as improve performance in some ways. However, the fact is that these cars are still not true GT cars and therefore do not command the investment value as a true GT car does. I have gone through this car to verify that it is indeed a True GT car and have determined that it is indeed an original GT car. I will not bore you with all of the tell-tale signs but one often overlooked sign is the correct dual exhaust hanger reinforcement plates that are located under the rear seat. This car has these as well as all of the other features of a true GT car. There is no doubt in my mind that this is a true GT car that will continue to rise in value faster then non-GT convertible Mustangs. 
As I mentioned, this beautiful '66 Mustang Convertible had been restored a little over 21 years ago prior to the purchase of the previous owner.  It was an original R code, San Jose, California production car that had an original DSO ( district sale office) of Seattle, Washington.  At some point the car made its way out to the Atlanta, GA area where the person who had owned it treated it to a beautiful restoration. The car was originally Emberglo in color but was tastefully changed to Signal Flare Red which was a correct '66 only Mustang Color.  It is obvious that the car was professionally painted as there are no signs of the original color and the overall paint quality is fantastic and has truly stood the test of time.  The reason for this is that is was pampered by the the previous owner of 21 years and rarely driven.  The car appears to have all of its original body panels and I do not see any signs of rust repair. The body panel gaps are fantastic and doors open and shut like new. The only real flaw to mention on the body is a hairline scratch on the passengers side door that is barely noticeable.  All of the chrome, bumpers, trim, emblems are in great condition. Weatherstripping had been replaced and looks great. All of the glass looks great and windows rollup and down nicely.  Correct GT Fog lights, dual trumpet exhaust, GT fuel cap,  GT stripes and emblems all look great. The body is extremely straight as well.  This car will definitely win its share of trophies at the local shows if that is what you enjoy and is definitely a car you can get in and drive and enjoy with the family creating memories that will last a lifetime.  Here is a photo tour of the body:
I believe these Classic Mustang Convertibles should be enjoyed top-down as often as possible but it is always nice to know that the Power Convertible top on this '66 Convertible is in great condition and the car looks almost just as good with the top up as it does down.  The power top works as it should and locks down nicely and windows seal up nicely when rolled up.  The rear window has some slight discoloration but is still very clear.  A matching Parchment colored boot cover comes with the car for when you have the top down. Have a look:
Complimenting the beautiful Signal Flare red exterior is an equally nice Parchment White Luxury Deluxe Pony interior.  Seats look practically brand new and matching correct seat belts for front and rear passengers.  Since this car had the Luxury interior package it includes the woodgrain instrument bezel, woodgrain console inserts and woodgrain glove box.  Courtesy lights in the doors with correct pony door panels and drivers side remote side view mirror.  Dash pad and carpeting are in fantastic condition and a nice set of Pony Carpeted floor mats are included.  At some point a updated am/fm/cassette player was installed without cutting the dash. The original AM radio was retained and is included with the purchase.  All of the gauges and lights appear to be working correctly although the speedometer is reading a bit fast. The original deluxe woodgrain steering wheel looks awesome. Nice set of chrome rocker panel trim covers were added at some point.  Center console looks great with just some minor delamination of the woodgrain decal on the top of the console starting.  Interior is in beautiful condition overall….take a look:
This beautiful GT Mustang Convertible also runs and drives as good as it looks!!! The original, A-code , 289 V8 4bbl, has just under 83,000 original miles on it and  runs super strong. We did a compression check last week and the numbers were great. Each cylinder had excellent compression of 175-180 lbs.  The previous owner had the car gone through in 2009 and anything needed was done. This included all new seals including the rear main seal, new gaskets, new rear brake wheel cylinders and shoes, pertonix electronic ignition added, new u-joints, all new fluids, etc.  This work was all done under 200 miles ago!! C-4 Automatic transmission shifts strong and smooth and original 3.00:1 gears in the rear make for great highway cruising. Power steering makes handling a breeze and suspension is all excellent including the correct GT front sway bar.  GT front disc brakes stop this car with ease with no pulling. Great tone from the dual exhaust exiting out the GT trumpets in the rear valance. Engine bay was nicely detailed and you will be proud to op the hood at any show or cruise-in.  This Gt also rides on the correct Styled Steel Wheels wrapped in a great set of white wall Radials with 80% tread left.  Excellent road manners and a joy to drive at any speed. This GT is ready to be driven and enjoyed!!!!
Thanks to a pampered rust-free life the inside of the trunk is rock solid and rust free. Trunk is nicely detailed with correct trunk mat and spare tire cover.  Floorpans and torque boxes are also completely solid and rust free. Frame rails look great.  Original VIN coding stamping on the inner fender and original door tag still present. 
Make sure you list to the video that follows to hear this awesome GT Pony start up and running!!!!
HERE IS A SHORT VIDEO SO YOU CAN HEAR THIS GT PONY CONVERTIBLE START UP AND RUNNING (

CLICK THE ARROW TO START

):
At this point I hope you can see that this is definitely a high quality Classic Mustang Convertible that will not only be a great investment but will also be a joy to drive and show. As with all of our classic cars we do have this car advertised on other sites and if you would like to put this Stallion in your stable before the next car guy or gal scoops it up feel free to give me a call to discuss a price that can make that happen.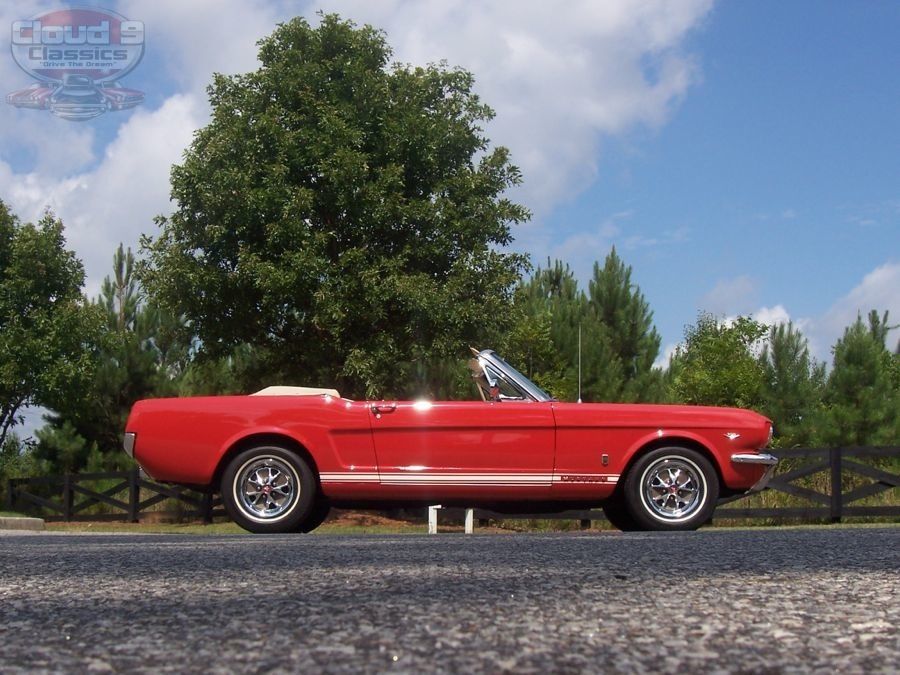 If you have any questions feel free to call me at 
770-359-8400 
and I will do my best to answer them.  If you are a serious buyer lets talk on the phone and discuss it. In addition to being a licensed Classic Car Dealer I am also a Transport Broker and will be happy to assist the buyer with a great rate on Enclosed or Open Transport anywhere in the US at the buyers expense or to any port for overseas buyers.