About This Vehicle
Mileage: 76,250
Engine: 8-Cyl. Cylinder
Body Style: Convertible
Transmission: Manual
Exterior Color: Silver
Interior Color: Black
VIN: 242676K140086
Price: SOLD
NICELY DOCUMENTED, FULLY RESTORED, TRI-POWER, 4-SPEED, '66 GTO CONVERTIBLE…GRRRR!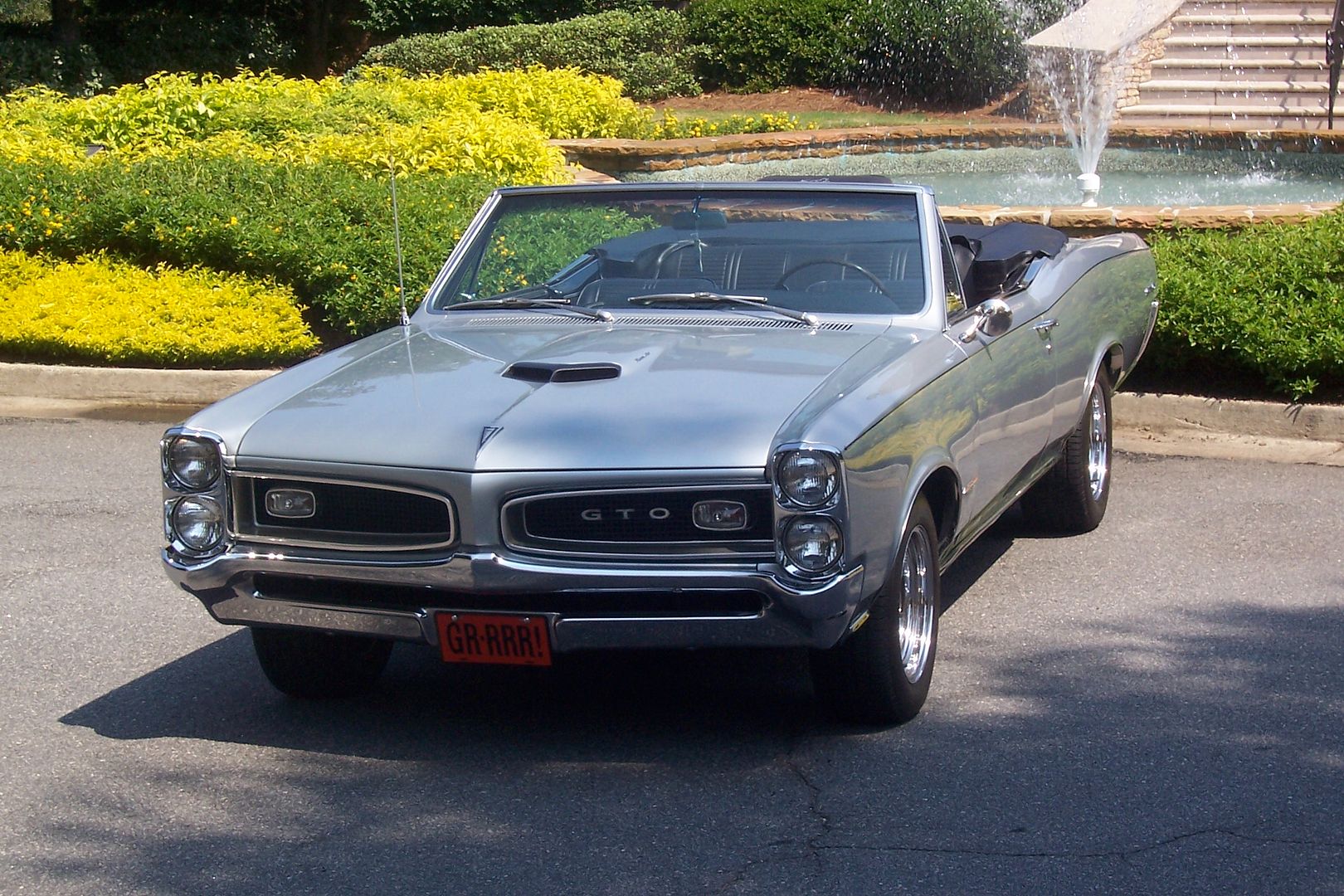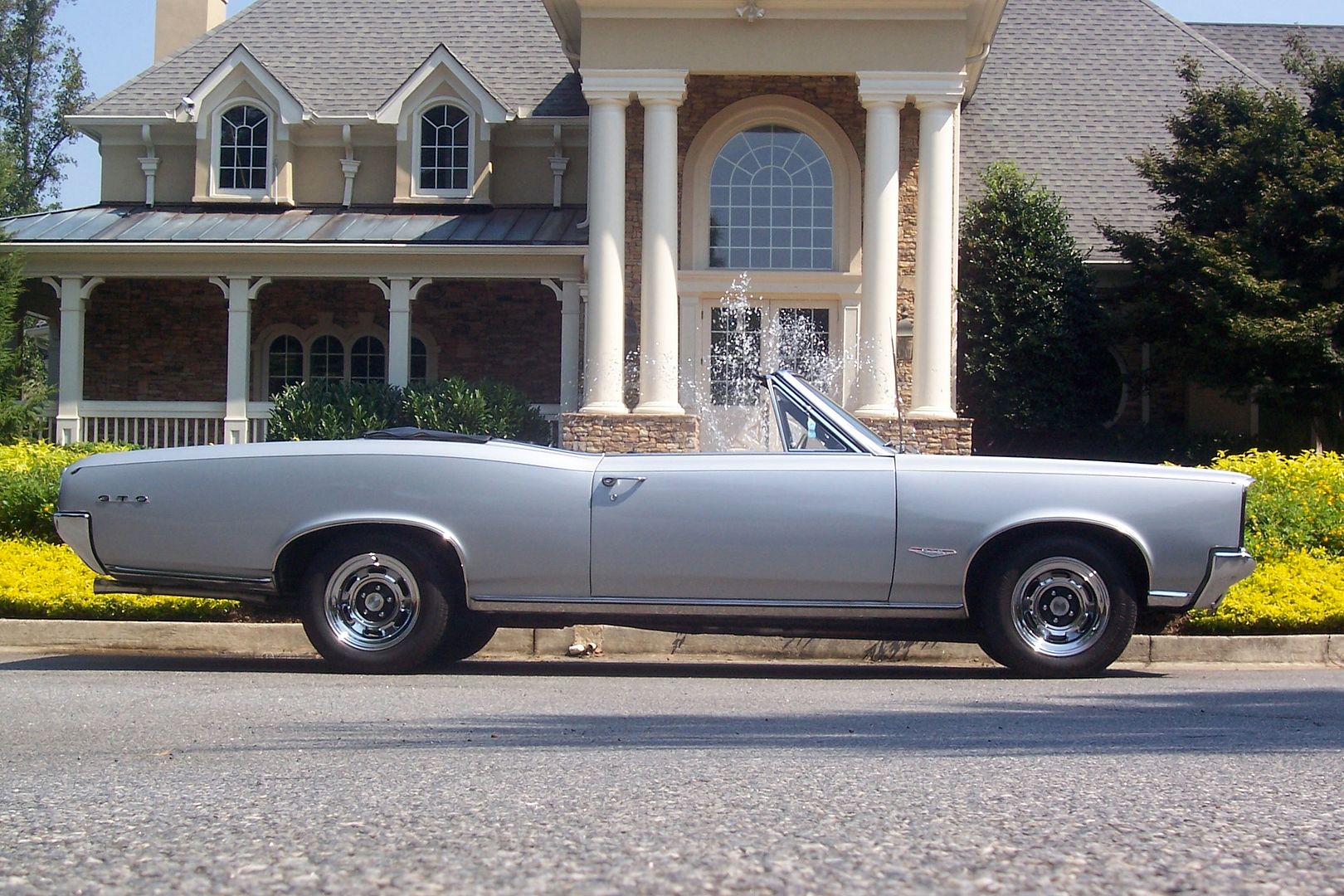 This is truly a fantastic 1966 GTO Convertible in a rare, original color combination with the highly desired Tri-Power. 4-Speed combination.  Aside from the great color and fantastic drivetrain what makes this car an even better investment is that it also comes with some great original documentation that any classic car enthusiast knows will keep this car at the top of its class when it comes to an investment.  Is it a show winner? Yes! Is it a trailer queen that you will be afraid to drive? No! This great GTO convertible can hit the road and be driven anywhere. It is a true Show and go example of one of the most sought after Classic American Muscle cars.  I acquired this car recently from a gentleman in Florida who owned it since 2005 and needed to make room for his newest GTO project that he was working on with his son. He bought this car from a friend of his in Florida who had purchased it from the 2nd owner.  As you will see later in the documents pictured this car was originally sold on July 8th, 1966 at a dealership in Missouri. As the story goes it then made its way down to Florida a few years later where it stayed the rest of its dry, rust free life until I bought it and brought it to the Atlanta, GA area. I will provide a good number of pics and a couple of videos that should give you a good feel for the condition and quality of this Goat.  I will state up front that this car truly looks as good in person, if not better, then it does in the pictures.  I have owned several '66-'67 GTO's and this one is the nicest I have owned so far. I am confident the next owner will be extremely pleased with this car! Sit back and enjoy!
This rust free GTO has all of its original body panels and was treated to a near concourse restoration approximately 7 years ago.  The body is extremely straight and it is obvious upon close inspection that this was a careful and professional restoration that looks as good from 6 inches away as it does from 20 feet away.  The base/clear paint was done in the original W Platinum paint code. I have no idea of how many Platinum '66 GTO's were ordered but you do not see many out there and it is a beautiful color that shines better in person then in the pics. You will be able to see in some of the pics the great shine and reflection the paint still has. I would classify the paint on this Goat as show quality but will also say that if you are the type of buyer who is looking for an absolutley flawless, 100 point car then maybe you can find a few minor flaws that will keep it from being perfect. Adding to the uniqueness of this car is a very stylish pinstripe positioned correctly that is actually a long arrow with the arrowhead at the front of the fender and the feathers at the rear of the pinstripe. The chrome, weatherstripping and emblems along the body also look fantastic. There are no rust bubbles or signs of rust anywhere along the body. Essentially this car is show quality but wants and deserves to be driven. It might not win the Pontiac Nationals but if you enjoy the weekend shows and like to walk home with a trophy, this one should bring home plenty. In fact, the previous owner won numerous shows with this car and had the pleasure of meeting the God Father of the GTO,  Jim Wanger at one of the shows in 2008.  Jim personally walked around this fine GTO and signed one of the visors complimenting the owner on the high quality of this car.  The following pics should give you a good feel for the body and at the end of the auction is a walk around tour of the body as well.

As you would expect, the black interior is also in amazing condition and nearly perfect. Seats look like new front and back. Original seat belts look excellent. Dash pad is perfect and the woodgrain on the dash does also. The original wood-like sport steering wheel looks great and all of the gauges work , even the original clock! A Tach was neatly added to the steering column and after-market market gauges were neatly installed under the dash for oil and water temp as well as voltage meter. Although the radio looks like the factory original it is actually an updated am/fm technology and sounds great. Speakers were neatly added in the front kick panels for your listening enjoyment. Door panels look great with minor wear on the bottom carpeted area of the passenger side.  Carpeting looks excellent and the GTO floor mats are new.  Center console and hurst shifter look great.  Overall, the interior is in outstanding condition!
Lets talk about the drive train in this sweet GTO. As you will see from the PHS documentation this car was originally ordered as an Automatic, 4bbl 389/335hp.  Evidently the original owner took the car back to the dealership and asked them to install the tri-power system and swap it over to a 4-speed. This information was passed on to me from the previous owner who heard it from his friend who heard it from the 2nd owner.  Now lets be clear, it DOES still have the original YS 389 motor which makes it a matching # motor, however, it now is a more desireable tri-power, 4 speed car that runs and drives like new!  The previous owner had the motor completely rebuilt about 2500 miles ago and hopefully I will be receiving the paperwork from him soon documenting all of the work he had done. Specs for the rebuild were given by Butler Performance in TN resulting in a close to stock rebuild with Ram Air III cam and Ram Air Exhaust manifolds.  This goat performs beautifully at any speed and of course when you mash the accelerator all 3 carbs kick in and put you back in your seat with a smile from ear to ear. The hood scoop was opened up to be functional bringing more air into the triple carbs for greater performance. Front suspension was redone and this car is tight and handles great. Power steering and power front disc brakes make driving easy.  Of course you will have some serious fun running through the gears with the Hurst Shifter mated to the Muncie M-20 Wide Ratio 4 -speed. A lighter wight Aluminum drive shaft was installed and the rear is the factory 3:23 Posi.  Nice soft GRRRRRR from the factory style dual exhaust. This car literally glides at highway speeds and pulls hard upon heavier acceleration…..truly a blast to drive!! This car has also been extremely reliable. Previous owner drove it 300 miles to Daytona Beach and I have driven it in 95 degree Atlanta Summer heat with no issues. She runs cool and looks even cooler!! To summarize, you have a matching # 389 with the upgraded tri-power, 4-speed that loves to be driven and needs nothing!!
The undercarriage and inside of the trunk are also rock solid as well. Original floorpans were lightly undercoated years ago and are absolutely rust free. inside of trunk was detailed years ago and the paint has lifted in a few spots where it has stuck to the stock style trunk mat but still looks great. The trunk pan may have been replaced at some point which is not uncommon but I assure you there are no rust issues on this car anywhere. It also appears that there may have been an amplifier or cd changer in the trunk at one point as there are some wires running into the trunk area.  The Power top operates extremely smoothly and the top latches down with ease. All of the windows roll up nicely and seal up well. The top itself looks close to new and the rear window is crystal clear.  This car originally came with deluxe wheel discs but at some point a nice set of reproduction Ralley I wheels was added and the BFG TA tires are close to new.

As far as documentation, i have the following which will go with the car of course. I have the complete PHS documentation to verify how this car was ordered from the factory. I have the original plastic brochure holder from Galen Boyer Motors in Independence, MO. They are still an active dealership it appears, just not Pontiac of course. I have all of the original manuals that are in great shape. The Warranty book has the original date of purchase and the metal protect-o-plate is still attached to the back of the warranty book! I also have a copy of the original sales order form the dealership as well as a reproduction of the original window sticker!! Very well documented, very rare and a really sweet example of a high quality, investment grade GTO that you can drive and enjoy!!!
Hopefully I have given you all the info you need to decide if this is the GTO that should be in your garage. As always I welcome your calls to discuss anything else I may not have covered. If you have any questions feel free to call me at 770-712-1326 and I will do my best to answer them. As with all of my auctions I will also listen to serious offers from serious buyers and reserve the right to end the auction early if needed.  Please do not email me asking the reserve price. If you are a serious buyer lets talk on the phone and discuss it. Take a look at the pics and videos and then picture yourself behind the wheel!!!
---
On Sep-08-10 at 11:02:08 PDT, seller added the following information:
A FEW PEOPLE SEEM TO BE HAVING PROBLEMS WITH THE VIDEOS NOT SHOWING UP ON THE AUCTION SO HERE ARE A FEW LINKS YOU CAN GO TOTO SEE THESE VIDEOS.
IF YOU ARE STILL HAVING PROBLEMS PLEASE CALL OR EMAIL ME THROUGH EBAY. THANKS!