About This Vehicle
Mileage: 35,500
Engine: V8
Body Style: Convertible
Transmission: Auto
Exterior Color:Black
Interior Color: Black
VIN: 7R03C153485
Price: SOLD
BEAUTIFUL 1967 FORD MUSTANG CONVERTIBLE, SAN JOSE PRODUCTION,

BLACK PLATE CALIFORNIA CAR

NICELY RESTORED, GREAT OPTIONS, READY TO SHOW OR GO!!!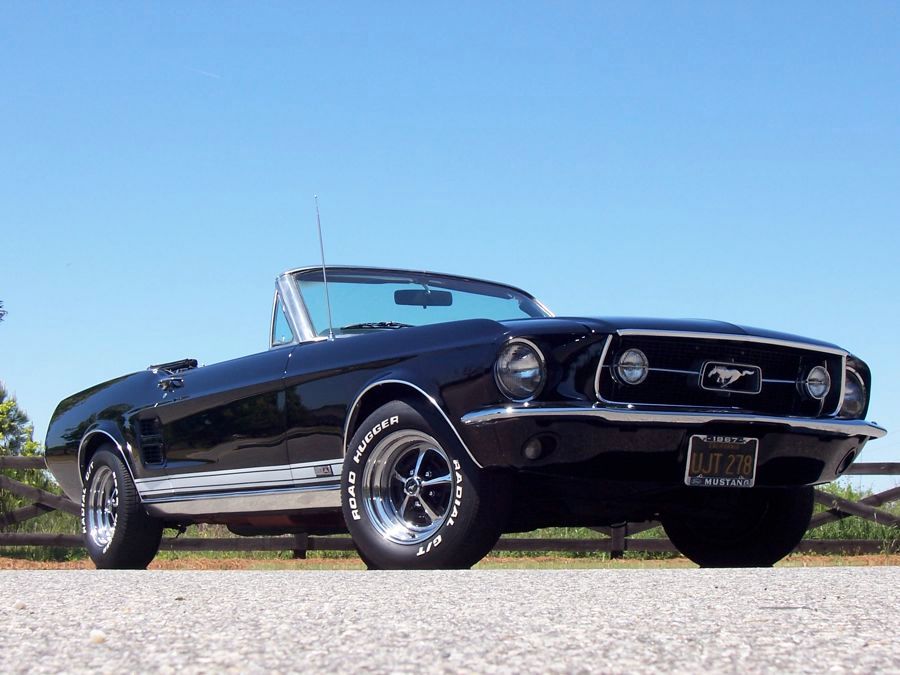 Spring is here and the car show and cruise-in season is in full swing! If you are looking for an absolutely gorgeous Classic Mustang Convertible to drive and  enjoy with the sun in your face and wind in your hair then you may have just found the perfect Pony to do it in! This '67 Mustang convertible was produced at the San Jose, California Production facility, has a Los Angeles DSO code, and still wears the original Black Plate California License Plates issued to it in 1967…a True California Car! The previous owner owned the car since 1983 and we were told he was the second owner. Evidently he donated the car to his Church about a year ago when it was sold to an individual who had the car nicely restored to the condition you will see here.  We acquired it recently and brought it to Georgia and it is ready for the next lucky owner to drive, show and enjoy!  Although it is not a real GTA, it received some GT styling and is nicely loaded with Factory Air Conditioning, Power steering, Power top and center console.
I am going to do my best to provide enough pictures, a few videos and an honest description so you can decide if this is the right Pony for you!! I am sure the next owner will love this car!!! Sit back and enjoy!
Although this beautiful '67 Pony was not born Raven Black anyone who knows these classics knows that in order to paint a car Black you better start with a very straight car or you will be disappointed with the result. This stang was the perfect candidate for the color conversion to Raven Black and she is extremely straight and has great body lines and gaps. The car was painted about a year ago and is what I would describe as close to show quality and will easily fit in at any of the local shows and should bring home its share of trophies if that is what you enjoy.  I ran a small magnet along all of the body panels and found it stuck everywhere making me believe there is little to no filler.  This makes sense as it only had a couple of owners and spent its entire life in California.  While it is certainly a beautiful car, it is not flawless.  There is a scratch in the paint behind the passenger side of the convertible top before the trunk that was touched up.  I do not think it will show up in the pics but you would see it upon close inspection.  There may be a few very tiny rock chips but nothing that takes away from the overall quality of this convertible. I had the paint professionally wet sanded and buffed out so it is very slick and has awesome luster.  As you can see some GT features were added to give this Mustang the look of a GTA model, however, it is not a true GTA car. They added the GTA emblems, stripes, front fog lights that are not wired but the wiring kit will come with the car,  and GT gas cap.  All of the chrome looks excellent and as you can see it has the deluxe chrome trim package with body and wheel well moldings. Bumpers appear to be new. Windows all roll up and down nicely. There are a few marks in the windshield on the passenger side from the wipers. Deluxe hood with the turn signals built in work correctly and looks great.  Overall the body and paint are in absolutely beautiful condition. Take a look at the pics below for a walk around tour.
Complimenting the Raven Black paint and accenting the White GT stripes is an almost brand new White power convertible top that works great and has the split glass back rear window. Slide inside and you will find that the interior is also in fantastic condition. Front seats were recovered in the original style and the rear seat appears to be original and is in great shape with only a small separation on a seam on the passenger side. There are currently seat belts installed in the rear and I do have seat belts for the front that need to be installed if desired. Carpeting was replaced at the time of restoration a year ago and looks great as does the dash pad and door panels.  Center console is in excellent condition with some minor pitting in the chrome. Gauges are clear and appear to be functioning properly as do the lights.  The radio is not currently working.  This care came equipped with Factory A/c so all of the factory vents are in place. I believe there is a problem with the compressor although the blower fan does work.  If you feel air conditioning is critical I would recommend upgrading the compressor to a Vintage Air unit and you should be good to go. I did notice that the Fasten Seat Belt light under the dash on the drivers side is not connected and will need to be replaced although this is minor. Original steering wheel is in great condition. Overall the interior is in fantastic condition. Have a look:
Under the hood of this C-Code '67 Pony is the original 289 2bbl V8. The odometer reads a little under 35,500 miles which we believe to mean the car has 135,500 miles.  We were told that the motor was completely gone through at time of restoration. When we got it the carburetor was not performing properly so we had it completely rebuilt and it runs beautifully now. The Automatic C-4 transmission shifts smooth and strong.  Power steering makes handling a breeze and the manual drum brakes were redone previously and stop with ease. As mentioned the factory A/c components are all in place but the compressor is not working correctly so the A/c is not currently working.  The engine bay is nicely detailed to original appearance. The car handles the road very nicely. Magnum 500 wheels are in very good condition with some minor pitting and corrosion that should clean up easily.  Tires are in good condition.  We installed a brand new Radiator as well as new rear shocks. Dual Exhaust sounds nice and  stops right before the rear valence and a GT style rear valence could be added with the dual exhaust tips to complete the GT look. This Mustang runs nice and cool and is ready to be driven and enjoyed!!
The undercarriage looks fantastic! We were told that the front floorpans were replaced only because at one time there was a rip in the convertible top and water had sat in the carpeting and eventually caused some rust in the floorpans. They were professionally replaced and nicely detailed with red oxide primer to resist future corrosion and give the car a more factory original look. Torque boxes and seat pans appear original and are rock solid as well as the frame rails.   Inside of the trunk is also rock solid!! Original style trunk mat is in place for a nice finished look.  You will be quite please with the overall condition of this beautiful convertible.
BELOW IS A SHORT VIDEO OF THIS SWEET 289 PONY RUNNING:
Hopefully you will agree that this is one sweet looking Mustang Convertible!!!

This car truly looks as good in person as it does in the pictures and it is a real head turner! This Pony will be a great investment just as it sits or you could take it to the next level if desired.
If you have any questions feel free to call me at 770-359-8400 and I will do my best to answer them.  If you are a serious buyer lets talk on the phone and discuss it. I will be happy to negotiate a deal so we can get this beautiful car in to your garage as soon as possible.  In addition to being a licensed Classic Car Dealer I am also a Transport Broker and will be happy to assist the buyer with a great rate on Enclosed or Open Transport anywhere in the US at the buyers expense or to any port for overseas buyers.