About This Vehicle
Odometer: 30,000
Engine: V8
Body Style: Convertible
Transmission: Auto
Exterior Color: White
Interior Color: Blue
VIN: 7T03A261637
Price: SOLD
BEAUTIFUL

, WIMBLEDON WHITE, 1967 FORD MUSTANG CONVERTIBLE…

NICELY LOADED

, A-CODE 289 V8 WITH

FACTORY AIR CONDITIONING

,

POWER STEERING

,

POWER BRAKES

AND

POWER TOP

….READY TO

SHOW

AND

GO

!!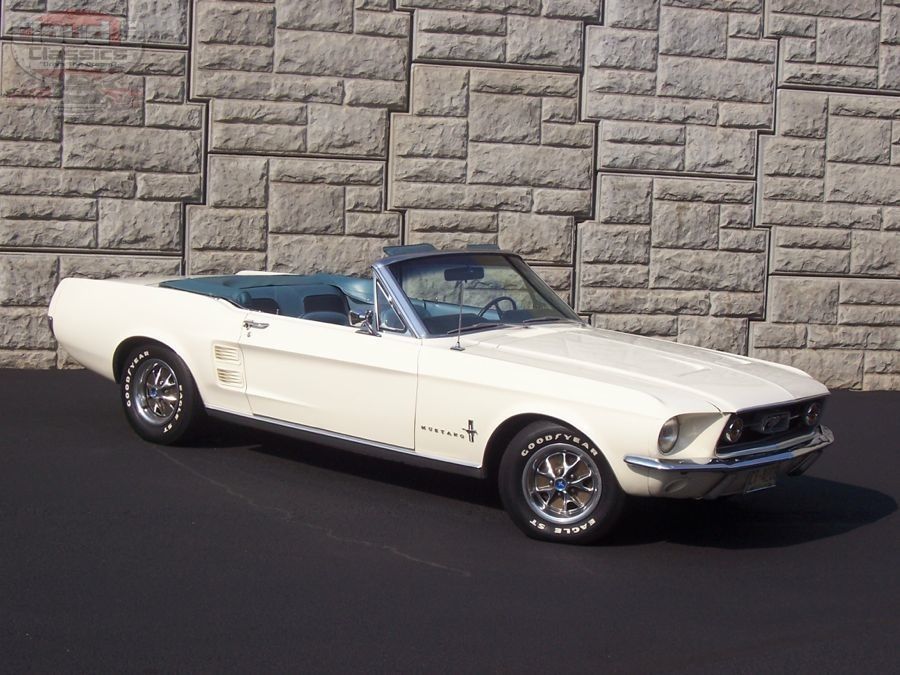 ARE YOU SEARCHING FOR A NICELY RESTORED 1967 MUSTANG CONVERTIBLE THAT YOU WILL BE ABLE TO GET IN, DROP THE TOP,  DRIVE AND ENJOY? 
DO YOU WANT ONE THAT WILL FIT RIGHT IN AT THE LOCAL SHOWS AND CRUISE-INS AND WILL PROBABLY TAKE HOME A FEW TROPHIES?
WOULD YOU LIKE A SMOOTH RUNNING 289 V8 WITH AUTOMATIC TRANSMISSION?
DO YOU WANT IT TO HANDLE WITH EASE WITH POWER STEERING AND STOP ON A DIME WITH POWER BRAKES?
DO YOU WANT TO MAKE A SMART INVESTMENT IN A REALLY NICE CLASSIC MUSTANG CONVERTIBLE THAT YOU AND YOUR FAMILY WILL HAVE MANY MEMORIES OF FOR YEARS TO COME??
IF YOU HAVE BEEN SHAKING YOUR HEAD YES THEN THIS BEAUTIFUL , WIMBLEDON WHITE '67 PONY CONVERTIBLE MAY BE JUST THE ONE FOR YOU!!!
This awesome 1967 Ford Mustang Convertible arrived to us recently and is a beautiful car in a great color combination.  We acquired it from it from the daughter of a gentleman who had owned the car since May, 1992.  He was a bit of a car collector and enthusiast and this was his pride and enjoy that he only used on sunny days and to local shows and cruise-ins. In fact he was a very meticulous guy and kept a small notebook documenting the mileage during the course of his ownership.  During his 22 years of ownership the car was only driven about 7000 miles but was always extremely well maintained and garaged.  He lived in Maryland and the car had spent most, if not all of its life in South Carolina previous to his ownership.  Sadly, he passed away a couple of years ago and his daughter and her family had inherited the car.  They stored it in their garage and drove it very infrequently while continuing to keep up with the maintenance at the local Ford Dealership.  They realized it was not getting appreciated or used the way her father had enjoyed it and thought it was time to pass it along to another family to drive and enjoy.  Sad for them, but definitely lucky for the next owner…maybe you!!!  This beautiful Mustang had been treated to a cosmetic restoration prior to the previous owner which means it was restored about 25 years ago. Given the fact that it has only had about 7000 miles put on it since then, it still looks fantastic.  It drives like a dream and is loaded up with Automatic transmission, Power Steering, Power brakes, power top and Factory Air Conditioning.  This is what I would call a great cruise-in or local show type car that is set up to drive and enjoy. It is a quality car that will catch all the attention you can handle no matter where you go and is sure to also be a great investment as well.  I will do my best to provide enough large images, a video of the car starting up and running, and an honest description to help you decide if this is the one for you.  Sit back and enjoy!!!
As I mentioned, the previous owner had this car since 1992 and it had been restored just prior to him.  The restoration has held up beautifully and the car has only traveled about 7000 miles since the time of restoration.  The body is in fantastic condition and the body panels appear to be all original.  This car spent most of its life in the South so I do not think rust was ever an issue. If any rust repair was done, it was done extremely well and I do not see evidence of any panel replacement.  The body panel fit is fantastic and doors open and shut beautifully with no sag or issues.  It has the Deluxe hood with turn signals built in which do work.  At the time of restoration this car was changed to Wimbledon White from the original Clearwater Aqua.  While the original color might have been nice, whoever did the restoration did a very professional job as their is no sign of the original color anywhere I could see and Wimbledon White is still a correct 1967 color.  The body is extremely straight as you look down the sides as well.  Given that the restoration was done over 20 years ago and the car was driven some since then their are a few very minor paint chips along the door edges that were touched up and probably a few other very tiny chips.  There is one small blem under the paint in front of the trunk area that is very minor.  The chrome, bumpers, trim and emblems all look excellent and this car does have the decor group of chrome rocker moldings and wheel well trim. This car has the remote side view mirror as well as the optional passenger side view mirror.  Glass all looks great and windows roll up and down nicely and seal up to the convertible top well. Weatherstripping is all in nice condition as well.  Overall I think you will see that the body looks awesome and this car will present nicely at any local show or cruise-in and will probably win its share of trophies if that is what you enjoy.  Here is a photo tour of the body:
Complimenting the awesome Wimbledon White exterior is a great looking light blue, Power Convertible top that is in fantastic condition. I always recommend driving these Classic Mustang Convertibles with the top down as often as possible but it is also noise to know that the convertible top operates great and is in excellent condition. The rear window is crystal clear. I am not certain if Ford offered this color in the top originally but it is a great accent and helps set this Mustang apart from most and certainly compliments the blue interior nicely. We do have an original boot cover that snaps on when the top is down. It is in great shape overall but is a bit sun faded. Here is a look with the top up. 
The 2-tone blue interior is a stunning combination with the Wimbledon white exterior.  I believe the interior was completely redone at the time of restoration about 25 years ago and has held up beautifully as well. The original interior color was parchment but I think the change that was made looks awesome. No rips or tears in any of the seats and very little wear overall. Dash pad, door panels, carpeting, all look excellent. This Pony has seat belts for front and rear passengers.  Center console is in great condition and courtesy lights do work.  The dash and gauges all look great and everything functions with the exception of the clock. Original wood grain steering wheel looks great with just some minor pitting on the original chrome as you would expect.  An Am/fm cassette player replaced the original radio but no holes were cut so it looks stock. This is a Factory Air conditioned car and all of the equipment is in place and fan blower works on all speeds but it is not blowing ice cold air so I believe it needs to be charged up, or perhaps converted to the new refrigerant is desired. Nice set of Blue Pony floor mats complete the look inside.  Overall the interior is in excellent condition and shows very nicely…take a look:
This '67 Mustang Convertible is an original A-code 289 4bbl car. It has just over 30,000 miles on the odometer and we are quite certain that this is 130,000 miles.  The car runs fantastic and although we do not have any records of a complete rebuild of the motor, given the way it is running and the maintenance records we have I would believe that it was either rebuilt at some point or simply always very well maintained.  While the car was originally a 4bbl car, at some point the intake and carburetor were changed to a 2bbl most likely for a bit more fuel efficiency.  Otherwise, the motor appears very stock and starts up every time and runs out great at all speeds. As you can see in the pics below the engine bay was nicely detailed so you can proudly pop the hood at any event.  This Mustang is about as easy to drive as it gets. Power steering makes handling a dream and this car tracks beautifully at all speeds.  After her father passed away, the daughter actually added power brakes which stop better then the brakes on my newer cars. They are power drum brakes and you will be amazed and how easy this car stops with no pulling or issue unlike so many classic cars. Stock manifolds breathe out the dual exhaust with just a very soft rumble. Front end suspension components have been replaced over the years so handling is very nice with no squeaks or rattles and very predictable handling.  The original styled steel wheels are wrapped in newer Goodyear Eagle GT radials with great tread life left.  I have included a video at the end of the listing so you can hear this Pony start up and running. 
The inside of the trunk is rock solid with no rust issues. It is detailed out nicely with the correct mat and spare tire cover.  The floorpans and torque boxes are also rock solid with no rust issues. Undercarriage has been lightly undercoated but I think you will see in the pics that the floors are all very solid and quite possibly all original as well.  I have a pic of the original fender tag and the original Vin # is also stamped on the drivers side fender but did not photograph well. I also forgot to take a pic of the original door tag on the drivers side door but it is original and matches everything on the fender tag.  I do have a folder full of some receipt history and the previous owner also kept a mall notebook documenting the mileage on the car during his 22 years of ownership.  This Mustang Convertible was his baby and it shows…I think you will be extremely pleased with this car should you end up being the next lucky owner!!
HERE IS A SHORT VIDEO SO YOU CAN HEAR THIS PONY START UP AND RUNNING

( CLICK ARROW TO START ):