About This Vehicle
Mileage: 76,400
Engine: V-8
Body Style: Convertible
Transmission: Auto
Exterior Color: Burgundy
Interior Color: Black
VIN:  7T03C270645
Price: SOLD
GORGEOUS,

VERY LOW MILEAGE

, 1967 FORD MUSTANG CONVERTIBLE…

SAME FAMILY OWNED SINCE NEW

, CALIFORNIA CAR, 289 V8 AUTOMATIC, POWER STEERING, POWER TOP….READY TO

SHOW

AND

GO

!!!
HAVE YOU BEEN SEARCHING FOR A CLASSIC MUSTANG CONVERTIBLE THAT YOU CAN GET IN, DRIVE AND ENJOY AS WELL AS TAKE TO THE LOCAL SHOWS AND CRUISE-INS?
WOULD YOU PREFER IT TO BE A VERY HIGH QUALITY CAR THAT WILL BE A SMART INVESTMENT, WITH A GREAT HISTORY, AND ALSO HAS LIVED A RUST-FREE LIFE?
DO YOU WANT A 289 V8, AUTOMATIC WITH POWER STEERING, AND POWER TOP?
IF SO, THEN GET COMFORTABLE AND GET READY BECAUSE THIS VINTAGE BURGUNDY CONVERTIBLE MAY BE THE STALLION YOU HAVE BEEN SEARCHING FOR!!
When I located this '67 Mustang Convertible the advertisement said "Family owned since new" which always intrigues me. A quick phone call and I learned all I needed to know leaving me with the impression that this was a true survivor quality, basically one owner Classic Mustang Convertible that had lived a very pampered life almost entirely in the sunny, dry region of Southern California. The original owner purchased this Mustang while he was a young executive with Warner Lambert while living in New Jersey. A year later he was transferred to Southern California and of course he brought his newly purchased Mustang Convertible with him.  It was purely a weekend fun car for him that was always garaged, well maintained and pampered.  At some point, approximately 20 years ago, it was repainted one time in the original Vintage Burgundy color and it received a new convertible top more recently then that.  Unfortunately the original owner became ill and passed away in 2006.  Shortly before that his brother moved him back to Ohio and the Mustang of course came with him.  His brother inherited this classic and continued to care for it the way his brother had, only driving it on sunny weekends in the Spring and summer but keeping it well maintained to ensure it was always in top running order. However, the time had come and the brother of the original owner felt it was time that this Pony was enjoyed by a new owner so that he could regain his garage space. I jumped at the opportunity and when the Mustang arrived it was clear that everything I had been told was absolutely true. This was one of those rare, extremely original Mustang Classics that still had all of its original Body panels, the original interior, original drivetrain, and was a true quality piece of American Classic Car history!! After admiring how solid, straight and original it was we proceeded to make some minor cosmetic improvements including having the body wet sanded and buffed out and as you will see, this Vintage Burgundy convertible looks great and will surely put a smile on the next owners face as soon as it arrives. This car still had the original carpeting and as you would expect it was faded and had a few holes near the accelerator. When we removed the original carpeting we were in awe to see the original floorpans looking like they would have straight from the factory. This is a rare find at an affordable price. This is a true, low mileage, original classic with under 77,000 original miles!! The title shows 74,032 miles in 2005 and various oil change stickers also verify the low original mileage. 
This Classic Pony convertible is turn key ready for the local shows, cruise-ins, or any sunny day drive you want to enjoy it on. I will do my best to provide enough large images, a video so you can hear it running,  and an honest description so you can decide if this Sweet Classic Pony belongs in your stable.  Sit back and enjoy!
As you have probably already noticed the body and paint quality on this '67 Convertible are excellent. It is important to remember that this Mustang is a true survivor with just one repaint in the original color that was done about 20 years ago. A gentleman I have gotten to know locally, who has been doing high end restorations of  Classic Mustangs for over 20 years, recently saw this car recently and was extremely impressed with the body fit and originality of this car.  Evidently the California sun had begun to take its toll on the original paint so it was given a repaint in the original color quite a long time ago. As you can see the paint still has plenty of luster and reflection and overall looks fantastic. Upon close inspection a very discerning buyer will notice some separation of the metallics in the paint but I think the paint has held up beautifully overall. There also a few small rock chips that keep the body from being flawless but you will not find any rust or signs of rust anywhere along the body of this Burgundy beauty. The body panel alignment and fit is top notch with only the 46 year old hood hinges leaving a slight gap!! Body panels are extremely straight and you can look down the sides of this beauty and the only thing waving back at you will be your reflection. The car came to us with the rocker panel chrome panels and we added chrome wheel well moldings and refreshed some of the other chrome trim. Bumpers, emblems, door handles and all exterior trim looks excellent. The only other exterior modification we made was to replace the original set of wheels and hubcaps with a very nice original set of Styled Steel wheels wrapped in BFG Radial TA's. You will also notice this '67 has the deluxe hood with the turn signals recessed which of course are working. This Mustang Convertible is the perfect classic for someone who wants a beautiful car that they can proudly show up to the local car shows and cruise-ins with and even take home some trophies if that is what you enjoy. It is the perfect weekend family cruiser that should provide many great memories for its future owner just as I am sure it did for the original owner who owned it for almost 40 year. Enjoy the tour:
While I always recommend driving these Classic Mustang Convertibles with the top down as much as possible it also nice to know that this awesome Pony also has a beautiful, power convertible top that looks and operates like new. The black top accents the gorgeous burgundy color nicely and the split glass rear window is crystal clear.  The black boot cover snaps on tightly when the top is down to provide a neat finished look.  When you open the drivers side door and look inside this '67 Mustang you will be amazed at just how original the interior is. We were tempted to leave the original carpeting in the car but it was really showing its age which is to be expected after 46 years. At the same time we also replaced the door panels and the gauge bezel.  A new set of Pony Floor mats welcomes you. Everything else appears original and the condition is again a testament to the high quality of the care the car received!! Gauges are all crystal clear and all seem to be functioning correctly. Original steering wheel looks great. Original AM radio still in the dash that I believe is still working. Very difficult to pick apart anything on the interior of this sweet 'stang especially when you remember that it is mostly original and not completely restored. Have a look.
This sweet little C-code only has about 76,500 miles which I am very confident is the original mileage. You will see in the pic below that there are many oil change stockers still on the windshield and the mileage showed 65,000 in 1996.This is an original C-code 289 V8 2bbl car and nothing was changed in that regard. The original C-4  Select Shift Cruise-O-Matic Automatic transmission shifts strong and smooth. Original 2:79 gears in the rear make this an awesome highway cruiser. As you will see in the pics everything in the engine bay is very stock in appearance and the engine bay was recently detailed nicely. Stock manifolds lead back to a stock exhaust system with single transverse muffler and single exhaust. As you will hear in the video below this Pony still has a very nice tone. This is an original Power Steering car and it steers with ease and tracks true and straight at all speeds.  Braking is quite easy and the drum brakes have been gone through and adjusted. Radiator was flushed and fluids were changed and newer battery was installed. This Classic '67 has a great stance and handles the road with ease. All of the gauges appear to be working correctly and this Mustang is turn key and ready to go.  Be sure to listen to the video that follows to hear this Pony start up and running.  She is ready to be driven anywhere you want to take her!!!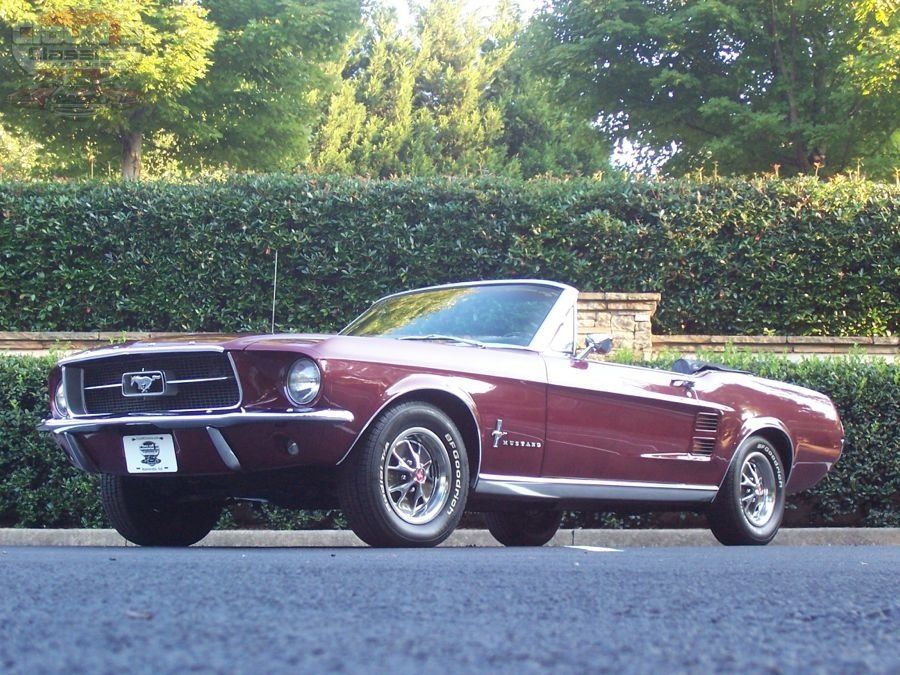 HERE IS A SHORT VIDEO SO YOU CAN HEAR THIS BEAUTIFUL PONY START UP AND RUNNING: (

CLICK THE ARROW TO START

)
This Vintage Burgundy'67 Mustang Convertible is truly an amazing classic that the next owner is going to be thrilled to have arrive in their driveway. Do not hesitate to call me to discuss negotiating a deal to get this Pony in to your garage before the next car guy or gal does!!
Hopefully you will agree that this is one sweet looking, incredible, original '67 Mustang Convertible!! This will be a great investment that you can drive, enjoy and take to the shows!
THE MARKET IS VERY STRONG RIGHT NOW AND I WILL NEGOTIATE A DEAL WITH SERIOUS BUYERS. DO NOT WAIT UNTIL THE LAST MINUTE OR YOU MAY BE DISAPPOINTED YOU MISSED OUT.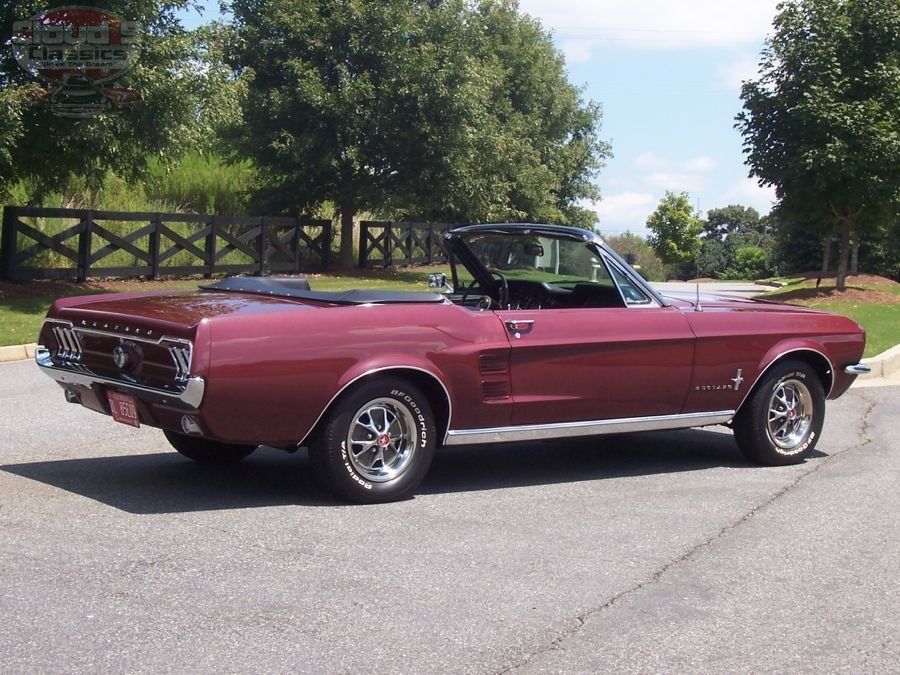 If you have any questions feel free to call me at 

770-359-8400 

and I will do my best to answer them.  If you are a serious buyer lets talk on the phone and discuss it. I will be happy to negotiate a deal so we can get this beautiful car in to your garage as soon as possible.  In addition to being a licensed Classic Car Dealer I am also a Transport Broker and will be happy to assist the buyer with a great rate on Enclosed or Open Transport anywhere in the US at the buyers expense or to any port for overseas buyers.