About This Vehicle
Mileage: 100,159
Engine: 289 V8 2bbl
Body Style: Convertible
Transmission: Automatic
Exterior Color: Black
Interior Color: Black
VIN: 7T03C296752
Price: SOLD
GORGEOUS, FULLY RESTORED,

TRIPLE BLACK,

1967 FORD MUSTANG

CONVERTIBLE

…HIGH QUALITY PONY READY TO SHOW OR GO!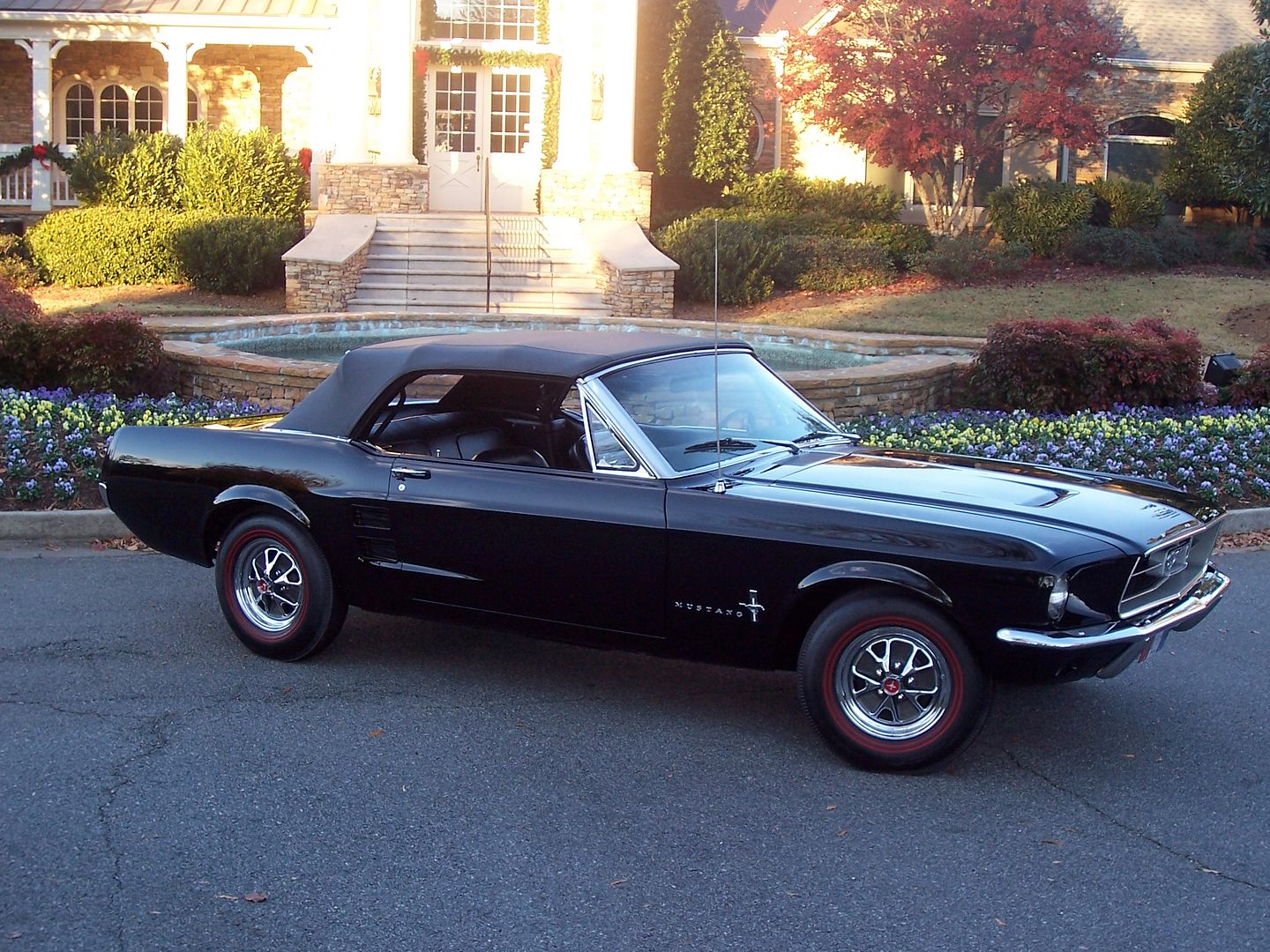 If you have been searching  for a top quality 1967 Ford Mustang Convertible in a gorgeous color combination that drives as good as it looks then get comfortable and keep on reading!  Back in May of this year I was picking up some parts for a Mustang Coupe at Mustangs Unlimited here in the Atlanta area.  While I was there I looked on the bulletin board where people posted cars they had for sale.  There was a posting for an arcadian blue 1967 Mustang Convertible that sounded like a quality car even though I was not a fan of the color.  On my drive home I called the gentleman up to learn more. In that conversation he mentioned he also had a Triple Black '67 Convertible that had been in restoration for close to 2 years and should be finished soon.  I asked him to send me pics and keep me updated. Well almost 4 months went by and I finally got the email that the Black beauty was completed. He forwarded me a few pics and I could tell it was a gorgeous car that had been very carefully restored to quality correct standards by a true Mustang enthusiast.  The owner lived in Hilton Head, SC and had a brother in the Atlanta area so he said he would be visiting his brother and would drive the car out for me to see.  That Saturday I went to his brothers to see the car.  Ten minutes later I bought the car. For those of you who have gone to see a variety of classic cars that were for sale you can understand what it is like to approach and walk around a true quality car that was restored right.  You know as soon as you see it that it is notches above the others and you just have to have it. This is that car!! On top of how great it looked it had just been driven over 5 hours without issue and he was going to drive it home the next day.  I literally bought the car on the spot without even driving it. So, the next day he drove the car back to SC and I then sent an enclosed trailer to pick it up a few days later.  I will do my best to honestly describe the car and welcome your phone calls and questions.   Sit back and enjoy the pictures and videos that follow, I think they will show just how awesome this Pony Convertible is.  While pictures will show you how beautiful this Mustang is,  I want you to know that this Pony truly drives as good as it looks!! In fact I would venture to guess that it drives better then when it was new.
The gentleman I bought this car from told me that the car spent its entire life in NC before he bought it.  It spent many years in storage after a young man who was in the military inherited it and left it properly stored in a climate controlled storage location. The last inspection sticker on the windshield is from 1992. He finally decided it was time to sell it which is when the gentleman I bought it from got it. According to the previous owner the car was in amazing rust free condition and had all its original body panels. For the next 2 years he began an extensive restoration to bring this car back to its original showroom condition. The previous owner has been restoring Mustangs as a hobby for over 30 years and it was a labor of love. He had met some true professional body and paint guys over the years who laid out the gorgeous, show quality paint job. Prior to that he pulled off all the trim and polished it to a fantastic lustre. Once the paint was done he replaced the original trim. As many of you know a Black car shows flaws more then most other colors so when you look at how straight the body is on this car you know it was a quality car to start and also had some true professionals laying out the high gloss base coat/clear coat jet black paint. Some of the pictures will show you the mirror like finish and others will show you the great fit and alignment of the body panels. I would rate the paint a strong 9 out of 10.   At this point I want to point out that as awesome as this car is, it is not a concours 100 point car but it would certainly win most local shows and would probably place very high at some of the larger Mustang shows as well.  Here is a walk around photo tour of each body panel:
The black interior looks fantastic and I was told that the seats are original although to me they almost look too good to be original.   There is a very minor spot on the edge of the drivers seat that shows a little wear from where it folds forward and is just starting to separate at the seam in about a 1″ spot in the corner. It is very minor and I do not think it shows up in the pictures. Otherwise the interior is basically like new. Carpet looks fantastic. Dash pad looks great. Brand new high quality Pony carpet floor mats. Steering wheel looks great. Dash and gauges all look great and work correctly. All lights work as they should.  The Power Top is a brand new Robbins Top with the brass zip out rear window which is crystal clear. The convertible top frame itself looks like new and was painted at the same time the car was.  Brand new black tonneau boot cover. Overall the interior looks great and compliments the exterior beautifully. Here are a few interior pics:
Under the hood of this black beauty is the factory original 289 2bbl motor that was pulled out, completely rebuilt and then painted the correct colors so it looks like it did when it was on the showroom floor in 1967.  The mileage has just recently turned over 100, 000 miles and this is the original mileage.  The only modification made under the hood was the addition of a high quality set of ceramic coated Tri-y headers that help this motor breathe better, increasing horsepower.  Basically everything was either rebuilt, replaced, or refreshed.  This includes the Automatic transmission, rear end differential which was also then re-sprayed in the correct red oxide primer, engine mounts, alternator, master cylinder, carburetor, fuel lines, cooler lines, vacuum hoses, inner and outer front and rear wheel bearings, brake shoes, oil pressure sending unit, and engine mounts.  All new exhaust from the headers back to the dual exhaust tips neatly tucked beneath the rear valence.  This car truly runs like a brand new one would have, if not better! It also sounds great with a very nice soft rumble from the dual exhaust.  The restoration did not stop there!  The entire undercarriage was media blasted, primed, painted and detailed.  It has all its original floorpans and torque boxes and looks amazing. Here are some pics of the drivetrain and undercarriage and at the bottom there is a video so you can hear this Pony run!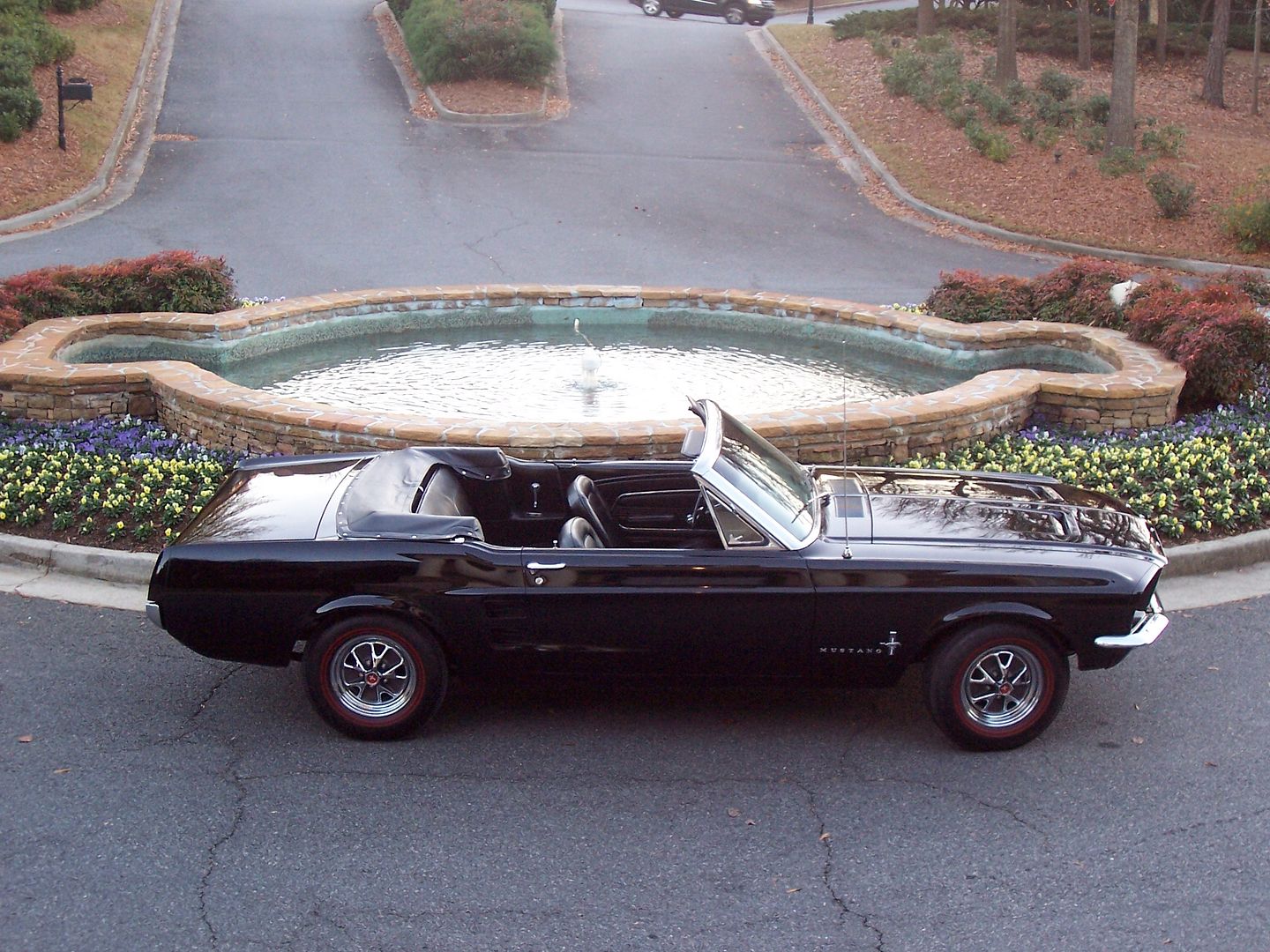 Hopefully those pictures have shown you why I bought this Mustang Convertible the minute I saw it. Below are some very amateur videos I did that include a walk around of the car and then another so you can hear it running.  Keep in mind that not only was this a rust free car to start with, that then had a top notch professional restoration, but it is also a car that has been driven on 5 hour trips with no issues and is truly an amazing Classic Mustang Convertible that you will bring home trophies with or just drive and enjoy. It is truly one of the best investments you can make in todays market!  As always I welcome your phone calls and email questions.