About This Vehicle
Mileage: 17,175
Engine: V8
Body Style: Conv
Transmission: Manual
Exterior Color: Poppy Red
Interior Color: Parchment
VIN: 5F08C341296
Price:       SOLD
ABSOLUTELY BEAUTIFUL, 

FULLY RESTORED,

1965 FORD MUSTANG CONVERTIBLE….289 V8, 4BBL,

4-SPEED

WITH ALL THE

GT OPTIONS

….

SAME OWNER SINCE 1981

…READY TO

SHOW AND GO

!!!
HAVE YOU BEEN SEARCHING FOR A SPECIAL, CLASSIC FORD MUSTANG CONVERTIBLE?
DO YOU REALLY WANT A 289 V8, 4-SPEED CAR?
WOULD YOU LIKE YOUR CAR TO BE AN INVESTMENT QUALITY CLASSIC THAT HAS ALREADY BEEN FULLY RESTORED AND STARTED OUT AS A RUST FREE CAR THAT STILL HAS ITS ORIGINAL BODY PANELS?
WOULD IT BE A PLUS IF IT HAD THE DELUXE PONY INTERIOR,  POWER STEERING, FRONT DISC BRAKES, FACTORY AIR CONDITIONING, RALLY-PAC, AND PRETTY MUCH ALL THE GT OPTIONS?
IF YOU HAVE BEEN SHAKING YOUR HEAD YES TO ANY OR ALL OF THESE QUESTIONS THEN GET COMFORTABLE BECAUSE YOUR STALLION AWAITS YOU!!!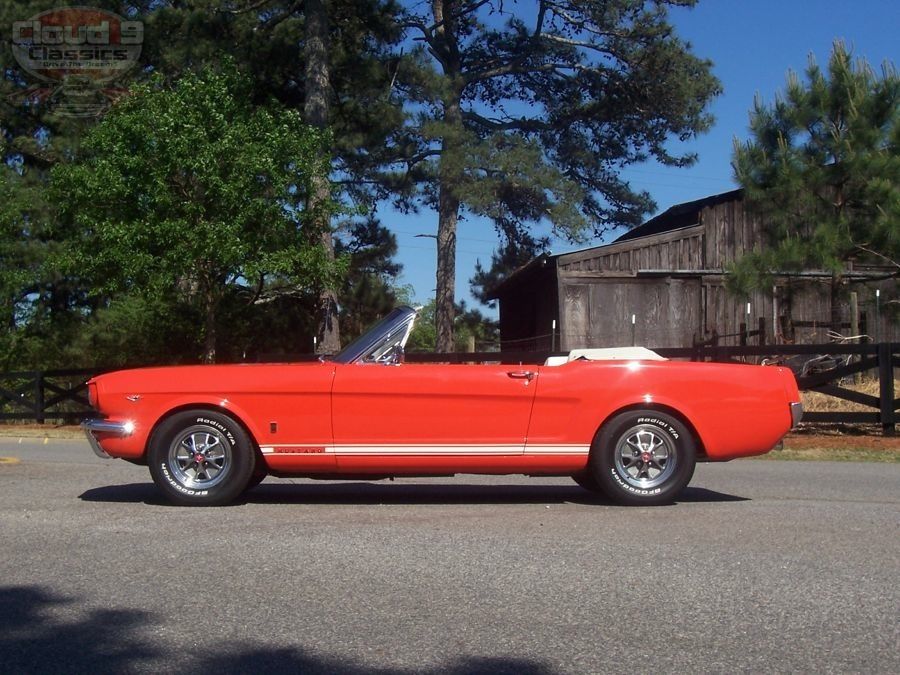 This awesome Poppy Red 1965 Ford Mustang Convertible was a Georgia Car its entire life. Original DSO (District Sales Office) was Atlanta, GA.  While I am accustomed to locating classic cars all over the country, this particular gem was tucked away inside a barn about an hour away from my business. The gentleman who was selling it had owned this car since 1981. Think about that….he owned this car for 33 years!!! This is the type of car I love to find and it should be the type of car that you will also find irresistible.  The property where the car was stored was  where he would liken the country where he wanted to retire. However, his wife does not want to move out to the country quite yet so it has been his weekend oasis for the time being. He has loved this Poppy Red Pony and he and his family have many great memories with it. About 7 years ago he said the paint had really started to show its age and the rust free body was begging for a cosmetic restoration. He brought the car to a well known Mustang Restoration shop in Chattanooga, TN and told them to take care of his baby…budget was not a problem. He also decided that while he was at it he would give his Poppy Red buddy a slightly new look and added all of the GT options to the exterior including GT badges, GT stripe, dual trumpet exhaust, and fog lights. After all the car was so well optioned to begin with, why not take it up notch.  The result was, and still is, stunning.  Unfortunately his daughter was diagnosed with a disease that was going to be very expensive to treat. Her insurance was not adequate and he wanted to help her out as much as possible which meant selling a few of his toys.  Unfortunate for him, but not for the next lucky owner…Maybe you?? I will do my best to provide enough large images, a video of it starting up and running, and an honest description to help you decide if this Classic Mustang Convertible should be in your garage before the next car guy or gal grabs it.  Sit back and enjoy!! 
As I mentioned this '65 Convertible was a Georgia Peach its whole life and the previous owner knew it as well as he knew most of his relatives. He told me the body never had any rust issues and was always garage kept.  The restoration was really just cosmetic and done to bring the car to its original glory.  He had it painted in the original color code as you will see on the trim tag which was Poppy Red.  Ford chose a funny name for a color that is really more orange then red and I believe the color is the same as a later year color called Calypso Coral.  Regardless, it is a beautiful shade of Orange and the paint quality is excellent!! The body itself is extremely straight and body panel gaps are fantastic. The trunk on the rear drivers side is up just a tiny bit which is common and does not detract form the quality of this original Mustang.  The paint is 7 years old so there may be a few tiny chips somewhere but nothing that will jump out at you.  Chrome trim, bumpers etc all look fantastic. Windows all roll up and down nicely and glass looks excellent. Weatherstripping was replaced at time of restoration. It is definitely show worthy and will take home its share of trophies if that is what you enjoy.  As mentioned there were some GT options added when it was restored and most people will think this is a true GT car. However, the Vin # indicates it is a C-code which I do not think was offered in a GT in 1965.  The rear valence has the dual trumpet exhaust, correct front GT fog lights , GT badges, GT stripe, etc.  This is One Sweet Pony!!! Here is a walk around tour of the body:
Especially this time of year I sway drop the top every chance you get. However, there is no doubt that this Poppy Red Pony looks equally as good with the white power top up. The top looks close to new and works beautifully and latches down easily. We also have a brand new matching boot cover that is included. Have a look:
Complimenting the Poppy exterior is a gorgeous White Deluxe Pony Interior just as she came from the factory.  The seats are in beautiful condition. Carpeting looks too good to be original but does appear to have the original look.  Nice set of rubber Pony mats up front. The Deluxe interior offered the round gauges in the dash with the woodgrain bezels and upgraded woodgrain steering wheel. The steering wheel looks awesome with non of the typical cracks that are so common.  Center console looks great and of course it has the original T-handle 4-speed shifter. All of the courtesy lights in the doors and center console work correctly as do the gauges and lights. This Pony also has the rare optional Rally Pac mounted on the steering column and both the tach and clock work!!! Factory air conditioning appears to be working however it will need to be charged up to be icy cold.  The beautiful Pony interior is show ready and really sets off the exterior color nicely! Here is a look inside:
Raise the hood on this '65 and you will feel like you have gone back in time. Extremely original and nicely detailed for show under the hood. This is an original c-Code 289 2bbl car.  He had it upgraded to a 4bbl and always maintained it very well mechanically. He could not recall if the motor had a full rebuild or just some freshening up. He did not think it needed to be completely rebuilt and it has just 117,200 original miles on it.  The motor feels very strong and this Mustang is a blast to drive at any speed. Suspension front and rear was replaced at time of restoration and helps this Mustang handle the road beautifully.  Power steering makes maneuvering a breeze and front disc brakes stop this lightweight convertible very easily with no pulling.  Radiator and fuel tank were replaced at time of restoration.  The previous owner had driven the car very little after the restoration so it really begs to be driven which I hope the next owner will do! Inside of the trunk looks brand new with the correct mat and spare tire.  Absolutely rock solid and rust free. Same goes for the undercarriage and floorpans and torque boxes.  We added a brand new set of BFG Radial TA tires on the Factory 14″ Styled Steel wheels. This Pony is turn-key and ready to cruise and go the local shows and cruise-ins.  I have included pics of the Vin # stamping on the inner fender and the door plate showing the details of how this Mustang came from the factory. As you will see the title is the same GA title from when the previous owner bought this car in 1981.  I also did a short video so you can see and hear this Pony start up and running.  Check it out:
HERE IS A SHORT VIDEO SO YOU CAN HEAR THIS PONY START UP AND RUNNING (

CLICK ARROW TO START

):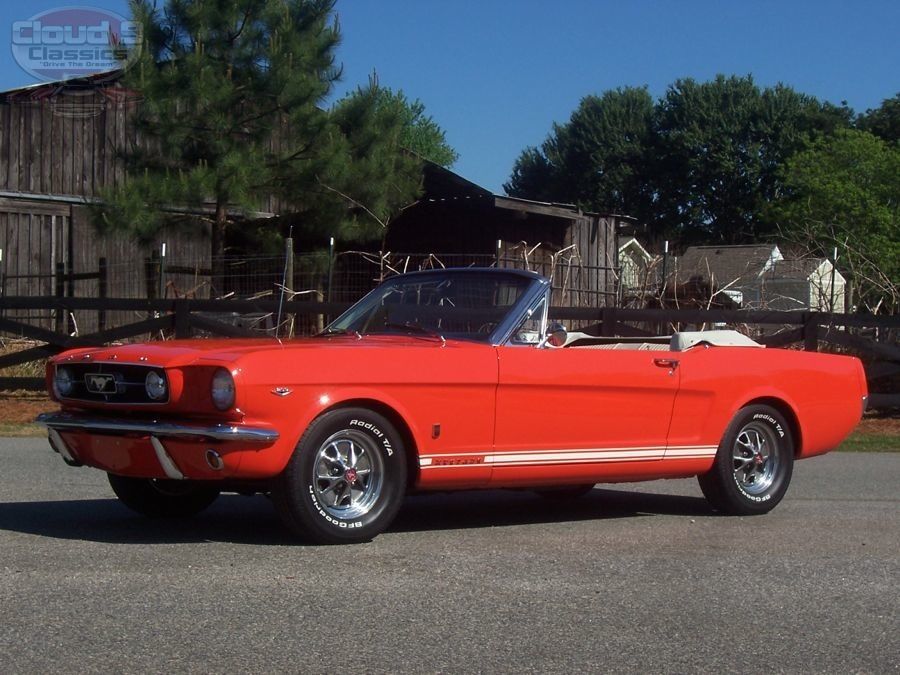 If you have any questions feel free to call me at 
770-359-8400 
and I will do my best to answer them.  If you are a serious buyer lets talk on the phone and discuss it. I will be happy to negotiate a deal so we can get this beautiful car in to your garage as soon as possible.  In addition to being a licensed Classic Car Dealer I am also a Transport Broker and will be happy to assist the buyer with a great rate on Enclosed or Open Transport anywhere in the US at the buyers expense or to any port for overseas buyers.