About This Vehicle
Odometer: 95,100
Engine:  289 2bbl V8
Body Style: Convertible
Transmission: Automatic
Exterior Color: Red
Interior Color: White
VIN:  7T03S136363
Price: SOLD
ABSOLUTELY GORGEOUS

1967 FORD MUSTANG CONVERTIBLE,

BEAUTIFULLY RESTORED

, GREAT HISTORY,

LOADED

WITH 289 V8, AUTOMATIC, POWER STEERING, POWER FRONT DISC BRAKES, AND

AIR CONDITIONING

…READY TO

SHOW

AND

GO

!!
HAVE YOU BEEN SEARCHING FOR A GORGEOUS CLASSIC MUSTANG CONVERTIBLE?
WOULD YOU PREFER TO BUY ONE THAT HAS A GREAT HISTORY AND HAS LIVED IN THE SOUTHERN PART OF THE UNITED STATES WHERE RUST WAS NOT AN ISSUE?
DO YOU WANT A STRONG RUNNING 289 V8 WITH POWER STEERING, POWER DISC BRAKES AND AIR CONDITIONING?
WOULD YOU LIKE TO FIND ONE THAT WAS PROFESSIONALLY RESTORED, IS EXTREMELY WELL DOCUMENTED AND IS TURN-KEY READY TO DRIVE AND ENJOY??
WELL, IF YOU HAVE BEEN NODDING YOUR HEAD YES THEN THIS RED '67 CONVERTIBLE IS THE ONE YOU HAVE BEEN WAITING FOR!!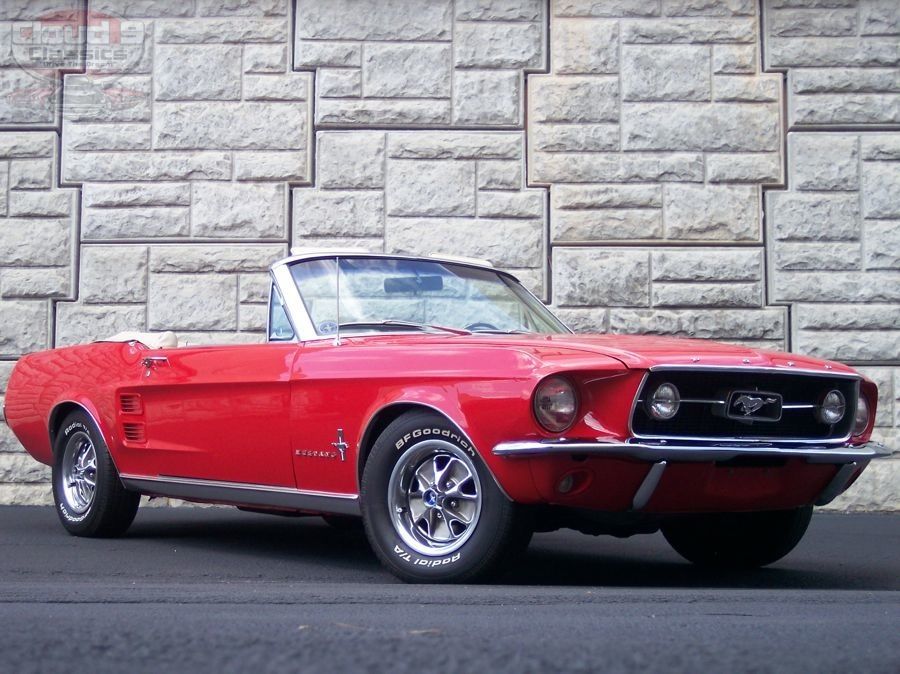 This stunning 1967 Mustang Convertible arrived to us recently with a binder rich with history and details about this classic Pony's past.  We always enjoy cars with a well documented history, especially when they are in as beautiful condition as this one.  Here is the summary of the history as documented in the binder which will be included to the next lucky owner. A gentleman by the name of Bob Lantz purchased this Pony from the original owner back in 1985 after he retired and was living in Oklahoma. He enjoyed showing the car at various shows as far as Houston, Texas and also drove the car almost daily.  The car bought home many trophies during his ownership. This Mustang was fairly original when he got it however several items were changed. This Mustang actually started its life as a rare big block 390 V8 S code car. At some point the original owner changed the motor to a 289 V8 and if you did not look at the vin # you would never know.  While it is true that if it still had the original 390 under the hood it would be worth quite a bit more, I assure you that this car is still a great investment with the 289 V8 in it.  The original color had also been changed from black to red and the interior was upgraded to the deluxe interior and changed from red to parchment white.  Unless you are an absolute purist, these changes should not affect your decision of whether to buy this beauty or not. As you will see, it was beautifully restored and properly maintained and is a very high quality, classic, Mustang Convertible.  Bob nicknamed the car " OL RED" and kept it in near perfect condition.  When he became ill he let his family know he wanted to make sure the car had a good home after he passed and when that happened his niece purchased the car so that his wishes would be met.  She brought the car to her home in Texas in 2006 and was proud to be the caretaker of her Uncles pride and joy. In fact she wanted to take it to the shows just as her Uncle had so she took the Mustang to a professional restoration shop to have paint freshened up and have the entire car gone through.  She spent close to $10,000 in maintenance and upgrades all of which are documented.  She won first place at the first show she took it to and continued to enjoy the car for 4 more years until she decided it was time to pass it along.  A gentleman in West Virginia bought the car from Joyce and he then sold it 2 years later to a guy in VA who we purchased it from.  There is maintenance and receipt history throughout and the car still looks amazing and runs and drives fantastic. It will surely take home trophies at the shows if the next owner wants to continue the tradition, or , it can simply be driven and enjoyed!!
 I will do my best to include enough large images, an honest description and a video so you can hear it start up and running to help you decide if this is the Classic Mustang Convertible you have been waiting for. As will all of our vehicles we do have it listed on our website and several others so if you decide that you do not want to miss out and find out another car guy or gal scooped it up before you then feel free to call me to discuss how we can make that happen!!
As you will see in the pictures that follow the body on this Red '67 Convertible is absolutely stunning and the paint looks like it is still wet!! The car was restored last in 2007 but it truly looks like it was done last week! Body lines are fantastic and the body is truly near flawless! The car is extremely straight and as you will see in some of the pics the paint has a beautiful reflection to it.  There may be a tiny rock chip or two but there was definitely nothing that stood out to me to mention.  No bubbles or signs of rust anywhere that I saw! All of the chrome, trim, bumpers look excellent.  This car does have the exterior decor group so it does have the chrome moldings and wheel well chrome which really dress it up nicely. At some point some GT features were added including fog lights, dual tip dual exhaust at the rear valance, and a GT fuel cap. This car was not originally a GT but these are still nice features. All of the glass looks excellent and windows roll up and down nicely. Weatherstripping all looks great. This Mustang also has the deluxe hood with turn signals recessed which do work. I think the photo tour of the body below will tell you all you need to know:
I always prefer to driver these convertibles with the top down but I have to admit this Pony looks almost as nice with the white convertible top up as well. The top is in beautiful condition and operates easily. It is a manual top which in many ways is an advantage since you will not have to deal with leaky cylinders or cracked lines or a slow top motor.  It opens and closes easily and seals up nicely. It has a split glass rear window which is crystal clear.  Once down a matching boot cover gives the car a very neat look. Take a look:
Complimenting the luscious red exterior is a beautiful parchment white deluxe interior. The interior was upgraded at some point front he standard to the deluxe which is a great upgrade. You have the stainless door panels and dash panels, center console, and nicely appointed seats. The interior truly looks close to new. Dash pad is in great condition. Carpeting looks great and there is a nice set of Pony carpeted floor mats. Gauges are all crystal clear and everything appears to be working properly. The deluxe wood steering wheel looks great with just a few very small cracks. The stereo was upgraded to a more modern digital am/fm and a nice set of speakers were neatly mounted in the kick panels. Air conditioning blows nice and cold for those of you in the hot climate zones. Nice set of chrome sill plates were installed so that the paint does not chip where the seat belts typically end up hitting. Again, I will let the pictures show you just how nice the interior on the Mustang is:
As I stated in my opening, this '67 started life as a rare S-code 390 V8 car but at some point in its first 20 years of life the motor was changed out to a more fuel efficient 289 V8. You would never know by looking under the hood and the 289 that is in this car runs silky smooth and has always been extremely well maintained.  The engine bay is nicely detailed for show as well. It has a 2bbl carburetor breathing through stock manifolds and out the dual exhaust for a very nice stock sound.  This '67 will get up and go and is a joy to cruise in at highway speeds. Automatic transmission shifts great and driving and handling is a breeze thanks to Power steering and Power front disc brakes.  This Mustang runs nice and cool as well thanks to the upgraded aluminum radiator and electric fan when needed.  Factory air conditioning was upgraded to R134 and blows nice and cold.  Actual total mileage of this car is believed to be just over 95,000 miles but of course the motor itself has quite a bit lower mileage. Great set of correct styled steel wheels with the correct blue center caps wrapped in BFG Radial TA's with plenty of meat on them. Make sure you watch and listen to the video that follows to hear this car start up and running. 
The undercarriage is rock solid and rust free. At the time of restoration I believe the drivers side front floor pan was properly replaced with a correct pan and was done very well.  The undercarriage was lightly undercoated but it is not hiding any rust issues and everything looks great and is very solid.  Suspension components have all been maintained and replaced as needed. The inside of the trunk also looks great and is rock solid as well. Nicely detailed with correct mat and spare tire and cover. The underside of the doors are also completely solid with no rust issues. The original door tag is still present and the original vin # is still stamped on the drivers inner fender. We do have the Marti report pictured below and a binder full of documents, receipts and photos verifying the history of this car.  Have a look:
HERE IS A SHORT VIDEO SO YOU CAN HERE THIS BEAUTIFUL CLASSIC PONY START UP AND RUNNING (

CLICK THE ARROW TO START

):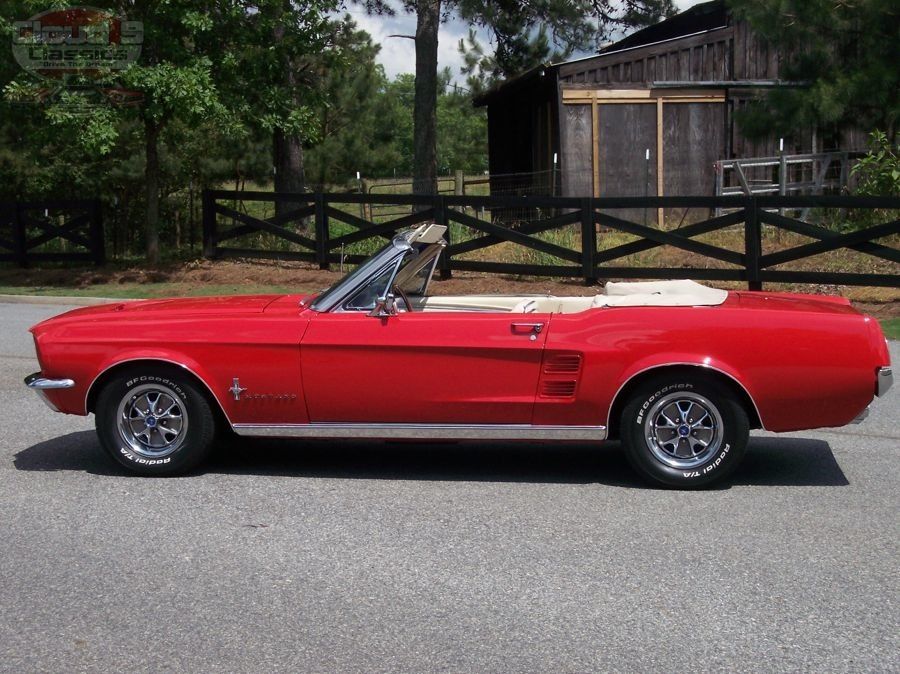 Please do not email me asking the reserve price!!!
SERIOUS BUYERS CAN CALL ME AT 770-359-8400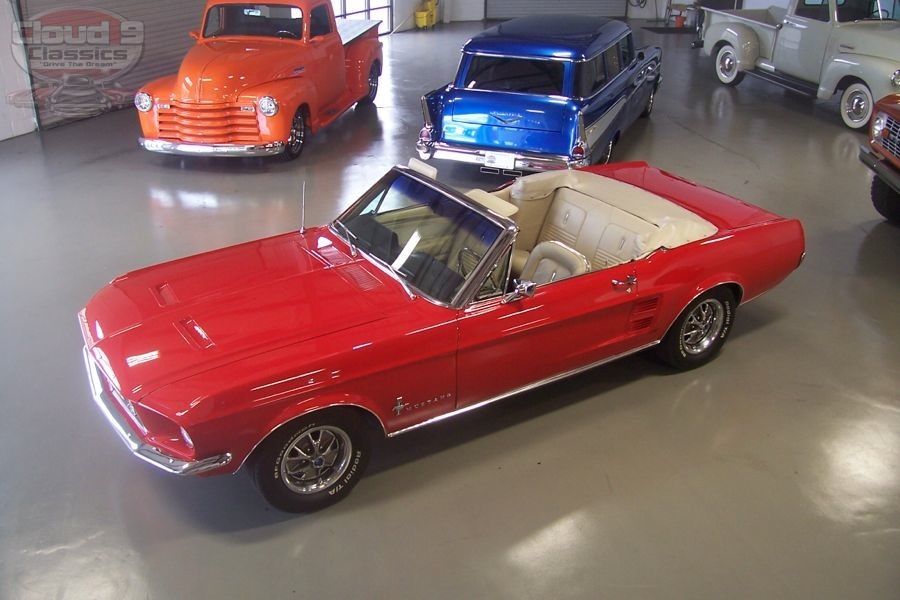 If you have any questions feel free to call me at 
770-359-8400 
and I will do my best to answer them.  If you are a serious buyer lets talk on the phone and discuss it. In addition to being a licensed Classic Car Dealer I am also a Transport Broker and will be happy to assist the buyer with a great rate on Enclosed or Open Transport anywhere in the US at the buyers expense or to any port for overseas buyers.