About This Vehicle
Odometer: 5,580
Engine:  390 V8 4bbl
Body Style: Fastback
Transmission: C-6 Automatic
Exterior Color: Green
Interior Color: Gold
Price:  SOLD
I

NVESTMENT QUALITY

,

PROFESSIONALLY RESTORED

, 1967 FORD MUSTANG FASTBACK,

S-CODE 390 V8

,

CALIFORNIA CAR

….

LOADED

WITH

FACTORY A/C

,

POWER STEERING

,

POWER DISC BRAKES

…BEAUTIFUL ORIGINAL COLORS READY TO

SHOW

AND

GO

!!
HAVE YOU BEEN ON THE SEARCH FOR A VERY HIGH QUALITY, EXTREMELY ORIGINAL, 1967 FORD MUSTANG FASTBACK?
DO YOU REALLY WANT AN ORIGINAL, HIGHLY COVETED,  S-CODE 390 V8 4BBL?
WOULD YOU LOVE TO FIND AN ORIGINAL SAN JOSE, CALIFORNIA PRODUCTION CAR THAT STILL WEARS ALL OF ITS ORIGINAL, RUST FREE SHEET METAL?
WOULD YOU LIKE YOUR CLASSIC MUSTANG FASTBACK TO BE LOADED UP WITH OPTIONS INCLUDING FACTORY AIR CONDITIONING THAT ACTUALLY WORKS, POWER STEERING, POWER DISC BRAKES AND AUTOMATIC TRANSMISSION?
DO YOU APPRECIATE A CLASSIC THAT HAS BEEN RESTORED BY PROFESSIONALS WHO PAY ATTENTION TO DETAIL AND THE RESULT IS A MUSTANG THAT YOU CAN TAKE TO ANY SHOW, LOCAL OR NATIONAL, AND CAN ALSO DRIVE AND ENJOY??
WELL, IF YOU HAVE BEEN SHAKING YOUR HEAD
YES
THEN SIT BACK AND ENJOY BECAUSE THIS DARK MOSS GREEN '67 S-CODE PONY FASTBACK IS ONE YOU DO NOT WANT TO MISS!!!
This gorgeous S-Code, 1967 Mustang Fastback, was owned by one family in California since it was purchased new at Norman Ford Sales in Pomona, CA. Evidently the car was driven regularly up until 1983 when the motor overheated and bent several push rods. The owner left the car in the garage for many years keeping it registered through 1988 and sadly passed away a few years ago leaving the car to his children. His kids really had no interest in the car so they had a neighbor assist in them in selling it. A good friend of mine here in the Atlanta area located the car and purchased it from the family and had it transported in an enclosed trailer back to the Atlanta area 2 years ago. The body on the car was in amazing condition, completely rust free, super straight, and wearing its original paint still that was obviously showing its age. It was a special car, loaded with options so he made the decision to bite the bullet and have this Fastback brought back to its original glory. He had restored several other high end Mustangs over the years so he knew who he was going to have handle the restoration so off the car went. Well, 2 years later, and more money then he ever expected to spend on the car when he purchased it, and the car was completed. Over those 2 years while the car has been restored he has gotten more involved in Real Estate and he has decided to let this beautifully restored, highly desirable S-Code Fastback go to the next lucky owner to enjoy.  This is not an average restoration….it was done by several individuals who specialize in award winning Mustang restorations.  While it is not a Concours restored car, it is very close and was built with the intention of being driven and not trailered.
I am confident that the next lucky owner will be thrilled when this beauty arrives in their driveway.  I will do my best to provide enough large images, a video so you can hear it running, and an honest description so you can decide if this is the Pony you have been searching for. As with all of my classics I do have this car listed on my website and several others. If you decide you want to scoop this Pony up before the next car guy or gal does feel free to call me to discuss how we can make that happen. I am also a Licensed Transport Broker and can assist with getting you a great rate on Enclosed Transport anywhere in the Country. I also welcome overseas buyers and can assist with getting the car to the port of your choice. Sit back and enjoy!!!
The body and paint are spectacular. This California car lived a very good life and still has all of its original body panels with no evidence of any accidents or rust. The original paint was obviously showing its age but the decision to have it repainted in the original Dark Moss Green was a no-brainer. Final Paint is show quality and was wet sanded and buffed to a mirror like finish.  Many people think this is the Bullitt car from Steve McQueen's move Bullitt. However, that was actually a '68 Fastback. The body is straight as can be and body panel gaps are also fantastic, probably better than factory. The car came with the Exterior Decor group which included the chrome wheel well trim and rocker panel trim. These were all replaced and look fantastic. This Fastback also has the deluxe hood with turn signals that look great. The drip rails look like new. All of the glass appears to be original with the original carlite logos still visible and windows are in beautiful condition. Of course all of the weatherstripping was replaced at the time of restoration.  Bumpers look great and are believed to possibly be the originals. A very small amount of dullness on the drivers side front bumper can be noticed on close inspection.  I would classify the condition of the body and paint as near flawless. There is a very small chip along the front passengers door edge that is touched up and a few extremely tiny rock chips that may be found under close inspection. As you will see in the photo tour of the body below it is simply gorgeous and is ready to win trophies and awards if that is what you enjoy, or just drive it and show it off.  Check it out:
Complimenting the stunning Dark Moss Green metallic exterior is an equally beautiful Ivy Gold interior. Again, this was the original color combination and there is no reason to mess with success as it was extremely popular back in its day. Of course the entire interior was completely restored to the same level as the exterior. All new seat foams, seat covers, door panels, dash pad, and much more were professionally installed. The only alteration was the carpeting which was done in black as opposed to the original Ivy gold color. All of the interior panels as well as the steering wheel were repainted to look showroom new. Headliner looks like new. The center console looks amazing and the sport deck rear fold down seat functions like new. Deluxe seat belts look like new and the original AM radio is still in place. All of the Gauges look fantastic and function correctly.  The seat belt warning light under the dash works correctly as do all of the courtesy lights throughout the interior including on the back of the center console. The factory Air conditioning is blowing ice cold and was sent to an expert who went through the entire system installing all of the correct components and updating the system to the modern R134 refrigerant. It is very rare to find an original factory air car that is truly working as good or better than it did in 1967 but this car has it!  The only item I could find that is not working is the emergency flasher switch which seems to just need the spring mechanism replaced. I could go on and on but as you will see in the pics below the interior will make you think you are on a dealers showroom floor back in 1967. Have a look inside:
There is no denying the iconic styling of the '67 Mustang Fastback and in 1967 Ford decided it was time to drop a big block motor under the hood for those who desired a few extra ponies in their Pony. While most buyers still opted for the 289 V8 a few chose the new S-Code 390 V8 4bbl and this is one of those cars. The motor was pulled and sent to a gentleman in the Atlanta area who specializes in building these FE motors. He completely disassembled the motor down to the block and meticulously rebuilt it to stock specs. The date codes on the block and intake all correspond with the original build date of the car indicating it to being correct and original to the car. The carburetor is not the original but runs great so it was rebuilt and kept on the motor. Once the motor was completed all of the original smog equipment was also gone through and re-installed. The motor was completely detailed to show quality standards. This 390 runs as strong a brand new one would have back in '67 if not better!!! At the same time, the original C-6 Automatic transmission was sent off to a transmission specialist to be rebuilt as well. Every other mechanical component was also completely gone through and either restored or replaced. This includes all of fuel lines and fuel system, all of the brake lines and brake systems, all of the front and rear suspension components, and the list goes on and on. Original 9″ rear end puts the power to the rear wheels quietly and smoothly. Plenty of horsepower to put you back in your seat and a joy to drive thanks to the Power Steering and Power front disc brakes.  One of the last items was a completely new, correct dual exhaust from the stock manifolds back to the correct original dual exhaust tips. The goal was to build a car that looked and drove as good if not better than it did back in 1967 while keeping everything as stock and correct as possible in the process. Mission accomplished!! The car has had a few hundred test miles put on it and is ready to be driven and enjoyed!!!  
As you will see in the pics below the undercarriage and floorpan look amazing as well. This California beauty has all of its original floorpans with factory drip marks still evident and it was freshens up with the correct red oxide primer treatment to make sure it stays as solid as it currently is. Frame rails all look very straight and solid. Inside of the trunk also looks like new with the correct trunk mat and spare in place.  I included pics below showing the original stampings and seam lines along the trunk edges indicating how original the rear quarter panel area is. This Fastback has the perfect stance with a brand new set of correct 14″ Styled Steel wheels with the correct blue center caps and wrapped in brand new BFG Radial TA 225/70/14 rubber. 
This car has its original door tag still attached, the original vin # stampings on the front fender aprons, and a MARTI report was also ordered to verify the cars originality and history.  This is not your average restoration….it was not a "quickie" and was done by professionals with integrity and craftsmanship.
Make sure you watch and listen to the video that follows the pics below to hear this S-Code fatback start up and running!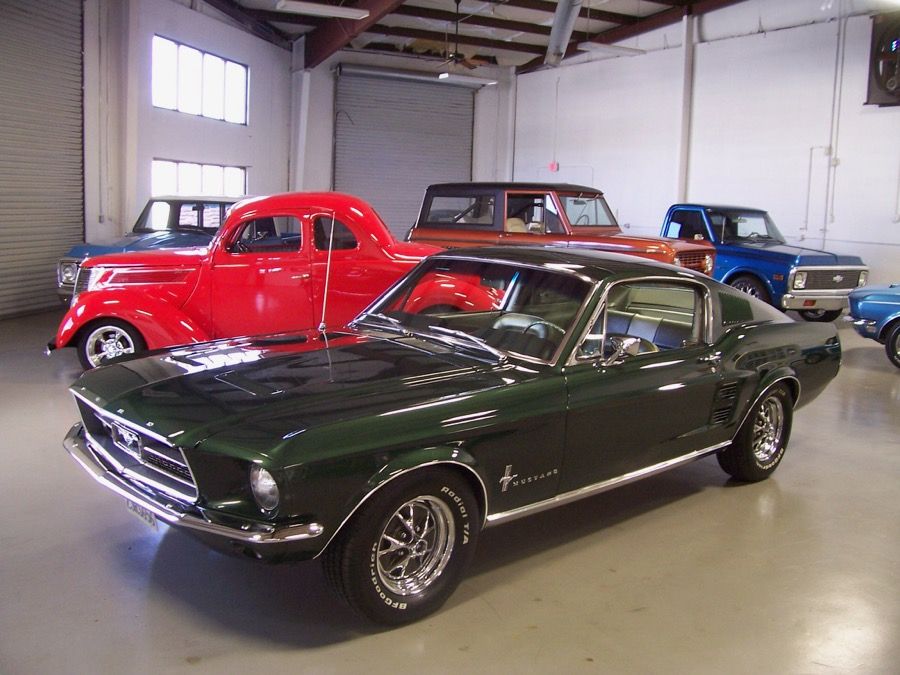 HERE IS A SHORT VIDEO SO YOU CAN HEAR THIS S-CODE FASTBACK START UP AND RUNNING (

CLICK ON THE IMAGE BELOW TO VIEW VIDEO

):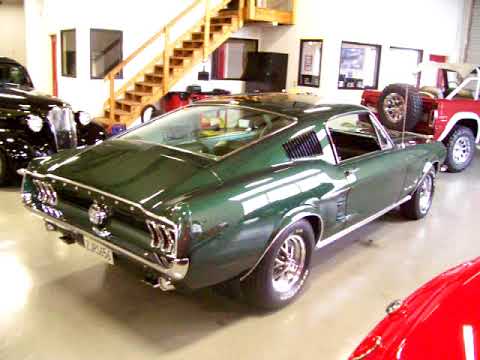 [isdntekvideo]
Hopefully you can see that this Dark Moss Green S-Code '67 Mustang Fastback is truly a beautiful investment quality classic that will win its share of trophies and awards but is also ready to drive and enjoy. 
As with all of my classics it is advertised on several other websites in addition to my own. This particular car is in my showroom on consignment. It will be sold on a GA Registration and Bill of Sale from the current owner and you will not have any issue in getting a Title in your State. It can also be exported out of the country with these documents.  I encourage serious buyers to call me at 770-359-8400 to discuss any questions you may have.  In addition to being a licensed classic car dealer I am also a transport broker and can assist in getting you great rates on enclosed transport anywhere in the country. I also welcome overseas buyers and can assist in getting this car to the port of your choice. 
If you are a serious buyer give me a call and I would be happy to discuss with you over the phone.
SERIOUS BUYERS CAN CALL ME AT 770-359-8400
If you have any questions feel free to call me at 
770-359-8400 
and I will do my best to answer them.  If you are a serious buyer lets talk on the phone and discuss it. In addition to being a licensed Classic Car Dealer I am also a Transport Broker (http://www.transporttime.com) and will be happy to assist the buyer with a great rate on Enclosed or Open Transport anywhere in the US at the buyers expense or to any port for overseas buyers.