About This Vehicle
Mileage: 67,590
Engine: V8
Body Style: Convertible
Transmission: Auto
Exterior Color: Red
Interior Color: Red
VIN:  7R03A129605
Price: SOLD
GORGEOUS,

FULLY RESTORED

, 1967 FORD MUSTANG CONVERTIBLE, A-CODE, 

TRUE GT

, NICELY

LOADED

WITH POWER STEERING, POWER FRONT DISC BRAKES, POWER TOP AND AIR CONDITIONING….READY TO

SHOW

AND

GO

!!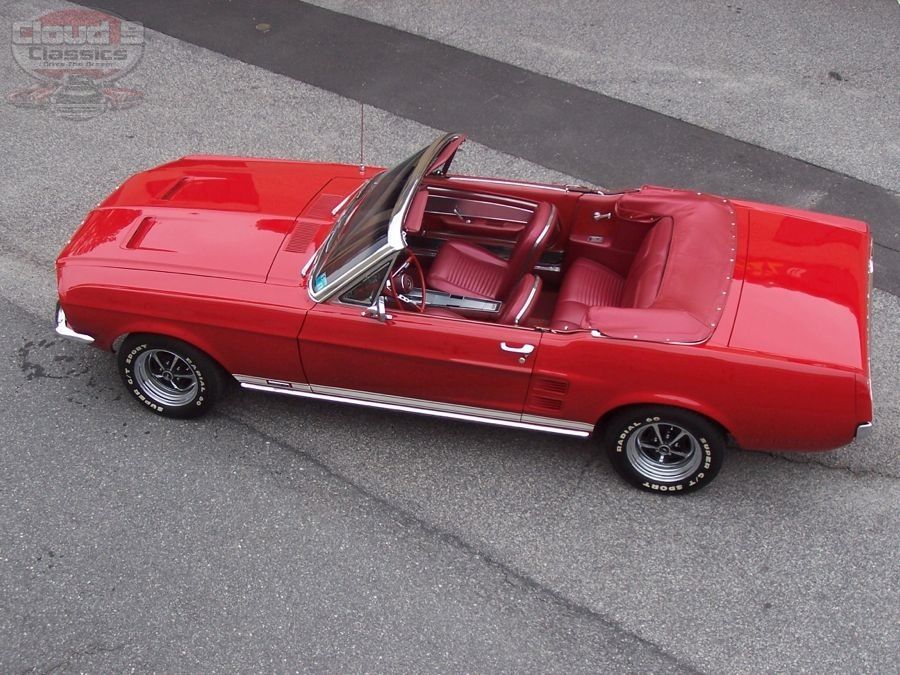 HAVE YOU BEEN SEARCHING FOR A BEAUTIFUL CLASSIC MUSTANG CONVERTIBLE THAT YOU CAN DRIVE AND ENJOY AS WELL AS TAKE TO THE LOCAL SHOWS AND CRUISE-INS??
WOULD YOU PREFER A VERY HIGH QUALITY CLASSIC THAT WAS PROFESSIONALLY RESTORED AND WILL BE A STRONG INVESTMENT TOO?
DO YOU WANT YOUR CLASSIC MUSTANG TO BE AN AUTOMATIC WITH POWER STEERING, POWER FRONT DISC BRAKES AND AIR CONDITIONING?
HOW ABOUT FINDING ONE THAT IS A TRUE GT CAR??
IF YOU HAVE BEEN SHAKING YOUR HEAD YES THEN THIS MIGHT BE THE RED STALLION YOU HAVE BEEN WAITING FOR!!!
Spring is approaching which means the classic car season is right around the corner. The 50th Anniversary of the Ford Mustang will be happening and this GT Pony Convertible is ready for the party!! Here is the story on this gorgeous red convertible.  We recently acquired it from a collector in Oklahoma who had owned it since 1998.  He bought it from a good friend who had a high end restoration shop in Oklahoma. This car was brought in by a woman who's family had owned the car for many years. She wanted it to be restored so that she could enjoy it with her family.  It was an original GT, 4-speed car but she was going to be the driver so she insisted on changing it to an automatic which is why it is now badged as a GTA which was a one year model denoting GT automatic car.  As you will see at the end of the listing we have the MARTI report showing this car is a TRUE GT car!!  This car was originally produced in the San Jose, CA plant and was delivered to Jim Nelson Ford in Broken Arrow, Oklahoma. This car never left the state of Oklahoma and appears to have lived a very easy life before it was treated to a very nice restoration 17 years ago. Back to the story. As the restoration got close to being completed the woman ran into difficult times financially and could not afford the restoration bill.  After it became obvious she could not afford it, the restoration shop took ownership of the car. One call to his collector friend and the car quickly gained its way in to a very nice collection.  He had bought it for his wife to drive and enjoy to the cruise-ins and shows, which she did for many years, however he thinks they put less then 1000 miles on the car in the 16 years they owned it.  Well, there comes a time when every collector runs out of space for the new toys they have their eye on as was the case here. This means someone else now has the opportunity to enjoy this awesome stallion….maybe you??!! 
It is amazing to think that the restoration was done so many years ago as it still looks so great.  As you will see this car is very nicely loaded with Automatic, Power Steering, Power front disc brakes, power top and factory Air conditioning.  It is an iconic Classic that is ready to be driven and enjoyed and will surely still win its shares of trophies at the local shows if that is what you enjoy.  I will do my best to provide enough large images, a video of it running and an honest description to help you decide if this 'Stang should be the next one in your stable!! Sit back and enjoy. 
As I mentioned this Pony Convertible received a professional restoration about 17 years ago….hard to believe from how good she still looks! We were told that the car was completely disassembled before the gorgeous Candy Apple Red paint was applied.  The woman was tired of the original blue color so she went with her favorite color…not a bad choice I might add.  Evidently one front fender and one rear quarter panel were replaced due to some dents and not rust.  There are no signs that this car ever had any serious accidents or damage and the body panels are extremely straight and body panel gaps are excellent overall.  Other then a few very minor chips that have been touched up over the years the body looks amazing. Chrome trim, bumpers, emblems, all look great. We recently had the paint wet sanded and buffed and as you will see in the pictures the paint almost looks wet which really speaks volumes about the paint job that was done 17 years ago. As you will see the front fenders wear the GTA emblem which would have been correct on an automatic GT car. This car was born a 4-speed GT car which was changed to an automatic. Of course all of the correct GT components are still on this car including fog lights, cut out rear valence for the dual exhaust, and GT gas cap. White GT stripe accents the body nicely. Windows roll up and down nicely and all of the glass is in excellent shape.  Overall the body really looks fantastic and is sure to be a show stopper and will turn all the heads wherever you go!! Here is a walk around tour of the body: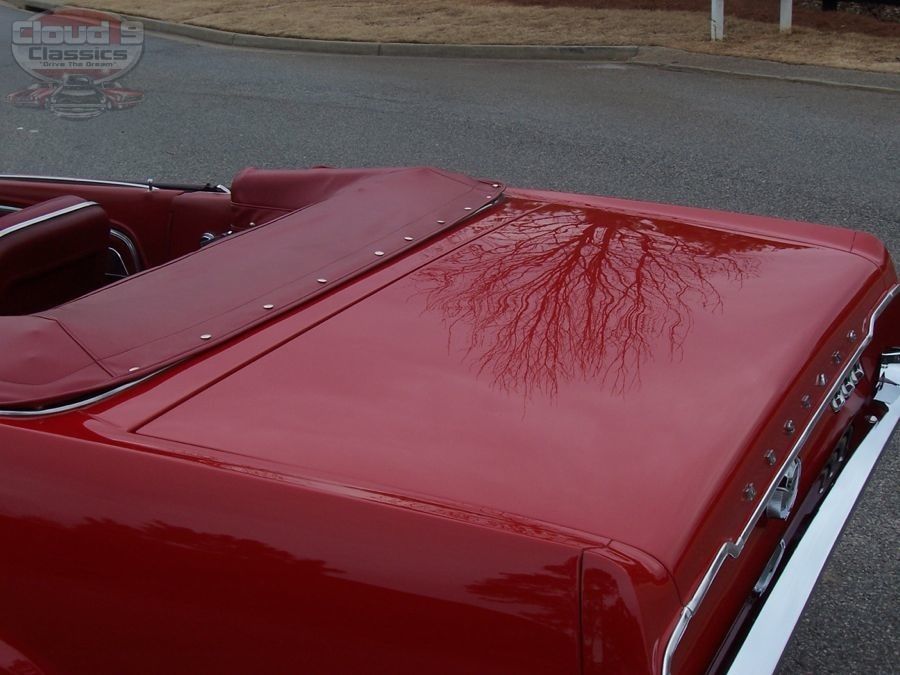 I always recommend dropping the power convertible top whenever possible but of course it is nice to know that this Pony also has a beautiful black top that operates smoothly and seals up nicely when needed. The rear window is crystal clear.  When the top is down a matching red boot cover snaps on to give the car a clean look. Here are some pics with the top up:
Accenting the gorgeous red exterior is an equally stunning Red Deluxe interior. Seats and carpeting look awesome with practically no wear evident.  Everything inside appears to have been redone at the time of restoration which makes sense as the interior was changed form the original blue to the red you see today. The only minor wear I detected was on the stainless door panels which are slightly worn from normal use and the center console also shows minor wear from the same.  Dash appears original and as you will see still has the original tach in the dash from when this car was a 4-speed. All of the gauges, lights, and turn signals appear to be working correctly with the exception of the light in the console and the speedometer reads a bit off most likely because of the changeover to the automatic transmission. This car has factory air conditioning which may have been added by the dealer,or later on, since it is not on the original MARTI report. The A/C appears to be working but it will probably need to be charged up as it has not been used much over the years. Beautiful new matching set of Pony floor mats finish the interior off nicely.  The Deluxe interior really looks awesome and is really a nice upgrade compared to the standard interior.  Have a look inside:
This '67 GT Convertible has its original A-Code 289 V8 4bbl and I was told the mileage could very well be very low original miles at under 68,000 miles however I do not have documentation to support this. I was told that the motor was completely gone through at the time of restoration but did not need to be completely rebuilt. It was set up with the hardened seals to allow for todays unleaded fuel. This car is a great cruiser and once it warms up is an absolute joy to drive. Power steering makes handling a breeze and all suspension components were replaced at the time of restoration. Power front disc brakes operate smoothly and stop this Pony easily with no pulling. Great stance thanks to the beautiful 14″ Magnum 500 wheels wrapped in White letter radials that have tons of tread life left.   As you will see the engine bay was nicely detailed and the inner fenders are nice and straight with no sign of damage or rust around the shock towers. The original vin # is stamped clearly on the top of the drivers inner fender well. The undercarriage also looks fantastic. Floor pans and torque boxes are rock solid with no rust issues. It appears that the front floor pans may have been professionally replaced at the time of restoration with the correct stamped pans. Original style dual exhaust with the transverse muffler exits out the correct dual exhaust tips. Inside of trunk is also rock solid with no rust issues and nicely detailed with the correct trunk mat and spare tire cover. The doors have no rust issues in the drain areas and the original door tag is still in place. You will see a copy of the MARTI report below as well. This is a great running A-Code GT pony that is ready for sunny day cruising!!! Make sure you listen to the video that follows to hear this Mustang start up and running. 
HERE IS A SHORT VIDEO SO YOU CAN HEAR THIS PONY CONVERTIBLE START UP AND RUNNING: (

CLICK THE ARROW TO START

)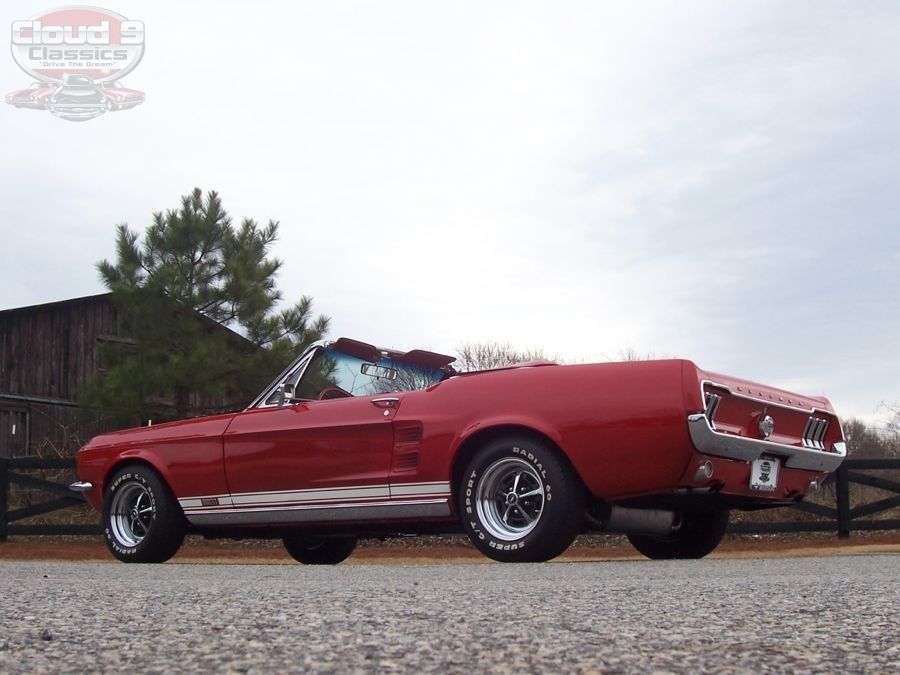 If you have any questions feel free to call me at 

770-359-8400 

and I will do my best to answer them.  If you are a serious buyer lets talk on the phone and discuss it. I will be happy to negotiate a deal so we can get this beautiful car in to your garage as soon as possible.  In addition to being a licensed Classic Car Dealer I am also a Transport Broker and will be happy to assist the buyer with a great rate on Enclosed or Open Transport anywhere in the US at the buyers expense or to any port for overseas buyers.