About This Vehicle
Odometer: 65,500
Engine: 289
Body Style: Conv
Transmission: Auto
Exterior Color: Lime Gold
Interior Color: Ivy Gold
VIN: 7T03C134462
Price: SOLD
TRULY AWESOME

, PROFESSIONALLY RESTORED,

LIME GOLD

, 1967 FORD MUSTANG CONVERTIBLE,

GTA

CLONE

,

LOADED

WITH OPTIONS….READY TO

SHOW

AND

GO

!!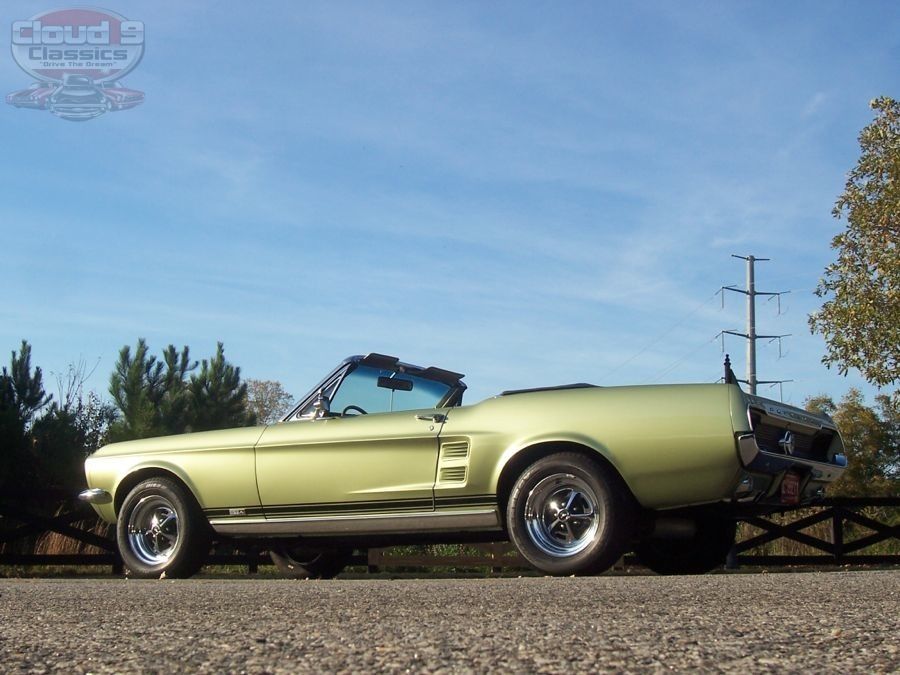 BEAUTIFUL, CLASSIC '67 MUSTANG CONVERTIBLE IN ITS

ORIGINAL LIME GOLD

WITH IVY GOLD INTERIOR COLOR COMBINATION!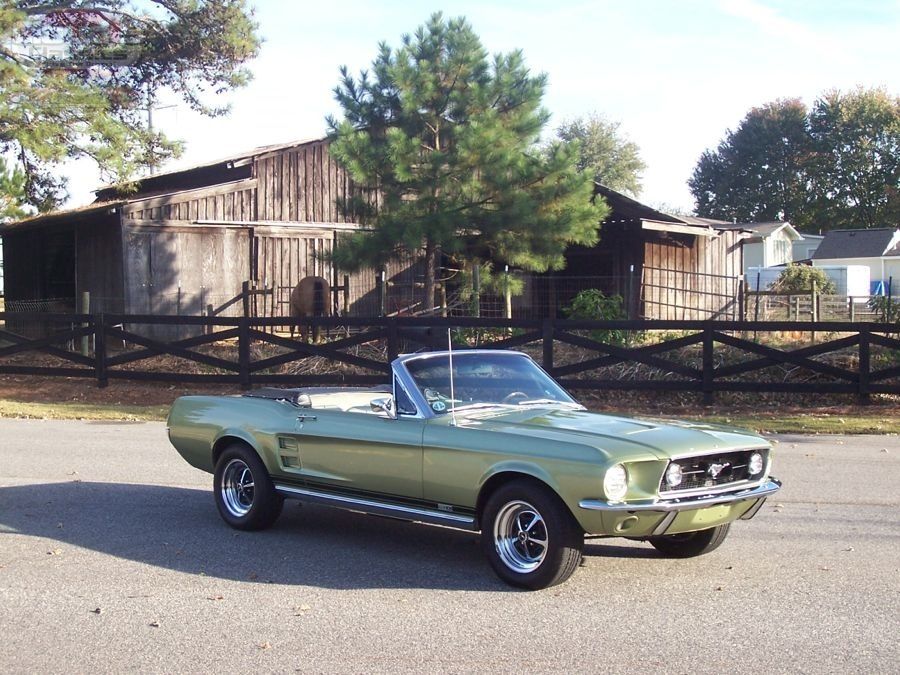 HAVE YOU BEEN SEARCHING FOR A GORGEOUS CLASSIC MUSTANG CONVERTIBLE??
WOULD YOU LIKE TO FIND ONE RESTORED IN ITS ORIGINAL COLOR THAT TRULY STANDS OUT FROM THE ALL OF THE RED, BLACK, AND BLUE MUSTANGS OUT THERE?
DO YOU WANT A STRONG RUNNING 289 V8 4BBL WITH POWER STEERING, POWER FRONT DISC BRAKES, POWER TOP AND COLD AIR CONDITIONING??
WOULD YOU LIKE TO FIND ONE THAT LIVED A PAMPERED LIFE AND RECEIVED A PROFESSIONAL RESTORATION WITH NOTHING LEFT TO DO BUT DRIVE AND ENJOY IT?
WELL, IF YOU HAVE BEEN NODDING YOUR HEAD YES TO ANY OR ALL OF THESE QUESTIONS THEN SIT BACK AND GET READY, BECAUSE THE CLASSIC PONY CONVERTIBLE YOU HAVE BEEN WAITING FOR HAS JUST ARRIVED!!!
This '67 Mustang Convertible was originally delivered to a Ford Dealership in Danville, Virginia and several years later made its way to the sunny, dry state of Texas where it spent most of its life. The title indicates that this car could be a very low mileage car with just under 66,000 miles on the odometer. It is very believable based on both the condition and originality and the way this car runs.  A wealthy gentleman from Corpus Christi, Texas eventually took ownership of this rust free car enjoying it for years. In 2007 he had the Mustang professionally restored spending more then $25,000 much of which we have the receipts for.  During the restoration he decided to give this C-code an upgraded look and added items to give this Pony a GTA appearance. As the receipts document this was a very thorough restoration and not merely a cosmetic restoration.  He had several other collectible cars and lost interest in the Mustang a couple of years after it was completed.  In 2009 a great car guy from Ohio purchased the car and enjoyed it during the Spring and Summer months, storing it in a climate controlled garage during the winter months.  After 5 years of ownership he decided it was time to let someone enjoy this beautiful Mustang…Maybe you!!!!? I will do my best to provide enough large images, a video of it starting up and running, and an honest description to help you decide if this Sweet Mustang Convertible should be in your garage!
As you will see in the pictures that follow the body on this '67 Mustang Convertible is in amazing condition! I believe the car has all of its original body panels and the body panel fit and gaps are outstanding.  The car was treated to a high end paint job in its original Lime Gold color and the paint is fantastic! At the time of restoration the car was upgraded with GT options and badged as a GTA. It is not an original GTA but you would never know it unless you had the MARTI report which we do have and is pictured later. The Black GT stripes really pop against the Lime Gold color.  Front fog lights and dual exhaust add to the look. You will see that the chrome in the fog light assembly was painted black and another great, sporty upgrade is the black insert in the rear tail panel.  Many Lime gold Mustangs were given color changes over the years and although it was not my favorite color, this particular car has really changed my opinion.  The paint glistens in the sun and the black accents really help this Mustang stand out.  The only real flaw I could find along the body are just a couple of extremely tiny bubbles under the black stripe on one door.  There are also a couple of very tiny chips that have been touched up but overall the body is near flawless! All of the chrome, trim and emblems look fantastic. Weatherstripping was all replaced at time of restoration and the glass is in great shape and windows roll up and down nicely and seal to the top well. The windows were all professionally tinted. This '67 also has the deluxe hood with integrated turn signals which do work. I will let the pictures tell the story…enjoy the tour. 
We hope that the next owner will enjoy the Classic Mustang with the top down as often as possible but it is also nice to know that the Power Convertible top is in fantastic condition as well when needed. Originally this car came with a white top but the previous owner changed it to black which really pops nicely with all of the other black accents along the body. The top was replaced in 2007 and looks great. Rear window is crystal clear.  When the top is down there is a nice black boot cover to give the car a clean look.  Here is a look with the top up.
Complimenting the Lime Gold exterior is a beautiful 2-tone Ivy Gold interior just as it came originally. The interior was restored in 2007 and looks beautiful and close to new.  An upgraded wood grain steering wheel was added and the stereo was upgraded to a digital, retro look, with speakers in the front kick panels. Otherwise the interior is extremely stock looking.  An added hump hugger center console sits on top of the original center console for added storage and room for a drink.  Seats, door panels, dash, carpeting, etc…all look close to new. Nice matching set of Pony Floor mats finish off the look inside. All of the lights and gauges appear to be working with the exception of the in dash tachometer.  When the interior was redone they installed dynamat sound deadener to quiet the interior a bit from road noise. The previous owner had it rebuilt a few years ago and it stopped working again shortly before we purchased it.  He also had the factory clock rebuilt with a quartz mechanism and it is working.  Air conditioning was upgraded to a modern compressor and refrigerant and works well. The Marti report does not indicate that it was originally a factory a/c car so at some point it was upgraded with the correct dash and controls. I think you will see that the interior is truly in outstanding condition and ready for the shows. Have a look:
Of course this Lime Gold beauty runs and drives as good as it looks. We believe this car has under 66,000 original miles as is indicated on the title as actual mileage but we do not have enough documentation to be absolutely positive of this. Regardless, the 289 V8 was upgraded to a 4bbl intake and carburetor and runs great!! This Mustang also has power steering and power front disc brakes so handling and stopping is a breeze. The restoration in 2007 included extensive work done to the drivetrain and suspension so just about everything was rebuilt or replaced. Power steering was all completely gone through as well as new shocks and rear springs. Front disc brakes were redone and new drums in the rear.  I do not see specific receipts showing the motor was rebuilt but if the mileage is correct there would have been no need to rebuild it. The C-4 automatic transmission was rebuilt and shifts beautifully.  The car runs and drives great!!  As you will see the engine bay was nicely detailed as well.  This Mustang has a great stance thanks in part to the newer set of 15″ Magnum 500 wheels that have a great set of Michelin Radials with tons of tread life left.  This GTA clone sounds as you would want it to with a soft rumble through the factory style exhaust and out the dual tip exhaust.  Be sure to listen to the video that follows to hear it start up and running.  The undercarriage is rock solid and appears to have all of its original floorpans and torque boxes. The undercarriage was lightly undercoated at the time of restoration and is still very clean. Inside of the trunk is also in great condition with no rust issues. It is nicely detailed with the correct trunk mat and a full  size spare and tire to match.  The was some dynamite placed in the wheel wells to help quiet things down a bit.  Take a look and be sure to listen to the video that follows:
HERE IS A

SHORT VIDEO

SO YOU CAN HEAR THIS SWEET PONY START UP AND RUNNING…CLICK THE ARROW TO START:
At this point I hope you can see that this is definitely a very high quality Classic Mustang Convertible that will not only be a great investment but will also be a joy to drive and show. As with all of our classic cars we do have this car advertised on other sites and if you would like to put this Stallion in your stable before the next car guy or gal scoops it up feel free to give me a call to discuss a price that can make that happen. 
If you have any questions feel free to call me at 
770-359-8400 
and I will do my best to answer them.  If you are a serious buyer lets talk on the phone and discuss it. In addition to being a licensed Classic Car Dealer I am also a Transport Broker and will be happy to assist the buyer with a great rate on Enclosed or Open Transport anywhere in the US at the buyers expense or to any port for overseas buyers.