About This Vehicle
Mileage: 97,600
Engine: 289
Body Style: Fastback
Transmission: Auto
Exterior Color: Viper Blue
Interior Color: Black
VIN: 7T02C201479
Price: SOLD
BEAUTIFUL, NICELY RESTORED, RUST FREE,

VIPER BLUE

1967 FORD MUSTANG C-CODE 289 FASTBACK!
THIS PONY FASTBACK IS READY TO SHOW OR GO!!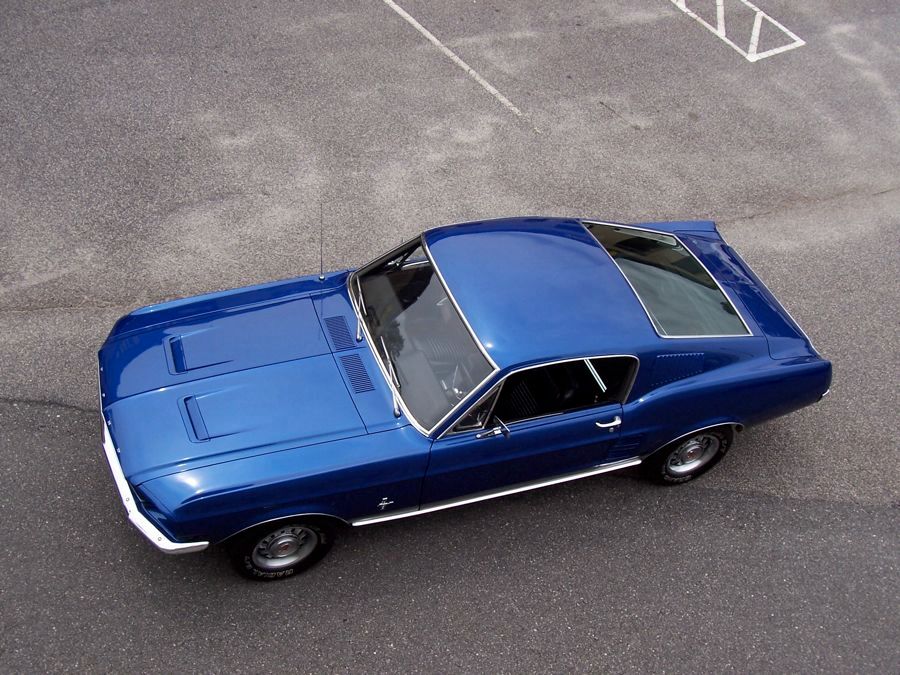 If you have been searching for a fantastic 1967 Ford Mustang Fastback that is ready to hit the streets and local shows then this may be the one for you!! We recently acquired this Fastback from a gentleman who owned it for the past 6 years. He searched for a long time to find a rust free Fastback and bought this car from a classic car dealer in SC.  He lived in Illinois so this Pony sat in the garage for about 7 months of the year before being pulled out to enjoy on weekends and sunny day drives in the Spring and Summer. A job loss created his need to sell it and we had it Transported in an Enclosed trailer to us here in Sunny Atlanta, Georgia. The Viper Blue paint is definitely an eye catcher and this C-Code 289 drives as good as it looks!! I will do my best to honestly describe this Pony and provide enough pictures and a couple of videos so you can see the true quality of this Mustang. Sit back, relax and enjoy!!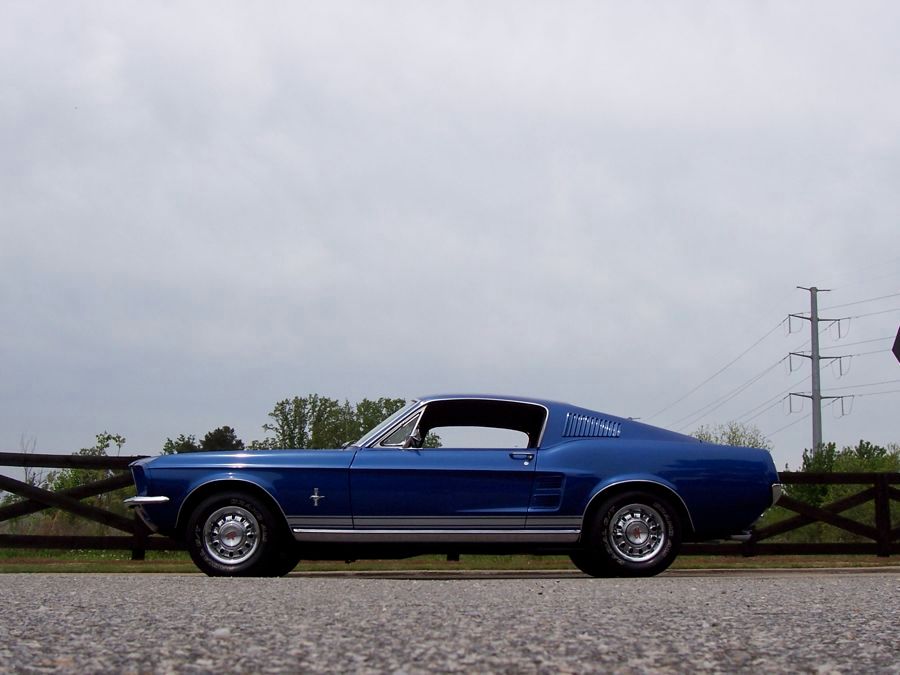 As mentioned, the previous owner purchased this car from a Classic Car Dealer in SC about 6 years ago. He was told the car had spent most of it's life in the South and was a dry rust free car. Judging from the body and undercarriage I would definitely agree. We believe the car was cosmetically restored approximately 8 years ago and at that time the color was changed from the original Frost Turquoise to the bold and beautiful Viper Blue Metallic it is today. There are no signs of the previous paint color and the paint quality is excellent. There are no bubbles or signs of rust along the body at all. The body panel fit is excellent everywhere and overall the car is very straight. As you will see in some of the pics and video there is plenty of lustre and reflection in the basecoat/clearcoat Viper Blue paint. The car is nicely accented with the GT style stripe in a silver grey color.  Chrome trim all looks excellent with a little haze in the rear bumper. Windows roll up and down properly. There is a small chip in the front windshield on the drivers side. There are just a few minor paint chips along the body of the car that I do not think show up in the pics. This Fastback has the turn signals in the hood that work correctly. It looks like someone added GT style Fog lights in the grill with the correct on/off switch under the dash.  As you can see this Fastback has a nice stance as it sits with a set of Styled Steel GT rims usually found on 68-69 Mustangs. Overall the body is in excellent condition with no issues and you would be proud to take this car to any of your local shows and cruise-ins and you will probably come home with a few trophies if desired. It is not going to win any awards at the Mustang Nationals but this Pony is definitely one the next owner will be able to drive and enjoy for many years to come and know they have a fantastic investment.  Here is a walk around photo tour of the body:
Open the door to this Fastback and you will find a beautiful Black Standard interior just as it came from the factory but with a few nice additions. The seats are in excellent shape overall however there is a very small hole at the top of the drivers side seat. There are no other rips or holes on any of the other seats. The rear seat looks great and is a fold down rear seat which works perfectly. The dash pad looks great as does the dash itself. Gauges are all working accurately including Speedometer and fuel gauges. Carpeting throughout looks excellent and a brand new set of Cobra Mats were added. Aftermarket Black/Stainless Mustang Steering wheel looks great and compliments the expensive added Shelby Center Console.  You will notice that the Shelby console has space for 2 gauges which can be added or this would be a great spot to place 2 vents if you ever decide to add After market Vintage A/C.  There is a 4 inch tear in the headliner over the passenger side door. It has been taped and does not look too bad but a new headliner is not expensive if desired. Another added feature to this Fastback is a high-end Alpine Stereo AM/FM/CD with I-pod connection located inside of the Shelby console. Amplifier and rear speakers were professionally installed in a panel mounted in the trunk and there is a nice set of speakers installed in the front kick panels. This system sounds awesome as the previous owner who had it installed also installed dynamat sound deadening through the entire car under the carpeting and also throughout the trunk which was then carpeted as well.  While this car has a great sound all its own this custom stereo is nice for those long cruises! Take a look:
This C-Code 289 Fastback runs as great as she looks!! The odometer is showing just under 97,750 miles on it and it is believed to be the original mileage on the original 289 V8 motor. Some mild changes were made to the motor including an Edelbrock Performer Intake, Holley 4bbl Carb in place of the original 2bbl, Headers and Cobra Valve covers. The motor is very strong and although I do not have any real receipt history it is obvious the motor has been well maintained and maybe had a top end rebuild at one time. This strong 289 is mated to the C-4 Automatic transmission that shifts great. Driving is a pure pleasure with Power Steering and Power Front Disc brakes. This car steers great and stops great and straight. The ride and handling is tight and smooth thanks to newer shocks and springs and a rebuilt steering box. This car rides quietly inside with no creaks and rattles like many of these older mustangs have. The original buck tag is still mounted on the drivers side front fender.  The undercarriage/Floorpans and torque box look very good and are very solid. I added a group of undercarriage pics at the end of the auction and you will see that the pans look very solid. It looks like there may have been some small areas in the front pans that had some metal work but it was done very well and everything is solid. Outside she has that nice soft rumble you would want  and you can hear it running in the video below the engine bay pics:
HERE ARE A COUPLE OF AMATEUR VIDEOS SO YOU CAN HEAR THIS PONY RUNNING GET A WALK AROUND TOUR OF THE BODY AND INTERIOR:
Hopefully the pics and videos have made it clear that his is truly a quality and Beautiful Viper Blue'67 Fastback that is sure to be a great investment that you can drive and enjoy! I know the next owner will be thrilled with the condition and quality of this Classic Pony!  If you have any questions feel free to call me at 770-359-8400 and I will do my best to answer them. If you are a serious buyer lets talk on the phone and discuss it. In addition to being a licensed Classic Car Dealer I am also a Transport Broker and will be happy to assist the buyer with a great rate on Enclosed Transport anywhere in the US at the buyers expense or to any port for overseas buyers.
SERIOUS BUYERS CAN CALL ME AT 770-359-8400