About This Vehicle
Mileage: 32,400
Engine: V8
Body Style: Coupe
Transmission: Auto
Exterior Color: Black
Interior Color: Red
VIN: 7T02C144459
Price: SOLD
BEAUTIFUL RAVEN BLACK 1967 FORD MUSTANG FASTBACK….READY TO SHOW OR GO!!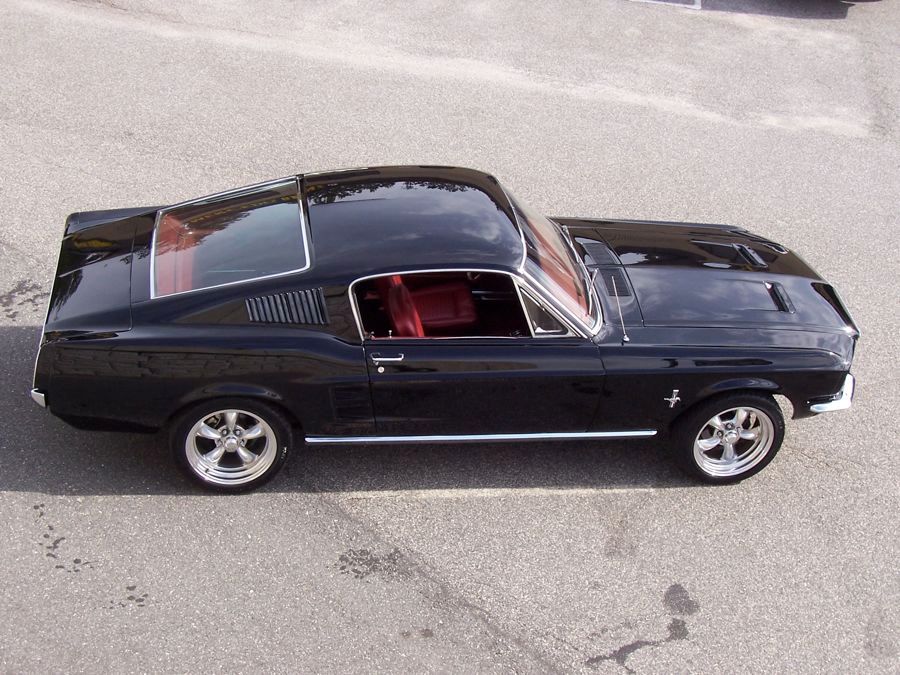 A GORGEOUS PONY IN ITS ORIGINAL COLOR COMBINATION WITH PLENTY OF GIDDY UP AND THE LOOKS TO MATCH!!
This Raven Black 1967 Ford Mustang Fastback is just 1 of 577 produced with the Paint and Trim codes it came with from the Factory as noted on the MARTI Report pictured later.  I purchased this beautiful Pony from a gentleman who owned it since 2006.  He only put about 1000 miles on the car during the time he owned it and always kept it covered in his garage.  He was moving and was not going to have the additional garage space so he said it was time to let it go.  He had known about the car for many years as he saw the previous owner at various car shows and around town.  One day he saw the car on the guys front lawn with a for sale sign on it and the rest was history.  The Previous owner had done a cosmetic restoration on the car about 12 years ago and only drove the car in the spring and summer months. As a result the paint, body and interior look like it was restored much more recently then that.  The Previous owner had also replaced the original 289 and dropped in a completely rebuilt and very healthy 302 V8.  As you will see from the pics that follow and hear in the video of the car running, this Fastback looks great and sounds just as good!! If you have been looking for an eye-catching, jaw dropping, Fastback that you can drive and enjoy and take to the local car shows and cruise-ins then this may be the one for you!! I will do my best to provide enough pictures and an honest description to help you decide if this is the right Pony Fastback for you. Sit back and enjoy!
The body on this Raven Black Beauty is in fantastic condition and very, very straight and solid!! The cosmetic restoration was done approximately 12 years ago however you would think it was done just recently. This was an original Raven Black car and anyone who knows these classics knows that if the body is not straight and solid, black paint will show everything. This car was obviously worthy of going back to the original Black color and the paint is slick and shiny!! I will not say it is flawless but it is what I would call above driver quality for sure. I did notice a small spot on the front side of the passenger side fender where some touch up was done but you have to be looking at the right angle to catch it. There is also a tiny ding at the edge of the passenger fender edge where it meets the hood that I do not think will show up in any of the pics.  Other then perhaps a few tiny rock chips I did not notice any other flaws along the body. The chrome trim and bumpers all look fantastic however I did notice some dings in the chrome molding around the windshield. Overall the body is in great condition and would fit in at any local car show or cruise in and will probably win its share of trophies if that is what you enjoy.  This Black beauty definitely turns heads every where I have taken it. Here is a walk around picture tour of the body and I also did a video walk around at the end of the description.
( I noticed that in the picture of the passenger side door there is a strange  reflection that looks like a flaw but it is just a reflection of something. There is nothing wrong with the passenger side door paint as you will see in the other pics)

Complimenting the Raven Black exterior is an absolutely beautiful and original colored Red Standard interior.  The Black and Red combination is tough to beat and the interior has been completely redone and looks fantastic. Front and rear seats look close to showroom new. Door panels, dash pad, carpeting, headliner etc…. all are in close to new condition. The fold down rear seat works however it is missing the lock down latch and the rear pass through flap could use some tweaking to operate correctly.  There are a few  screw holes in the pass through panel probably from some speakers that were mounted at some point.  Brand new set of Pony Floor Mats look great. Color coded front and rear seat belts.  Nice after market wood steering wheel and a tach has been mounted on the steering column. Aftermarket AM/FM Cassette with speakers neatly mounted in the front kick panels.   Gauges all seem to be working correctly however the speedometer reads faster then you are going probably due to the gears in the rear end which are not stock. Windows roll up and down nicely and glass is in very good condition. Overall the interior is in fantastic condition!!! Take a look:
This '67 Fastback was originally a C-Code 289 2bbl V8 from the factory.  I was told that the owner before the guy I bought it from had a period correct 302 completely built and put in. The motor has under 5000 miles on it from what I was told and it feels and sounds extremely healthy and strong!!! Mileage on the odometer is just under 32,400 which we believe to be 132,400.  I was told it has a high lift cam which you can definitely hear. Edelbrock Performer intake and Edelbrock 4 bbl carburetor feed the fuel and there are headers leading out the newer dual exhaust that sounds absolutely awesome. Make sure you listen to the video of the car running at the end of the listing.  There is a Mallory electronic ignition for easy starts. The original power steering was taken off many years ago evidently because it was leaking.  They installed nice set of 4 wheel disc brakes on the car however they are manual and not power. The next owner may want to upgrade to a power brake booster for easier stopping power.  A beautiful set of 17″ American racing Torq Thrust 2 polished wheels were added and are wrapped in set of Dunlop Radials that have about 80% or more tread life left on them. Automatic transmission shifts nicely.  The rear end is a 9″ posi rear. I am not sure what gears are in the rear but I would guess they are about a 3:73 ratio or so. The rear end is a little noisy but seems to quiet down as the car warms up more. I had it looked at and my mechanic could not find anything wrong with it and just said it is a bit noisier then most.  I have driven the car a fair amount at all different speeds. I handles the highway nicely although with the rear end ratio you will definitely need to stop for gas a little more then if it had the stock 2:79 in it.  The car runs very nicely overall and sounds absolutely awesome!!!! Here are some pics of the engine bay and a video clip so you can hear this Pony rumble:
The undercarriage and inside of the trunk on this Fastback are very solid!! It looks like there may have been some floor pans replaced on the drivers side but the work was done very well and it is extremely solid. Frame rails and torque boxes are also very solid. The undercarriage looks to have been painted flat black many years ago when it was restored. Inside of  trunk is also very solid with no rust issues.  Below are picture of the MARTI report and door tag showing the original colors and codes this Black Beauty came with from the factory.
HERE IS A WALK AROUND VIDEO TOUR OF THE FASTBACK:
Hopefully you will agree that this is one sweet looking Mustang Fastback!!!

This car truly looks as good in person as it does in the pictures and it is a real head turner! This Pony will be a great investment just as it sits or you could take it to the next level if desired.
Please do not email me asking what the reserve is.

If you have any questions feel free to call me at 770-359-8400 and I will do my best to answer them.  If you are a serious buyer lets talk on the phone and discuss it. I will be happy to negotiate a deal so we can get this beautiful car in to your garage as soon as possible.  In addition to being a licensed Classic Car Dealer I am also a Transport Broker and will be happy to assist the buyer with a great rate on Enclosed or Open Transport anywhere in the US at the buyers expense or to any port for overseas buyers.
Here are a couple of pics of the Fastback with an Awesome '67 Mustang Convertible that we are getting ready to list for sale. Feel free to call me to discuss the Convertible.