About This Vehicle
Mileage: 19,179
Engine: V8 – 289
Body Style: Coupe
Transmission: Manual
Exterior Color: Red
Interior Color: Black
VIN: 7R02A202408
Price: SOLD
BEAUTIFUL AND RARE 1967 FORD MUSTANG FASTBACK…

REAL GT, 4-SPEED, CANDY APPLE RED

, LOADED WITH OPTIONS, CALIFORNIA CAR IN AMAZING CONDITION!!
PONY FANS, YOU NEED TO GET COMFORTABLE AND CHECK THIS ONE OUT….THIS ONE STANDS OUT FROM THE OTHERS!!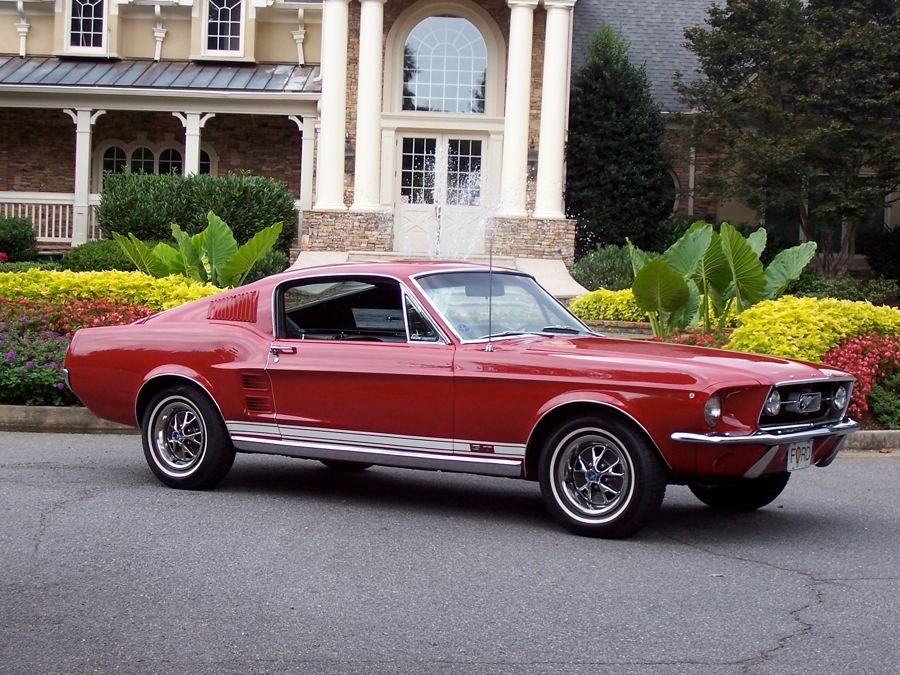 If you have been looking for an absolutely stunning 1967 Ford Mustang Fastback then your search may be over!  If you are a true Mustang enthusiast you will appreciate this car and recognize how rare it is to find a TRUE Documented GT 4-Speed Fastback with all of its original sheet metal and in the condition this one is in.  The story on this one is that it is a San Jose, CA production car that sold new at Theodore Robins Ford in Costa Mesa. The car spent its first 30 years in California before it ended up in Tennessee.  I tried to buy this car from the gentleman in TN who owned it for the last 10 years but before I could drive out there with cash he sold it to a local gentleman. Well, he told this guy if he ever decided to sell it that he would buy it back.  A couple of months later he got the unexpected call. The man had lost his job and decided to sell it back to him. He kept the car for another year and lucky for me I was able to buy it a year after I originally saw it.   Now its your turn and believe me you do not want to miss out on this investment quality fastback! This GT Fastback can be driven to the shows where it will win trophies for you if so desired. Or, get in and drive this car anywhere you want to go and just enjoy it for the iconic collectible classic that it is.  I will do my best to give you an honest description and provide enough pictures and a couple of videos to show you this cars true condition. Sit back and enjoy!
As you will see from the MARTI Report below this is the REAL DEAL…a true GT car, not a clone!! Better yet, it is a true A-code 4-speed GT! Even better, it is a Candy Apple Red with white stripes, San Jose production , nicely appointed with options that made it 1 of 232 with these paint and trim codes.
The body on this GT Fastback is fantastic and it is amazing that this car was painted 20 years ago!!!  Body panels are all original and extremely straight with excellent fit and gaps throughout.  This car obviously had a show quality paint job done that has stood the test of time and looks like it could have been done 6 months ago.  However, since it has been 20 years I will admit it is not flawless but could be considered a top survivor quality.  There are 2 small cracks in the paint on the passengers side door close to where it meets the front fender. I do not think you will pick up on them in the pics that follow but I tried to capture them in the video walk around at the end of the description.  I also noticed a hairline crack in the paint on the passenger side windshield pillar which is normal from torque and stress over time.  There is a very tiny bubble under the white GT stripe on the front edge of the drivers side door that is not soft at all and has been there for over 10 years.  I'm sure the most particular of buyers may spot a few other tiny imperfections but without a doubt this a very high quality paint and body worth no rust issues and will win shows!! you may notice the small Cobra emblems on the front fenders. These were added within the last year are just stick on emblems that can easily be removed if desired.  Chrome trim is all excellent as is all of the glass and weatherstripping. Below is a walk around tour of the body panels:
The deluxe black interior is basically flawless and in show condition!!! From the seats, to the carpet and dash pad, the stainless on the door panels and around the dash, everything looks outstanding and everything works….even the clock!!  The interior is also nicely appointed with not just the lower console but also the upper console with map lights that work. A Custom Sound upgraded digital stereo was also neatly installed in the dash without cutting the the dash bezel. Original shifter and shift knob look awesome. I'll let the pictures tell you the rest because it just looks awesome!
Pop the hood of this A-Code 289 GT Fastback and you will think you are at the Ford Dealership in 1967 staring at a brand new engine bay. Highly detailed, this 289 motor also drives like it did when it came off the showroom floor.  This 289 motor was completely gone through over the years and pulls strong in every gear. I recently drove it to Car show on a 95 degree Atlanta day and this car runs cool with no overheating issues. This 4-speed also handles the road with ease thanks to the Power steering and Power front Disc brakes. Front and rear suspension have all been redone and this car handles tight and right! Rear lights and turn signals were upgraded to the LED sequential tail lights for better visibility.  There is nothing to do but turn the key and enjoy the ride….it is a blast to drive!! Sweet tone from the dual exhaust thanks to the flow masters as you can hear in the video below of the car running. White Letter Radials are almost brand new and the styled steel wheels are in beautiful condition.  Pop the trunk and you will see it is rust free and solid like the rest of the car with spare tire and factory style trunk mat.  The undercarriage and floorpans are also in beautiful condition with all original floorpans that have been treated with red oxide primer. The previous owner was meticulous in his care and maintenance and saved pretty much every receipt for everything he bought or did to this Fastback and I have the thick binder full that will come with the car.   You will love this Pony!!!!
As you can see this sweet '67 Fastback is in good company at the stables here at Cloud 9 Classics but it is time to let this Pony run free and join its new owners stable. Check out the Show Quality '68 below…Buy them both and have 2 of the finest Fastbacks around!!  The '66 Mustang Convertible pictured below will be for sale soon and you can contact me for an updated list of the other fine Mustangs we have available as well.
HERE IS AN AMATEUR WALK AROUND VIDEO AND A VIDEO SO YOU CAN HEAR THIS PONY RUNNING:
Roy@Cloud9Classics.com

770-359-8400


DRIVE THE DREAM!!